Foreclosures in Centerville GA in September 2014
You can bet that consumers who are looking for a bargain in the form of foreclosures in Centerville GA in September 2014 are going to be very disappointed! Why? Because REO homes make up only 1.7% of the overall available inventory in Centerville GA. As a reminder for those not too familiar with these type of properties…foreclosures often have special stipulations so it is always best to be thorough with your research before making any assumptions on these bank owned properties.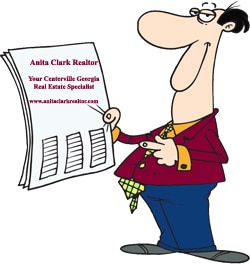 Currently, there is only 1 Centerville GA foreclosure home available for buyers and investors to preview (down 50% from last month). The available bank owned home in this community REO is priced $228,000, has 2,992 square feet, and has 3 bedrooms/2 bathrooms. Is this the home you have been waiting for in this market? Check it out now before it is contracted by someone else!
Sorry buyers…the available Centerville foreclosure has been on the market for more than 30 days. While there are no fresh distressed homes at the moment, check back often as the numbers are changing all the time!
The overall Centerville real estate market is tilted towards buyers but with nearly nil foreclosures in Centerville GA in September 2014 on the market, these buyers need to be prepared to make an offer quickly, as the best deals always sell fast. Some REO properties may need some do-it-yourself care while others may be move in ready….you never know until you preview the property.
---
Your Centerville GA Foreclosure Specialist
Whether you are in the real estate market looking for one of the foreclosures in Centerville GA in September 2014 or desire to review your standard listing options, working with a real estate agent who is well versed in all types of Centerville real estate can make all the difference.
When you are ready to begin your home search, I am available to assist with all your Centerville home buying or selling needs, and look forward to earning both your trust and business. Let me put my expertise in this market to work for you.
For a complete list of available Centerville homes for sale, check out Centerville GA Home Searches or call me at (478) 960-8055 (C) / (478) 953-8595 x227 (O) so we can discuss your specific housing needs.
---
Foreclosures in Centerville Georgia in September 2014
Statistics represent ONLY available foreclosure single family homes in Centerville GA as of the date posted. (Source: CGMLS). Information is deemed reliable, but not guaranteed.