This Kathleen GA Real Estate Market Report provides a snapshot of the number of Kathleen Georgia active listings, pending sales, and overall sales over the last 90 days.  It also further breaks down the overall March 2013 market, providing both buyers and sellers in the Kathleen real estate market a synopsis of how the market is currently performing, and what they can expect in the near term in this community.
---
Kathleen GA 31047 Active Listings
A pleasant surprise in March 2013 was the number of Kathleen GA 31047 active listings on the market.  In this balanced market (6 months of available inventory), last month saw a 15% increase in the available properties.  As always, prospective sellers must ensure their home is well maintained and priced according to the current market conditions to have the best opportunity of selling.
Foreclosures in Kathleen GA make up only 3.9% of the market and have remained in single digits for several months.  As a reminder, foreclosures are lender owned properties.
Fortunately, the number of short sales (homeowner owned but attempting to sell for less than is owed (with lender approval)) have remained consistently low (2 available) over the last quarter.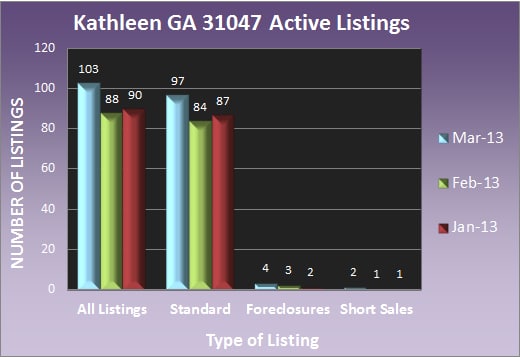 ---
Kathleen GA 31047 Pending Sales
The number of  Kathleen GA 31047 pending sales took a slight dip from February but no reason for alarm as that was offset by both new listings and closed homes.  Spring is here and there is every expectation that the number of pending properties will rise.  As always, provide serious buyers a reason to purchase and they will!
Foreclosures continue to sell in Kathleen GA, although there was a downturn in pending sales in March.  Investors looking for a Kathleen GA home bargain need to be reviewing available distressed properties in this market!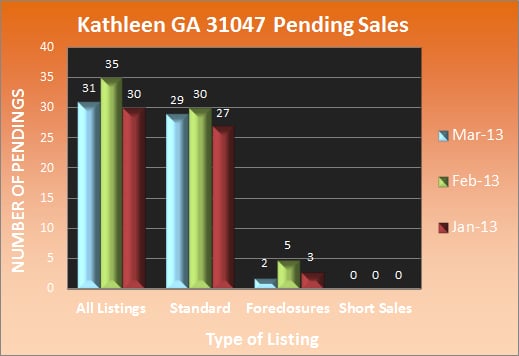 ---
Kathleen GA 31047 Home Sales
Kathleen GA 31047 home sales took a leap forward in March, up 28% from February.  More good news as distressed homes continued to sell, leaving few foreclosure options for interested buyers.
The highest priced sale last month was $490,000 and the lowest was $111,000.
How can both buyers and sellers gain an advantage in the Kathleen real estate market?  Employ the services of a local Kathleen real estate agent who knows and understands the Kathleen real estate market.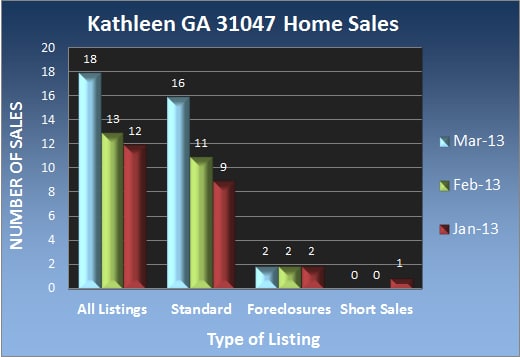 ---
Kathleen Real Estate Report Summary
Currently, the Kathleen real estate market is balanced (meaning it does not favor buyers or sellers) with 8 months worth of homes on the market.  Overall, the February 2013 Kathleen real estate averages and totals are as follows:
Avg Sales Price: $192,249   (Up from Feb 2013, $186,940)
Number of  Sales: 18   (Up over Feb 2013, 13)
Avg Days-On-Market, Sold Homes: 129   (

Down

from Feb 2013, 81)
Avg SP/LP Ratio: 95.52    (Down from Feb 2013, 97.71%)
Highest Priced Listing: $1,399,900
Lowest Priced Listing: $134,900
Largest Home on the Market: 7,901 sq ft
Smallest Home on the Market: 1,452 sq ft
Median Price of Available Homes: $212,000
---
Homes for Sale in Kathleen GA
For a complete list of available Kathleen Real Estate, visit Homes for Sale in Kathleen GA.  Make sure and subscribe to my newsletter so you get notified as soon as homes for sale in Kathleen GA hit the market.
Call me at (478) 960-8055 to find out what your Kathleen home is worth or to discuss your housing needs.
---
Statistics represent homes and condos/townhouses for sale in Kathleen GA (Source: CGMLS).  Information is deemed reliable, but not guaranteed.
Kathleen GA Real Estate Market Report, March 2013