Warner Robins Rivers Alive Clean-Up Program (2017)

With over 70,000 miles of rivers and streams, volunteers to help clean-up our waterways are crucial to keeping Georgia looking its best!  The Rivers Alive Clean-Up Program is held in the fall annually as a volunteer clean-up program designed to clean all the beaches, lakes, rivers, streams, and wetlands in Georgia. As part of the Georgia Environmental Division Outreach Program the clean-up is designed to create awareness and preserve Georgia's waterways.
Annually, over 20,000 volunteers participate in over 220 clean-up events statewide to help beautify Georgia's water resources. Throughout the fifteen years of the clean-up initiative over 360 thousand volunteers have collectively removed over 9 million pounds of debris from nearly 27 thousand miles of waterway.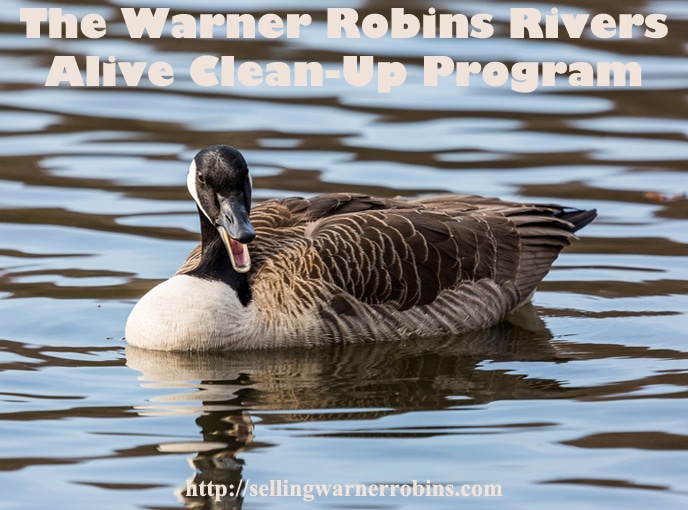 ---
Rivers Alive Clean-Up Program Details
When: Saturday, November 4, 2017
Time: Show up at 9:00am
Where: Wellston Trail on Corder Road
Cost: Free
Contact: Keep Warner Robins Beautiful at  (478) 929-7258
Web: Georgia Rivers Alive
The event will be facilitated by the organization, Keep Warner Robins Beautiful, which provides waste reduction and litter prevention for Houston County. The organization's guiding principles focus on promoting individual responsibility, educating the community, establishing partnerships, and garnering volunteers to protect the environment.
If you are willing to help remove litter and debris from Bay Gall Creek (where the Warner Robins rainwater and runoff flows to), your assistance with this years Warner Robins Rivers Alive Clean-Up Program will be much appreciated.
---
Rivers Alive Facts and Information
The theme this year is "Love Your Georgia River" reflecting creatively on Georgia's waterways through photography, painting, and meditating on the importance of the clean-up effort.
Rivers Alive compiles a report annually detailing the findings from the statewide clean-up. A highly detailed tally form is completed by each volunteer and the clean-up organizer for the annual report. The report consists of a breakdown of the most likely found items, packaging materials, fishing gear, and personal hygiene items.
The data collected for the report highlights any challenges in safeguarding the environment and on pinpointing future prospective clean-up sites.  Last year over half a million pounds of debris were collected and removed from Georgia's waterways.  Some of the most unusual items detailed in the clean-up report from 2016 included a refrigerator, homemade scuba gear, and a wooden wagon wheel.
Various participants are needed for a variety of tasks including serving on a planning committee, locating waterways for clean-up, recruiting volunteers and sponsors, assisting in the events, picking up debris, and recording data.
The program procures one hundred percent support through fundraising and through the support of local sponsors that provide funding for trash bags, gloves, insect repellent, first aid kits, and occasional refreshments. Volunteers will receive a Rivers Alive T-shirt for their clean-up efforts, but should arrive in comfy clothes and shoes expecting to get dirty.
Rivers Alive seeks to inform the community through educational classroom activities such as requiring students to keep a My Trash Journal to increase their awareness on the amount of waste they create and the impact it has on the environment. Sponsors and organizers are kept informed on activities and events through the Rivers Alive quarterly newsletter. Next year marks the 20th Anniversary of River Alive and they will be celebrating with a 12-month calendar featuring Georgia's favorite watershed moments.
Support the Warner Robins Rivers Alive Clean-Up Program