The Pros and Cons of Buying a Historic Home
Have you ever considered buying a historic home? If you are in the market for a house, perhaps you have seen a historic home or two that you love. Or, maybe you have liked a particular style or district of historic homes all your life and finally want to fulfill your dream of living in one. Victorian triple-decker or eighteenth-century farmhouse, here you come! Even if the property itself is not considered historic it may be part of a historic district.
Not so fast. Buying a historic home is a huge decision, and you should think long and hard about it before taking the plunge. Not every old home, by the way, is technically a historic home. Historic homes carry a specific designation from the National Register of Historic Places which is maintained by the National Park Service. The National Trust for Historic Preservation is another organization that lists historical homes.
Houses receive the designation because they are architecturally significant in some way, are representative of the culture of the past, or were a historically significant person's residence. In general, homes should be at least 50 years old too.
Because they are designated historic, the homeowner is not the only person concerned with their purchase and upkeep. You may be dealing with local, state, or federal governments or community organizations if you purchase a historic home. Their requirements, rules, regulations, and customs must all be followed.
The unique characteristics of these properties make weighing the pros and cons of buying a historic home an essential step. Below are several advantages and disadvantages of owning a historic home you should consider.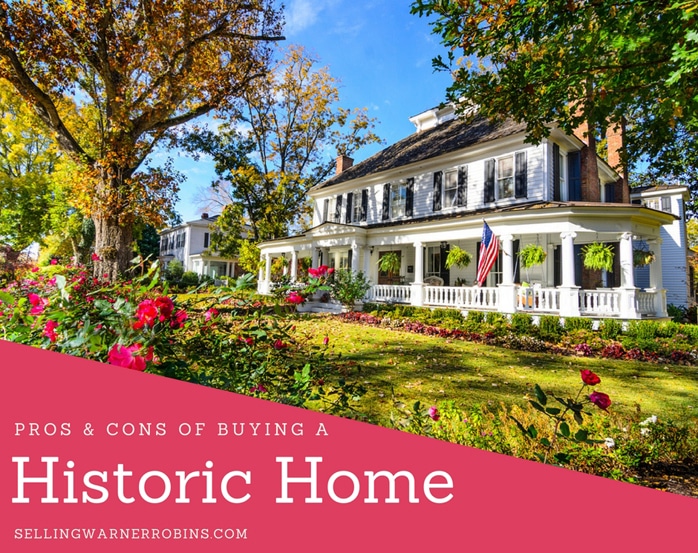 Advantages of Buying a Historic Home
Beauty and Charm
Since many historic homes have been deemed so because they represent the best of a particular architecture, many of them have outstanding beauty and charm. They are often more beautiful and arresting than contemporary homes, which are less distinctive. Have you always loved bay windows, balustrades, shutters, or pocket doors? Historic homes often abound in them, depending on the period.
Whether your specific love is colonial, Victorian, twentieth-century, or one of the many other architectural styles, buying a historic home is a chance to live every day in one you find aesthetically pleasing. Sitting in front of an original ornate fireplace, admiring the intricate details of the crown molding and door/window frames, marvel at the stain glass windows, or just reveling in the fact there is an incredible amount of personalized workmanship on display is enough to sway many to seriously consider owning a historic home.
Connection With History
Historic homes are, well, historic! Living in one is a chance to connect with the country's past and the people who lived there. They are an important part of our nation's history and heritage. Some historic homes keep alive particular periods, such as the colonial era, regional conflicts in the Civil War, or the post-World War II move into the middle class for millions of people.
Purchasing a historic home can be a contribution to the preservation of an important aspect of history. You will have the pleasure of knowing that you are the latest in a historical line of owners. If you are a history buff, you will love knowing you that you are keeping that history alive every day.
Community Involvement
Some historic homes are part of designated historic districts and are integral to their communities. The French Quarter in New Orleans, with its distinctive wrought-iron balconies, is one well-known example, but there are many historical areas throughout the country. If the entire area is historic, you may have some input into any neighborhood changes because they will have to be approved by a review board before implementation.
Historic districts (there are 2,300+ in the U.S.) often have active associations on both the local and state levels. If your historic home is not part of a historic district, there might still be a lot of community involvement from local leaders or history enthusiasts. It is a chance to become one of the community members at the forefront of historical preservation. You can rest easy knowing there will not be much new construction around you which can drastically reduce noises or increased traffic through the community.
Contributions to History and Architecture
You are not just stepping into beauty and history with a historic home. You are also stepping into the possibility of learning more about the area's past. You may learn more than you ever thought possible about how people built homes during the period your home represents.
At times, renovations reveal new historical insights. You may discover diaries of past owners or that the house played a key role in historic events. You may end up working with local historians and architectures on discoveries that add to our understanding of the past. You may be not just a steward but a pathbreaker as well.
Financial Value
Historic homes can offer considerable financial value to their owners. Well-maintained historic dwellings often command a premium on the market. They are desirable, after all, and you can be assured that no more of them are being made. High desirability and limited stock are always a path to real estate price appreciation.
If the home generates income, and is being fixed up, it may qualify for a federal 20% renovation credit!
Even if economic downturns affect your region, a historic home is likely to weather any rough patch and hold its value. Plus, the chances for financial appreciation in strong economic times are high. The possibility of a financial windfall when ready to sell is a strong reason why many consumers look to buy a historic home in the first place.
Tax Breaks and Incentives
Some state and local governments offer tax deductions and financial incentives to owners of historic homes, over and above anything received from the federal government. Be sure and check into all of the possibilities for your region thoroughly (like local or regional grants). It is a good idea to talk to current owners of historic homes in your area to get any insight into the local tax and financial incentive picture.
You may qualify for a Conservation Easement from the federal government. If you decide to give up certain rights of ownership, you may be able to get additional income tax deductions. Those rights would transfer to a preservation organization. While not for everyone who owns a historic home, it is worth considering.
Loans may also be available for renovations to historic homes that are not available to other homeowners. Be sure to do due diligence before purchasing to find out if you are eligible for any of these, as they can significantly alter the financial picture of owning a historic home. Often, restoration and preservation loans come with lower interest rates so keep that in mind if you are considering a property that requires some work.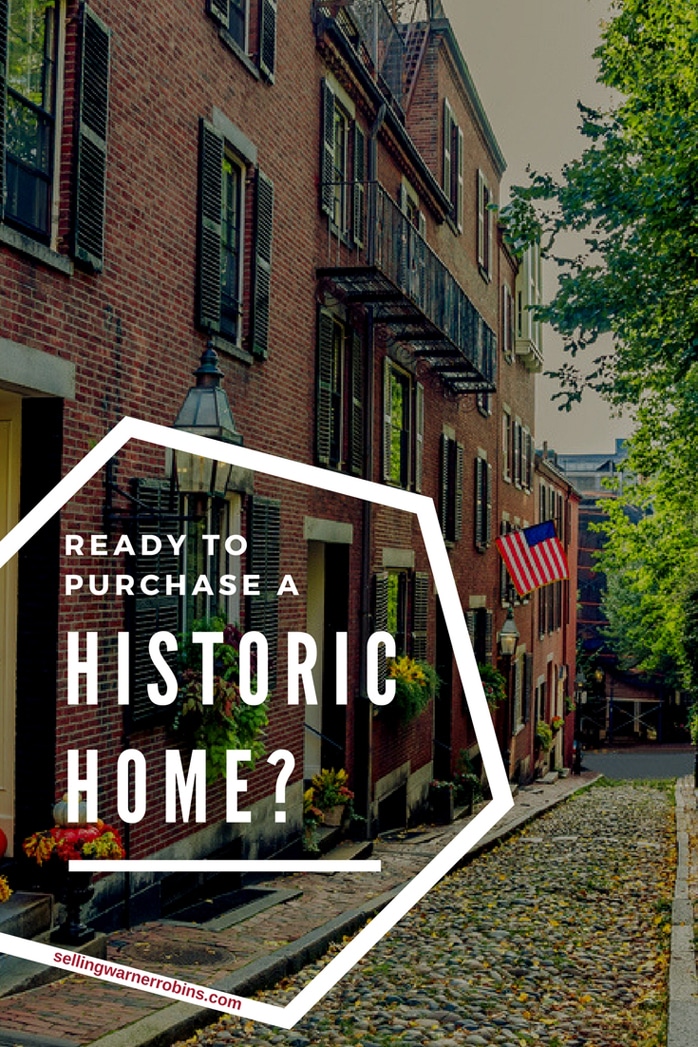 Disadvantages of Purchasing a Historic Home
Possible Restrictions on Changes
Owners of officially designated historic homes are often required to follow the style and conventions of the period the building is from. As a result, you may have restrictions on what you can change. Some historic districts, for example, require paint colors in keeping with what people would have used in the past. That's why you often see white homes and green shutters in historic areas of New England, for example!
Some historic districts or associations will not allow renovations that could change the style or be out of sync with the historical period. Contemporary additions, even ones undertaken for environmental or maintenance reasons, may not be allowed. Energy-efficient windows, for example, may be out. When in doubt, obtain a copy of local preservation guidelines to ensure your project can be accomplished.
Expansions to the size of your house may not be allowed if they would make it larger than the footprint at the time the house was built. It is always a wise move to get permission from the city to ensure you are not breaking any local laws by making changes, even cosmetic ones.
More Expensive Renovations and Upkeep
Older houses, as a general rule, are more expensive to maintain, repair and renovate than newer ones. Time takes a toll on buildings. Renovation and upkeep can thus be a constant battle, especially since these homes are typically at least 50 years old, and often much older. You can expect the structure, the fixtures, and the systems such as plumbing, wiring, and so on all will wear out or need repairing or an overhaul.
The last thing you want is a money pit…draining both your time and finances!
That is especially true of historic houses, because a high level of maintenance may be required, especially in historic districts. Historic homes cannot look shabby or in poor repair. There may be penalties if they even come close to a state of disrepair. If you have to follow specific codes, colors and plans, your costs may be particularly high.
More Time-Consuming Renovation and Repair
Most home repairs or renovations, frankly, tend to take longer than the initial estimates to complete. Those timeframes may double for historic homes. First, restoration and repair may be painstaking to finish correctly and require special orders of goods and materials. Second, older homes need more maintenance and repair to keep looking good.
They sag and warp with time from the attic to the windows. Floors can slant and lose their ability to be level. You will have to fight those conditions off all the time. Contractors could be around your home literally for years if extensive renovations are needed. This can disturb your peace and might even require you to relocate at times.
Sudden Surprises
Because historic homes have had a long life, many contain chapters within them. Many a gracious brownstone, for example, had an interim life as a warren of small apartments during the period when brownstones were considered old hat.
The features of your home may have gotten damaged or covered over with a new style. Many a linoleum floor has been removed only to find hardwood beneath! You cannot be sure what you will find once renovations begin and that can include asbestos, lead paint, or other harmful contaminants or even buried oil tanks, cesspools, or wells.
While some historic home owners (and their contractors) discover significant new additions to historical knowledge, not all discoveries are good. Historic home lore is full of stories involving unwanted surprises such as water damage or termites previously hiding behind walls. Discoveries of this kind can cost some serious time and money to fix.
Hard-to-Find (and Expensive) Help
If you live in a contemporary home, almost any qualified contractor or inspector can do your repairs and maintenance. But in a historic home, some jobs may require specific contractors or inspectors with expertise in your home's historical period.
There are contractors and inspectors who specialize in historic periods and materials, certainly. But they may be hard to find or have a long waiting list, or both. They can also be expensive. You also may need professional consultations about advisable renovations and methods that owners of contemporary homes do not need.
Higher Ongoing Costs
All homes have ongoing costs, of course, such as insurance, inspection, and property taxes, but these expenses may be higher in a historic home. Insurance companies may charge more because repairs can cost more. Insurance for fire or mold may be mandated where it is not for most houses in the area. Some insurers may force you to purchase historic property insurance which can drive up your ongoing costs.
Inspections may be more stringent than they would be in non-historic homes. Property taxes may be higher, especially in historic districts. Be sure to get a sense from current historic home owners how much the ongoing expenses are. Factor in higher ongoing costs for owning the home to your overall financial projections.
Applying to the National Register
Whether you are an existing homeowner or are considering buying a property that you believe may qualify as a historic home, it is important to know how and where to start the nomination process. The process typically starts by contacting your State Historic Preservation Office and following the National Register Criteria for Evaluation standards. That methodology varies by state but often includes:
Checking the National Register to determine if the house notionally qualifies
Completing the application forms
Historic Preservation Division review
If initial review is successful, expect a request for more information and scheduling of a potential site visit
Review board determination
If review board approves the dwelling or site, documentation for submission to the NRHP is prepared
Keeper of the National Register review
If approved by the Keeper, the property is officially added to the National Register of Historic Places and is listed in the National Register's weekly list of approved properties
The SHPO can provide a wealth of information and will assist with the nomination process, evaluation of the paperwork and property, and any survey requirements that may be needed. It would be wise to utilize their expertise and services to ensure you follow each of the guidelines when looking to upgrade or when buying a historic home.
Final Historic Home Thoughts
The National Historic Preservation Act of 1966 and the subsequent amendments have clearly outlined the requirements for inclusion. Any property included for preservation is a national treasure with historical significance and should be treated with the utmost of respect and reverence.
Before buying a beautiful historic home, be sure to weigh the pros and cons. It is especially important to consider potential renovation and upkeep costs and balance them with your budget. If the advantages outweigh the disadvantages, then you are one step closer to buying a historic home and preserving a piece of U.S. history.
Always be generous with your estimates of what a historic home may cost. But if, after all that, you decide a historic home is truly what you want, do not be discouraged. With appropriate planning and focusing on the finances, you can have the home of your dreams.
More Historic Home Resources
National Register of Historic Places
National Trust for Historic Preservation
The National Historic Preservation Act
Investment Credit, IRS Form 3468
If you found this article on the pros and cons of buying a historic home helpful, please consider sharing it so others who may be looking to purchase one of these properties will find the information. Happy historic home hunting!
Reasons For and Against Buying a Historic Home