Home Sales in Perry Georgia 31069
September 2018 Market Report
Home sales in Perry GA continued to stay roughly the same as the past several months. In fact, sales have only changed by 3 any month over the last quarter. That is not too bad considering this market has a shortage of inventory for consumers to peruse. Hear that homeowners…get your home listed, seen, and sold in this market right now. Stay tuned as we review this market to help you make an informed decision about the real estate market in Perry GA!
The Perry real estate market saw 30 closings  last month. That was the seventh highest total in any month during this past year. If there had been more inventory, that number could have been even higher.
Unfortunately, with just 19 pending sales (down 12 from the previous month), this market looks like it is beginning to cool off as the weather begins to change. With only 102 houses currently available (up 2 over the previous month), consumers must act fast when they find a home they want or run the risk of losing the house to another buyer who is willing to make a quick offer.
Let us go ahead and take a longer look and check out all the details for the home sales in Perry GA last month!
---
Perry Georgia Homes Sales
With 30 homes sales in Perry Georgia this past month (down 2 from the previous month), this market could really use new inventory to pique buyer and investor interest. Currently, the monthly average home sales is 30 houses exchanging hands. During this same time last year, there was 38 closings.
The average days on market for home sales in Perry GA this past month was 71 days (from listing to closing). The 12-month average is 69 days. As a comparison, it took homes 62 days to change hands during the same time-frame last year.
The average sales price came in at $171K+, which was $9K more than the previous month, and $10K more than the same time-frame last year. The 12-month average is $176K+. Homes in all price points have a good opportunity to be seen and sold in this market right now, especially if they are market priced and well maintained!
The sales price to list price ratio (SP/LP) was solid coming in at 98.21% last month. The 12-month average is 98.30%. When consumers locate a house that meets their needs, they are making decent offers, giving sellers an incentive to negotiate and sell their home. What they are not doing is overpaying in this market right now, despite the shortage of inventory.
How can both buyers and sellers gain an advantage in the current Perry GA Real Estate market? Employ the services of a local Perry Real Estate Agent who understands all of the ups-and-downs and twists and turns of this market.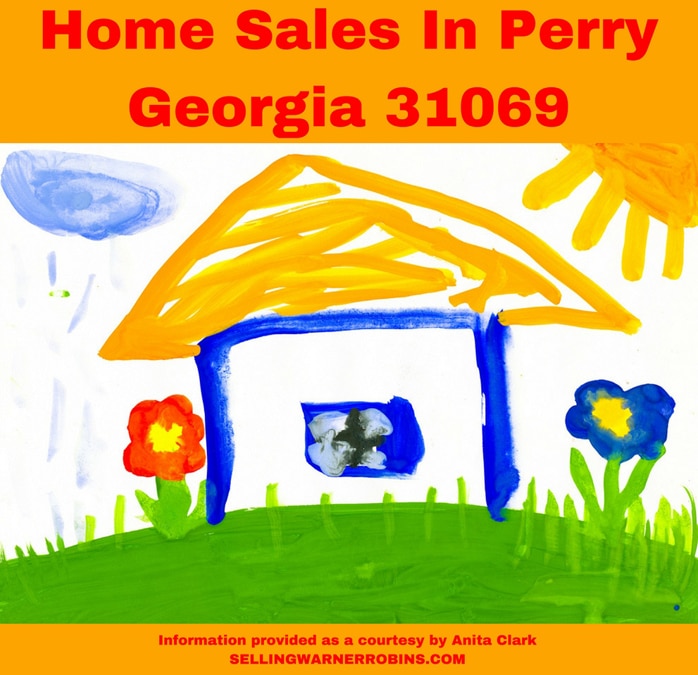 ---
Perry GA Real Estate Market
Currently, the Perry GA real estate market favors sellers with 3+ months of available inventory (102 homes) to choose from. To review the home sales in Perry GA last month as well as other closing information, check out the following statistics:
Average Sales Price: $171,907
Median Sales Price: $172,750
Number of Monthly Sales: 30
Number of Distressed Sales: 1
Average Days-On-Market, Sold Homes: 71
Average Sales Price /List Price Ratio: 98.21%
Highest Priced Sale: $442,500
Lowest Priced Sale: $54,000
Highest Priced Listing: $850,000
Lowest Priced Listing: $40,000
Largest Home on the Market: 10,128 sq ft
Smallest Home on the Market: 1,001 sq ft
This is a good real estate market to be part of for buyers, investors, and sellers. Do not delay or you may miss out on the home of your dreams in Perry GA!
---
Find Perry GA Homes for Sale
For a complete list of available real estate in Perry GA, visit Perry Homes for Sale. Make sure and subscribe to my newsletter so you do not miss out on any Perry home deals!
Call me at (478) 960-8055 to determine what your Perry GA home is worth in this market or so we can discuss your home buying needs. I look forward to assisting with all your Perry GA real estate needs and hope !
---
Review The Home Sales in Perry GA
Statistics represent single family homes and townhouses in Perry GA (Source: CGMLS) for the referenced month. Information is deemed reliable, but not guaranteed.
Sorry we are experiencing system issues. Please try again.
deMap="true"]