Available Foreclosures in Bonaire GA
There are not many available foreclosures in Bonaire GA right now, in fact less than 3% of the overall real estate market are distressed properties in this community. With so few real estate owned (REO) options for buyers and investors in this market, there is no time to wait when they find a real estate owned home that meets their needs.
As a reminder, foreclosures often have special stipulations and funding options so it is critical you understand all your options before making a decision in this middle GA niche real estate market. There may be hidden dangers with some of these properties, so ensure you take the necessary steps, and make sure you have fully vetted the home before putting in an offer on it.

---
REO Homes in Bonaire Georgia
There is no better place on the Internet to review the available foreclosures in Bonaire GA than right here. This page is updated near-real-time and has the most comprehensive search capability to help you pinpoint a home or property type that meets your needs.
It is important to understand that while some of the Bonaire GA foreclosure home are in great shape, many are not, so buyer beware. Here are a few risks that consumers need to consider: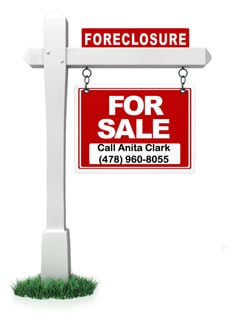 Poor condition – Most often, this is the #1 issue affecting foreclosed properties. Whether it is hard living or scorched earth, many Bonaire REO properties need some tender loving care to make them habitable again.
Legal concerns – Foreclosures often have stipulations or liens that require attention. Know what you are getting into before you buy the home!
Lack of marketing – Sometimes, foreclosure homes do not get as much attention as their contemporary counterparts. If you are serious about finding foreclosures in Bonaire GA, use this site or call me for assistance.
Slow processing – Lenders are often overwhelmed and banks operate at their own pace. Be prepared for delays.
The overall Bonaire real estate market currently favors sellers with limited inventory to choose from. However, many buyers continue to look at foreclosures in Bonaire GA over regular homes because they believe these REO properties are a good deal with built-in equity.
Some of these distressed homes may require some much needed tender-loving-care while others may be move in ready….you never know until you make an appointment to see the house.
---
Your Bonaire GA Foreclosure Expert
Whether you are in the market for foreclosures in Bonaire Georgia or want to review your standard listing options, working with an agent who is well versed in the Bonaire real estate market can make all the difference.
When you are ready to begin your home search, I am available to assist with all your Bonaire home buying or selling needs, and look forward to earning both your trust and business.
For a complete list of available Bonaire homes for sale, click here for your Bonaire GA Home Search or call me at (478) 960-8055 so we can discuss your specific housing needs in this community.
---
View All The Foreclosures in Bonaire GA 31005
Statistics represent ONLY available foreclosure single family homes in Bonaire GA as of the date posted. (Source: CGMLS). Information is deemed reliable, but not guaranteed.