10 Bathroom Updates for Couples Moving in Together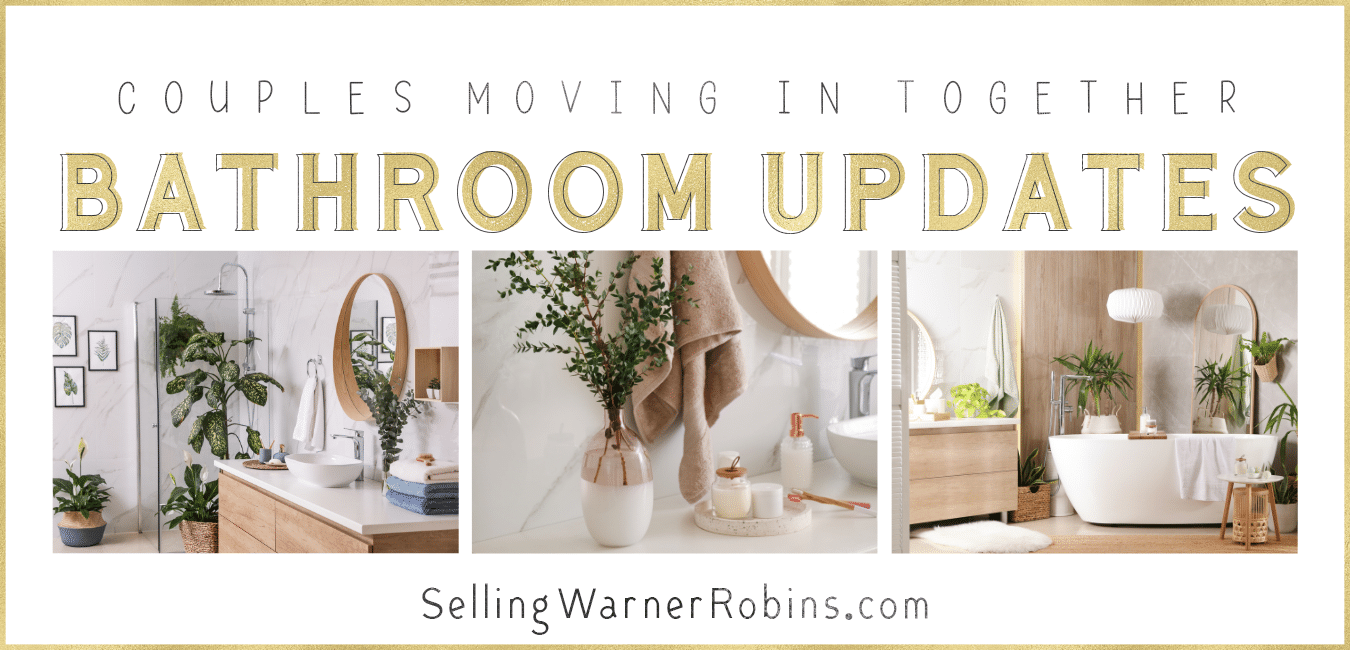 Moving in with your significant other is an exciting step in your relationship. The idea of sharing a home together will bring you closer than ever, allowing you to learn more about each other and enjoy a place to call your own. However, it is a significant change, and with it come challenges as you adjust to each other's habits and routines. The bathroom is one of the most frequently used spaces in the home, so it's not surprising that it can take some time to adapt to one another's needs when sharing. That's why we have put together a list of 10 bathroom updates you can take on to create a peaceful, functional, and romantic space without breaking the bank.
Sharing a bathroom with your partner does not have to be a source of conflict or discomfort. With just a few simple updates, you can turn your bathroom into a functional and relaxing space that will suit both your needs and desires. 
Separate Sinks
For couples who have just moved in together, sharing a bathroom can be a new challenge, especially when you're trying to get ready in the morning. Having a double sink fitted will mean both you and your partner have your own space to get ready, avoiding having to wait for each other to finish using it or sharing a cramped sink area. 
Installing a double sink is one of the larger projects on this list, as it usually involves removing the existing sink along with the countertop, and replacing them with a new setup designed for a double sink. Some plumbing work may also be needed for the installation of double sinks, adding to the costs of this project. 
The cost to install a double sink usually ranges between $400 and $3,500, depending on the size of the new setup and the materials chosen. But this project could be a worthwhile investment when it comes to the functionality and space it adds for you and your partner to get ready in the mornings, and to wind down in the evenings.
Install A Double Shower
The cost of a bathroom remodel can set you back thousands, depending on your style and wants, but a whole new bathroom may not be necessary to achieve the results you are looking for. 

A double shower is a great update to a bathroom for couples who are moving in together. If your daily routines happen to clash, getting ready in the morning could be frustrating. Instead of having to wait for the other to be done with the shower, you can both come and go as you please. You don't want to be late for work or find that your other half has used up all the hot water. While some couples may decide to squeeze into the small space together regardless, installing a double shower is a more luxurious and practical way for you both to be able to enjoy a relaxing shower at the same time without one of you inevitably getting cold. Another great aspect of having a double shower is the fact that you can each have the water temperature set to your individual preference. 
If your existing shower is already large enough, you will simply need to install an extra shower head and an additional valve, which together would cost around $400. However, if your shower requires some extra space for both of you to fit comfortably, you may need to install a new shower which could cost an average of $8,000. Although this could be a costly upgrade, a double shower is a luxury that can make a big difference when it comes to creating a space that you can both relax in and enjoy. 
Create Extra Storage Space
One of the first things you will notice about moving in together will be having to find space to fit both of your belongings. Adding some extra storage space to the bathroom is a practical way of making sure you each have enough space to accommodate your needs. Things like towels, toiletries, and beauty and grooming products will all need to find a place in the bathroom. Having that extra storage space will make the world of difference when it comes to keeping the space organized and tidy. 
There are various ways you can add extra storage to your bathroom, including installing shelves and cabinets wherever you have the space. If your bathroom is on the smaller side, adding a cabinet above the toilet will provide that extra space for your essentials. Adding extra storage space to your bathroom is also an affordable DIY project you and your partner can take on together over the weekend. 
Install A Large Mirror
Although it may not be a necessity, being able to use the bathroom mirror at the same time can really make your bathroom more functional. Not only will a larger mirror improve the look of your bathroom and enhance the lighting of the space, but it will also allow you and your partner to get ready for the day or wind down for the evening together. 
Bathroom mirrors are usually located above the sink, but if space is an issue and having a large mirror could take up some of the space you would use for valuable storage, then installing a second mirror, behind the door for example, might be a good compromise for you. You could also each have a smaller designated framed mirror on some spare wall space, further adding to the aesthetic of the bathroom.
Put In A Big Enough Towel Rack
As a couple, you'll be using a fair amount of towels. Running out of space to dry them is something avoidable by installing a simple update; a towel rack big enough for both to use. Having space for some extra towels to dry can really make sharing a bathroom with your partner that much easier and more comfortable. Nobody wants to get out of the shower only to find their towel lying damp on the floor. As well as improving the practicality of the space, it will also help with keeping the room tidy and it can even lower the humidity in the air. 
Depending on the style of your bathroom, you can opt for various types of towel rack designs and materials. You can also choose to have a heated towel rack which is an added luxury both you and your partner can enjoy when coming out of the shower on a cold winter morning. This will also dry the towels more quickly, which can help when you have damp towels overlapping each other.
Improve Bathroom Lighting
There is nothing less flattering than big bright ceiling lights. When spending time in the bathroom together, you may want to create a calmer and more romantic and relaxing setting. Installing some softer lighting can help create this calm environment as well as improve the overall look of your bathroom. 
Smart lighting could be a practical solution, meaning you can adjust it to whatever situation. While getting ready, you may want brighter lighting to help see more clearly. When enjoying a relaxing bath together, softer lighting would be preferred. Replacing the ceiling lights with some wall-mounted lights can make for a better angle when it comes to getting ready in the morning. A backlit mirror can also help provide the best lighting too. You can opt to take on this project together by installing stick-on LEDs to the space, or you can choose to hire a professional for a bigger upgrade.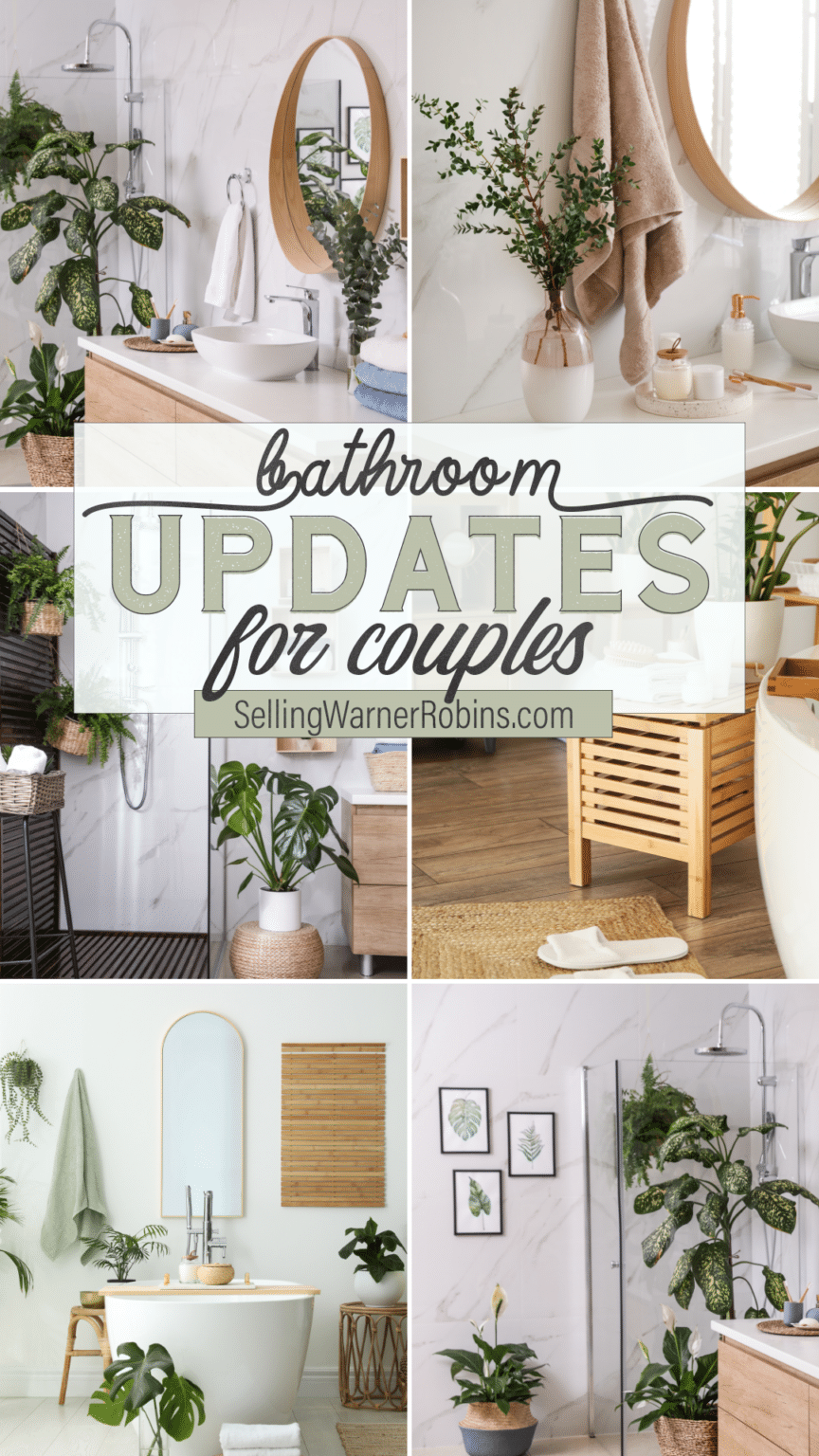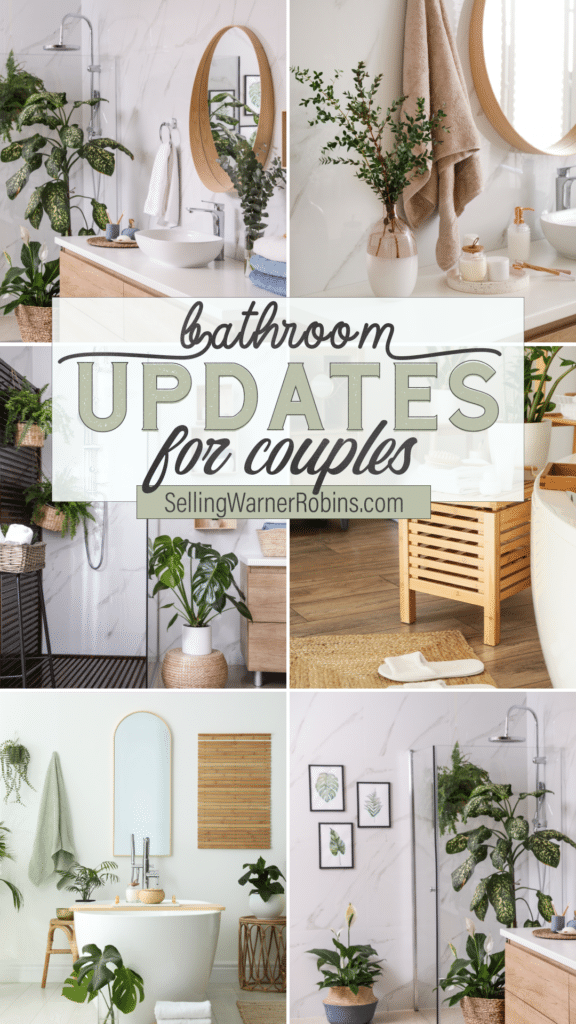 Fit An Oversized Tub
Adding a bathtub to your bathroom will provide a space for you and your partner to totally relax at the end of a long day. Bathtubs can sometimes be more inviting than a shower, especially during the winter months. Having one big enough to share will mean being able to spend quality time together without having to book a trip to the spa, or being uncomfortable when trying to share a smaller-sized tub designed for one person. Oversized tubs are also a trendy addition to the bathroom, giving it a modern look.
Depending on the space you have and the materials you go for, a bathtub installation typically costs around $3,000. But you'll find that this investment will be worthwhile in terms of the stress it will alleviate from your daily lives as it can be a space for you both to escape and be alone in.  
Install a Toilet Cubicle
In many modern homes the toilet is separated from the rest of the bathroom while still being in the same space. This is a way of making the use of the bathroom more comfortable for those who do not have enough space to install a whole separate room. By installing a cubicle with a door around the toilet area, it's possible for a couple to both use the bathroom at the same time while maintaining some privacy. It's all about making the room as accessible as possible, especially for couples who are sharing one bathroom space. Another option is to create a divide with frosted glass, so whoever is using the shower/bath area, is not disturbed by the other person using the rest of the space. Of course, this all depends on the space, size, and dimensions of the room. 
You Always Need Extra Outlets!
On your own, you may be able to survive with just one electrical outlet that may also include one razor charger socket in your bathroom. However, as a couple, there is a need for more outlets. One cheap quick fix would be to plug in an extension cable, yet this carries with it some health and safety issues. You do not want to be getting an extension cord wet, neither having the extra trip hazard. Many items you use in the bathroom often need to be plugged in when in use, or at least to be charged. If a couple both need the hair dryer plugged in at the same time as a curling iron, having an extra outlet means not having to wait until the other has finished. 
This is not an upgrade that should be attempted DIY unless you have experience and the right tools. While it is possible to do if following instructions, the most recommended option is to hire an electrician to ensure that the job is completed in the safest manner possible. 
Accessorize Your Bathroom 
One of the easiest and most affordable ways to update a bathroom for a couple moving in together, while not by any means being any less important, is by focusing on the smaller details that can make life easier. Bathrooms are full of accessories and items that may need to be added to when making the space usable for a couple. Having a toothbrush holder for two, for example. A small washing basket may not be enough, so consider opting for a larger-sized one which will mean not having dirty clothes spill onto the floor or being piled up on top.
Also, check to see if there are at least two hooks somewhere to hang a dressing gown for both, as well as more than one rail for hand towels. These small details can also go a long way in improving the functionality of the space. 
A Space to Enjoy Together
Moving in together is an exciting step to take in a relationship, but with it can come its own set of challenges, especially when it comes to sharing a bathroom together for the first time. There may be some things you might not have even thought about being an issue which could later be the catalyst for arguments.
By coming together to create a space that is suitable for both of you will ensure that your bathroom will be an area of the home that you can enjoy for years to come. Whether you're aiming for a spa-like and luxurious setting, a cozy place to relax in, or a functional area that works for two, making the appropriate bathroom updates will help you achieve the perfect space for both of your needs.
If you found this article on bathroom updates for couples moving in together helpful, please share the article via social media so more consumers can benefit from the information.
Bathroom Updates For Your Home