What to Look For When Hiring a General Contractor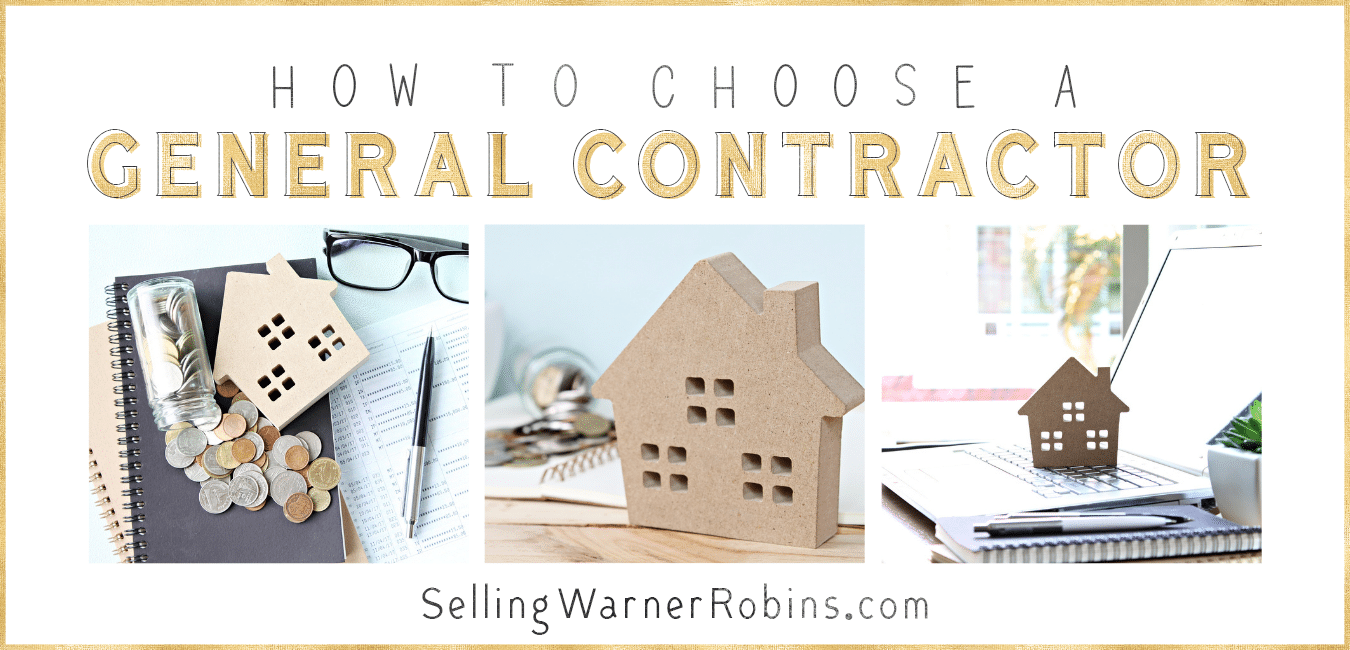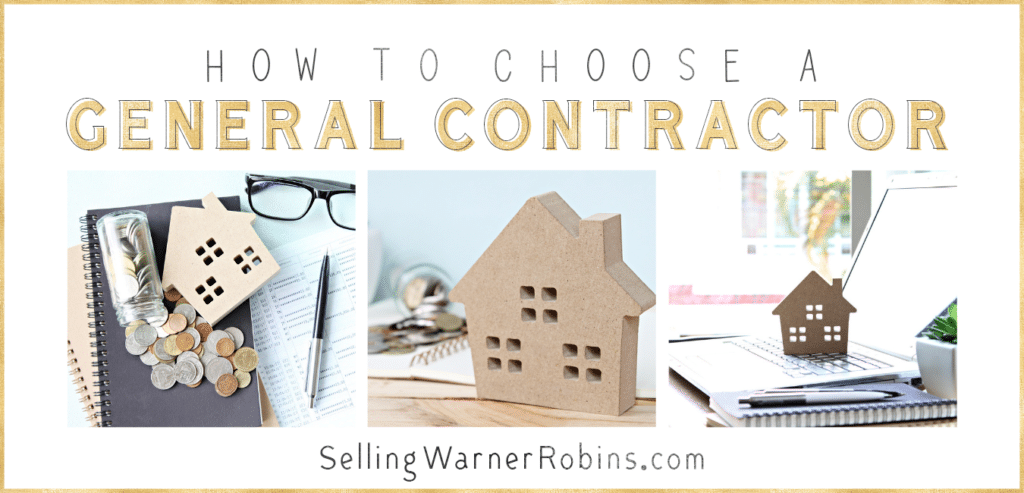 Anyone who has ever binged a season of Fixer-Upper or Georgia's own Good Bones knows the feeling of wanting to freshen a space up. While there is a significant sense of pride and accomplishment in doing it yourself, not everyone has the knowledge and skills to get it done correctly. That is why hiring a general contractor is something you should consider.
Whether you need a home extension or a large-scale renovation, here are some things you need to know to make the best choice for your next home improvement project.
Homeowner's To-Do List
Talk to friends, co-workers, family members and neighbors about any building, remodeling or renovation work they have had completed by a general contractor. Their firsthand experience can provide a positive or negative recommendation about a specific contractor.
Check with local contractor associations, and make a list of candidates suited to the type of work you need completed.
Verify that each contractor is bonded, insured and has an up-to-date license.
Contact the Better Business Bureau about each potential candidate to check for any new, old or pending complaints. The BBB is a good source for weeding out problematic contractors.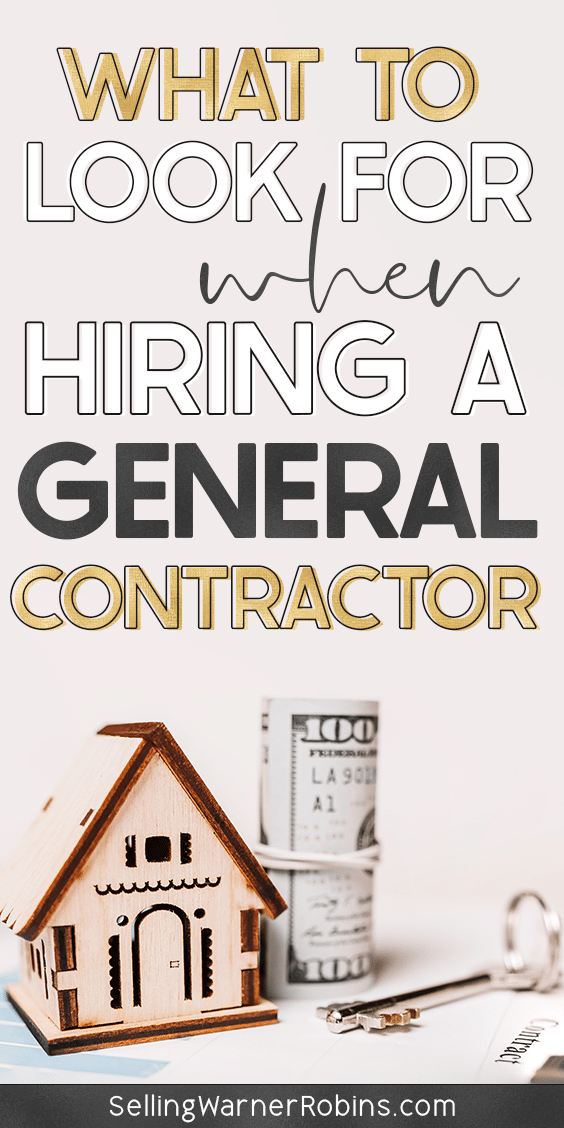 If any of the contractors have a current project in progress, visit the site for an close-up look at how well the project is being managed, the condition of the work site, and observe if the work is being completed in a safe and efficient manner.
Make a short list of questions to ask each contractor. Include questions regarding the estimated cost of the entire project including material, site cleanup, labor, rental equipment and permit fees. Also ask about availability, start and end dates, insurance coverage, subcontractor names, payment options, warranty coverage and verifiable job references.
Schedule an appointment with each general contractor. Make notes of their answers to your questions.
Ask for a detailed copy of each estimate with the date and authorized signature.
After meeting with each contractor, compare their answers to help narrow down your choice.
Pick a Contractor Who Specializes in What You Need to Be Done
So many home improvement projects are regulated and code-specific that not just any contractor can do them. You would not want a plastic surgeon performing neurosurgery on you. Your house should be no different. Projects that require electrical connections or wiring should only be done by electricians or someone with an electrical engineering qualification.
Another point is that codes and regulations are in place for a reason. There are dangers involved with working with utilities that only an experienced contractor would know. To protect yourself and your contractor, you need to make sure that whoever you choose knows the risks involved with the job and how to avoid them.
Ideally, you want someone who not only specializes in what you need to be done but has previous experience with it. Professionals often take classes and do relevant research on projects they have to do. For this reason, they are regarded as experts in their fields and should be considered for your home improvement jobs. The best contractors know how to anticipate the nuances of the job they are doing, so keep that in mind when hiring a general contractor for your renovations.
Hire a Local Contractor
There are many benefits to going with a general contractor from your neck of the woods. Apart from knowing the HOA requirements and area pre-requisites for your neighborhood, going local means that you will know where the contractor's offices are and how to reach them. You do not want to be left in the dark about any problems with your project in the future.
Good local contractors pride themselves on quality workmanship. Word of mouth and local opinion is the best advertisement for a local general contractor. Going with a general contractor from your area means having potential references that you can trust because they are probably your neighbors.
Hiring locally also means your money will benefit your community. A local contractor will likely know the best places in the community to pick up supplies and, therefore, will also support the proud local businesses of the Peach State (or any state for that matter). With home renovations and new condos being quite a significant undertaking, it is always best to direct those hard-earned dollars back into the local economy.
General Contractor Qualifications
The U.S. is experiencing a growing demand for general contractors. While general contractors should have a basic background in construction, a good contractor also needs to be business savvy, organized, and prepared to deal with unforeseen circumstances that come with the job.
These days, however, anyone with any kind of construction experience is throwing their hat in the general contractor's ring. The result of this is that there are more general contractors who do not have the necessary experience or expertise. How do you ensure you hire the right contractor who will do what they say they can?
A general contractor has to be licensed to perform work in Georgia. The Peach State is one of many that require general contractors to be licensed. The licenses can vary slightly, and all are issued by the Georgia Board of Residential & General Contractors.
In order to obtain a license to work as a general contractor in Georgia, a person must:
Be at least 21 years old.
Pass a criminal background check to prove good moral character.
Work for a residential contractor for at least two years or in a related field in construction.
Obtain general liability insurance worth at least $300,000.
Pass a written examination testing knowledge of building codes, general contracting, and safety regulations.
Submit a general contractor's application form and pay a $200 non-refundable application fee.
Whether the project is a complete renovation of the home, a remodeling project for a specific room, or new construction or add-on, a general contractor has the responsibility of fitting all the pieces and people together to complete the project.
While homeowners may have an idea of how long completing the project should take, the contractor will do the math based on what is involved in the job, other ongoing projects and availability of subcontractors.
General contractors subcontract many of the jobs such as plumbing, electrical, roofing, air conditioning and heating work to companies that specialize in a particular field with certified and licensed technicians to do the job.
Contractors working on a project must also have access to the right equipment for each job. In many cases, it is more convenient and cost effective for the contractor to rent the equipment for individual projects.
Georgia takes care of her homeowner's peace of mind and sense of security with such rigid regulations and requirements. This should help put your mind more at ease when you are hiring a general contractor for your next project.
Questions You Should Ask a General Contractor
Book smart is not everything. Someone can get perfect scores on a test and still not get the nitty-gritty of what they are doing. The only way to get a feel for how qualified your contractor is by asking relevant questions. Here are some brilliant examples of questions to ask:
Are they licensed for what you need to be done?
This is one of the most important questions to ask a general contractor. Licensing is vital in any industry, even more so when there are physical dangers involved. General contractor's licenses in Georgia are issued by the State. If you are not sure whether your general contractor is licensed to work in middle Georgia, search here for their official licensure.
Will they obtain any and all relevant building permits?
The City of Warner Robins prides itself on safeguarding the public and promoting its citizens' health, safety, and welfare. To this end, building and construction permits are required before any work can be commenced.
Depending on the size of the project, your general contractor may need to have electrical, mechanical, and plumbing plans on hand in order to apply for a building permit. The proposed building plans and site plans may be required for new construction homes.
What kind of written warranty do they have?
The majority of general contractors will guarantee the work that they do. Some contractors even make use of written warranty agreements. A warranty agreement typically states what is included in the warranty and what is not, and how long the warranty period is.
While a one-year warranty is good, one that extends to two years is preferable. If you can, choose a contractor who provides an even longer-term warranty for large-scale things like foundations.
Do they have a list of references?
References are just as important as licensing. While a license tells you a general contractor is qualified to do a job, references will tell you how capable they are. You want someone with references to work done in and around your area.
Some areas are more particular about materials used and timely notice for disruptions like noise pollution or dust. It is always best to go with a contractor who understands the specific constraints of your neighborhood or Home Owners Association.
Do they plan on hiring sub-contractors for the job?
General contractors do not always have the expertise to perform all the tasks you need them to. Especially in building a new home or a complete renovation, a contractor might need the expertise of an electrician, plumber, or painter.
Ask for the credentials and qualifications of every specialist your contractor wants to bring into the project. You should also make sure that the specialists carry the type of insurance needed for their jobs. You do not want to end up footing an extra bill for a specialist's mistake.
What is the expected timeline for your project?
Before you hire a contractor, make sure you have a timeline for the project. It is not ideal to have to plan your life around the schedule of a general contractor. It is also good practice to ask about any circumstances that might push your completion date back.
How will the project be supervised?
Supervision is essential when multiple people are doing various jobs, especially if they are working in a space you still occupy. You need to know how the general contractor plans on keeping an eye on things. Unsupervised laborers and specialists might take longer than expected or encounter problems with other disciplines of the job at hand.
In the thick of it, if the contractor does not plan to be present for the project's duration, they at least need to select an on-site project manager. You also want to keep in contact with your general contractor at all times so that there is no confusion or miscommunication between you, the contractor, and potential sub-contractors.
Will a written lien waiver be provided at the end of the project?
A lien waiver is a legal document verifying that you have paid the general contractor, that the sub-contractors have been paid, that all the work has been done to specification, and that any other costs involved have been settled.
Lien waivers are the construction industry's alternative to a receipt. It is preferable to work with a general contractor to keep an accurate and comprehensive record for all their projects.
Another thing to remember is that you are always within your rights to ask any crucial questions. For instance, if you have a historical home or a home with local significance, you want to ensure that it is respected as far as possible. Ask any potential general contractor if they have done any work on historic homes.
You should also feel more than welcome to ask for photographs of work that a general contractor has done before. These can refer to before and after pictures, detailed photographs of project-specific jobs, or just final walk-though photos of a new construction house or renovation. A good general contractor will usually be more than willing to brag and showcase work that they have done before. If there is no pride in previous projects, you would probably be better off hiring a general contractor who is willing to show you their work.
Research Project Costs
As a homeowner, you do not have to have comprehensive knowledge of everything that needs to be done. That said, it is always recommended to be informed about any repairs or contract work you are expected to pay for.
Doing some of your own research before you officially hire a general contractor will save you a massive headache once work commences and the final invoice arrives. Once the prospective contractors have done their evaluations of what needs to be done, take notes and research the basic standard procedures involved with that kind of work. 
During any walk-through with a general contractor, feel free to ask as many questions about the future work as possible. Ask for a ballpark figure of each job that needs to be done and what kind of supplies and equipment will be required. Also, ask if there is any massive equipment the contractor will need to buy, as this will likely affect the overall project cost.
Discuss Payment Options and Budget
Most general contractors require a deposit once they accept a job. The down-payment will likely be used to obtain ant permits, supplies, and equipment at the start of the project. Some states, like California, prohibit contractors from charging more than 10% of the total, or $1000, whichever is less. The Empire State of the South, our lovely Georgia, has no such rules. There is, however, a general rule of thumb to follow when paying a contractor:
Keep to a down-payment of under 25% of the total cost.
You are within your rights to pay the rest of the contract in installments according to the pace at which the work progresses. For safety sake, mention the number of installments and the threshold for each in your contract.
Preferably keep at least 10% of the final cost until:
You are satisfied with the work done.
All of the permits and legal requirements of the project have been met.
You have proof that all of the sub-contractors have received their payment.
Never leave a contract half blank. Cross out any sections that you do not intend to fill in.
Always remember that you have three days to cancel a home improvement contract signed in your home for more than $25. This does not apply to emergency maintenance or repairs.
You are always entitled to a list of equipment and supplies used as this can affect the total cost down the line. Ensure that everything used is exactly what you want so that you don't run into any surprise costs as the project progresses.
Your Home Renovation Contract
Once you have chosen a general contractor, the estimate information will be put into contract form. Before signing the contract, do the following:
Review the contract against the original estimate paperwork. Make sure there are no omissions or changes and that no additional information has been added.
The contract should be completely filled out with a month, day and year, contractor's license number, address and phone number.
Take pictures of the project area before any work begins in case of any disputes.
Have a copy of the signed contract, any required permits and proof of insurance in your hand before allowing any work to be started.
Building a structurally sound relationship when hiring a general contractor requires good communication from all parties and a willingness to work together.  When done right, the results speak for themselves.
Final General Contractor Tips
Home improvement and construction can be a headache. Still, by hiring the right person for the job and ensuring that they comply with Georgia's pre-requisites, you save money, time, and a boatload of energy. Support the Peach State's economy and go local, do your research, and keep constant contact with the contractor, and your project should go off without a hitch.
Building a structurally sound relationship when hiring a general contractor and laying out a "relationship blueprint" is tricky business. They have a lingo all their own and if you are not up to "code" on the verbiage, you could get "hammered" with unnecessary costs and "nailed" with inexperienced labor. Before hiring general contractors, acquaint yourself with some of the building blocks that will help you make the best choice.
Fortunately, Warner Robins is home to some of the best general contractors in Georgia.
If you found this article on hiring a general contractor helpful, please consider sharing it so more consumers can benefit from the information provided.
Tips When Hiring A General Contractor To Renovate Your Home