How Does Home Automation Affect the Value of Your Home?
It is no secret that homeowners like convenience. It is this very fact that made the so-called "homes of the future" so appealing in the past. Today, homeowners are also looking for ways to maximize efficiency and increase security. As home automation features become increasingly cost-effective, more homeowners are embracing such technology as a means of accomplishing those goals.
If the idea of increasing your comfort by having any of the items below automated in some form or fashion, then you need to take a serious look at what home automation options are worth your time, the value to install/use them, and which have decent resale value when you prepare to sell the property. Which catch your eye?
Energy monitoring
Entertainment systems (audio, video, recording, etc.)
Heating/cooling systems
Healthcare diagnostic/monitoring systems
Individual room controls
Lighting
Outdoor sprinklers
Pet monitoring
Robotics
Safety monitors (carbon monoxide, smoke, etc.)
Security devices (need a doorbell cam?)
Smart appliances
Temperature control
Ventilation systems
Water systems
Other systems and monitoring methods
An added benefit of home automation is a noticeable boost in home value and some attractive features likely to catch the eye of discerning home buyers. Even if you are not currently looking to put your property on the market, the upgrades will be available for new buyers when you finally do try to sell your home.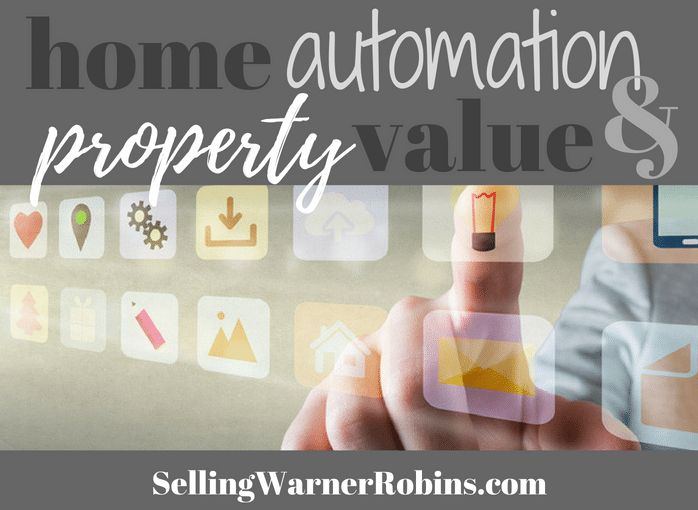 ---
An Introduction to Home Automation Systems
In basic terms, a home automation system is a remotely controlled setup that will allow you to control a variety of home systems, including lighting and shading, heating and cooling, security cameras, controlled locks, water systems, appliances, and even entertainment systems operating within your home. Potential homeowners are increasingly looking for ways to increase convenience and security, two of the top selling points of home automation systems.
It is the convenience of such features that can make a home more appealing should you decide to place your home on the market in the future, with many local real estate agents noting that homes with some type of automation tend to sell at a higher price than similar properties lacking any automation. It is estimated that automation can increase the value of a home anywhere from 3 to 5 percent, depending on the type of automation deployed.
According to a market report from Transparency Market Research, by 2020, it is estimated the worldwide home automation market will be a $22 billion dollar industry.
If your goal is to make life easier, more convenient, to go greener, or just to improve your family's overall quality of life, there are plenty of smart options and systems  to meet whatever your needs are. No one knows what is important to you better than you so
Benefits of Home Automation
Added security and peace of mind when home automation systems are connected to an existing security system to provide email or text alerts when there is movement when nobody is home is another benefit that can easily appeal to perspective homeowners concerned about security. In fact, many homeowners now consider security features essential rather than optional.
The EPA has said consumers who utilize a schedule coupled with temperature settings on their programmable thermostats, can reduce their energy usage by 10-30%.
Energy savings from Internet-controlled thermostats that can be adjusted throughout the day, during peak times, or adjusted on a per-room basis for added savings can make such systems a cost-effective investment. Home automation tools like this are especially appealing to tech-savvy home buyers. Current homeowners can enjoy an extra $20 in annual savings for every dollar saved yearly in energy costs, according to an Environmental Protection Agency (EPA) estimate.
In particular, millennial home buyers are reinforcing the idea that protecting our environment now will have long lasting effects for future generations. Perhaps their reliance on technology also plays into it but there is no denying millennials are looking seriously at the various home automation systems in homes they are viewing.
Opting for Permanent Value
Does home automation affect home values? If you are like most homeowners, you want to make an investment in your home that is going to be immune to market trends. Some improvements may actually decrease the resale value of your home, such as adding an in-ground swimming pool that could be considered difficult to maintain by a potential buyer. Home automation, on the other hand, addresses many of the common concerns among home buyers and instantly jacks up a home's "cool factor," explaining why some real estate sites now lead their listings with any mention of a home's automation systems.
Most real estate agents advise clients to eliminate as much clutter as possible so a buyer can envision how they will use the space without too many distractions. One-touch automation features, which can be controlled from any Internet-connected device, eliminate the need for remotes for every single system or device. Unsightly cable wires can also disappear.

Lighting is another element that can either highlight potential or magnetize flaws. With automated dimming features, you can easily control how much light is used in each room while also highlighting your home's energy efficiency to potential buyers.
Making Home Automation Practical
Home automation systems are not necessarily going to attract homeowners if such systems are difficult to operate. Not too many people want to search for and decipher complex instructions whenever they need to turn off lights before going out. For this reason, it is recommended that you consider multiple systems that control different functions. However, you will want to have a firm grasp of how any of your home's automated features work should you find yourself needing to answer buyers' questions.
If an extensive system is not in the budget, consider whole-home lighting systems since many homeowners like the idea of being able to press a single button to turn off all lights before leaving a home, or the option of leaving a few select lights on for added security.
You also have more choices than ever, with Consumer Reports noting that nearly 40 billion smart products are expected to be available by the year 2020, although you will want to be especially mindful of security settings if using a completely wireless system by adding extra encryption to protect passwords.
Adding Home Automation In Stages
Hesitant about going automated? Home automation does not have to be a major investment that stretches your budget beyond what is comfortable. Many local cable and satellite companies offer affordable packages with the added tech support you need to take care of any setup and maintenance requirements, such as setting up VSAT (Very Small Aperture Terminal), a convenient satellite communications system that make it easier to integrate system features and manage mobile-control options.
If you are going to make one major investment in home automation, lighting and security rank among the most appealing features for home buyers. Entertainment features like whole-house sound tend to be more of a personal preference rather than something that is going to universally appeal to home buyers, making a case for making home upgrades that can allow for future automated features to be added. Even purchasing barn door hardware to convert swinging doors into remote-controlled sliding doors can make it easier for a future homeowner to add automation features to your home that you may not want to add right now.
Costs
How much money are you willing to spend? You can take on a DIY project and spend $200 or less installing a new thermostat that can connect to your smartphone. Conversely, you can swap out your entire home and spend upwards of $40K or more depending on makes, models, and functionality you decide to employ in your home.
For most consumers who utilize this technology, the costs will run considerably less than the "full monty", with tradeoffs or lack of functionality likely (especially when they start mixing and matching systems orbrands). Only you can decide how important this technology is to you and your family and how much you are willing to spend for the technology.
Why Bother?
Perhaps you are happy with status quo and have no desire or need to upgrade your home. Here are a few reasons you may want to go into a holding pattern on home improvements and wait for this "futuristic" technology to further evolve.
Costs to implement can be high
Inability to DIY some systems
Learning technologies not mature
Limited functionality
Not yet mainstream
Security risks (hacking into your system)
Standardized technology is slow to develop
While you do not want to over-improve your property to the point you are unable to recoup costs incurred, it is worth noting that as this technology matures, more homeowners are going to see the benefits of this technology. To ensure your home stays comparable (and ultimately desirable to buyers) to other homes in your price point, you may need to install some upgrades to ensure future sale-ability.
Parting Shots…
The convenience of being able to turn on lights while heading home or being able to check on the kids when they get home from school by accessing security cameras is just one of the many benefits homeowners can enjoy with automated system, benefits that will likely appeal to any future homeowners.
In an increasingly fickle home market, anything that can add value to a home is an investment worth considering. Home automation just happens to be an investment that can benefit you whether or not you are planning to sell your home anytime soon.
Whatever you decide, make sure you take into account resale value. If unsure how to determine that, talk with a local real estate professional who can help you find the ideal property for your needs, with an eye on resale in the future.
Additional Home Automation Tips
The Cost of Smart Home Technology from Dustin Brohm
Smarthome Features to Improve Your Home's Value via Paul Sian
Technology in New Construction Homes by Karen Highland
Top Home Automation Resources via List.ly
If you found this article on does home automation affect home values helpful, please consider sharing it via social media so others can benefit from the information too.
How Does Home Automation Affect Home Values?