Home Buyer FAQ: Does this Homes' Square Footage Include the Garage?
Functionality and whether the space is liveable should matter more but another frequently asked question I get from middle Georgia buyers is, "Does this homes' square footage include the garage?".  Most often, the answer is NO!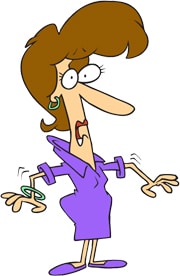 Unless the below guidelines are satisfied, the garage is not considered liveable space in middle Georgia and is not included in the homes' square footage.
Space is heated/cooled by a conventional system
Has finished construction (materials accepted for interior construction)
Directly accessible from another finished area
On rare occasions, such as when the attached garage has been legally (with permits) converted into a liveable space it should be documented, the homes' square footage re-assessed by a licensed appraiser, and the new space acknowledged by the county tax assessor.
Helping buyers decipher real estate information is just one of the many reasons to employ the services of a well qualified middle Georgia Real Estate Professional!
As always,middle Georgia real estate information is brought to you as a courtesy by Anita Clark, your Middle Georgia Real Estate Consultant.
When you're ready to buy in Warner Robins or anywhere in middle Georgia, call me at (478) 960-8055.