Houston County GA Public Libraries
Need a good book?  Want to get the kids involved in a reading program?  Need to research a topic?  Just want a quiet place to relax? Visit one of the fine Houston County Georgia public libraries and see all they have to offer. The Houston County Public Library System consists of three libraries:
Centerville Branch Library in Centerville GA
Nola Brantley Memorial Library in Warner Robins GA
Perry Branch Library in Perry GA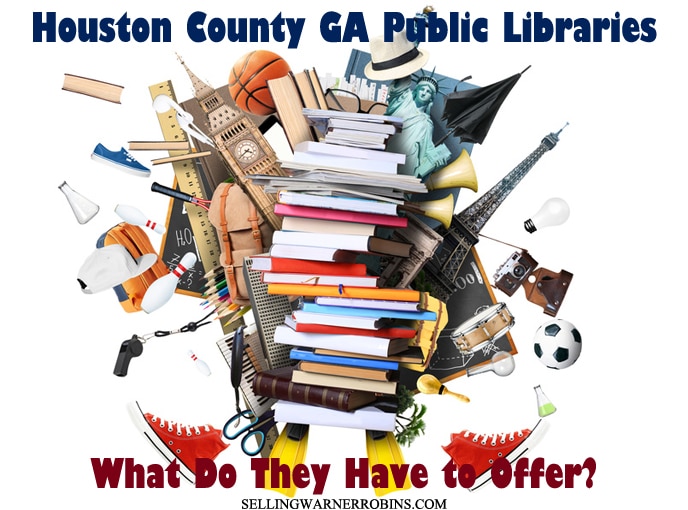 Library Cards and Learning Resources
Those interested in checking out books and using the resources provided by the libraries are encouraged to register for a library card. You must have a photo ID or official document that provides your residential address in order to obtain a library card. The cards renew every two years and are easily renewable after being cleared from owing any late fees or possessing any overdue materials.
Obtaining a library card allows you to easily access online learning resources such as Learning Express, Galileo, Mango Languages, Ancestry.com, e-books through Georgia Download Destination, and borrowing a wide array of books across the state through the Public Information Network for Electronic Services (PINES).
PINES is an online catalog of over 9.6 million materials with over 275 statewide participating libraries. The Learning Express provides skill-building courses in math, reading, and writing, as well as practice tests for various standardized exams. Galileo is an initiative of the University System of Georgia that provides subscription-only material and access to hundreds of databases that would not otherwise be accessible through search engines. Mango Languages offers 60 foreign language courses and 17 different English courses. The Georgia Download Destination is an online source to download e-books and audio books.
Meeting rooms are open to the community upon request and are approved by discretion of the library's branch manager.  Meetings cannot disturb daily library operations and will not be endorsed or sponsored by the Houston County Public Library.
The Centerville Branch Library has a capacity for 40 individuals, the Nola Brantley Memorial Library has a capacity for 35, and the Perry Branch Library has a maximum capacity for 40 persons. Local history rooms are also available for information pertaining to genealogy, local history, and local communities.
Houston County Georgia Public Libraries
Centerville Branch Library
206 Gunn Road
Centerville, GA 31028
(478) 953-4500
Hours: Mon, Wed, Fri – 10am-6pm / Tue and Thurs – 10am-8pm / Sat – 10am-4pm/ Sun – Closed
Nola Brantley Memorial Library
721 Watson Blvd
Warner Robins, GA 31093
(478) 923-0128
Hours: Mon, Tues, and Thurs – 10am-8pm / Wed and Fri – 10am-6pm / Sat – 11am-3pm/ Sun – Closed
Perry Branch Library
1201 Washington Ave
Perry, GA 31069
(478) 987-3050
Hours: Mon, Wed, Thurs, and Fri – 10am-6pm / Tue – 10pm-8pm / Sat – 11am-3pm/ Sun – Closed
Robins AFB Library (restricted to military/CAC cardholders)
620 9th Street, Bldg 905, Suite 100
Robins AFB, GA 31098
(478) 327-8761
Hours: Tues – Fri – 11am-7pm / Sat – 11am-5pm/ Sun and Mon – Closed
The Robins AFB Library is not affiliated with the Houston County Public Library System but is available to military personnel and their dependents at Robins AFB. The only access needed to take advantage of the library's resources is having a military ID. The library has a collection of over 48,500 books, as well as access to computers, downloadable materials, movies, and various research materials.
The online resources available at the Robins AFB library consists of the Online Public Catalog, Transparent Languages, OverDrive audio and e-books, and practice tests and study materials for the CLEP and DANTES programs. The library shares a building with the 78th Air Base Wing, the 78th Mission Support Group, the Education Office, and Public Affairs. Conveniently the satellite classes for Middle Georgia State University, Georgia Military College, and Georgia College State & University are in the building as well.
Houston County Library Activities
The libraries in Houston County host many activities and events to appease all ages and various interests. Babies to preschoolers can participate in activities such as morning story time, Nola's Little Gardening Sprouts with Greenbriar Garden Club, 1,000 Books Before Kindergarten program, and Lapsit Story Time with stories, songs, and parent/child play.
School aged children can engage in activities such as arts and crafts, real food cooking demos, anti-bullying discussions with Warner Robins Martial Arts, Academy of Dance demonstrations, First Aid & CPR presentations with Houston Healthcare EMS, and a family bedtime story and craft whilst wearing pajamas.
Those in high school can enter a Iron Chef Smoothie Competition, engage in the Young Librarians program, become a Teen Library Ambassador, and score tickets for the special program, Rigby's Readers at the Rigby's Entertainment Complex.
Adults can take advantage of activities such as Coloring Craze, a planes and drones demonstration by RC Flyers, zumba, and yoga. Adults can also participate in the after-hours adult program, Nola at Night Summer Reading Book Discussion at the Nola Brantley Memorial Library. The discussions begin at 6:30pm on designated nights about twice a month. A calendar is available at the  Houston County Public Library website detailing each event and activity for the month for all three of the libraries.
The libraries kick off an annual Vacation Reading Program based on a different theme with a reward system in place for the amount of books read. All registered participants receive a reading packet to log the books that are read as well as a list of all the events hosted by each library for the summer.
Ages o to 8 years are rewarded after each 1st, 10th, 25th, and 50th book. Participants in this age group will also get to enjoy story times, coloring, and arts and crafts
Ages 9 to 12 years are rewarded after each 1st, 3rd, 9th, and 15th books
Ages 13 to 17 years are rewarded after every 1st, 3rd, 6th, and 10th book
Each age group has various exciting activities available based on the summer reading theme. Rewards range from free food, puzzles, toys, and a few grand prizes for those who complete their age group reading requirements. The summer reading program encourages children to read during their summer vacation and keeps them motivated with fun prizes and coveted grand prizes.
There are plenty of resources, activities, events, programs, and demonstrations hosted by the Houston County Library System which are sure to appease all walks of life. The following is pertinent information about each of the Houston County Georgia public libraries.
For more local information, check out the Houston County Local Events.
Public Libraries in Houston County GA