Low Cost Home Improvements That Are Worth It If You Are Selling Your Home
When it comes time to selling your home, which low cost home improvements give a high return on your investment? Surprisingly, there are several that can help you potentially sell faster for a higher price.
Many of us have been comfortably living in our houses for years and we get used to things. We just do not notice that many items have become a bit dated or run down. But, when you put your house on the market, it is a whole new ball game. Buyers will notice everything. And, they will be ringing up the numbers in their head about how much it is going to cost to make your house look more up to up to date.
As they ring up those numbers in their head, whatever that cost is (in their mind), is often the amount they will subtract from the value of your home. Do not let them do that! Instead, be proactive about it and make the updates yourself. It will ultimately help you net more money and sell your house faster.
So, I've gathered several home improvement projects that will help you sell your home faster, and at a higher value, with a positive ROI (Return on Investment). Now, I do caveat this by saying that every house is different and has different needs, and neighborhoods vary as well, so you do not want to over improve your home vs the rest of the neighborhood. If in doubt, ask your real estate agent, then tour the other neighborhood homes that are on the market to see what is expected.
Below are 11 low cost home improvement projects that make sense when you are going to sell your home.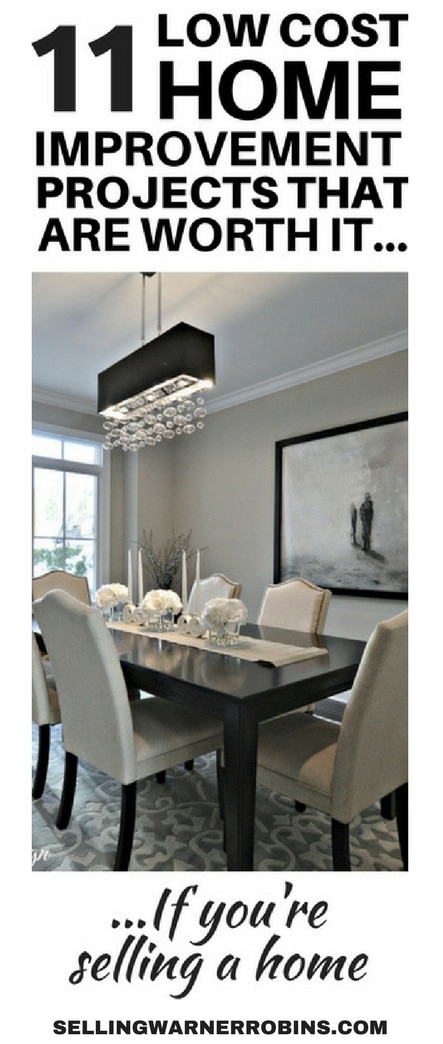 ---
A Fresh Coat of Paint
Painting can go a long way in selling your home. It makes your home look cleaner and more up to date. Painting can make your space your look larger, especially if you go with a lighter and cooler color, and also if you use the same color in the most of the space, especially the common areas of the living room, dining room, kitchen, family room, hallways.
Check out this article for the best shades of paint to use: Best paint colors to sell a house. Please note that if you have dark and/or taste specific colors (e.g red, pink, purple, dark blue, black, orange, etc.) painting is one of those "must do" projects. These colors do not appeal to the majority of buyers, and they make your space look smaller and more choppy.
Try to go with 1 color for the main living areas and potentially a second color for the bedrooms. Choose light and neutral colors (e.g. light gray (currently the most popular), griege or whites). Nowadays, cool colors are preferred over warm colors, so veer towards cooler colors and away from colors that have yellow undertones.
Reglaze Tiles
If you have one of those dated bathrooms with yellow, pink, blue or green 4 x 4 tiles with a matching bathtub, by all means, look into tile reglazing. It Is amazing what a big impact this can have. In a day, they can make the tile white and your bathroom can look good as new. The white is more neutral and makes the space look larger. They can reglaze the tub as well as regrout. What a difference it makes.
This is way less expensive than replacing the tile and it is much faster too. You may need to replace the toilet (if it is pink or yellow, etc.), but again this is nothing compared to the cost of gutting the entire bathroom.
For an extra touch, replace the towels and add some color that way (and remember, you can take those towels with you to your new home.
Refinish Hardwood Floors
If you have hardwood floors and if they are damaged, you will want to consider refinishing your hardwood floors. Not only will this make your space look nicer and newer, but you can even update the color and the finish so that it is more appealing to current buyers (see: hardwood flooring trends).
And, if you have hardwood flooring beneath the carpet, by all means rip up the carpet and refinish the floors underneath. You just found a gold mine and can instantly improve the value of your home. Today's buyers strongly prefer hardwood flooring over carpet, so this is a phenomenal return on investment. (And, it will probably kill 2 birds with 1 stone as many carpets get dirty and worn over time…and it is less expensive to refinish hardwood than to replace it with carpet).
Note: if you are super budget constrained and have hardwood underneath the carpets, at least remove the carpet and the tack strips. That is how valuable hardwood is.
Consider Removing Popcorn Ceilings
These are so 1970's and new home buyers hate them. So if you have them, try to remove them. It will really help you sell your house faster. And, this is a project you can do yourself, especially if you are handy.
Now, here is the big caveat. If your home was built before 1980, there is a good chance the the popcorn ceiling has asbestos in it (as well as lead paint). So, if that is the case, test first! (You can get low priced tester kits on Amazon).
If you find that you have asbestos, do not worry. It is safe if it stays in place. It is only dangerous if you remove it, so do not attempt it. Either consider adding sheet rock on top of it (or some sort of shiplap) or hire a professional to remove it.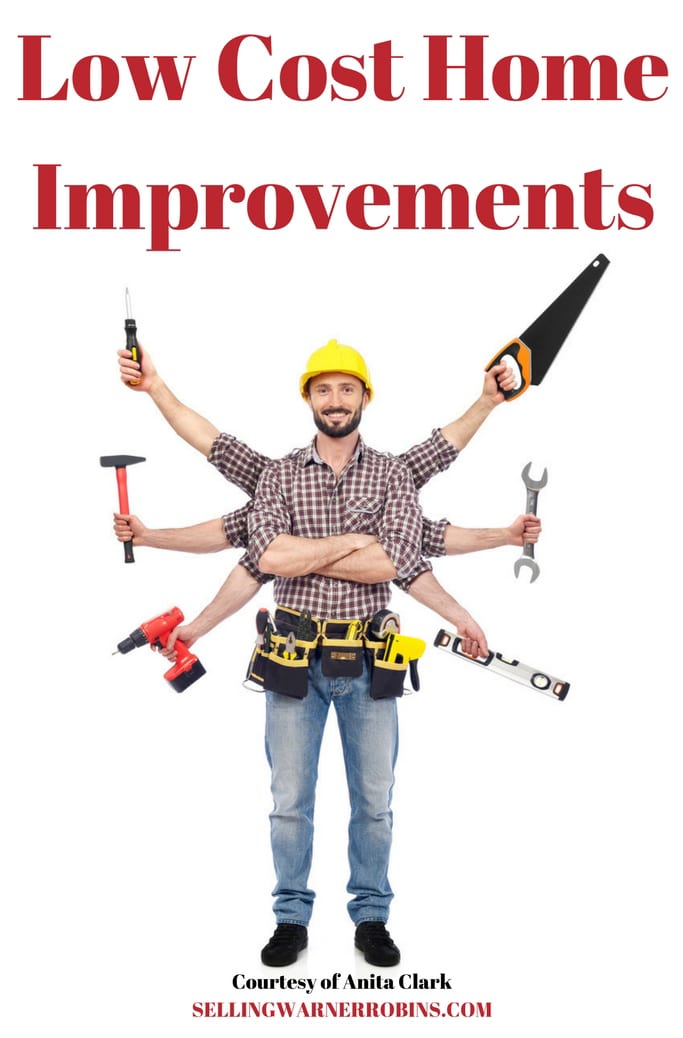 Paint Kitchen Cabinets
If your kitchen cabinets are dated, especially if they are mid or yellow toned oak, I would strongly recommend painting them white. White is by far the most popular color for kitchen cabinets. Not only will your kitchen your more up to date, but it will also look larger. And, it will be easier to find more contemporary and stylish paint colors for your wall (e.g. a light gray or beige).
If you look anywhere online, you will see that kitchens and baths sell homes. But, you will also see that remodeling your kitchen usually only gives you a 70% return on investment. Thankfully, painting cabinets flips this equation on its head as it is way less expensive than replacing the cabinets (in other words, you avoid having to rip up the cabinets and buy new material and you also avoid the need to replace the plumbing and counter tops…and, best of all, it is much faster).
Improve Lighting
Lighting is so important, and it can make a big difference in how well your home shows. You want lighter and brighter. Sometimes, this is as simple as removing dark and heavy window treatments and replacing light bulbs (i.e. get higher wattage bulbs with white light (not yellow)). Another option that works well is to add lamps or high hats in the ceiling.
Do not underestimate the impact lighting can have. It will make your space look larger, more inviting and can even change the tones of your paint color. And, if your house will be on the market between the months of October and March, it is even more important as the days are shorter, and you will be getting more potential buyers coming through in the evenings.
Upgrade Kitchen Appliances
Stainless steel is the most popular right now, and most buyers expect this. They just look nicer and cleaner. And, of course the newer refrigerators are more energy efficient, so you will save a bit of money here as well as old fridges can be big energy hogs. When in doubt, go with a brand you know and trust. This is especially true if they offer rebates or provide a longer warranty.
Refrigerators are anything but boring these days. They come in a variety of styles, designer finishes, and even an abundance of features to help give your kitchen a more modern feel. It is important to measure the space you plan to place it in before buying, especially if it will be placed in a fitted cubby or a tight space.
Paint Paneled Walls
If you have wood paneled walls, you should by all means paint them white. These were popular in the 1960's and 1970's and that is what they will make your home look like if you keep them. It is unbelievable how much more up to date and larger your room will look after you get these painted. There is no need to remove them…painting will do the trick.
Fortunately, primer has come a long way and in many instances you do not need to sand the paneled walls first. Instead put a coat of primer, let it dry, then if it needs another coat go ahead and add one before you apply paint. If it looks like light sanding is needed between coats, do it. The end result will look tenfold better than the paneling and you will have saved a lot of time, money, and mess associated with tearing out the paneling and replacing with drywall.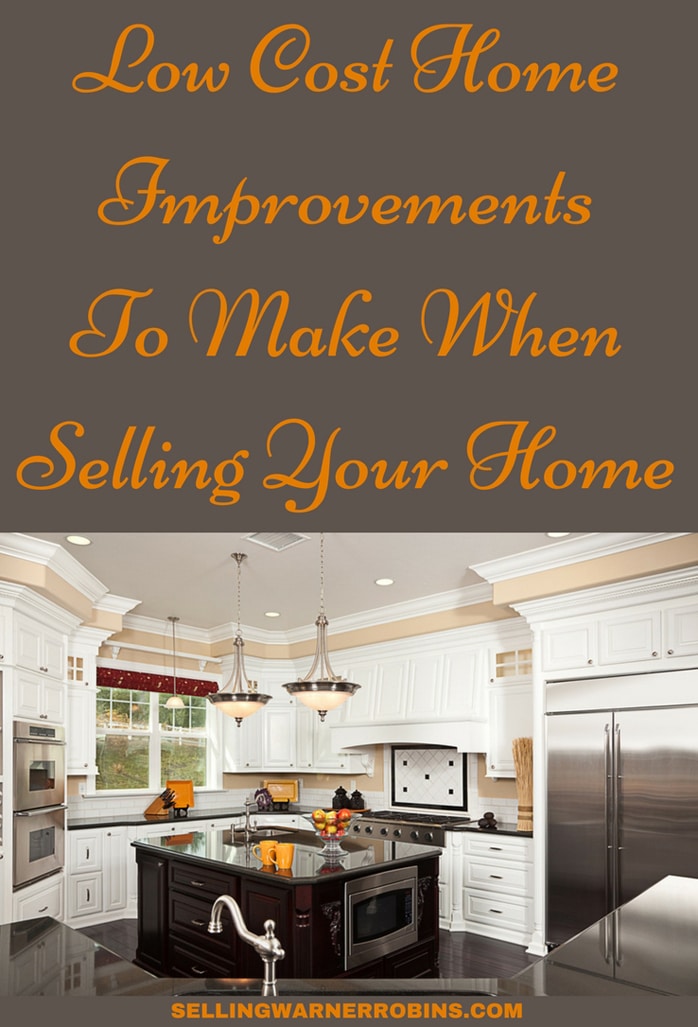 Remove Dated Window Treatments
If you have dated or dark window treatments, remove them. If you can update them with sheers or something light, that is even better, but there is nothing worse than dated, dark or taste specific window treatments. They really date your home, and make it look smaller and darker. You are better off with no window treatments than dated ones.
It is often the smarter choice to go simple with window treatments. A key is to ensure whatever solution you choose provides plenty of natural light. You want buyers to feel comfortable in the space and a light airy room is the easiest way to make a room feel open and more spacious.
Replace Dirty/Soiled Carpets
As mentioned above, home buyers prefer hardwood flooring. Usually replacing carpets will not improve your home's value, but if you have extremely dated, dirty and smelly carpet, you will need to replace it because it becomes a huge turn off. While replacing the carpet may not improve your value, leaving it in place may decrease your value. So, you need to look at the net impact this will have.
If you are making the effort to replace the carpet, it might be worthwhile to replace the pad underneath the carpet too. They can trap odors that have penetrated through the carpet and it is very difficult to eliminate those odors once they are present. Also, it is typically more cost effective to replace the pad than try to eliminate the odors.
Paint Your Front Door
Yes, first impressions count. Not only is this the first thing buyer's see, but also, the buyer's are often waiting at the front door while the real estate agent is using the lock box and occasionally fumbling for the keys, trying to open the door. Use this key moment to your advantage and give your front door a fresh new look. The color you choose will depend on the color of your house/siding. But, remember, you only get 1 chance to make a positive first impression.
It is important to determine if the existing primer/paint is latex or oil-based. You will want to match the type used to make sure your re-paint or touch-up effort is a quality effort. It is also a good idea to use exterior paint and glossy finishes often look better because they stand out and help to highlight other features.
It should go without saying…
Above, I wrote about low cost home improvements, but there are some other basics that should always be done before putting your house on the market. These include:
Make all repairs – Visual repairs and ones that may be less visible (e.g. appliance issues)…these will usually be found during the home inspection anyway, and it will cost you less to fix them up front.
Make sure your home is sparkly clean. And, keep it clean every day!
Declutter – It will make your space look larger and cleaner (and keep the buyer focused on your home…and not your stuff).
Eliminate any offensive smells – This could be due to pet accidents, pet smells, smoking or just old carpets. Not doing this is the fastest way to turn off buyers and lengthen your time on market and simultaneously reduce your selling price.
De-personalize. You may be proud of your taxidermy collection, nude art, or fondness for clowns, but those beloved treasures may be offensive to some buyers. When in doubt, store the items until you relocate to your next home.
Tackle the landscaping. The first thing consumers will see as they pull up to your home is the yard. Ensure it is clean, neat, and tidy so they are excited about seeing what the rest of the home looks like. If it can be cut, trimmed, re-planted/planted, or mulched, it is worth it to tackle the project so the curb appeal of your home shines through.
Find the right agent. Do your homework and choose a real estate agent who has a strong online presence, knows the neighborhood (meaning they have recently sold homes in your subdivision/community), and feels right based on whatever criteria is important to you.
Finishing Touches
When it comes time to sell your home, you want to remember that nowadays buyers have higher standards (partially due to all the home improvement programs on TV). In addition, they usually have less spending money to make their own improvements, especially as they have put their savings towards a down payment, closing and moving costs.
So, the more you can make your home move in ready and appealing to buyers, the sooner you will be able to sell it and for a higher value. Give buyers a reason to fall in love with your home and they will!
If you found this article on low cost home improvements helpful, please share it on social media so more real estate consumers can benefit from the information.
Low Cost Home Improvements That Are A Smart Investment When Selling A Home