Tips To Maximize Your Outdoor Space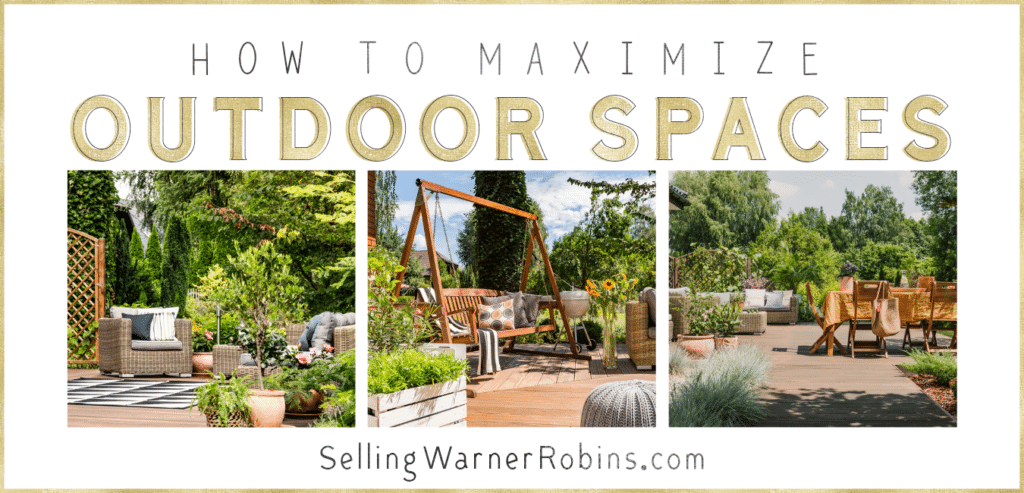 When it comes to getting your home sold quickly, one of the most important steps you can take is to maximize your outdoor space. In fact, today's home buyer is just as interested in how you have used your outdoor living space as he is with your indoor living space. Fortunately, there are a few simple steps you can take to get the most out of the outdoor living space that is available to you.
Outdoor living areas basically offer an extension of the indoor living space, or an additional space for relaxation and entertaining. Your outdoor living area should not only look great, but it should also be functional. If you want your home to sell quickly, a key feature for some buyers is an outdoor space that has been maximized for entertaining or relaxing.
Maximizing your outdoor living space can increase salability and will also make it look and feel more comfortable and enjoyable. This can help raise the overall value of your property.
This article covers several ways you can maximize your outdoor space to create the setting you envision.
Highlight Your Landscaping
Make sure you're keeping up with proper yard maintenance. Have your grass mowed regularly and trim back any wilted or broken branches. Consider installing a buried lawn sprinkler to keep your lawn hydrated while conserving water.
For your gardens, plant colorful flowers to add a sense of beauty and a splash of color. You may also want to use an energy-efficient spotlight to accent your garden at night.
Here are some low-maintenance gardening tips to help keep your landscape nice and tidy:
Use mulch
Add stones beds
Plant lavender
Incorporate perennials
Choose native grasses
Keeping up with yard maintenance shows potential buyers that you take pride in caring for your property. This can make them more excited to see the interior of your home.
Clean and Get Rid of Clutter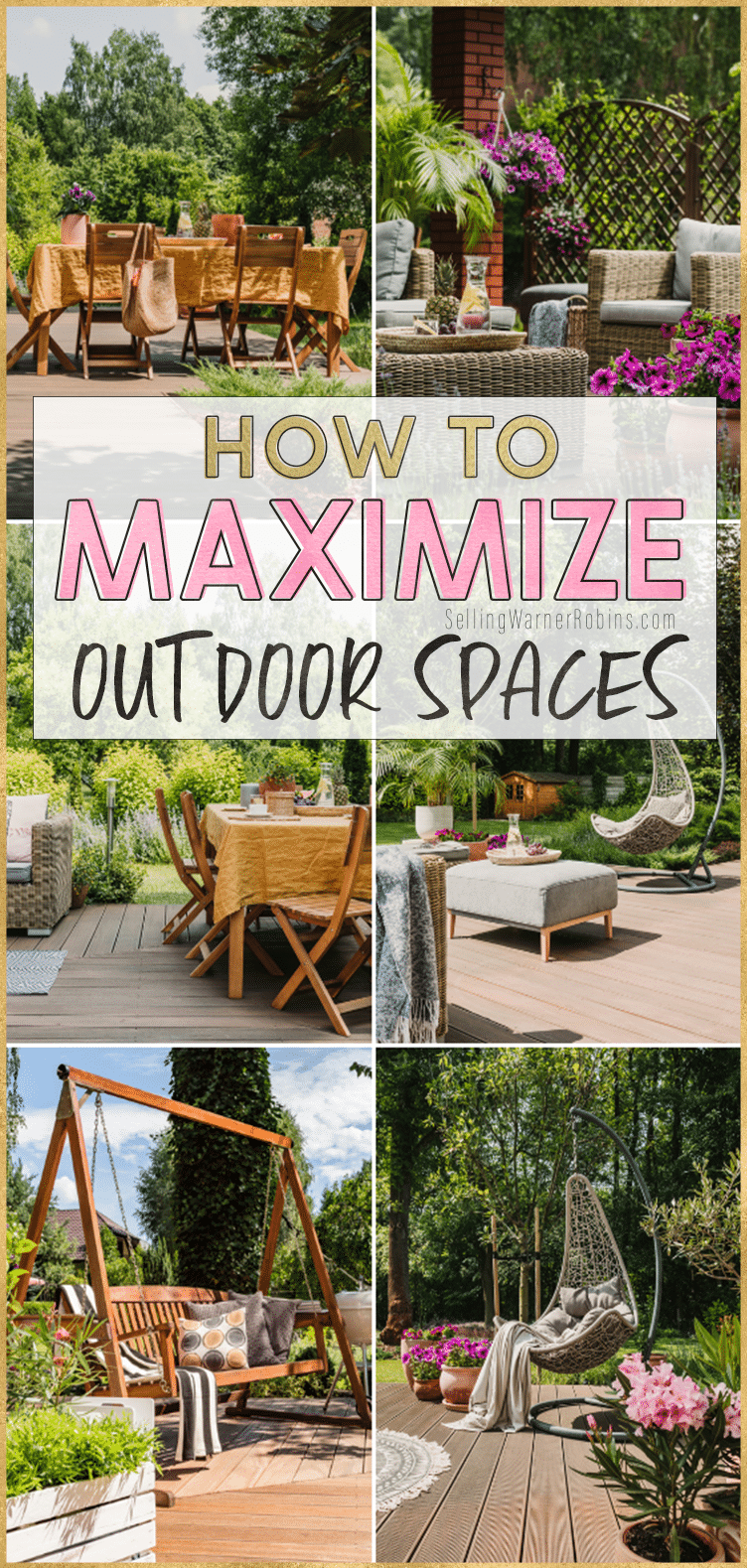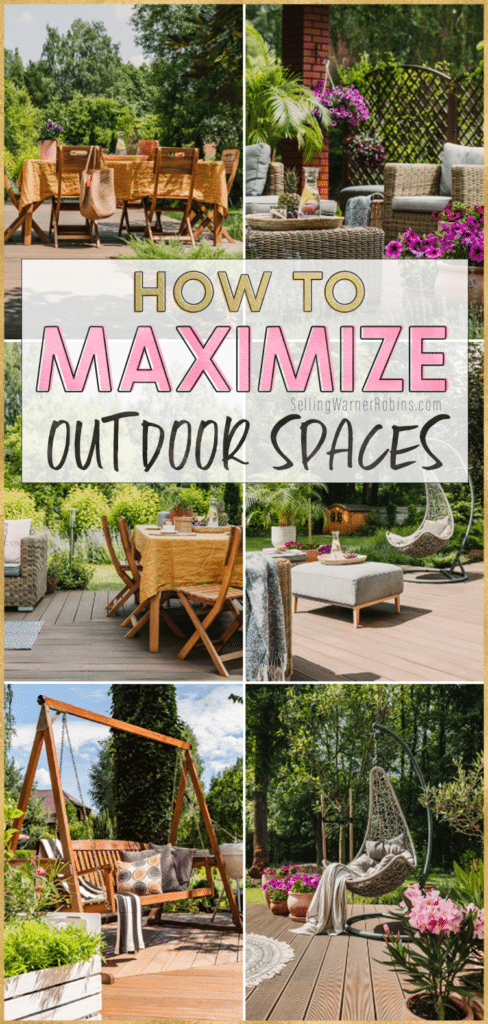 Before showing off your yard to potential buyers, you want to make sure it's tidy. Get rid of any dirt or debris on your walkways, patio, stairs and furniture. Another area you want to make sure to clean off is your garage door. Use a sponge, soft brush and bucket filled with mild liquid soap and water to scrub down the door. Also, be sure to remove any dead plants or branches from your garden.
Along with washing your furniture, make sure you declutter, too. Pick up any toys or trash lying around. You want your outdoor space to look presentable for your open houses.
Furnish Your Backyard
Adding additional seating areas can make your outdoor space feel cozier. Many buyers want a place to entertain guests or relax after a long day of work. Placing comfortable seating around the area can boost the interest of potential buyers.
Consider adding bamboo or rattan furniture to create a more tropical vibe. Also, incorporate some colorful throw pillows or an outdoor rug to add a pop of color.
Here are some additional decor items to consider adding to your outside area:
Curtains
A table runner
Umbrellas
Hammocks
Day bed
Establish a Focal Point
A great outdoor space should have a focal point which draws attention, and creates an anchor of the landscape space. Whether it is an outdoor fire pit, fireplace, a table, a gardenscape, a seating area, a water feature, a piece of art, or simply a door, you want to have a main point of focus from where every single thing flows.
The other outdoor accents and furnishings should work together to complement that particular focal point. In many homes, the door is the main focal point of the outdoor space. Therefore, when you are planning your outdoor living area, make sure you consider how to properly coordinate the door with the plants, and any other outdoor elements you intend to add.
Create a Backdrop
When you are planning your outdoor living space, you should put into consideration how you can match the rest of the house with the landscape. A bit extreme, but it can involve repainting the entire house, or something as simple as planting some hedges to create a backdrop.
Evergreens are an excellent option when it comes to creating a backdrop since they provide beauty and structure all year round. This option is also less time consuming, and less costly compared to a new paint job. Even well placed trellises can make a huge difference.
Decorate with Potted Plants
Colorful flowers can make your backyard feel more inviting and fill up space. They can easily be placed anywhere for a quick and easy makeover. Be sure to choose plants that can withstand hotter temperatures during the summer months.
Here are some types of plants to consider adding to your containers:
Angelonia
Bamboo
Banana
Canna
Lantana
Brighten Up the Space with Lights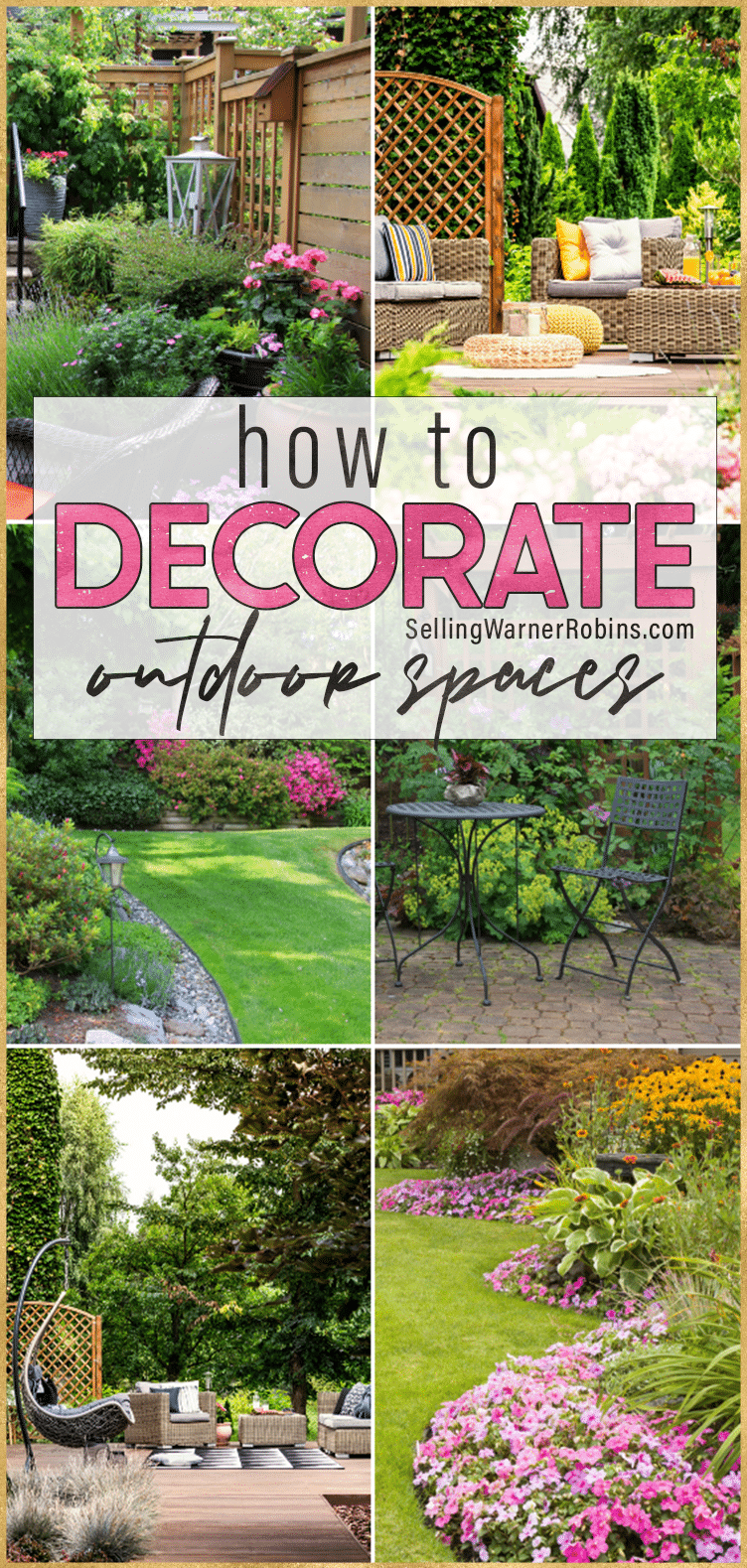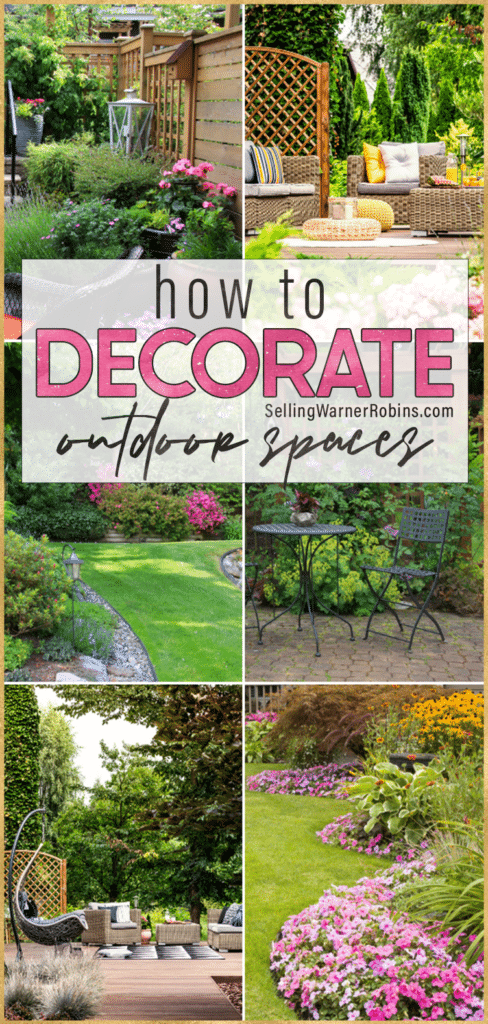 Adding lights can create a more elegant ambiance. You can hang string lights around doorways, across awnings or along fences. Lanterns also provide a nice glow. They come in various styles and bring a sense of character to your outdoor space.
Outdoor space lighting can serve a variety of purposes. Giving the illusion of additional space is just one of the numerous reasons why you should consider installing landscape lighting. The lighting will also help make your outdoor living space stand out and get easily noticed even during the night.
Here are some additional illumination sources you could add to your yard:
Path lights
Wall lights
Deck lights
Spotlights
Rope lights
In addition, lighting can do a lot in terms of ambience, security, and can even help you draw attention to a specific interesting piece. String lights are among the most versatile options, because they can be utilized with various different styles and space sizes.
Add a Porch Covering
Screened-in porches are a popular amenity for homeowners, especially in warmer climates. They allow you to enjoy late-night gatherings while keeping the bugs away. To limit any major renovations, you can add an awning, sail shade or pergola instead. You can also make your roof more unique by adding accessories or painting it.
Here are some ways to cover your porch in style:
Add a solid sunglass roof
Paint the ceiling a vibrant color
Add rustic light fixtures
Place a ceiling fan
Incorporate a fireplace
Any type of patio covering can make your house stand out from others on the market.
Install a Fence
Fences can create a sense of privacy for homeowners and also make entertaining more enjoyable. They can also attract potential buyers with pets or small children. Having an enclosed space will make it easier to keep an eye on them.
Here are some common fencing materials to consider purchasing:
Cedar
Vinyl
Composite
Redwood
Metal
Put in a Fire Pit
Fire pits are perfect for roasting marshmallows during summer bonfires. They add an entertainment element that increases your home's resale value. They also add a natural light source for events. Besides being used for entertainment, a fire pit can add a sophisticated style to your outside space.
You can choose wood-burning or gas options. Wood burning is more cost-effective and provides the classic campfire ambiance. Gas pits can give you more control, and you can use propane tanks or your home's natural gas source for fuel.
The materials used to build it also come in a variety of options. Here are some common materials used:
Copper
Steel
Cast iron
Stone
Create an Outdoor Breakfast Nook
Having your coffee outside on warmer days can be relaxing. Consider setting up some chairs and a table in the corner of your outside area, which also looks attractive to potential buyers. Parents with children may particularly enjoy this feature. It offers them a place to have a moment of peace before the day begins. Decorate with plants and lights to make it more aesthetically pleasing.
Consider Adding a Patio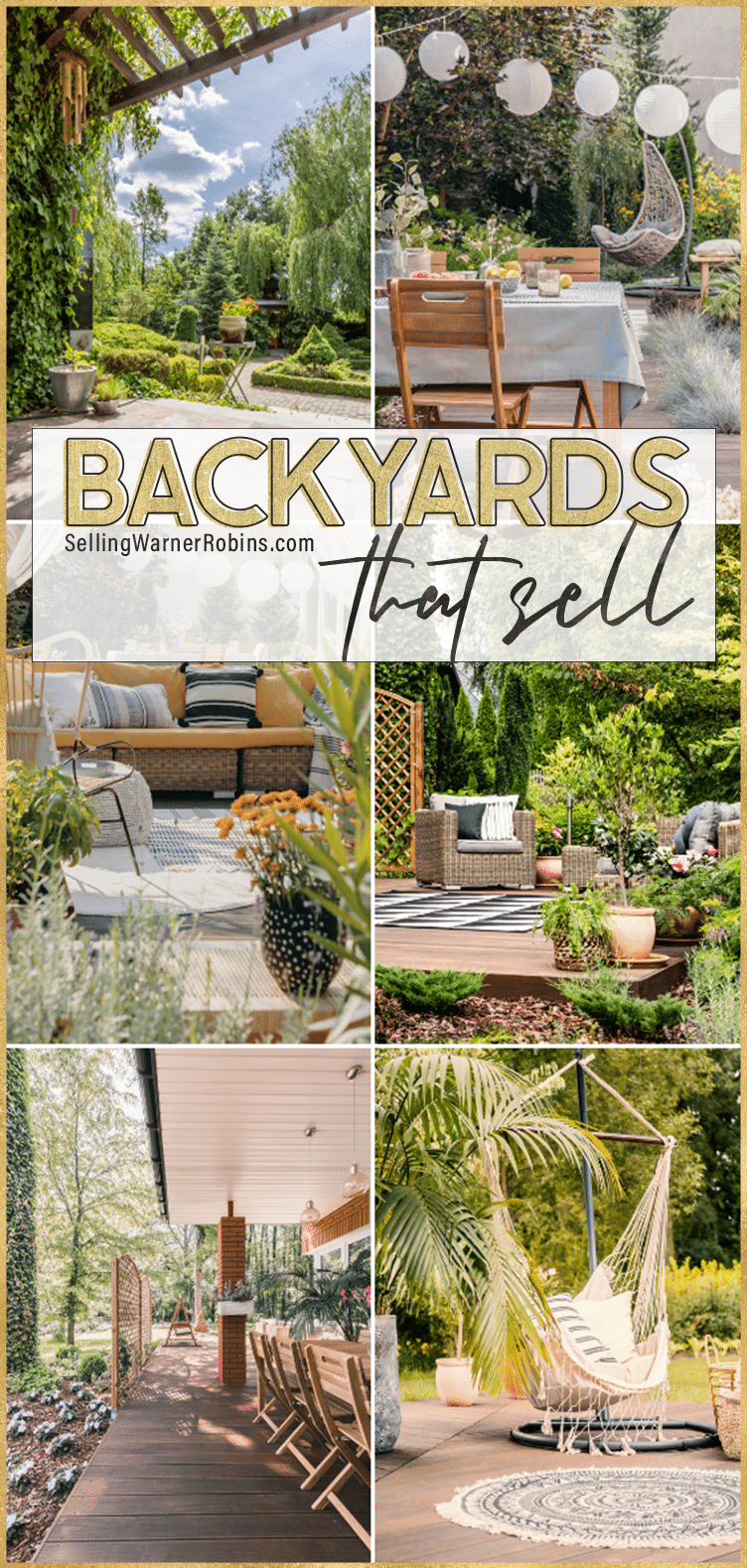 A way to spruce up your outdoor living space and add an extra dimension is by adding a patio. Generally, if the home is about one foot higher than the yard, a good option is to have a patio installed.
It is also wise to install hardscapes (concrete, pavers, special features, etc.) that make your backyard more functional which will make it more attractive to a wide range of buyers. These elements will help define certain areas, whilst setting a great tone for the rest of the space.
If selling for a higher price is what you seek, a thoughtfully created outdoor space can help set your home apart from the competition.
Build a Deck
Decks are a great way to entertain, especially during the summer. They can also be the perfect excuse to have a classic barbecue. Having a deck will attract buyers wanting to spend lots of time outdoors.
Consider adding decorative umbrellas to provide shade for warmer days. You might want stairs for a transitional element from the patio to your lawn. Having a higher-elevated deck can make it stand apart from your yard even more. You could also add some tall plants to create a natural privacy wall.
Here are few other suggestions to make your deck stand out:
Focus on two primary colors
Add water elements
Create space underneath
Decorate with lots of pillows
Hang wall art
Insert a Pool
Pools are great ways to cool off in the summer. They can also be a fun place to socialize with friends and family. However, some other factors, such as location, can influence the resale value. For example, living in a warmer climate can increase the value. The condition of your pool can also determine how interested potential buyers will be. If it's in poor shape, it will lower the resale value.
Your pool can also be an attractive feature for families who want to keep their kids entertained over the summer. Hold open houses over the summer to better showcase the swimming pool. It will be covered up in the winter, which won't allow buyers to get the full effect.
Before installing your pool, make sure you research local permits and requirements. Many cities require a building permit for construction, so ensure you have the correct ones before starting the installation process. Contact your city hall to make sure you have all necessary paperwork. You should also check your local safety codes. Some areas require you to have your pool area fenced in.
You also want to determine the best location for your pool. Make sure it's in a level area to keep it from slanting. Also, be sure your site complies with local building codes and is a safe distance from any property lines.
Once you determine its proper location, start to prepare the ground. Clear off any debris or large items that could get in the way of the installation process.
Additional Home Exterior Updates to Increase Resale Value
Keeping your backyard tidy and beautifully decorated will attract potential buyers. You can also make some structural updates to increase the resale value of your home further.
Get a New Garage Door
Your garage door allows you to move in and out of your house quickly. It also protects your cars from the weather. You will want to make sure it's operating correctly and is durable.
Your garage door is more than just functional — it also adds to your home's curb appeal. Updating your door can increase resale value. Many buyers look for houses with garages, so you want your entry to be visually appealing.
When buying a new garage door, look for either steel, wood or plastic materials. You also want to make sure the door is properly insulated.
Once the door is installed, you will want to perform maintenance regularly. At least twice a year, you should oil the torsion springs, lubricate the tracks and wash the exterior.
Replace Your Front Door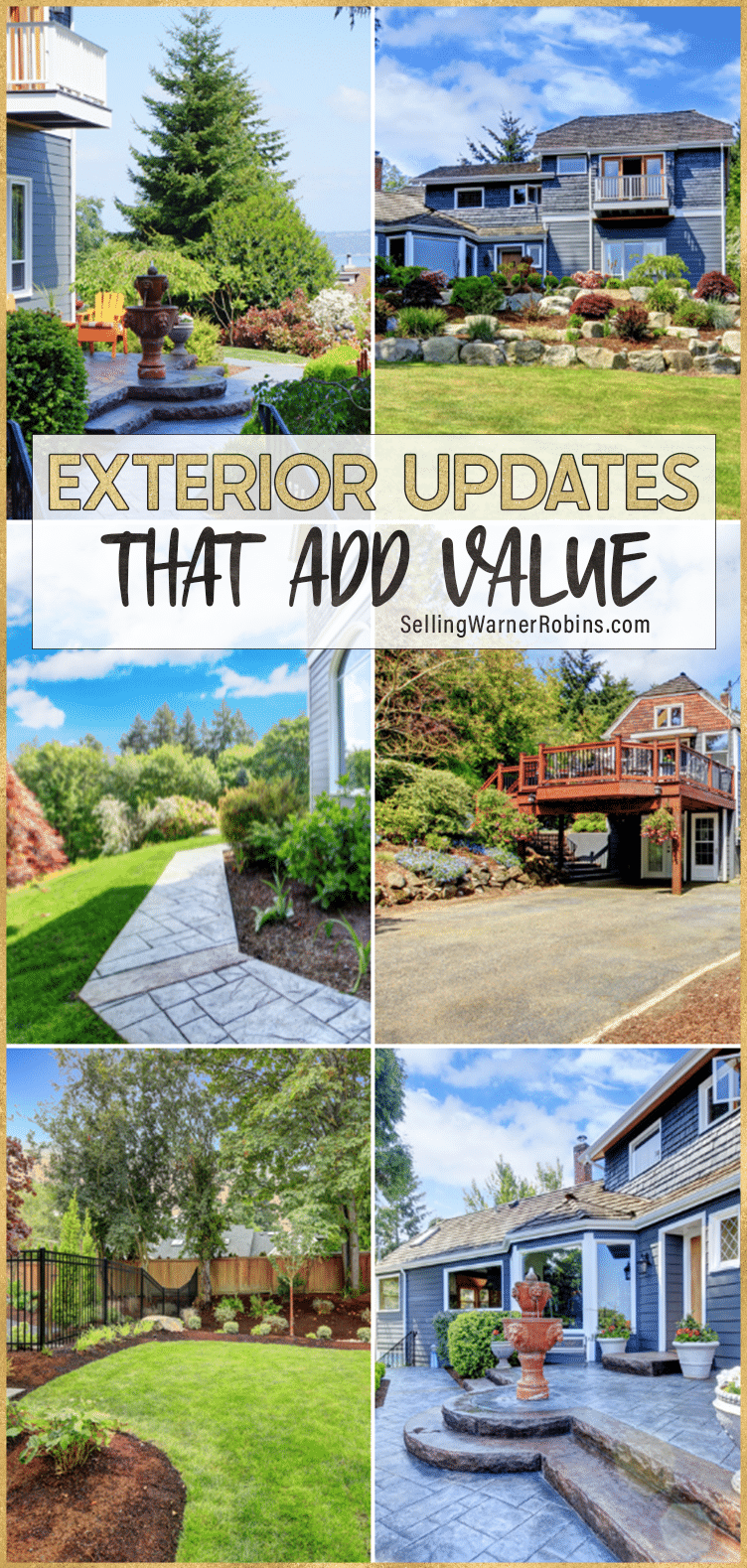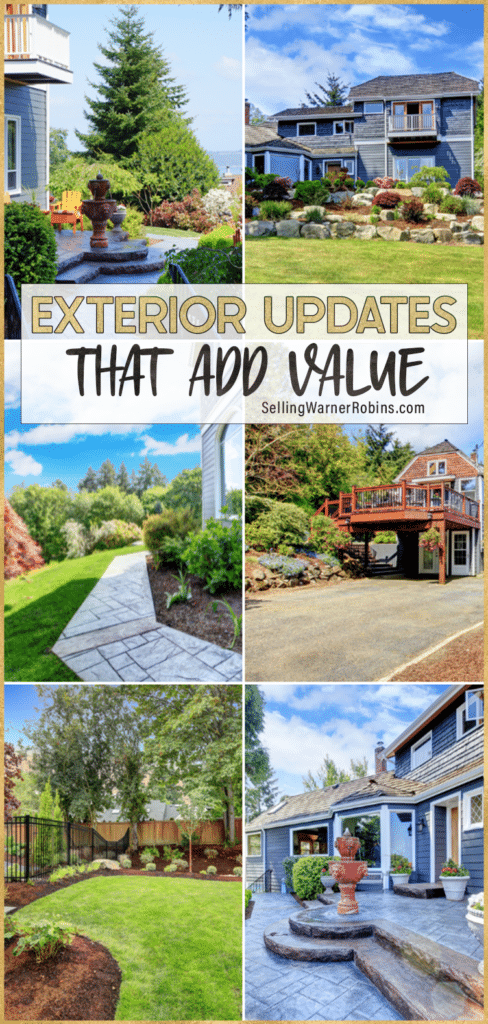 Your front door is one of the first things a potential buyer will notice when entering your home. Consider upgrading to a steel door with window panes. They are durable, energy-efficient and the more cost-effective option.
To make your front door stand out even more, consider enhancing your walkway with plants, stones or lights. You might even want to add arches or columns to your design. You could also make your home feel more welcoming by placing a wreath on your door.
The color of your door can have an impact on its resale value. Consider these shades when repainting your entryway:
Teal adds a pop of color while still maintaining a calming presence.
Red can easily capture someone's attention.
White stands out against gray or red-colored brick.
Brown is more neutral and can match multiple design styles.
Black adds a sleek look to your home.
Inspect Your Roof
Your roof is another thing potential buyers notice when first approaching your home. You want to make sure there is no structural damage and that you have cleared off any dirt or debris. To do this, you will need to inspect your roof. Consider checking it twice a year. Spring and fall are good times for inspection because you can spot any problems caused by snow or excessive heat.
Weather elements can also affect your roof. Strong winds can penetrate the structure, and heavy rainfall can cause leaks. This is why it is vital to examine your roof after a storm. If there is any damage, you only have three years to file a claim with your insurance company.
To examine your roof, you will need to walk around the perimeter of your home, looking out for any missing or broken shingles or any moss or algae piles. You also want to clean out your gutters. When dirt accumulates, it blocks runoff water from draining, which can cause it to soak into your home's interior.
Here are some of the different materials to choose from if you need to upgrade your roof:
Asphalt shingles come in various colors and are cost-effective
Clay and concenter tiles are long-lasting and energy-efficient
Metal is the most durable option and is a solar reflector
Slate is fire-resistant, elegant-looking and sustainable
Upgrade to Energy-Efficient Windows
Your windows can waste energy because air can escape if they are not properly sealed. This can also happen if there is a tear or rip in the material. Consider upgrading to low-e storm windows, which are cost-effective and visually appealing.
Here are some of the other benefits:
They reduce drafts
They lessen noise
They are energy-efficient
They reflect radiant heat better
These types of windows are available in various materials, from glass to plastic sheets. The glazing comes in either glass or plastic panels. Glass panes offer better visibility and last longer, while plastic boards are more durable and lighter. You also have options for the framed materials — wood, aluminum and vinyl.
When you install the windows, ensure there is weatherstripping at all the moveable joints. You also want to make sure they are made from solid and durable materials and have interlocking or overlapping joints.
Make Your Outdoor Space Appealing to Buyers
No matter how small or big your outdoor living space is, finding the right way to balance the overall look is important when creating an appealing and attractive space. If you are in love with the interior space decor and design of your home, you can try to reflect the style outdoors too. This basically allows for a smooth and seamless transition as buyers move from the inside to outside.
Whatever you decide to do, make sure it is aesthetically pleasing and does not take away from your overall theme or point. If the outdoor space is inviting, you can bet potential buyers will imagine themselves entertaining or relaxing in the space. Remember, the goal is to maximize the outdoor space…how you do that is entirely up to you!
Your home's exterior adds a sense of style. It should be one of the top things on your checklist before putting it on the market, because having a functional and pleasing outdoor space will help attract potential buyers. Consider these tips to get the highest ROI for your house.
If you found this information on how to maximize your outdoor space helpful, please consider socially sharing this article so more consumers can benefit from the information.
How To Maximize Your Outdoor Space