Downsizing Tips for Seniors
Downsizing can be difficult for seniors. Their house often contains a whole lifetime of special memories and it seems like every knick-knack has a story to go along with it. Often times it is just the thought of moving some place different and starting fresh that can cause undue stress and angst.
It may take seniors some time to adjust to the thought of changing residences, but many will realize that their needs have changed. They also know that they no longer have the stamina for a larger residence and are beginning to need special safety features that their current home does not possess. Pointing out the benefits of a home that makes daily tasks easier and life more comfortable can help seniors make the final decision to downsize to a more manageable place.
I want to help you make that process easier, and to that end, here are several downsizing tips for seniors to help make your transition to a new residence an easier one.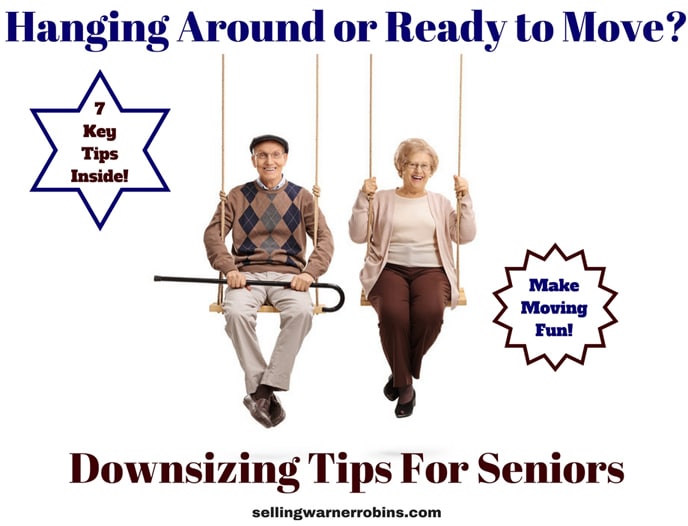 ---
Take Photos of Everything Before Starting
Before you start packing and getting rid of stuff, take digital photos of every room from as many angles as you can. You will also want to take pictures looking outside, especially from favorite places where you like to sit. Of course, you can also take pictures in the yard,  of the neighborhood, and perhaps of the street or of interesting sites in the community.
Why should you take photos? Creating an album or digital footprint of these images provides you (or your loved ones if you are helping seniors move) with lasting memories when you get the urge to "go home again". Having cherished memories allows you to hold on to that sense of place and can make the transition smoother.
Be sure to include some close-up shots of favorite possessions or places in the home. This is a good idea if you have to give up items in the move because your new home can not accommodate them. You can even frame one of more of these images for the new place. This is one of the easiest to incorporate downsizing tips for seniors and can definitely soothe the heart as you get used to your new home.
Create a Pleasant Atmosphere
If you treat the task of downsizing like a chore, then it will be viewed as a chore by everyone involved. It does not have to be that way! Give the downsizing event a festive feel. Make it a time for socializing, storytelling, laughter, and connecting the oldest members of your family with the youngest members of your family.
Have some great homemade snacks on hand or perhaps plan to have a potluck lunch or dinner after each session of "move prep." Play some favorite music, show off some old dance moves, or just sit and tell cherished stories of things or events that happened in the house. The goal should be to keep the mood as pleasant as possible and celebrate what was and what will be as you begin on your new home journey.
Do Not Downsize In One Day
Spread out the task of downsizing to more than one day if possible. It is going to be emotionally and physically demanding enough without trying to rush the process. It is best to schedule times to downsize that are no more than six hours at a time because any more than this and the whole process can become overwhelming and too stressful. If your health (and back) and stamina level allows you to handle more, by all means do what you can.
Make sure you have the following things handy as you start the downsizing process:
Helpers for lifting/carrying/sorting
Boxes, labels/markers, scissors, and tape
Area to separate keep items, discards, give-aways, and stuff to donate
Easy access to important/valuable items
Snacks and water
Storage for medications
If you are helping a loved one move, give your senior some time to deal with their emotions and rest up before you start again. You also do not want to rush them for safety reasons. If they are having to meet a stressful time schedule, they may be more compelled to not wait for help to reach high items or may try to pick things up that are too heavy and cause injury.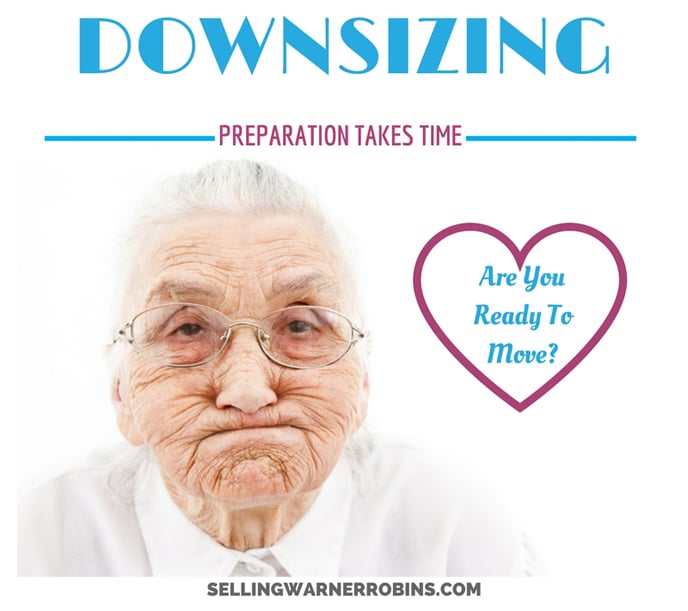 Find Good Homes For Items You Part With
If you are like me, you will feel better about giving up some of your material possessions if you believe these items are going to a really good home. For example, you can make a list of friends, family, and neighbors you would like to give something to. Items like house plants, knick-knacks, and even furniture that have been nurtured along make a perfect gift for someone you know will care for them.
Old clothing and accessories can sometimes be given to high school drama departments or community playhouses. They may also be interested in items like lamps and "old fashioned" items like old sewing machines or old style phones to use as set props.
Tools can be given to high school shop teachers to put to good use. They could also be given to a favorite handyman or a young person looking for a way to start their own business. Large items like pianos, grandfather clocks, and bulky furniture can often find a good home at churches and community centers.
Construction Features Seniors Need
There are several construction features that can make a senior's life easier in their new home after downsizing. Finding a place with a pantry (or putting one inA) can help allow a senior to keep more of his or her kitchen and household items. Along the same lines, you can look for a place (or build a place) with an extra closet or two. Constructing or assembling closet organizers with easy to roll out drawers and good shelving can make it easier for a senior to reach their stuff and stay organized and uncluttered.
Seniors should only consider moving to a new home when it makes their daily lives more comfortable. The following attributes are important because of the physical limitations that aging brings with it. However, a home should not necessarily be dismissed if it does not meet all these criteria, providing there is scope for adapting it in the future.
Floors are all on one level or a there is space to install a stair lift
Doorways are wide enough for walkers and wheelchairs
Kitchens are small enough that movement is negligible
Bars and countertops are low enough to use from a seated position
Light switches and thermostats are easy to reach
Flooring does not have a slippery surface and is easy to clean
Grab rails are located in strategic places in the hallways and bathrooms
Entrances do not have step-ups and at least one ramp leads into the house
There are lighted pathways and plenty of light in every area of a room
According to the United States Center for Disease Control and Prevention, about one-quarter of Americans, sixty-five years old or older, have a slip and fall accident every year.
Even something like a walk in shower or a walk in tub with a place to sit down can be a godsend! To make the new bathroom more appealing, some people incorporate keepsakes into one or more of the tiles in the shower or tub. A higher commode can also make it easier for you to get up. You can also add corner shelves to a bathroom to add extra space to display mementos that can withstand the steam from the shower.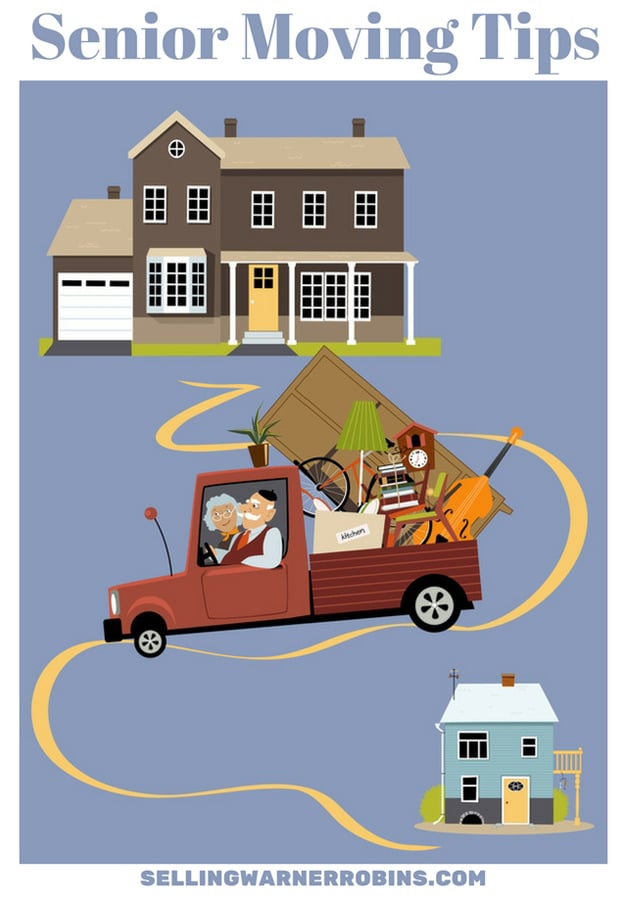 Special Preferences Seniors Want
When considering real estate needs for seniors who are downsizing, there are several special preferences that you may need or want. For example, you will want to pay close attention to how you enter the prospective dwelling. Stairs can become increasingly difficult, and if the time should ever come, you will want easy access for a wheel chair. You may also want to look for an attached garage or carport so it is easy to get inside without dealing with rain, snow, or other weather elements.
Packing up and leaving a home that has the memories of a lifetime is one of the hardest passages in life. It becomes a little easier if the new home is equipped with some of the treasures that have been collected over the years. The following are especially important in helping you make the transition to a new home:
Shelving for personal books
Several clear walls to hold memorable photographs
A bulletin board or cork wall in the kitchen for notes and reminders
Appliances that are simple to operate
Easy locking windows and doors
Low maintenance siding and yards
As we get older, it becomes increasingly difficult to maintain the yard. Therefore, you may want to look for a low maintenance yard or even a condo or other property where the yard maintenance is included in the cost or monthly fee. For example, trees which shed leaves or needles may not be the best choice for a downsizing senior. Neither would a large lawn that would need to be mowed frequently.
Help From Loved Ones Makes A Difference
Family and friends can make downsizing easier for their loved ones by helping them plan and organize. Possessions need to be labeled to keep or give away to relatives or a deserving charity. Another helpful idea is to obtain a floor plan of the new place and plan the organization of furnishings before the move takes place. This makes it easy for them to envision which pieces of furniture will work best in their new home. A sellers checklist to stay on point is also a great idea.
It is important to keep an open mind when viewing properties and to look for things that have the potential to be changed if a home fulfils most of your needs. For example, seniors should not dismiss a house just because it has two levels, as a curved stair lift could be installed to solve that issue. Buying a neighborhood home may be your preferred solution or you may want a property that is more secluded. Stay positive and the process can be an enjoyable experience.
Once the move is complete, help your family member settle into a new home by allowing them to decide the best place for their possessions to go. Also, before leaving them alone in the new residence, make sure that they know how to adjust the heating and cooling and work all of the appliances.
With proper planning and careful consideration, you can take some of the stress out of downsizing. Having a checklist of important attributes can really help make the search for a new home go more smoothly.
More Helpful Downsizing Tips
Senior Independent Living courtesy of helpguide
Moving Guide for Seniors via Diane Schmidt
Tips for Considering a 55 and Older Community by Bill Gassett
Final Downsizing Thoughts
I hope these downsizing tips for seniors will help you make the moving experience less stressful for you. The best thing you can do is let your heart be the lead in how you approach this experience. If helping someone move, be patient and considerate and try to understand how they are feeling.
If you found this article on downsizing tips for seniors helpful, please socially share it so other seniors can also benefit from the information. 😉
Key Downsizing Tips for Seniors