The Lazy Dog Growler – New Craft Beer Store in Warner Robins GA
The Lazy Dog Growler
With names like Old Speckled Hen, Wake N' Bake, and XS Old Crustacean, only a die-hard brew-master would know these are the monikers of craft beers.  Until recently, your opportunity to sample these types of beers in Warner Robins was nearly non-existent.  That is until Jeff Kressin and his family came up with the idea to establish a new craft beer store in Warner Robins GA.  Now their dream is about to become reality as the Lazy Dog Growler, located at 3123 Watson Blvd. Ste 200, opens its doors to the public on May 20th 2013.
This is not a bar, nor is it considered a liquor store, it is in-fact a package store.  The Lazy Dog Growler will offer 40+ on-tap craft beers for take-out ONLY as well as root beer, creme soda, and cherry cola for take-out or drink in.  Those coming in to purchase craft beers will have the option of purchasing their suds in a 32oz or 64oz growler (a re-usable jug).  In fact, bring your empty and cleaned growler back on your next visit and help Warner Robins become more eco friendly!  Who knew drinking beer could be so good for the environment!
The Lazy Dog Growler will offer a wide variety of draft ales and lagers with a sampling of cider and stout on keg too.  For non-thrill-seekers, an assortment of bottled beers will be available for purchase as will brew kits for those wanting to make their own brew.  Come in and sample before you buy…it does not get any better than that!
Zip on over and meet Nate the store manager or one of his friendly staffers, pickup a trinket or 2 (cozies, key chains, and t-shirts will be for sale), and do not forget to get your existing or new favorite adult beverages to-go!
---
Store Details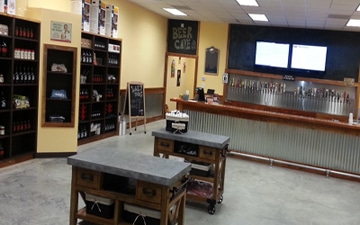 Location: 3123 Watson Blvd, Ste 200 (Next to Dunkin Donuts)
Hours (7 days a week):
Mon-Thurs – 11:00am – 8:00pm

Fri – 11:00am – 9:00pm
Sat – 10:00am – 9:00pm
Sun – 12:30pm – 6:00pm
Price: Varies, based on craft beer chosen and growler size
Contact: (478) 599-9950
Beer Fun Fact: The 4 main ingredients in beer are water, malted barley, hops, and yeast.
---
As always, Warner Robins local events are provided as a courtesy by your Warner Robins Real Estate Specialist, Anita Clark.
Photos used with permission of Jeff Kressin – Owner, The Lazy Dog Growler.
The Lazy Dog Growler – A New Craft Beer Store in Warner Robins GA