Things to do in Warner Robins Georgia: The Museum of Aviation Marathon (2020)
It is runners delight this month as preparations are underway for the Museum of Aviation Marathon! If you are looking for an opportunity to get in better shape or test your existing fitness level, then a visit to Warner Robins GA for the 24th Annual Museum of Aviation Foundation Marathon, Half Marathon, and 5K Run/Walk is the event you have been waiting for!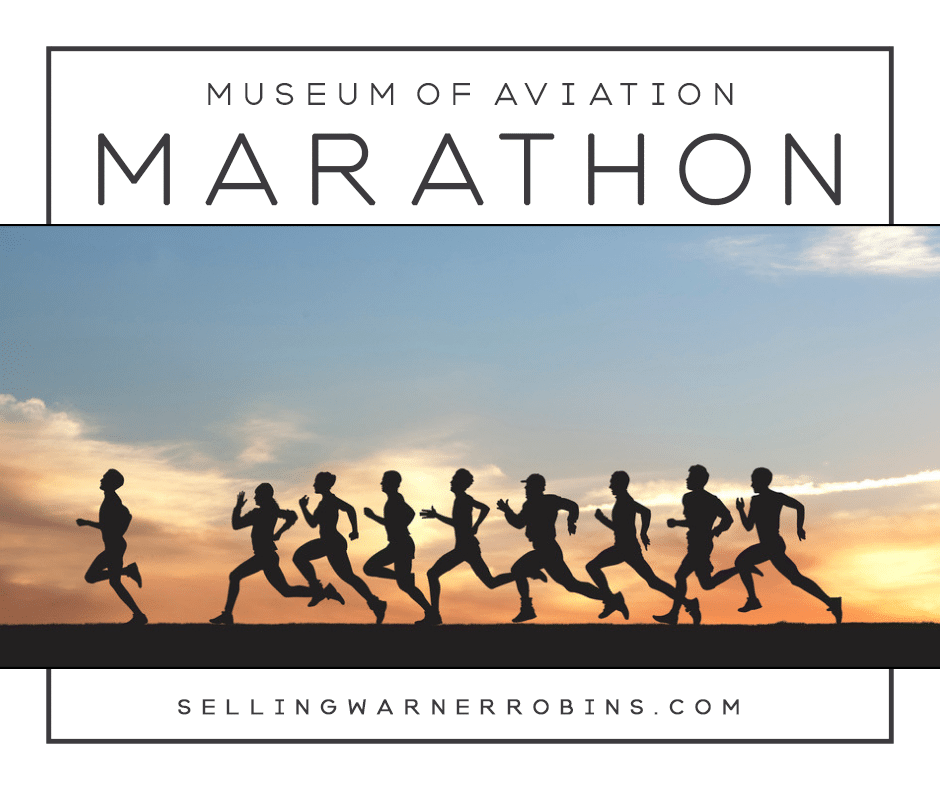 ---
The Museum of Aviation Marathon Details
When: Saturday, January 18, 2020
Time:
7:50am – 2:00pm: Handcycle Division – Marathon
8:00am – 2:00pm: Marathon
8:15am – 2:00pm: Half Marathon
8:30am – 2:00pm: 5K Run
8:00am – 2:00pm: Marathon Relay
Location: Museum of Aviation, GA HWY 247 & Russell Parkway, adjacent to Robins Air Force Base in Warner Robins GA
Registration, packet-pickup, post race/walk cool down, and awards ceremony will be held in the Museum's Century of Flight Hangar (Building #2).
Price:
Marathon: $110 Race Fee + $6.60 Sign-Up Fee
Handcycle Division Marathon: $110 Race Fee + $6.60 Sign-Up Fee
Half Marathon: $70 Race Fee + $4.20 Sign-Up Fee
5K Run: $35 Race Fee + $3 Sign-Up Fee
Marathon Relay: $180 + $10.80 Sign-Up Fee
*Prices listed effective December 22, 2019, discounts apply if purchased before that date.

*No switching races after January 17, 2020 after 5pm EST. Registration closes on January 18, 2010 at 11:59pm EST.
*Macon Tracks members receive $1 off preregistration through the OrthoGeorgia Orthopaedic Specialists Race Series.
*Groups of ten or more may receive $3 off each registration by mailing in all forms together in one envelope.
Packet Pickup:
Active, Retired Military, Civilian DOD: Friday, January 17, 2:00pm – 4:00pm
All Other Participants: Saturday, January 18, 6:30am – 7:30am
*Picture ID required at registration and packet pickup.
Register Online: www.runsignup.com
Contact Information: Museum of Aviation Foundation, (478) 923-6600, museumevents@museumofaviation.org
---
The Museum of Aviation Marathon Helpful Tips
Participants should arrive early as museum parking will fill up quickly for the marathon. Runners will utilize disposable chip timing for the marathon and half-marathon and the marathon will have a 6-hour cutoff. Because all 3 races will be conducted on Robins AFB, a photo ID is required at both registration and check-in.
Marathon Relay teams will consist of six participants (unless a participant runs more than one leg of the race). The team will be responsible for transporting each participant to each starting point on the course. The first five participants will run 4-mile legs and the last participant will run a 6.2 mile leg. Signage will be posted indicating the starting spot for each 6 of the participants in the team.
---
The Museum of Aviation Marathon Awards
The awards ceremony will be held in the Museum's Century of Flight Hangar (Building #2). Trophies will be presented to the following:
Top 3 male and female finishers in each age category and race
Overall top 3 male and female masters in each race
Top 3 active duty military male and female marathon finishers
Relay team winner
All marathon and half-marathon finishers will receive a three-dimensional antique pewter medallion with a red-white-and-blue ribbon. The marathon medallions this year were inspired by the WWII Memorial in Washington D.C. and honors the lives of 404,800 soldiers lost.  The reverse side of the medallion will have a place to engrave the participant's name, date, and finishing time.
The winning marathon relay team will receive the traveling " Commander's Trophy" to display in their squadron until the following year. All participants will get a t-shirt and t-shirts are guaranteed on race day to participants who preregistered by January 4th.
Award Age Categories:
10 years and under (5K only)
11 – 14 years
15 – 19 years
20 – 24 years
25 – 29 years
30 – 34 years
35 – 39 years
40 – 44 years
45 – 49 years
50 – 54 years
55 – 59 years
60 – 64 years
65 – 69 years
70 – 74 years
75 – 79 years
80+ years
Awards Ceremony Times (approximate):
5k Run: 9:30am
Handcycle Marathon: 10:15am
Half Marathon: 10:45am
Marathon: 1pm
---
The Museum of Aviation Marathon Sponsorship
The race is sponsored by the Museum of Aviation Foundation and Robins Pacers Running/Walking Club, and is part of the 2020 Run & See Georgia Grand Prix Series. The marathon and half marathon courses are both USA Track and Field certified with the marathon being a Boston Marathon qualifier.
Funds raised will help support the Museum of Aviation which is one of the largest education-centric aviation museums in the world. The Museum of Aviation is the second largest museum in the United States Air Force and the fourth most visited museum in the Department of Defense.
Via the link, additional things to do in Warner Robins GA are available year-round.
Fun Things to do in Warner Robins: The Museum of Aviation Marathon (2020)