Key Advice For Buying A Home For A Child With A Vision Impairment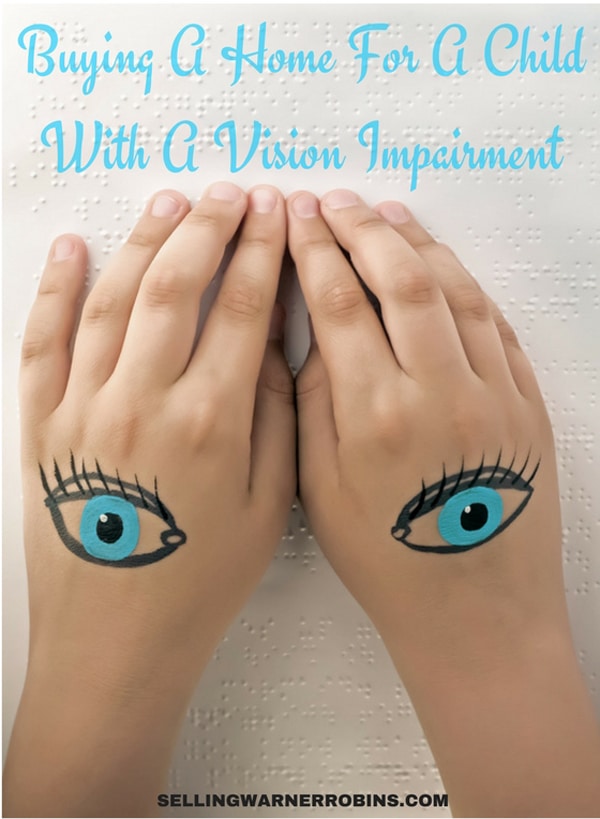 Purchasing a home for a child who has low vision or other impairments can be a stressful task because there is just so much to think about. Creating a safe, comfortable environment for your child is important, but it is just as important to make sure your new home is functional so that she can have some measure of independence.
So, where should you begin? There are several key characteristics you can look for when you are browsing homes to make it work for both you and your child. It will be hard, if not impossible, to find a home that matches everything on your checklist, but most properties should not require much work, time, or money should you have to make slight modifications after you move in.
Figuring out the best ways to help your child make the most of his/her time at home, giving you the peace of mind that he/she is happy, safe, and thriving is what most parents will be seeking. Below are some key tips for buying a home for a child with a vision impairment.
According to the American Foundation for the Blind, it is estimated there are nearly 62K school age children who are legally blind and over 455K who have vision difficulties in the U.S.
Lighting
Lighting is key for anyone with a vision impairment, so when you are previewing a home, pay attention to the natural lighting the home receives and take into consideration how lighting could be added later once you are moved in. Natural lighting usually works best, but if it creates a glare on floors, televisions, or reading surfaces, you can use light bulbs that replicate natural light and put up some nice curtains instead.
It is a good idea to walk around the homes you are viewing, open any curtains or blinds, and take a good look at how the light reacts with different areas and surfaces. If a home has hardwood floors, a glare can be problematic as it can cause falls or confusion. Also, keep in mind that too much light can be a bad thing if your child is sensitive to it. You will need to find the right balance. If you are not sure, go to the main source — your child. Take her/him with you to home showings to get their perspective.
Dark areas of the home such as closets, hallways, staircases, cupboards or a pantry should be well illuminated with floor lamps or battery-operated wall fixtures. Adding light to these areas will make it easier for your child to do things themselves and will help prevent injuries from occuring. Consider installing light switches that are easy to operate such as one-touch, or even automatic. Ease of use is an important part of the home for everyone.
Color
What are the odds of finding a home with your dream color scheme? Contrasting colors can be extremely helpful for individuals with low vision, especially in areas where there is a lot of white-on-white, such as bathrooms, so you may have to make low-cost changes such as new paint colors to make the new home easy for your child to navigate. You might paint the wall behind the bathtub and toilet a darker color, use a bright pillowcase with white sheets, or use your child's favorite color for her toothbrush and other personal items.
If your child has a color preference, try to incorporate that color as much as you can to draw attention to his/her belongings while helping your child feel at home by being surrounded by their favorite things. That includes their favorite color.
Other easy home DIY modifications that your child may find helpful is to use colored tape on the edges of steps or in areas of low light to help your child navigate easily, or use colored shelf liners and place mats to create extra contrast.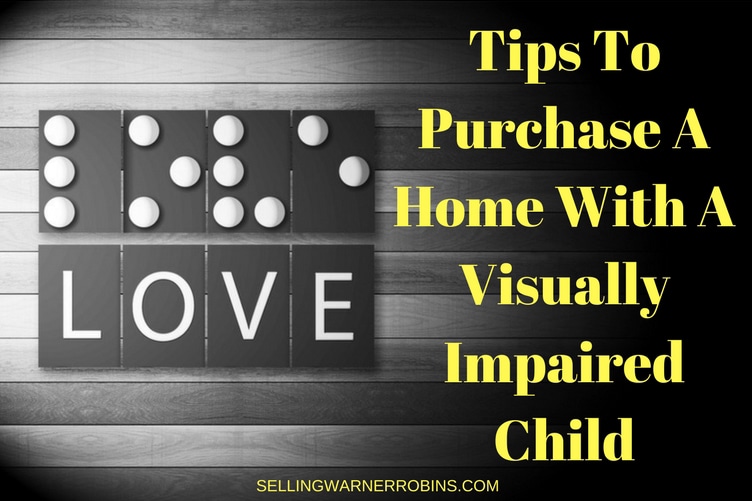 De-Clutter
A key area of importance in any home you are looking to purchase should be ensuring all spaces are easy to navigate and organize. Look for homes that have an open floor plan or wide doorways and hallways to provide plenty of space for your child to move around safely. Take into consideration various modifications that you might have to make such as shelves, cabinets, and drawers that are easy to reach and at the correct height and depth.
Once you have purchased a home and have moved in, try to keep countertops and cabinets neatly organized and clutter-free so that your child can easily identify the things they need. Label items in cupboards and in the pantry, and use brightly-colored plastic bins for the things they uses most, such as after-school snacks or toys. Cutting down on the clutter in your home will enable you to put some space between shelved items, making them easier to see and identify.
Consider a Service Dog
While most children with a vision impairment will not require a service dog to help them get around the house, these animals also provide a level of comfort and stress relief that will be very helpful, especially for younger children. Service animals for individuals with a vision impairment can help prevent injury outdoors and assist them in staying safe where traffic is concerned.
Service dogs may be trained by you, or a specific organization, so explore your options and do your research to ensure you are well prepared. A service dog will become a member of your family, but it is important that you do not forget their main function so that the dog does not forget their service skills. Like most tasks, if you stop practicing, you run the risk of forgetting and having to re-learn certain skills. A service dog will be very beneficial to your child with vision impairment as long as you know what to do and what to expect.
Purchasing a home for a child with vision impairment may be a little stressful, but knowing what characteristics make for a safe and comfortable home will make the process much easier. As you are looking at potential homes, keep in mind key characteristics such as lighting, color, and accessibility. Explore other options if necessary, such as a service dog, to ensure your child's home is a place of comfort and happiness rather than uncertainty and fear.
Note: Legal blindness occurs when you have a central visual acuity of 20/200 or less in your best eye after correction. A visual field of 20 degrees or less also constitutes legal blindness.
Other Vision Impairment Resources
Low Vision Information via MedlinePlus
Visual Impairment & Blindness from ParentCenterHub
American Foundation for the Blind over at AFB.org
Visual Impairment Resources via aph.org
Teaching Kids with Visual Issues
If you found this article on buying a home for a child with a vision impairment useful, please consider social sharing it so others can benefit from the information.
Important Information For Buying A Home For A Child With A Vision Impairment