Tips for Creating Your Dream Kitchen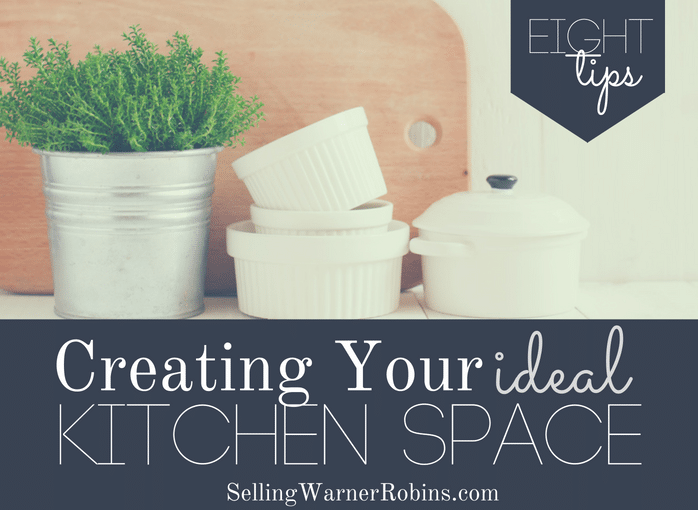 ---
Without a doubt the kitchen is one of the busiest areas in the home and is often the hub of family activity. Whether you are a passionate cooker or you occasionally pop in just to grab a quick snack, you need to create a kitchen space that will be pleasing to you. These tips for creating your dream kitchen will help you establish a space you can be proud of.
You may not be Julia Child, but having a nice kitchen can really inspire you to take on new culinary endeavors. Also, if you have a large family or you like to have guests over, you need a comfy area that allows you to unfold your chef potential and visit with guests at the same time.
All the more reason why you should pay extra attention to the design of your kitchen. Creating a functional and aesthetic room comes naturally for interior designers and is a good option if you have the funds to hire someone else to do the work. Although hiring a professional is always a safe bet, you can still do plenty of things yourself, even with a modest budget and little experience.
Designing the ideal kitchen is not an easy task. Whether you are moving house or redecorating your current kitchen you need to find the middle ground between style, practicality, and aesthetics. This requires a lot of consideration, patience and effort.
You can quickly get overwhelmed while juggling between the budget and your dream kitchen. It can happen whether you are making small updates or doing a total make-over to your kitchen. However, when you have all the basics covered, you will minimize and/or avoid any decor disasters.
Below are 8 tips for creating your dream kitchen. Relax and have fun with your kitchen makeover, regardless of the project size.
Plan Smartly
Do not underestimate the importance of a good kitchen plan. Having an effective layout can help you maximize your storage space, make the most of your finances, and avoid overspending. A smart plan constitutes two things: a to-scale drawing or an architectural rendering and a "wish list".
If you are making minor home improvements, identify the problematic area and decide what needs to be remodeled. For major changes, first think about your needs. Do you want more storage, floor space, or style? It is a good idea to identify your cooking habits and align them with your kitchen design.
As for the "wish list", make it extensive and detailed. When you have it all on a paper, you  minimize the risk of forgetting something or spending more on items that you do not really need. If you feel enthusiastic you can create an idea folder with pictures of rooms from magazines, materials and products.
You can even create a private Pinterest board to keep your ideas visual if you like. Note what you like about a certain design and try to translate it into your kitchen. It is essential to align your "must haves" with your dream lifestyle.
Mind the Working Area
While creating your plan, think about the cooking zone. While a bit dated, do not forget about the good old kitchen triangle. It is an old fashioned way of arrangement, but it is still the most popular design because of its simplicity. Create a logical connection between the three key spots in the kitchen: the oven, the sink and the fridge.
Make the layout flow as natural and functional as possible. You do not want to cross the entire kitchen just to wash your products and then return to the oven. If you feel that your current kitchen is too chaotic you may need to rethink the cooking corner.

Work With Your Place
If you are in the process of moving house, visit your new place. Examine the specifics details of your soon-to-be new home. Instead of borrowing a design from the pages of a decor magazine, try to come up with a way to work with the perks of your home.
For example, you may be into massive counter-tops, but only have a little bit of floor space so large counters may not work. If you are redesigning your current kitchen, think what went wrong or what you did not like the first time.
Be Budget Savvy
The budget is one of the most important elements of every kitchen remodeling or decorating. If you went through a recent relocation, you have probably left some of your appliance at your old place. When shopping for new stuff, keep in mind that furniture and appliances require some serious investment. In addition, it is worth going the extra mile and purchasing energy efficient appliances. You may spend a little more upfront but should see savings over time with energy efficient models.
Try to create a transcendent design that will stand the test of time. Pick stylish and good quality options like a marble counter-top and a hardwood table. Stainless steel is fashionable and modern so consider it for your appliances.
Measure Twice, Cut Once
Speaking of fixtures, furniture, and appliances, always ensure you have the measurements right. This may seem like a no-brainer, but many home owners make this mistake. You do not want kitchen cabinetry and counter-tops to arrive that do not fit.
Imagine coming home with the ideal purchase, only to find out that it does not fit the area or the decor. Also make sure some of the aesthetic things are covered like ensuring your refrigerator opens on the side you are expecting it to and making sure cabinet doors do not block access to things like a dishwasher or drawers.
Picking a Color Palette
It is important to create a coherent design and you can do it with color. White is an all time favorite when it comes to kitchens but many consumers are now opting for a bit of boldness and personal flare.
Neutral tones provide you with the opportunity to get creative with furniture and accessories. Want to add some sophistication in your kitchen? Use shades like cream, ivory and grey. If you find these colors too cold, paint your kitchen in upbeat pastels like mellow blue or muted yellow. It will instantly create a cozy and warm atmosphere.
When selecting a palette, be sure that your furniture and accessories complement the wall color. Choose shades that are close to the primary color or that are in harmony with it.
Practical Materials
The kitchen should not only be pretty, but useful as well. This means that most of the items in this area are subject to a lot of wear and tear. The counter-top is traditionally one of the most vulnerable spots. Granite, stainless steel, quartz and laminates are a sensible choice.
Consider getting a backsplash material that requires less cleaning effort. This area is exposed to greasy stains and water spills that can ruin your kitchen interior. Any type of stone or laminate can solve the problem.
While busy with the tiles and cabinetry, do not dismiss the flooring. Materials like linoleum make the cleaning far easier. Wood flooring may be gorgeous, but it needs special care.
Effective Storage Solutions
The kitchen tends to collect a lot of things and thus can become quite messy. That is why storage solutions have a central place in the kitchen design. Open shelving is appropriate for small spaces. These clever storage options visually expand your place, while providing quick access to your cookware.
Also, when shopping for storage solutions, select items with a double purpose. Storage units like baskets help you keep a track on your kitchen belongings. You do not need a vintage kitchen design to install stylish racks. Do not go overboard with the open storage. Install crockery drawers to keep your glasses and plates perfectly organized.
The secret to the perfect kitchen design is to add your personal touch. Fill the space with your favorite cookware, cooking books, or whatever strikes your fancy. Expose your amazing taste and create a kitchen space that is truly yours.
More Kitchen Resources
Improvements that Help Sell Luxury Homes from Debbie Drummond
Most Popular Types of Kitchen Flooring by Debbie Gartner
If you found these Tips for Creating Your Dream Kitchen helpful, please share them so others can also benefit from the information.