Questions To Ask When Purchasing Rural Property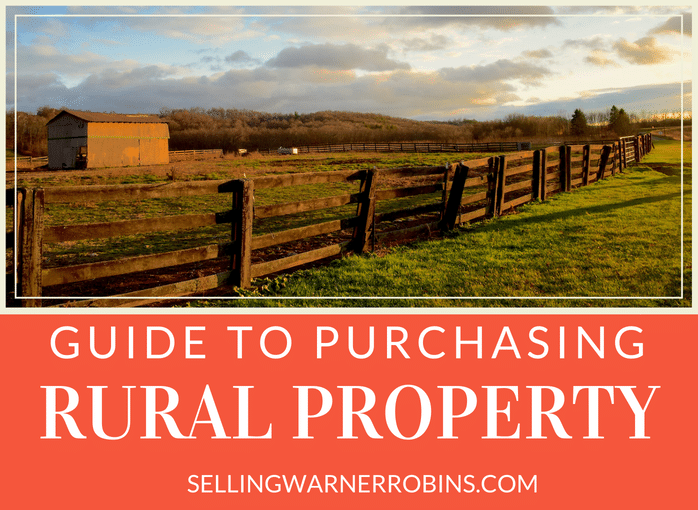 Looking to purchase rural property? Wanting a piece of land to call your own? Ready to escape the hustle and bustle of suburbia? Whether this is your first, next, or last time buying land there are important questions and other miscellaneous items to consider in order to have a smooth buying process.
Whether you are a millennial buyer, baby boomer, or somewhere in-between, below are 8 tips to help you determine if purchasing rural land is right for you as well as important things to consider and understand about owning farming property.
Learn The Land
First, it is important that your know exactly where the property lines are and what is and what is not included in the sale. A great way to accomplish this is by surveying the property to ensure there is an accurate reading of the number of acres you are buying. You can do this by contacting local surveying firms to get cost estimates for doing the land survey. Your local real estate agent should be able to provide a list too. Survey costs may be a bit cheaper if a previous survey has been done on the property.
In addition, when figuring out property boundaries, be sure to visit the county assessor's office to pull records to see how many acres are being taxed. This figure should be close to what the homeowner is reporting.
It is also important to know about deed restrictions and zoning ordinances (again, your agent can be a big help here). This will tell you what you are and are not permitted to do with the land. This can vary from hunting to owning exotic animals or having a home-based business.
Take time to know the location surrounding the land you are interested in buying. What are the condition of the roads into/out of the property (dirt, gravel, or paved)? Are there issues with gaining access to the property (flooding concerns, bridges, crossing someone else's property, etc.)? Who pays for maintenance and upkeep of the road(s)? Knowing about these types of issues upfront can save a lot of headaches and funds in the future.
Are utilities such as water, electricity and satellite internet access readily available? Is the home using a well for water (water softeners and/or treatment may be needed)? Is the property on a septic system (what is the condition? When was it last emptied?)? If power lines are used to provide electricity is there a generator that can be used (condition and age?) if the power goes out since rural areas are often the last to get power restored after a disaster. These are all factors to consider before you purchase rural property.
Hire A Real Estate Agent To Represent YOU
Especially if you are a first time buyer, it is very important to have help from the professionals who know about farming, well water, soil, land rights, and other important items. Remember that the seller's real estate agent is working in the best interest of their client and not in yours. You need your own representation!
With your own buyer's agent, who works on your behalf, you will be able to gather a lot of critical information about the property you may not have otherwise learned. Your agent will also help you with the miscellaneous tasks that always come up when purchasing rural property. To ensure you get the property you want, at a price you are comfortable with, ensure you hire your own real estate agent so all your needs and wishes are met.
Know Your Local Resources
Since you are no longer a city or suburban dweller, it is important to know where your local post office, grocery store, hospital, and schools are before choosing a plot of land. This also goes for local services, such as local cable and internet providers so you can stay connected.
While considering your resources, be sure to find out other important information, like where you will need to dump your trash, what is the longest the power's ever gone out, how accessible your place will be in wet or wintery conditions, and whether there are mineral, timber, or water rights (do they convey with the sale?). In addition, keep a list handy that includes the following resources you will need to know once you decide to purchase a rural home:

Local Lender – If they are well versed in helping consumers buy rural homes they can be very useful and help speed the process along. Your agent should be able to provide a list for you to consider. Options such as zero-down mortgages, grants, and USDA home loan programs may be available in certain areas…ensure your lender discusses all your available options.
Southern States – With over 1.2K retail locations in 20+ states, it is one of the largest farm co-operatives in the United States. With well over 200K farmers involved, new rural home owners can benefit by purchasing feed, fertilizer, fuel, seed, and supplies as well as learning a wealth of farm related knowledge. Southern States also promotes and helps the Future Farmers of America (FFA) since many in the co-operative were once local members of their FFA.
Community – Never underestimate the importance a local community plays in a rural setting. Whether it is procuring, selling, sharing resources, or banding together as residents, building bonds in the local area can be a huge benefit both personally and professionally. A community can also be useful when you need a mechanic to fix something, a unique item provider, or even just to purchase general supplies.
County USDA Farm Service Agency Office (FSA) – If you buy a working farm your local FSA can be very helpful with a variety of items such as understanding municipal regulations, emergency assistance with farm raised fish, honeybees, and livestock, conservation compliance, loan assistance, disaster protection and recovery. and even aid with specialty crops or animals.
If you seek out and utilize the resources on this list, you will not only be an integral part of the community, but will also have built up a network of resources you can count on when the need arises. You may even find you are sought after for unique contributions you can share or contribute.
Seek Out Your Neighbors
Chances are, local residents whose properties meet up with yours will be using their land in a similar fashion to what you plan on doing with yours. That alone is a great reason to stop by and meet their acquaintance before you buy a rural property. They can provide strong advice and share both positive and negative information about the area and the property you are considering that you might not be able to find elsewhere.
I often share with prospective rural home buyers in my local Perry GA real estate market the importance of being a good neighbor. If you are friendly, considerate, and approachable chances are your new neighbors will reciprocate.
Sometimes the best help comes from those that live closest to you. Once you own the land, you never know when you may need their assistance or when they may come knocking for your help. When neighbors stick together, the entire community can benefit, prosper, and grow.
The Importance Of Title Insurance
Title insurance is important because it protects the homeowner against property loss or damage due to defects in the property title. The last thing you want is obstacles (such as easements, liens, or lawsuits) hindering your ability to purchase the home. With rural property, title insurance is also important because it will warn you if the property has previously been used for other purposes, such as a hazardous waste dump, contaminant storage area, or burial site.
The key is to receive a clear title to the property from the title company (usually by Warranty Deed). Under normal circumstances, you will receive notification of the title search roughly a week before closing on the property. The Warranty Deed will be signed over to you by the seller at closing, can take up to 30 days to be recorded at the court house, and a copy will be mailed to you for record keeping purposes.
What Is Included In The Property Sale

Though this may seem obvious, it is important to know what is and is not in the sale of the property. If those livestock pens or farming equipment are not specifically listed, chances are the old homeowner will take them to their new home or sell them to someone else in the local area before they move to a new locale.
Never assume you are getting something. When your agent writes up the contract, be sure to include a detailed list of everything you think you are buying with the land. Here is a brief sample list:
Sheds
Portable storage
Feeders
Benches
Greenhouse
Irrigation piping
Livestock panels and pens
Tractors, plows, and miscellaneous farm equipment
Fencing and fence posts
Four-wheelers or other easy-access vehicles
Any existing leases (i.e. camping, farming, or hunting rights in-place at the time you take ownership)
Work with your agent to ensure the seller agrees to the list of things you want in the sale. Otherwise, you may be in for a few surprises when you decide to purchase rural property.
Tax Information
It is smart to perform a rural property search to give you good idea what the future taxes will be on your new home. In many instances you can find the information online in lieu of making a trip to the county tax office. Having a baseline to work from provides key data to ensure you understand the tax implications of owning the property.
It is also a good idea to check historical records so you understand the current land zoning classification for property you are about to purchase. Not only does this help you understand what you will be able to do with/on the land, it also helps you make a more informed affordability assessment, and whether or not you will be able to get financing.
Consider Expenses
It is vital that you take into account all the associated expenses when you purchase rural property. Besides machinery costs, consider the costs associated with livestock or crops, storage of equipment, feed, and/or seed, roadway upkeep, irrigation, and basics such as how you will maintain a constant flow of electricity and water to your property. While some of the costs and issues associated with rural living are the same as living in neighborhoods, as pointed out, there are many differences too.
Also take into consideration that owning and working your land is hard work which could result in a variety of increased medical expenses. Moreover, what are your expectations for the land in the next few years? If improvements, upgrades, or new endeavors are what you envision, there will be future costs you will need to consider and plan for.
Additional Rural Property Resources
First-Time Land Buyer Questions via LandThink
Buying a rural home and becoming more self sufficient certainly can have its advantages. It is a complete lifestyle change if you are moving from a city with the opportunity for a quieter life and slower cadence. Taking the next step towards land ownership has never been easier, especially if you keep these 8 tips in mind as you look to purchase rural property.
Key Tips To Purchase Rural Property