Things to Consider When Choosing a Storage Facility
There comes a time when you need to downsize but letting go of your possessions is not that easy. Or maybe you need a temporary place to store all your stuff as you make a transition. Perhaps you need a long-term storage option. Whatever the case, finding a reliable and suitable storage facility can be a tough chore.
With so many things to consider and many options to choose from, having a guide to help consumers with their storage options is a must have. Here is a list of what to look for when choosing a storage facility.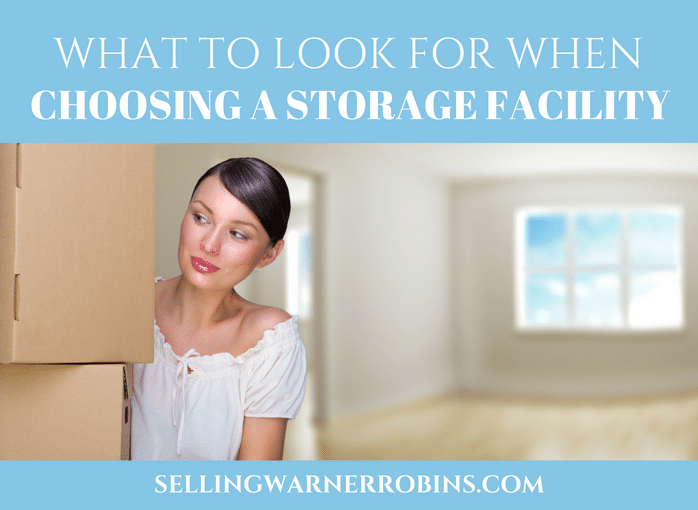 Determine Your Storage Needs
The first thing you should do is to determine your needs. This is such an obvious step, that many people often forget about it. Knowing what you want will help you find the right solution for you.  Use this knowledge as your primary guideline during the process.
Think about the items you are planning to put in the storage unit. Is it some kind of vehicle, furniture or an art piece? When you know that, you will be able not only to decide the size of the storage place, but also the specific requirements for storing a particular item.
Take into consideration the indoor conditions of the storage unit.  If you are using the place for keeping valuable items, you should be sure that the facility offers insurance and constant surveillance.
Another crucial factor is the longevity of the rental term.  Maybe you are in the middle of a moving and you need to store your possessions for a couple of weeks?  In this case you can take advantage of a smaller unit without being to diligent in terms of storage organization. Unlike long-term renting, accessibility is also of minor importance.
Renters who plan to store their belongings for extended time are likely to visit their storage facility more often. This makes bigger spaces with easy access more appropriate. Plus larger storage units allow arranging the items more thoughtfully.
Now that you know what you need, here are the things you should check out, before renting a storage unit.
Searching the Internet
It is ideal if you can spare the time and see the facility for yourself. However, it makes good sense to do some online research before visiting the storage center. Be sure to check out consumer reviews to get a gauge on what other renters have thought about the facility and staff.
It is important to understand that all of the information will not be completely unbiased. You will stumble on all sorts of comments, from very positive to extremely negative. Often the true story lies somewhere in between the extremes.
If you cannot find a reliable online source, do not despair. You can and should check with your sphere of influence to hear what their opinions are. Asking your trusted friends and relatives what they think is always a smart move.
Location and Storage Condition
Convenience – When selecting a storage unit, take into account the fact that you will most likely be doing the moving yourself. Hiring a moving company is also possible, but it might be a cost drain and not worth the expense. Also, you might need to add to or remove items from storage and you may want to periodically inspect your possessions after transferring them into the storage. With this in mind, try to find a facility with a convenient location.
Cleanliness – Make time to visit the place before renting it and be sure that it is in good condition. The look of the storage facility often can tell you a lot about the service quality. Inspect the area for basic things such dirt, dust, and insects. It is not unusual to examine the facility before renting it, so do not hesitate. If the company refuses, it should raise red flags that there may be an issue.  The last thing you want is a messy place.
Major Issues – Apart from the overall appearance of the unit, you should examine its condition. Look for cracks on the wall and ceiling that can permit the penetration of rain or sunlight. Of course you will also need to ensure mold is not present and/or mildew are not present as they can quickly damage your possessions.

Price
Although your final decision should not be solely based on the price, it will be inevitably influence your decision. You might be tempted to pick a cheaper solution and save money. Remember that more often than not you get what you pay for.
More expensive storage units often have better security features, more robust climate controls, or offer more options. If you find the service pricey, do not hesitate to ask if there are any discounts available.
Storage Features
There is certainly a variety of storage facilities, storage options, and unit sizes to choose from.  If you do not know exactly what you want, you may initially be overwhelmed by all the choices such as their sizes and indoor environment.
It sounds like a no-brainer, but it is easier to determine the amount of space you will need when you know what you will store. Here are some common storage sizes and the type of things you can fit in them.
5×5 unit – personal items, boxes, bookcases, small furniture
5×10 unit – furniture, bedroom contents (mattress, drawers)
10×10 unit – furniture, appliances, bookcases, boxes, motorcycle
10×15 unit – boxes, appliances, a 2-bedroom apartment,
10×20 unit –  a 3-bedroom apartment/ house, major appliances, boxes
10×30 unit –   4/5 bedroom house, major appliances and boxes
Climate-control is another service that most facilities offer. Some items such as art pieces and vintage furniture are vulnerable to the environmental conditions and a controlled temperature is key to storing these items property. This is where the regulated indoors climate can come in hand.
Other features such as online payment, drive-up access, and 24×7 security can increase the customer experience and may be important to some consumers.
Service
Accessibility is an aspect that should not be underestimated. Of course, if you only need a temporary space to keep your belongings, you can be flexible with the hours the storage facility is open. Some facilities do not operate during the weekend or have specific work hours. If availability is your top priority, then pick a place that provides unconditional access.
Check how the place is maintained on a regular basis. Does the service provide lighting and security locks? Does it offer additional insurance in case of flooding or fire? Does your homeowners insurance cover your items while in storage?
You should be fully aware what is included in the price of the unit and what you should cover yourself. Do not forget to ask about the restrictions on the types of items you can put in the storage like weapons and valuables.
Find out everything about the payment procedures. What are the rental terms? Can you choose a month-by-month option, if you do not plan to use it for a long period? What will happen if you miss the monthly fee? Ask the tough questions and know all of your options before signing on the dotted line and committing to using a facility.
Security
If you do not want to worry wondering whether your possessions are safe, then you need to ensure the facility you choose is secure. Is there a fence surrounding the area? Pay attention to holes and broken poles.
A locked gate and door with a keypad indicate a higher level of security. Surveillance cameras are a big plus. Is there on-site security? Lastly, how do they ensure that only unit owners enter the property? Clear these issues before renting the storage facility.
When time is short we have a tendency to choose quickly. Do not rush it. Give yourself plenty of time to explore different options before picking the right storage solution for your needs.
Self-Storage Packing
Once you have decided on the facility and chosen your storage unit, you need to consider how you will pack the unit. It is important to create a list as you pack items so you know what is in each box or storage container and where it is located in the storage unit. Here are some general guidelines to follow when packing the self storage unit:
Clean the unit before putting anything in it
Purchase quality packing materials to include sturdy boxes
Box everything you can and fill each box to near capacity
Place largest items in the unit first (stored at back of unit)
Put heaviest boxes on the bottom and stack progressively lighter with each new box
Label each box and place them so you can read each label
Wrap everything not boxed or sealed to minimize dust
Create an aisle if possible to make it easy to reach items throughout the unit
Store important items at the front of the storage unit
With a little planning you can minimize storage stress and have a well planned, easily maintained, and fully accessible unit. Having that creates peace of mind knowing your items are safe and secure and ready for easy pickup when the time comes to remove them from the storage facility.
More Storage Resources
Finding a Self-Storage Facility via selfstorage.com
Home Selling Checklist courtesy of Debbie Drummond
If you found this content useful, please consider social sharing it so others can benefit from the information too.
What to Look For When Choosing a Storage Facility