In October, the Houston County GA Real Estate Market saw a 16% increase in the average price of homes sold ($168K+) but the number of homes sold slipped (down to 96) from the strong summer sales.  Homes that sold were not on the market long, 86 days on average (well below the 12-month average of 99).  It is still a good time to buy or sell Houston County GA real estate!
Currently, the overall Houston County real estate market is balanced (meaning it does not favor buyers or sellers) with 8+ months of available inventory.  However, the buying pendelum can swing from one extreme to another based on the price point you are looking to buy in.  Surprisingly, with 29% of October sales in the $200K-$300K range, many buyers purchased upscale homes this past month.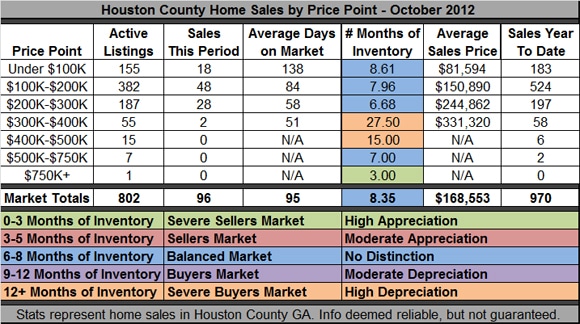 Consumers looking in a specific zip code in Houston County have many options as depicted by the information below.  Knowing this data can help both buyers and sellers who are looking to jump into the Houston County real estate market.  As expected, Warner Robins (31088) led the way followed closely by sales in Bonaire (31005).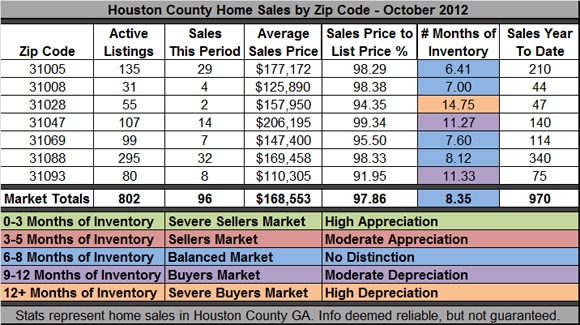 How can both buyers and sellers gain an advantage in the Houston County GA Real Estate market?  Employ the services of a local Realtor who knows the area well!
For a complete list of available Houston County GA Homes For Sale, visit Homes for Sale in Warner Robins GA or call me at (478) 960-8055 so we can discuss your housing needs.
Statistics represent home sales in Houston County GA for the time period specified (Source: CGMLS).  Information is deemed reliable, but not guaranteed.
Houston County GA Real Estate Market Report, October 2012