Reasons You Should Not Overprice Your Home
There are many reasons to not overprice your home, especially if you are serious about selling the home fast. In addition, you can often net more profit by market pricing your home than you can if you overprice it. Thinking you can always negotiate down to a reasonable sales price often backfires as buyers do not make the initial offer because the listed price is beyond what the home is worth in the current market.
When you get ready to sell your home, the asking price is one of the most important factors that helps determine how quickly you will sell the property. There are a number of good reasons for this and homebuyers are, first and foremost, looking for a bargain. If you start out with a price that is too high, you may not get as many showings as you would like.
Also, other agents may not be as enthusiastic about showing your home and you may miss that window of opportunity when early interest is often high because your listing is new to the market. All things being equal, overpricing your home is a bad idea, especially if you are looking to sell quickly!
There are many reasons to not overprice your home…here are 9 key reasons to why you should not consider pricing your property above its market value.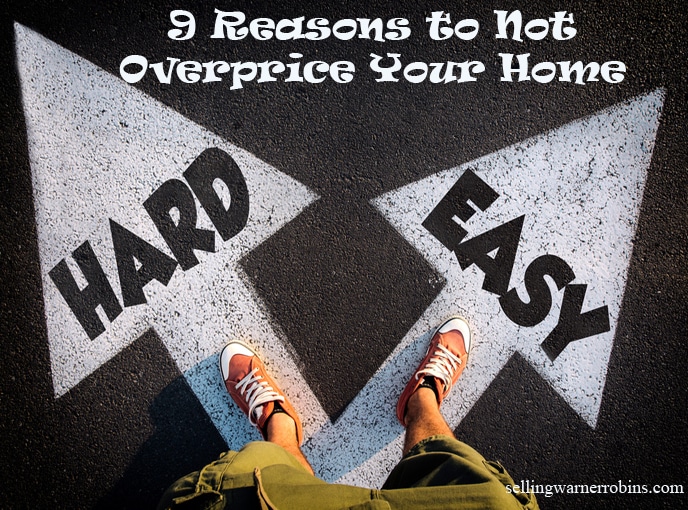 ---
Buyers Hold the Key to Value
The bottom line in real estate is that buyers set the sales price because once they reach their purchasing limit (or amount they are willing to pay) you will either sell for that price or have to let them go. Also, before making an offer be assured most buyers will compare square footage, location and other factors to set your home apart, put it in the pack, or add it to the past over list.
You can bet if the price you have set for your home is too high the buyers' agent will notice, let their clients know (if they have signed a buyers agency agreement), and those buyers will move on. Once they leave, more often than not, they will not come back to see your home again. That is why it is so important to market price your home to begin with in line with similar homes in the area.
The First Few Weeks are Critical
If your home is overpriced, you will typically find out in the first few weeks. How? You will get very few visitors and no offers near your asking price. If you find yourself in this situation, a serious talk with your real estate agent to re-adjust the price of your home should occur!
While some buyers look at homes in the lower-mid price points of what they can afford, many consumers start their search at the top of their price point. If your home is overpriced, it may not show up for those who are seriously looking, even if they are at the top range of their price limit. When in doubt, adjust the price and see if activity picks up.
Overpricing Can Backfire
Overpricing can cause you to end up making less profit once you do make it to the closing table. If your house has been on the market for a few months, buyers may assume there is something wrong with it and be leery about making a strong offer or any offer at all.
You could also end up losing money by attempting gimmicks or other quick sale to get your property to move. If by chance you were to get a top price offer on your overpriced home, it is very possible the selling price would be offset by a less profitable closing agreement and/or less leeway for your move-out date.
Realtors® Can Help…Let Them!
A professional Realtor® can help you determine the right price for your home based on homes that have recently sold in your area and are comparable homes to yours. When preparing to list your home, look for an agent that has references from other homeowners and a history of selling properties in your area.
Just as you would not buy car insurance that did not cover collisions, you would not want to hire a Realtor® who was not actively selling homes. The right agent can make a world of difference, especially if you follow their advice, and list price your house competitively.
While your agent wants to get paid for selling your home, most agents will do everything in their power to ensure the conditions you set (i.e. selling in 45 days, closing in the summer, etc.) are met. That is more easily achieved by getting the price right the first time.
Your local Realtor® will factor in the variables of location, nearby homes and upgrades. If your home price is slightly higher because of an expensive upgrade like a new kitchen, your agent will be sure and highlight that information.
The Seasonal Stats May Change
It helps to tune in to your agent who should be able to provide market statistics for your area to use a gauge once the listing is live. For instance, nationally, homes that sold in May and June of this year only stayed on the market an average of 33 days before selling.
Obviously, the start of summer plays a part in that equation, so you can typically expect buyers to be out in force during this time. Knowing that upfront means you have a short window to attract buyers who are looking to move during those key periods during the year.
Also, record low mortgage rates will not last forever. Nor will the abundance of qualified buyers. We are fortunate that job growth has continued as well. Add in the numerous many first-time buyers hitting the market and it is a good time to get your home listed, seen, and sold.
Appraisal Woes
If you are a motivated seller, it is worth getting an appraisal ahead of time. That way, you will know what the bank is willing to loan and can factor that knowledge into your list price. Having this information before you get started gives you a target price it is advisable to not go beyond.
Keep in mind, if someone makes an offer over the appraised price, the sale could fall through because the home will not appraise (and buyers will not be able to get a full loan) for the price you have agreed upon. Having your own appraisal in hand proves the value of your home (although you can rest assured buyers will still pay for their own appraisal). This could be a good selling point if you are asked where you came up with your list price from.
Maintenance and Upgrades
You may need to make changes to your home if there is something that turns prospective buyers away. Lots of showings and no offers is a good indication that you need to do something. If the hot tub on your deck works great but has a faded and ripped cover, invest in a new one. Perhaps some type of inside maintenance needs to be performed. Fresh paint always helps as does de-cluttering. Mowing and cutting back shrubs can do wonders for the outside of the home too.
Go ahead and repair all the little things or hire out to have those issues resolved. You can bet buyers will hone in on any imperfections so eliminate as many as you can. The more you resolve yourself, the less items a home inspector is liable to find, which works in your favor as you negotiate repairs and/or adjustments to the sale price.
Ask your agent to request buyer feedback and see if buyers are saying similar things which would give you an idea of what you might want to consider upgrading or fixing. This is a great way to pinpoint exactly what the issue is (it may only be the price).
Make Your Home Appealing to Buyers
If your agent tells you to remove the family pictures and travel souvenirs from your living room, then do it. The rooms in your house might colors that fit your style, but may not be everyone's taste, so if your agent tells you to paint everything neutral, listen to the expert.
You may have to store some of your furniture and other belongings temporarily in order to make your home appear more spacious. Everyone's tastes are different, and the rule of thumb is that the more generic your decorating choices, the easier it is for a prospective buyer to imagine themselves living in the home.
If you do not have the time or inclination to make these changes, hiring a professional stager can help you turn a drab room into a fab space and maximize eye appeal.
Put Yourself in the Buyers Shoes
Once you understand all of the factors that go into the asking price, it is easier to live with the idea of keeping it in line with similar homes in the area. Presentation is important, so be sure and clean your home from top to bottom once you have completed making repairs. If your home is show ready at all times, you can quickly leave if there is a pop-up or short notice viewing request.
It helps to put yourself in the shoes of the buyer, so visit some open houses and check out the curb appeal of neighboring properties for sale. Hopefully, these tips will help you price your home wisely and give you a better understanding of the reasons to not overprice your home if you are serious about selling it quickly!
More Home Selling Resources
Selling Fast for the Highest Price from Debbie Drummond
Dangers of Overpricing Your House via Bill Gassett
Selling for More Money than the Neighbors by Ryan Fitzgerald
9 Reasons to Not Overprice Your Home in Any Market!