What is My Bonaire GA Home Worth in January 2015
Is it the right time to buy in Bonaire GA? Should sellers have their homes on this market? For consumers who have been wondering "what is my Bonaire GA home worth in January 2015" as well as a myriad of other real estate questions…you have come to the right place to get those questions answered.
The number of homes sold (17) this past month was very disappointing. Clearly the winter weather caught up to this market and sales plummeted 41% from the previous month as well as dropping 35% below the 12-month average (26). With 141 homes available (down  7 from the previous month), there are still good opportunities in this community for savvy buyers and sellers.
Currently, the real estate market in Bonaire GA has 8 months of inventory for both buyers and investors to choose from. With plenty of home styles and price points to decide from, buyers should act quickly with firm offers when they find a property they really like in this market. In this buyers market, sellers need to ensure they are market pricing their homes to get them seen and sold in a reasonable time-frame.
In this real estate report, you can expect an overview of the past, present, and future real estate market in Bonaire GA. Let's jump right in and see what the Bonaire GA real estate market in January 2015 was up to! Happy house-hunting buyers.
---
Bonaire GA Homes Sales
With only 17 Bonaire GA home sales last month, this market slowed considerably. However, if past history is any indication of how this market will perform, activity should increase considerably as warmer weather arrives. Sellers who market priced their homes this winter are those selling right now. The days-on-market for homes that sold this last month was 86 days, bettering the 12-month average (93) by nearly 8%.
While total sales was down, it was still positive to see a lot of mid-priced properties closing this past month. The average sales price was over $217K…up $20K over the the 12-month average and $71K higher than the same period in 2014! Price your home in accordance with what the market dictates and you have every opportunity to sell in this market.
The sales price to list price ratio (SP/LP) came in at a respectable rate of 98.39% last month, slightly better than the 12-month average of 98.21%. Buyers…Are you prepared to buy now if the ideal home for your needs hits the market? If so, you need to be ready to act swiftly with a firm offer and a ready-to-provide pre-approval letter.
How can both buyers and sellers gain an advantage in the current Bonaire GA Real Estate market? Employ the services of a local Bonaire Real Estate Agent who understands all of the ups-and-downs and twists and turns of this market.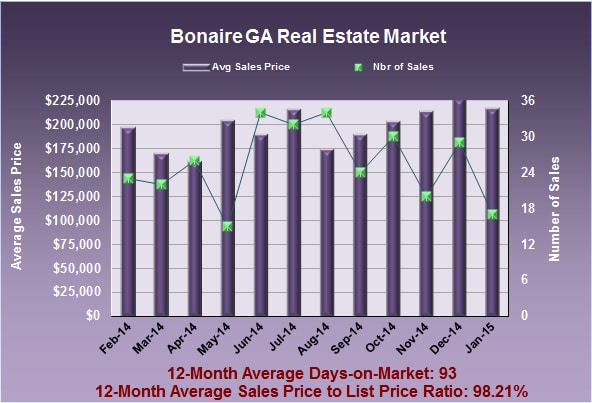 ---
Bonaire GA Real Estate
Currently, the Bonaire GA real estate market favors buyers with 8+ months of available inventory (141 homes) to choose from. The averages and totals for the Bonaire GA real estate market in January 2015 are as follows:
Average Sales Price: $217,331
Median Sales Price: $211,000
Number of Monthly Sales: 17
Average Days-On-Market, Sold Homes: 86
Average Sales Price /List Price Ratio: 98.39%
Highest Priced Sale: $396,496
Lowest Priced Sale: $60,000
Highest Priced Listing: $549,000
Lowest Priced Listing: $31,400
Largest Home on the Market: 5,384 sq ft
Smallest Home on the Market: 1,056 sq ft
This is a decent real estate market to be part of for buyers, investors, and sellers. Do not delay or you may miss out on the home of your dreams in Bonaire GA!
---
Find Bonaire GA Homes for Sale
For a complete list of the available real estate in Bonaire GA and all of Houston County, visit real estate in Bonaire GA. As always, please subscribe to my newsletter so you do not miss out on any Bonaire home deals!
Call me at (478) 960-8055 to find out what your Bonaire GA home is worth or so we can discuss your housing needs.
You can check out last month's report here: Bonaire GA Real Estate Report for December 2014
What's My Bonaire GA Home Worth in January 2015
Statistics represent single family homes and townhouses in Bonaire GA (Source: CGMLS) for the referenced month. Information is deemed reliable, but not guaranteed.