What is my Byron GA Home Worth in December 2014
"What is my Byron GA home worth in December 2014?" is a question that potential sellers in this market want answers to. Buyers want to know as well so they can determine if the market is a good one to be part of. That question and others will be answered as we jump in and see what has been happening in the Byron GA real estate market. Per the norm for this area, real estate buyers and investors need to respond quickly if they find a home they really want!
The good news in the real estate market in Byron GA is the number of available homes (31) stayed consistent with the previous month (32) despite the weather going rogue as winter arrived. With 10+ months of inventory, now is the ideal time for buyers to check out the homes on the market and find a gem.
So, what can you expect from this market preview? A review of the past, present, and future Byron real estate market will be examined. Let's peel it back and see what Byron GA homes were worth in December 2014!
---
Byron GA Homes Sales
There were only 3 Byron GA home sale last month (down 1 from the 12-month average) as buyers took their sales to other markets in Houston County. This past month saw homes in the lower-mid price tiers find the closing table with the average sales price jumping up $19K to over $119K. This is an increase of $4K over the 12-month average. As always, sellers who kept their home well maintained, reasonably updated, and market priced had the best opportunity to sell. If your Byron home meets this criteria, it is time to put it on the market and get it seen and sold to one of the many buyers who are looking for their dream home!
The average number of days on market for homes that sold went down to 93 days from 98 the previous month (very good news) but was still a bit off the 12-month average of 62 days. Again, no alarms here, it just means that older inventory is finally closing. Sellers need to listen to their agent as the sales price to list price ratio (SP/LP) came in at a unremarkable 95.09% this past month which was down slightly from the 12-month average (95.46%). Priced right, it is a very good time to get your Byron GA home listed, seen, and sold!
How can both buyers and sellers gain an advantage in the Byron GA Real Estate market? Employ the services of a local Byron Real Estate Agent who understands all of the ups-and-downs of the real estate market in Byron GA.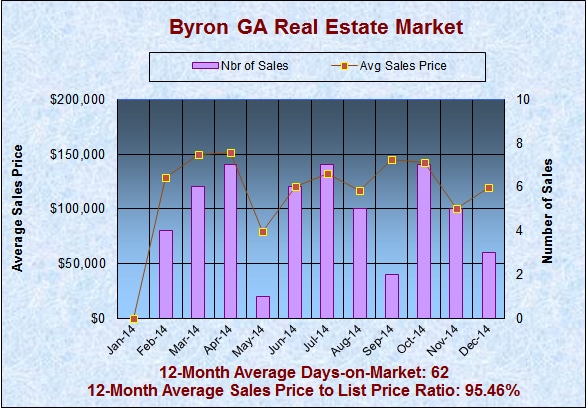 ---
Byron GA Real Estate
Currently, the Byron GA real estate market favors buyers with 10+ months of available inventory (31 homes) for buyers and investors to choose from. The averages and totals for the Byron GA Real Estate Market in December 2014 are as follows:
Average Sales Price: $119,400
Median Sales Price: $118,200
Number of Monthly Sales: 3
Average Days-On-Market, Sold Homes: 93
Average Sales Price /List Price Ratio: 95.09%
Highest Priced Sale: $135,000
Lowest Priced Sale: $105,000
Highest Priced Listing: $219,900
Lowest Priced Listing: $87,900
Largest Home on the Market: 3,088 sq ft
Smallest Home on the Market: 1,228 sq ft
---
Find Byron GA Homes for Sale
For a complete list of available real estate in Byron GA and all of Houston County, visit real estate in Byron GA. Please subscribe to my newsletter so you do not miss out on any Byron home deals!
As always, call me at (478) 960-8055 to find out what your Byron GA home is worth or so we can discuss your housing needs. I would love the opportunity to earn your trust and business in this market!
---
What is my Byron GA Home Worth in December 2014
Statistics represent single family homes and townhouses in Byron GA (Source: CGMLS) for the referenced month. Information is deemed reliable, but not guaranteed.