Home Sales in Centerville Georgia in February 2017
The home sales in Centerville GA in February 2017 can be found here as well as a slew of other information about this real estate market. If you want to know the latest Centerville GA real estate news, you have come to the right location.
In this smaller middle GA home market, home sales (4) remained static as winter began to wane.  The total number of sales equaled the lowest number of home sales in the past 12 months in this city. The 12-month average is 7 sales for this community. With only 1 pending sale (down 3 from the previous month), new sellers are definitely needed in this market. Currently, there are 24 properties for both buyers and investors to check out.
No need to wait…let's preview this market and take a closer look at the home sales in Centerville GA in February 2017.
---
Homes Sales in Centerville GA
The number of home sales in Centerville GA in February 2017 (4 closings) remained static as consumers continued to find homes in other parts of Houston County more to their liking. The 12-month average sales total in Centerville GA is 7 sales per month. The average sales price ($100K+) went down considerably from the previous month (by $54K), but sellers should not be alarmed, as buyers and investors bought homes in the lower price tiers. The 12-month average sales price is over $161K.
The average sales price to list price ratio came in at a stellar 99.06% which was solid but also a good indicator to sellers that if  they market price their home they should close near asking price. The number of days-on-market for homes that sold came in at 237 days this past month as some older inventory finally closed. The 12-month average is 77 days.
To continue to pique buyer and investor interest, sellers need to keep their home show ready at all times, perform general maintenance, and make sure their home is market priced. When those conditions are present, the home will have its best opportunity to be seen and sold!
How can all real estate consumers gain an advantage in the Centerville GA Real Estate market? Employ the services of a local Centerville GA Real Estate Agent who knows how this real estate market is performing. When ready, I look forward to discussing your real estate options with you!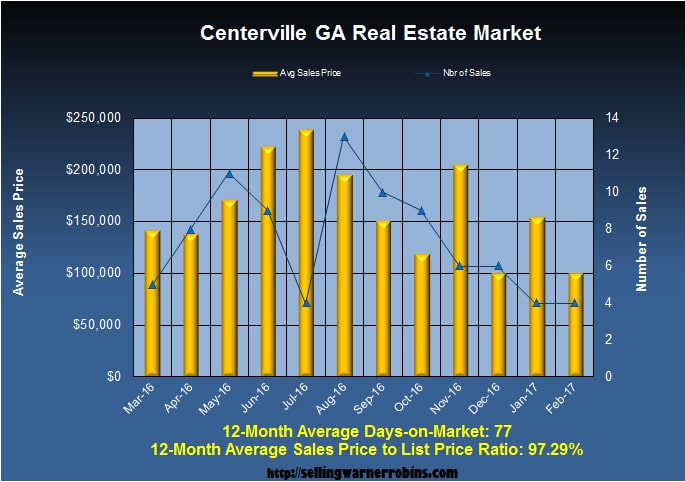 ---
Centerville Real Estate Market Summary
Currently, the Centerville real estate market is balanced with 6 months of available inventory (24 homes) to choose from. The averages and totals for the real estate market in Centerville GA are as follows:
Average Sales Price: $100,250
Median Sales Price $97,750
Number of Monthly Sales: 4
Number of Distressed Sales: 2
Average Days-On-Market, Sold Homes: 237
Average SP/LP Ratio: 99.06%
Highest Priced Sale: $153,000
Lowest Priced Sale: $52,500
Highest Priced Listing: $510,000
Lowest Priced Listing: $79,000
Largest Home on the Market: 5,015 sq ft
Smallest Home on the Market: 1,137 sq ft
There are excellent opportunities for all consumers in Centerville GA right now. Like in all markets in Houston County GA, buyers and investors who act quickly are going to get the best deals right now.
---
Find Centerville GA Homes for Sale
For a complete list of available real estate in Centerville GA, visit the Available Centerville GA Homes for Sale. Make sure and subscribe to my newsletter so you do not miss out on any Centerville home deals!
Call me at (478) 960-8055 to find out what your Centerville GA home is worth or so we can discuss your home buying needs.
You can check out last month's report here: Centerville GA Real Estate Report January 2017.
---
Preview the Home Sales in Centerville GA in February 2017
Statistics represent single family homes and townhouses in Centerville GA (Source: CGMLS) for the referenced month. Information is deemed reliable, but not guaranteed.

Sorry we are experiencing system issues. Please try again.