Home Sales in Perry Georgia in February 2017
The home sales in Perry GA in February 2017 took a solid move forward as both buyers and investors found properties to their liking in this city. Is it still a good time to purchase a home here? What are the prospects like if you put your home on the market? Whatever your Perry GA real estate needs are, you should get answers to your questions in this month's market analysis.
This market currently favors sellers (almost 4 months of available inventory) has a variety of homes to choose from in various styles and price points right now. The real estate market in Perry GA is good for both buyers and sellers at the moment.
Let's take a long look at the homes sales in Perry GA in February 2017 and see what the market has been up to!
---
Homes Sales in Perry GA
Home sales in Perry GA jumped way up to 29 closings this past month. That is the 7th highest total in the past year and we haven't even reached the super busy months yet. The sales represent a 13 sale increase over the previous month and 2 more than the twelve month average of 27 home sales. It was 1 closing higher than the same time frame last year. With 28 pending sales (down 1 from the previous month), this market is definitely holding its own in Houston County as winter begins to wane.
Currently, Perry GA has 111 homes for sale (up 12 over the previous month). This past month the average sales price came in at $145K+ (down $20K from the previous month). While buyers found plenty of homes they liked, the majority of sales were in mid-tier price points this month. There were 3 distressed sales which affected the average sales price in this market.
The number of days on the market for homes that sold came in at 115 days. The 12-month average for this market is 104 days. If your property is market priced, you should expect it to sell in Perry GA!
Although consumers have reasonable real estate opportunities in Perry GA, it is smart for potential sellers to make sure they are maintaining their home in top shape, updating where they need to, and market pricing their property to ensure they have a good opportunity to have their home seen and sold quickly in this city.
How can both buyers and sellers gain an advantage in the Perry GA Real Estate market? Employ the services of a local Perry Real Estate Agent who knows and understands the nuances of this market.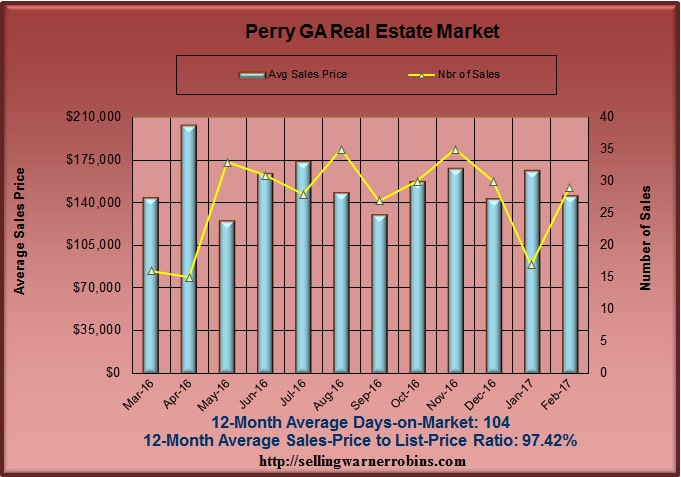 ---
Perry Real Estate Market Summary
Currently, the Perry real estate market favors sellers with almost 4 months of available inventory (111 homes) to choose from. The averages and totals for the real estate market in Perry Georgia are as follows:
Average Sales Price: $145,695
Median Sales Price: $135,000
Number of Monthly Sales: 29
Number of Distressed Sales: 3
Average Days-On-Market, Sold Homes: 115
Average SP/LP Ratio: 97.42%
Highest Priced Sale: $325,000
Lowest Priced Sale: $61,000
Highest Priced Listing: $1,200,000
Lowest Priced Listing: $34,000
Largest Home on the Market: 5,865 sq ft
Smallest Home on the Market: 1,025
If one of the homes for sale in Perry GA catches your attention, now is the right time to act, to ensure you have a realistic opportunity to purchase the property before the market is flooded with new buyers.
---
Find Perry GA Homes for Sale
For a complete list of available real estate in Perry GA, visit Perry GA Available Homes for Sale. Make sure and subscribe to my newsletter so you do not miss out on any Perry home deals!
Call me at (478) 960-8055 to determine what your Perry GA home is worth in this market or so we can discuss your home buying needs. I look forward to assisting with all your Perry GA real estate needs!
You can check out last month's report here: Perry GA Real Estate Report for January 2017.
---
Review The Home Sales in Perry GA in February 2017
Statistics represent single family homes and townhouses in Perry GA (Source: CGMLS) for the referenced month. Information is deemed reliable, but not guaranteed.

Sorry we are experiencing system issues. Please try again.

deMap="true"]