How Do You Know if You Need a New Roof?
As a homeowner, how do you know if you need a new roof?
You do not need to wait until the water starts dripping on your head or even ceiling to start peeling off or turning into a different color to start thinking about a new roof. Sometimes a roof looks worn out and old, and you get to know that its time has expired and you need a new one or certainly a roof repair.
It is essential to check the last time the roof was replaced, when it was installed and what type of material it is made of to offer insight into how much time it has left. You also have to understand how roof is built.
Leaks are a good indicator something is amiss but it is not always as easy as that. Perhaps your roof is seasoned and coming up to or past its prime without showing any easily identifiable problems or concerns.
Whether you are a new or long-time homeowner, determining improvements to your property is part of being a responsible resident. But some improvements run costlier than others, and end up getting placed on the back burner for months – maybe even years – until they become major structural issues. Unfortunately, getting a new roof often falls into this category!
While the initial cost investment is high, replacing your roof may present high returns at resale, and gives you the peace of mind that your home is in proper working condition during your residency. However, do not be fooled, roofs are a lot more complicated than meets the eye.
Checking for warning signs is the first step in determining whether your home requires a new roof. Should signs indicate it is in need of replacement, finding a certified contractor who can help you determine the state of your roof and select roofing materials to match the existing exterior is key. You have to perform both interior and exterior roof checks to understand the condition of the roof. When ready to get one, HomeMakerGuide can help guide you through the process.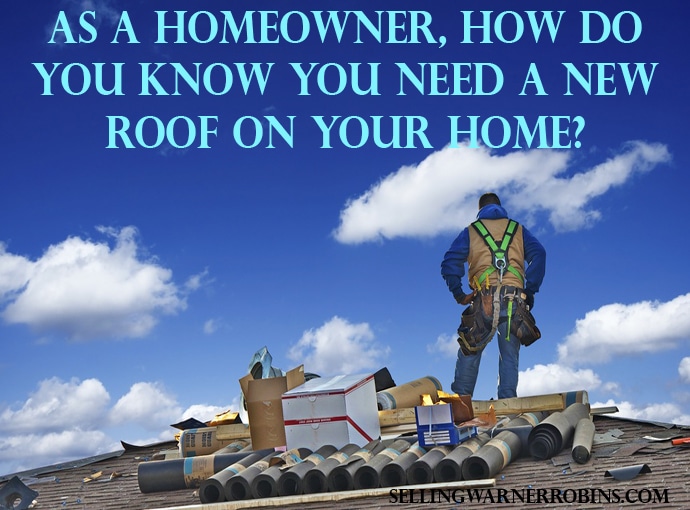 Warning Signs of Roof Defects
So, how do you know if you need a new roof? Clues of roof deficiencies aren't limited to the exterior of your home. Check the attic with a flashlight first if you are unsure of the condition of your roof. If beams of light come through the top of the house, or there are stains and streaks representing water damage from leaks, it's time to contact a professional.
Check Your Roofing Records
Whether your home is in need of a new roof might be largely dependent on the last time it was replaced. Check the home improvement records you were given at the time of closing on your home that list all of your home's modifications, including re-shingling or replacing your roof. Documents should also detail what the roof is made of and the expectancy life. For example, asphalt typically lasts 20 to 25 years before a replacement is recommended, while re-shingled roofs should be replaced after a maximum of 20 years.
Exterior Roof Review
When examining the exterior, particularly after a storm hits, search for cracks, buckles and damaged shingles. In addition to the roof itself, inspect the condition of gutters and granules. Granules often indicate how much life the roof has left, and shingles lacking granules lose fire resistance, weather resistance, and the ability to withstand UV light.
Flashing around vents, chimneys, valleys between roof parts, and skylights, if applicable, break and crack over time. As the cement or tar wears down, leaks can occur. While a full roof replacement is not required to repair these leaks, many home improvement specialists recommend metal flashing systems for enhanced durability and an extended life. Where flashing is made of roof cement or tar, it is often a good idea to upgrade to metallic flashing which is considerably more durable.
A tell-tale warning sign for an impaired roof is sagging, which is evidence of trapped moisture and rotting boards. Water leaking through your roof can make the structure of your roof to sag. You can use your broom to see if the spot in your roof bends easily, and if it does, then be sure that water is leaking into your roof, and the damage needs to be controlled.
Further, moss, mold and fungi growing around the roof can be signs of moisture. When roof leaks, moisture gets between your roof and the paint layers without a way to get out, then moss and mold tend to grow. Spores spread between the tiny cracks, which provide a conducive environment for growth as they are dark and damp. While live plants can be brushed away, homeowners need to resolve underlying issues before moisture compromises the structure of the home.
Decking is the roof's base as it supports all other layers, such as flashing and shingles. When the decking of your roof is destroyed, there is a likelihood of damage to the other parts. Water can make the wood warp, bend or even rot hence posing much danger such as collapsing due to weak decking. You do not want the entire roof to come down on you, so it is essential to have a new roof or make some repairs.
Common Roofing Materials
Where you live, what your homeowner's association will allow, local fire codes, and personal preference all play a role in the type of roofing material you use on your home. Also important are available styles, colors, and whether the material is light or heavy.
Depending on the roof materials, you should have a pretty good idea when it is time to consider getting a new roof installed. For instance, asphalt shingles give you service for 20-25 years. Clay or concrete tiles, when well-maintained, can last for over 40 years. However, you need to know which roof tiles are the best. They are fire-resistant, energy-efficient, and add flair to the house. They are also expensive to install. There even slate roofs that take more than 50 years to be replaced and are viable for all climates as they are weather-resistant but costly. Synthetic take up to 50 years while wood lasts for around 25 years and is easily accessible.
Deciding on what materials to use for your roof depends on several factors such as the climate of the area you leave in, what your homeowner's association will allow, or even your personal preferences based on your budget. Below are several popular options worth considering when you determine it is time to replace your existing roof.
Asphalt Shingles – Very popular in many parts of the country, stylish because they come in a variety of colors, and the most affordable of the more common roof types. Add in the fact they are widely available and easy for professionals to install and it is no wonder many homeowners opt for asphalt shingles when replacing their existing roof. You can expect this type of roof to last between 20 to 25 years as long as you purchase quality shingles. They do not provide much insulation, so if that is a concern, you may want to consider another roofing option.
Clay or Concrete Tiles – They provide both versatility and texture to your home, adding a bit of flare you do not always see in other roofing materials. When maintained, they can last well over 40 years. They are common in the southwest. They are fire resistant and are typically energy efficient, but they are expensive to install and may require additional framing to support the added weight.
Metal Roofs – Pricing is mid-tier for this increasing in popularity roof choice. They are light-weight, recyclable, and weather resistant but are limited by the types and styles available to consumers. Like in other areas around the country where new construction is prevalent, in my Perry GA real estate market, metal roofing is being considered by new buyers as well as those replacing their existing roofs.
Slate – Slate roofing is quite attractive and often very colorful as well. Like metal roofing it can be recycled and can be weather resistant which makes it a viable option for nearly all climates. It is very hardy too, lasting 50+ years and sometimes a lot longer. As you would expect, it can be very expensive, and may need more framing support due to how heavy it is.
Synthetic – Long lasting (up to 50 years), available in a variety of types and styles, lightweight, and easy to maintain are some of the key attributes of using synthetic (rubber and polymer) materials. Water absorption can be a concern so ensure you do your homework before committing to this type of roofing. Depending on the type of synthetic material used, this can be a pricey roofing option.
Wood Shingles – You can find the familiar gray of seasoned wood roofs all over the U.S. They are still quite popular and one of the cheaper roofing choices for homeowners to consider. Using this type of roofing can be an issue in damp climates as the wood can warp or split. You also need to make sure they are Class A fire-rated and allowed in your area if you are considering them for your home. They typically last 25+ years if well maintained.
Deciding on what material for your roof is not easy and consulting with a contractor is the best way to ensure that your new roof is a good match for your home. If you have a budget in mind and a good idea what type and style of roofing you prefer, your contractor can make all the difference as you take on this major renovation project.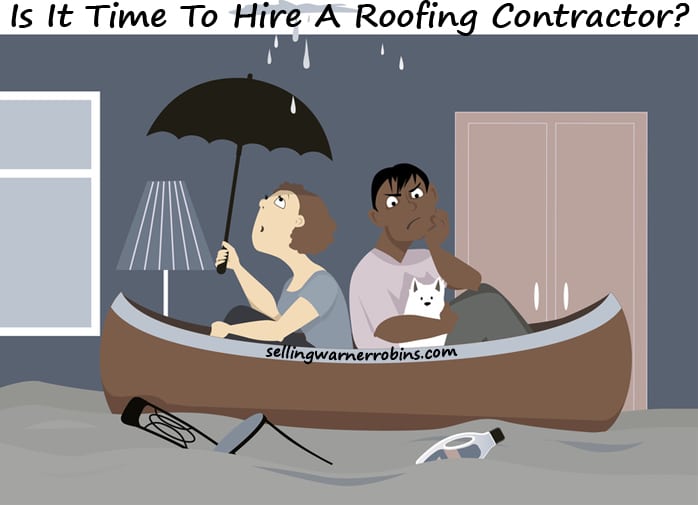 Finding a Roofing Contractor
There is not a one-size-fits-all roof for every home. With so many home styles varying in exterior shape, character and form, finding the roofing contractor who can assist you in selecting your materials with the experience fitting your home's issues is paramount.
First, ask family and friends for a referral. If anyone you know has had their roof replaced recently and were happy with the outcome, the same contracting company is likely to produce good results for you. Similarly, if you have seen a home in your neighborhood undergo a recent roof installation and you appreciated the results, ask the owners for the name of the company who completed the job.
With today's resources at your fingertips, researching before hiring is expected and highly recommended. Verify the business contact information and ensure the company is licensed and insured before reaching out. Customer reviews can be indicators of the quality of work a company is accustomed to providing, and services like Angie's List or the Better Business Bureau alert consumers of potential red flags via complaints.
Make sure to meet with contractors to discuss the details of your roof issues and expectations. Go over the projected time and cost for the job before signing any agreements. Be sure to note the contractor's professionalism and enthusiasm. Are they able to answer your questions proficiently and accurately? These might be some of your deciding factors.
Finally, do not allow any work to start until everything is in writing, from the materials to the compensation. Schedules should also be outlined on the contract, and you might want to include a lien waiver to protect your liability for claims between the roofer and the materials manufacturer. Be sure to include safety laws in the contracts as well, such as workers' compensation, the start and end dates and the exact number of workers who will be on site.
Final Roofing Thoughts
Keep in mind, a few damaged shingles from a storm do not always signify a major issue with a home. When in doubt, contact a roofing professional in your area before panic ensues in your household. While it is important to be on the lookout for roof defects or issues, do not jump to conclusions. A trusted professional can provide solid advice to help you make the right roofing decision for your house.
Noticing and resolving roofing issues early is key to keeping your home in good condition and potentially saving you a lot of money. Know the warning signs, be alert to changing roof conditions, and be ready to tackle issues when they arise. Take these things into consideration and your roof should last a long time.
The question I asked at the beginning of this article, "as a homeowner, how do you know if you need a new roof?", you should now be able to answer with clarity. Hopefully you take these tips and make the necessary roofing decisions if you are having issues with yours.
More Roofing Resources
How Much Does It Cost To Install A Roof and does it make the most sense for your home and financial situation. Check out these tips and others courtesy of HomeAdvisor.
If you want to know the latest information about roofing or contractors performing roofing work, the NRCA at The National Roofing Contractors Association is an incredible resource.
As always, if you believe this article on How Do You Know If You Need a New Roof has value, please socially share it so other homeowners who may need a new roof will have the information when they need it.
How Do You Know If You Need a New Roof On Your Home?