10 Ways to Upgrade A Rental Property
Among many advantages of living in a rented home, the most important being that you can weigh the anchor and set sail whenever you want to (assuming your lease is up). One of the biggest disadvantages is that you are often not allowed to make permanent changes to the property, even the ones that would upgrade the place and potentially increase its value for the homeowner. However, there are ways renters can upgrade a rental property and get financial credit or some other benefit from the owner. This article explores 10 of those options…
Luckily, there are plenty of ideas for temporary modifications and decorations that can help make the difference between making the property a home or just another rental. This especially holds true if you plan on living in the home for quite awhile.
Before you try any of the below ways renters can upgrade their rental property it is a great idea to run the idea by your landlord first, especially if any type of modification is being done to the property. Sometimes you can get a rent reduction or a buy-back from the owner when you vacate the property. As always, the last thing you want when you are ready to move out are issues that could have been avoided by a little upfront communication.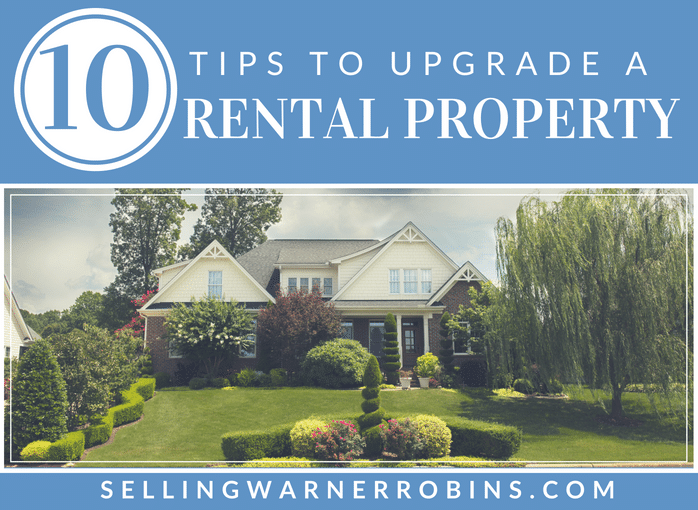 ---
Bare Walls
If your landlord gives you permission to repaint the walls in any color you want, provided that you put the original color back when you bail out, you are very fortunate. If you do not like the hassle of a full-scale repainting job, you can just redo the bathroom, the hallway, or paint an accent wall. Creating a color transition in any room will help complement other accessories in the same color range.
If painting is out of the question, there are still many things that you can do, like hanging wall curtains or framing wallpaper. Additionally, you can use temporary fabric wallpapers to create a specific theme or style. This works well during the holiday season.
Lighting Overhaul
This is a relatively easy task as any fixed fixture can be easily dismounted and mounted back when the time comes to vacate the property. Replace ancient 20-bulb chandeliers with simpler hanging fixtures that reflect your personality and allow you to choose the type of lighting you want in your rented home.
Table and floor lamps are another source of inspiration, as they have both functional and decorative qualities and can quickly and easily be changed out if you decide to upgrade or go in a different lighting direction in the future. Finally, using dimmer switches, decorative or not, puts you in total control over lighting mood.
Kitchen Upgrades
Kitchen sometimes gets neglected by owners, so as a new renter you may be left with outdated cupboards. If you want to repaint the cabinetry, definitely ask permission from the landlord first. If you are handy and/or creative, this is a great way to make a drab kitchen look fabulous!
You can buy new knobs to replace the old ones. This will help liven up the cabinets and add a splash of flare. Also, old and stained drawers will look more appealing if you inlay them with colorful or decorative contact paper. This way, every time you open them they will be easy on the eyes and you will not be tempted to find a new spot for your kitchenware.
Bathroom Fixtures
Even if you leave the lighting fixtures in the rest of the apartment or home as they were when you rented the place, you should definitely replace those in the bathroom. Those left behind by the owners are often cheap or outdated originals. A quick trip to a DIY store and about 30 minutes of your time is all it will take to get a whole new look.
You can also make a big splash by replacing cheap shower heads, flimsy plastic toilet paper holders. towel racks, and even the toilet seat. If you really want to create a new look and feel, updating the faucets is a great way to give the appearance of an expensive makeover without breaking the pocketbook! While having DIY skills helps, it is not always necessary as their are plenty of DIY websites that can step you through the upgrade process.
Heat Features
In some areas of the country, rentals come with huge, old style cast iron radiators, and there is pretty much nothing you can do about them. Or is there? You can install radiator covers, turning these eyesores into useful shelves.
If you are renting in a neighborhood with newer infrastructure or in an established community, your rental property may come with a fireplace. An easy way to upgrade your fireplace is by adding Blazing Glass' fire glass beads. They are quite decorative, provide a vivid appearance, and retain heat longer than other fire materials. If the property has a fire pit or you create one, the glass beads can be used outside to decorate that space too.
Thermostat
Some upgrades you will want to make are not purely decorative but also functional and moneysaving too. If your rental does not come with a programmable thermostat, investing in one will save you lot in heating and cooling bills.
There are even smart units that can adapt to your new home and climate. Fortunately, most models are relatively inexpensive and can be installed by a direction following novice in well under an hour. With so many options, colors, and styles, you have a host of choices if you decide to install a new thermostat.
Add More Space
If you are renting a smaller home, you already know your existing storage options are probably limited. What you need are storage solutions that can be easily transported when they are empty, and fit every room, wherever they are most convenient. One of those options is handmade wicker baskets, in which you can store everything from magazines and books to off-season clothing.
If you love to entertain or just tinker in the kitchen, one of the most problematic issues that renters face is often kitchen storage. While you probably will not want to add new cabinetry, you can however maximize the vertical space by adding shelves or re-purposing a nook or pantry.
Switches, Knobs & Handles
These details automatically draw a lot of attention because they are used directly. Not unlike lighting fixtures, these pieces of hardware can be easily dismounted and replaced with more decorative and sturdier ones. The operation doesn't take much time and the results are eye-catching.
Proper maintenance of knobs and handles also includes the inspection of your locks. If you feel you need a trustier lock, do not refrain from suggesting the idea to your landlord.
Going Green
When thinking about your wallet and the environment, you realize that there are small things you can introduce that will make your life easier while also doing your part to protect the environment. In this case, energy efficient light bulbs are a good option. If you feel like it is a bigger investment than with the regular ones, just remember you can take them with you when you leave the rental.
Also, check the air conditioning/furnace filters. In order for them to work efficiently, the filters need to be replaced regularly. They do not cost much and it is a task that anyone can easily accomplish, even if you have no handyman skills.
Another quick thing you can do is to clean the coils of your refrigerator. This will definitely make it work better and last longer. If you have the funds, upgrading the appliances (with your landlords permission) to energy efficient models can help save on energy costs.
Can't Beat it, Store it
Unfortunately, some landlords have a habit of leaving "treasures" behind because they just cannot dispose of or donate the items. While you can make use of a vintage vase or flowerpot, many of the items left behind are of no value to you as a renter. If you cannot get the landlord to remove the items, or they will not let you, your best bet is to either put the items out of site, or by storing items in a storage facility (assuming you will get reimbursed) where they will not be seen.
In some instances you may find your landlord is willing to pay you to remove the items or will allow you sell or discard the items. As always, checking with the owner before taking any action will save you a lot of issues down the road.
It should be common sense, but when you give your landlord the notice to vacate, you should start moving things back into their previous state. To avoid unnecessary disputes, a good strategy is to make a numbered list of modifications as you are making them from the day one. In this way your can retrace your steps and undo whatever you upgraded.
Who knows, you may end up falling in love with the property and convincing the owner to sell it to you. If that happens, hiring a top real estate agent will help you get the home at a reasonable price and protect your interests.
More Rental Tips
Should You Rent or Buy a Home by Andrew Fortune
Places to find Tenants from landlord.about.com
Rental Property Loan/Investment Property Loan via SparkRental
If you found this article on 10 Ways Renters Can Upgrade Their Rental Property useful, please socially share it so others can benefit from the information as well.
10 Ways Renters Can Upgrade Their Rental Property To Meet Their Needs