Things To Consider Before Refinancing Your Mortgage
Chances are, during your time as a homeowner you will be looking at refinancing your mortgage.  Refinancing is a critical financial decision that could potentially help you save a considerable amount of money when done for the right reasons and at the right time. The ability to potentially lower your payment or decrease the time you are paying are definitely worth considering.
Before setting your home refinancing plan in motion, it is important to make sure that it is truly beneficial for you. Take time to reassess your financial standing, and ask yourself the following nine questions before pursuing a refinance opportunity.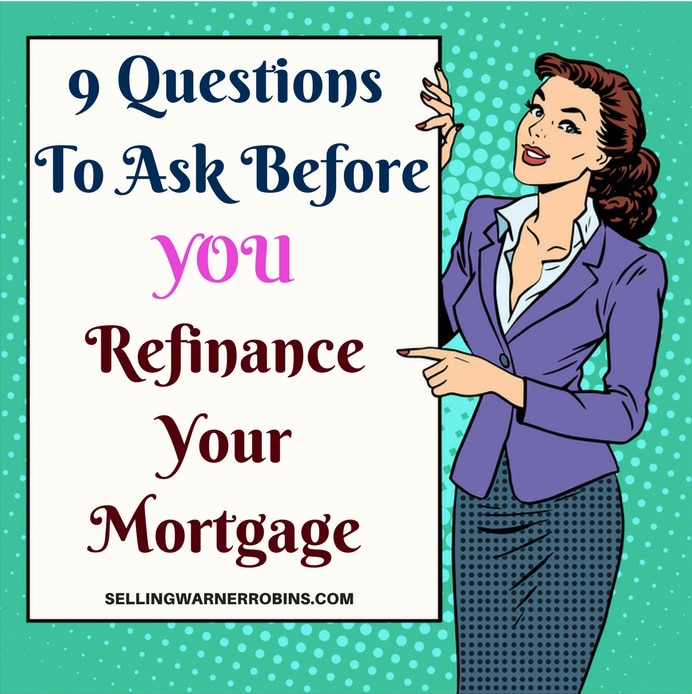 How Long Do I Plan To Stay In My Home?
In many cases, refinancing makes sense if you plan to stay in your home for more than a few years — ideally at least five years — mainly because the process typically involves thousands of dollars in closing costs that could possibly outweigh the benefits. This is especially true if you intend to switch from an adjustable-rate mortgage to a fixed one. It helps to calculate your break-even point or the time it takes to regain the costs.
At a minimum, use a mortgage refinancing calculator to get a clear idea of your potential net savings, monthly savings and the number of months necessary to break even on the costs. As a necessity, ensure you discuss your options with a lender to get the most detailed and up-to-date information available.
What Does My Credit Look Like?
Ideally, you want to qualify for an attractive mortgage rate. We all do. When you qualify for the best rates, it may be a good idea to go the refinancing route to reduce your mortgage payment and the number of years you will have to pay back the loan.
An excellent credit score means you have a positive credit history and have low chances of defaulting on your loan. In the eyes of lenders, you are a low-risk applicant who is responsible in handling your finances, and you are well-capable of paying back your debts.
Is The New Mortgage Interest Rate Lower Than My Current Rate?
One of the major reasons homeowners choose to refinance is to take advantage of lower interest rates. Keep track of mortgage interest rates so you will get a better idea if it is a good time to refinance. Shop around and compare different lenders instead of accepting the first loan option that becomes available to you.
It is critical to take your time during this step and compare rates and options against a variety of local and online sources. Spending more time here could pay off in spades with a rate that could shave thousands off your overall repayment.
Do I Have Sufficient Equity In My Property?
To avoid paying for private mortgage insurance when taking out a new loan, you need a minimum of 20 percent equity in your home. Although your lender will make that determination through an appraisal of the property, it is advisable to get your own estimates before contacting the lender.
A Zillow estimate will not be accurate enough, so request a thorough comparative market analysis (CMA) from a real estate agent. A CMA will give you a ballpark figure of your home's estimate and equity in the home. They are typically free.
If you do not have enough home equity, the cost of private mortgage insurance may cancel out the potential savings of a refinance.
Am I Close To Paying Off My Mortgage?
Refinancing may not be a sound financial move if you are a long-term homeowner who is nearly finished paying off your loan. Instead you may be better served paying your principal down quicker to eliminate the mortgage debt altogether.
On the other hand, if you still considering a refinance after several years of home ownership, it is wise to check with a lender to determine if this is a prudent move. While you may be able to cut a few years off your mortgage, the refinance may end up costing you more money than you expected.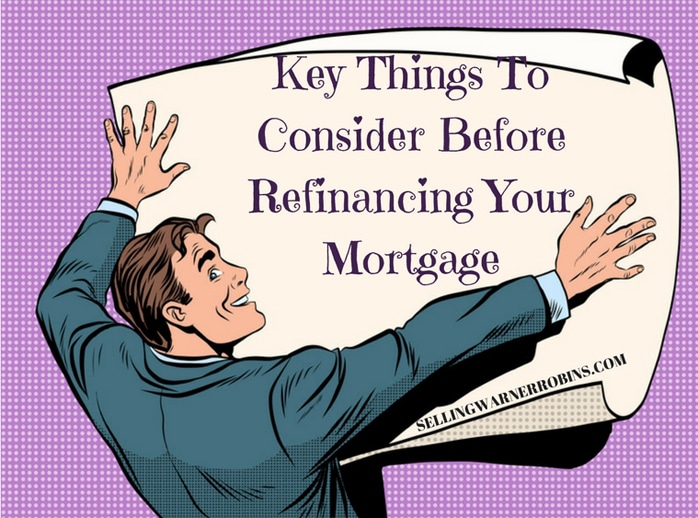 Can I Build Equity And Pay Off My Mortgage Faster?
Perhaps your financial standing is solid and you can afford to pay a slightly higher monthly mortgage payment. In this case, refinancing to a shorter term loan is an excellent opportunity to build equity faster while saving substantial interest money.
To demonstrate, a 30-year mortgage of $350,000 with a 4 percent interest rate would require a monthly payment of around $1,700. If you refinance to a 20-year mortgage of $350,000 with a 3.25 percent interest rate, the new loan would result in a monthly pre-tax payment of around $2,000. The new monthly payment is a few hundred dollars more expensive, but it takes a lesser time to pay off your loan and the interest savings could be substantial.
Does My Existing Mortgage Have A Prepayment Penalty?
Be sure to find out if your lender charges a prepayment penalty, which is a fee charged to you when you pay off your existing loan within a certain time period. It could be a flat fee (such as 3 percent of the loan amount) or a sliding scale based on the length of time you have held the mortgage.
While many new loans typically do not have a prepayment penalty, it does not hurt to contact your lender to ask about the restriction as this penalty can decrease the financial benefits of a refinance.
What Costs Do I Have To Pay For The New Mortgage?
Depending on the size of your new loan, your lender may charge thousands of dollars in fees, including these:
Legal costs
Insurance costs
Appraisal fees
Title search costs
Prepaid interest
Application fees
Home inspection
Attorney fees
Points
Mortgage broker fees
The total amount of these fees may consume your potential savings, so make sure to compare your total costs versus your net savings.
Can I Afford The Closing Costs?
Lenders usually allow homeowners to finance the closing costs. However, this may not be a sound financial choice if your main reason for refinancing is to save significant money. If you choose a long term to finance the closing costs, you will likely end up paying a hefty amount of interest in addition to the closing costs.
Instead of accumulating more debts, it may be best to save up for the closing costs and pay them in full. When you can help it, avoid rolling additional debt into a refinance loan.
In Closing… 
There is no cut and dry answer when determining whether refinancing will ultimately help you save money over the long haul. But when you take extra caution and do your homework, you will be able to make a good educated decision and reduce the risks of falling into a debt trap or defaulting on your loan.
Keep in mind that just like obtaining your original mortgage, refinancing is a complex process that requires the utmost care. Make sure that you are not too stressed out or busy enough dealing with other matters. It is important to understand the closing process thoroughly and read and review everything before signing your new mortgage loan agreement.
Additional Refinancing Sources 
Refinance Scams To Be Aware Of via Teresa Cowart
Killer Mortgage Tips on My Mortgage Insider
Mortgage Refinancing Advice at Homes Loans For All