House Flipping Guide for Beginners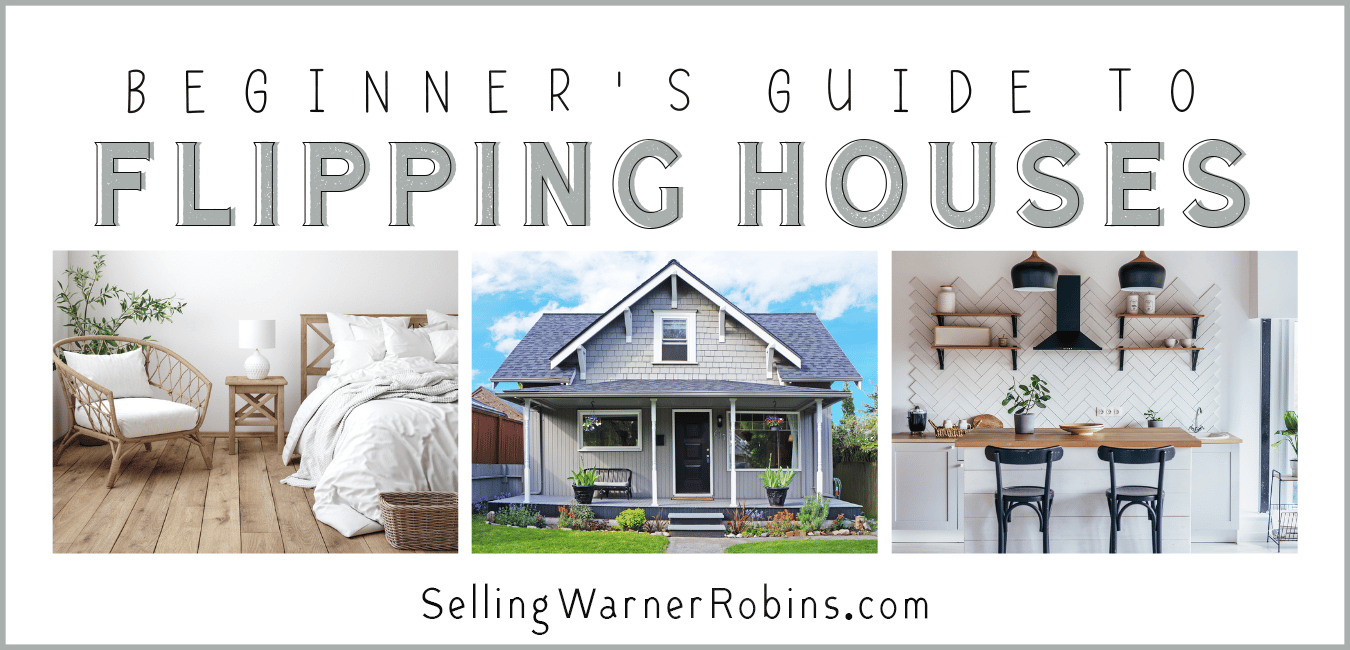 If you are looking for a wise way to make a decent return on your investment, home flipping could be a good option for you. The process involves purchasing a property (or properties) at a discounted price, renovating them, and then reselling them (or "flipping" them) for a profit. For those with a decent knowledge of real estate and investment and a knack for home renovations, the house flipping process can be quite profitable. If you are considering this as a viable investment option, this house flipping guide offers tips, information, and insight to help you navigate the process.
Why House Flipping?
The most common reason people get into flipping houses is to make money, but someone might want to dive into this type of work for several reasons. Here are some other reasons why people may choose to flip homes.
While some people use house flipping to get monetary returns, others may do it as a part or full-time job. Flipping houses is a great side hustle, but it can also become an all-encompassing career if you have the capital and the time.
Many people opt to flip homes to save money for retirement, pay for a large purchase, such as a vehicle or a boat, or even put a down payment on a separate vacation home.
A "flipped" or newly renovated home can do wonders for a run-down neighborhood. Many people enjoy flipping houses to help turn downtrodden or older neighborhoods around and make them cleaner and more visually appealing. Over time, the newly renovated homes can make the neighborhood look better and help boost the property value of the flipped home and other homes around it.
Investing in real estate is a great way to diversify your investments. Other than stocks and bonds, real estate is one of the best and most popular long-term investments available. The more property you have in your portfolio, the more diversified it is, and you can cash in at any time.
Beginner Home Flipping Steps
Before you start house flipping, you will want to do in-depth research and planning. Here are some vital steps to take before you begin the flipping process.
Establish your financial source and overall budget
It is crucial to make sure you have a home budget in place and establish financial resources before you begin. Make sure you have enough money to purchase the property and pay for the home renovations. A good rule of thumb is to budget at least five times more than you think you'll need, especially if this is your first flip. Look at the cost of not just the property itself but what the actual renovations will cost you before putting it on the market.
Study the market and make a list of potential properties
Explore your local real estate market and look for properties to flip based on criteria like location, asking price, and condition of the home. Remember that even if you get a good deal, you might have to pay a higher cost to perform the home renovations to make it viable for resale. Look at local real estate auctions and foreclosures to find affordable homes.
It is also a good idea to consult with an experienced real estate agent who can provide you with a list of recently sold homes in your area. Doing this will give you a better idea of what you can expect to get once the home you flip goes on the market.
Visit the properties and make sure they fit both of your budgets
It's crucial to physically visit the properties you're interested in to get a clearer picture of the condition and location. Make sure that the properties you want to buy don't just fit your house-buying budget but also your home renovation budget. Use a home buying and selling checklist to guide you through the process.
Establish a schedule and stick to it
If you think house flipping is right for you, creating a viable timeline is crucial. Remember, you're likely to run into a few issues along the way, whether asbestos, mold, or expensive repairs you did not see initially. Once you establish a schedule, you will need to stick to it as closely as possible.
The sooner you can renovate the home, the sooner you can sell it for a profit. Decide your timeline, then make it your goal to reach it or beat it. This way is the best to ensure that you'll get a decent return on your investment.
Keep the 70% rule in mind
Many experienced house flippers follow the 70% rule. This rule helps determine the maximum amount you'll pay for a property. Ideally, you should never spend more than 70% of the home's value after it has been repaired, minus the costs you paid to renovate it.
The 70% rule uses a simple calculation that takes the after-repair value (ARV) and multiplies that amount by 70% minus the estimated repair costs. The result of this calculation should be your maximum buying price. If you go above this amount, your profits may be at risk.
Here's an example of the 70% rule:
Home ARV = $200,000 x .70 = $140,000 – estimate repair costs of $75,000 = $65,000 = Maximum buying price
With the calculation above, you should see a profit of approximately $60,000.
Finding a house to flip: what to look for
As you search for homes to flip, there are some important things to look for that will save you time and money. Follow this house flipping guide to keep these tips top of mind as you start your hunt:
Look for the cheapest homes in the most expensive neighborhoods with highly-rated school districts. It's easier to sell homes for more money in decent communities than in neighborhoods people don't want to live.
Try to purchase property with "easy" cosmetic issues that you can fix with less money and effort. Doing this should include surface issues like outdated flooring and countertops that are much easier to replace than an entire electrical or HVAC system. Even something as simple as updating the landscaping or applying a new coat of paint can do wonders for a home and garner more cash when you sell.
Look for small details that might scare typical home buyers away but that you know you can easily update yourself. Some examples include outdated flooring, old fixtures, and other details considered "out of style" by most standards.
Determine what's considered a good deal in the area you're looking at and compare the asking price to the price of other recently sold homes. Doing this is one of the best and most effective ways to determine whether or not you'll make a profit after home renovations are complete.
Avoid important house-flipping mistakes
While house-flipping is undoubtedly a great way to make a profit, it's easy to make some serious mistakes that could leave you in the red. Remember these mistakes, so you know what to avoid, whether buying your first house to flip or your hundredth.
Some buyers wait to get a home inspection before buying a property to flip. But home inspections are an inexpensive and highly effective way to ensure the home you want to buy is in at least decent condition. Home inspection reports also give you a detailed list of the components that need your attention, which can help you decide whether or not the property is worth the investment in the first place.
Many home flippers don't realize how long it takes to renovate a house. Before you make an offer on a piece of property, it's vital to determine how long the renovations will take to complete and how much they'll cost. Even in the best-case scenario, it will take many months to buy the home, do the renovations, and then put it on the market and close the deal. Neglecting to account for additional costs like taxes, insurance, and utilities could put you upside down after the home sells.
Don't expect a miracle regarding the final asking price on your newly flipped property. If you ask too much, you might end up "stuck" with the home for longer, which means you'll only pay more out of pocket until it finally sells. Determine an acceptable profit for you, then list it at that number for a quick, easy sale.
You've probably seen countless shows on HGTV where homes are renovated with luxury finishes, appliances, and materials. Realistically, however, if you over-renovate the home, you could end up spending a lot more money than you'll get back when it sells. Avoid going overboard when you flip a home unless you're selling in a true luxury market. Otherwise, keep your updates clean, simple, and as easy as possible so that the home looks beautiful but doesn't cost you a fortune to update.
Unless you have prior experience doing home renovations, relying on a trusted team of professionals is vital. Whether it's for flooring, plumbing, or kitchen updates, always use a trustworthy team of experts to help you perform the renovations the right way. Attempting to make major changes will certainly cost you more time, money, and headaches in the long run.
While most homebuyers are interested in a home's interior, you shouldn't neglect the porch, lawn, and landscaping. A few updates to the exterior will not only improve the home's curb appeal but should also garner you a slightly higher asking price.
Never do any major home renovations without obtaining the proper permits first. Depending on where you live and the intensity of the renovation, you may need to get permits before work can begin. If you're in doubt, check with your local jurisdiction to find out what types of permits are required, how much they cost, and how they take to be issued.
How can you find the best deals?
Of course, a house flipping business starts with getting the best deal on a piece of property. Here are some ways to find great deals while hunting on the house-flipping market.
Research local real estate auctions and foreclosures in your area. In many cases, these homes are still in good condition, but the bank needs to sell or auction them at a lower price to recoup some of their money. You can often find some great deals using this method.
Talk to an experienced local real estate agent in your area. They often get tips on homes ready to be sold for a great price. Realtors can also get access to MLS listings quickly and run reports showing you recent sales in your area (called a comparative market analysis) to help you better understand how much you could expect to earn.
Drive through a few desirable neighborhoods and look for homes with a "for sale by owner" sign. In many cases, the sellers are willing to accept a lower offer since they don't have to pay for real estate agent commission fees and other costs. If you decide to go this route, getting a professional home inspection is still advisable before you make an offer.
Get to know a few local contractors and let them know you're looking for a house to flip. They can usually give you some great leads, and you can offer to hire them for their services if you buy the property.
Put the house up for sale after staging it
Once you've found and purchased a home and renovated it, it's time to put the home up for sale. Staging the home is a great way to make it look warm, inviting, and enticing. Use your local comps to help you come up with the best price, and try to stick to the 70% rule so that your ARV (after-repair value) is reasonable. Once the home is staged, take lots of professional photos and list the property on the marketplace. Make sure your property is included on major platforms like Zillow and Trulia, and advertise locally to reach more potential buyers.
With a lot of research, knowledge, and patience, house flipping is a profitable endeavor. Keep these beginner home buying tips in mind to find the best deals in your area. Using the 70% rule and making the right home renovations will almost always guarantee a successful, profitable sale.
If you found this beginners house flipping guide helpful, please share the article via social media so more consumers can benefit from the information.
Beginners House Flipping Guide