Great Tips on How to Sell a House that is in Poor Condition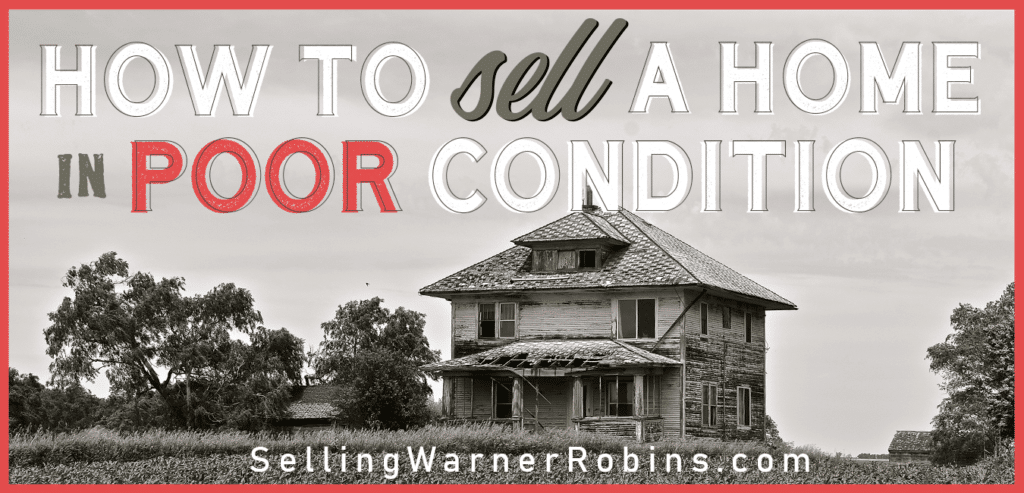 You've decided that it's time to move on. There are greener pastures out there, and you want to relocate. First, you must sell your current home and, unfortunately, it's not in the best condition. What do you do? Can you still sell your house, even if it's in a poor state?
Luckily, the answer is yes. You can put your property up for sale even if it's condemned. That said, selling it might be a little easier said than done. Not everyone is interested in buying a fixer-upper, and you'll have your work cut out for you.
In this article, we'll go through the different options you have for selling your property. We'll also give you a few tips to get the most out of the deal.
Options for Selling Your Fixer-Upper
Now that you know you can still sell your house even though it needs some TLC, it's time to explore your options. Below, we look at a few different ways to list, sell, and market your property. You can choose the one best suited to your needs and goals.
Real Estate Investors
Have you ever noticed a sign claiming that "We'll buy your ugly home for cash!"? That's likely a real estate investment company looking to buy houses in any condition. Like flippers, these investors usually buy damaged properties to fix them up and sell for a profit.
However, these professional buyers will often have extensive experience and legal and advisory teams. They'll likely also have significant capital funds, and usually prefer to close sales quickly.
The faster the paperwork is signed, the sooner they get a return on their investment.
Advantages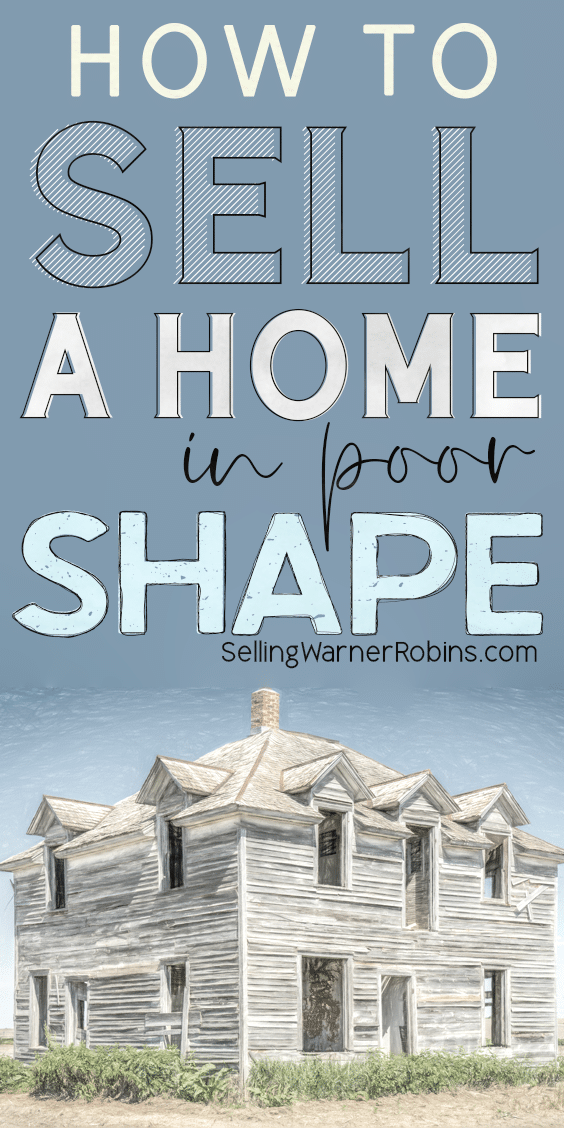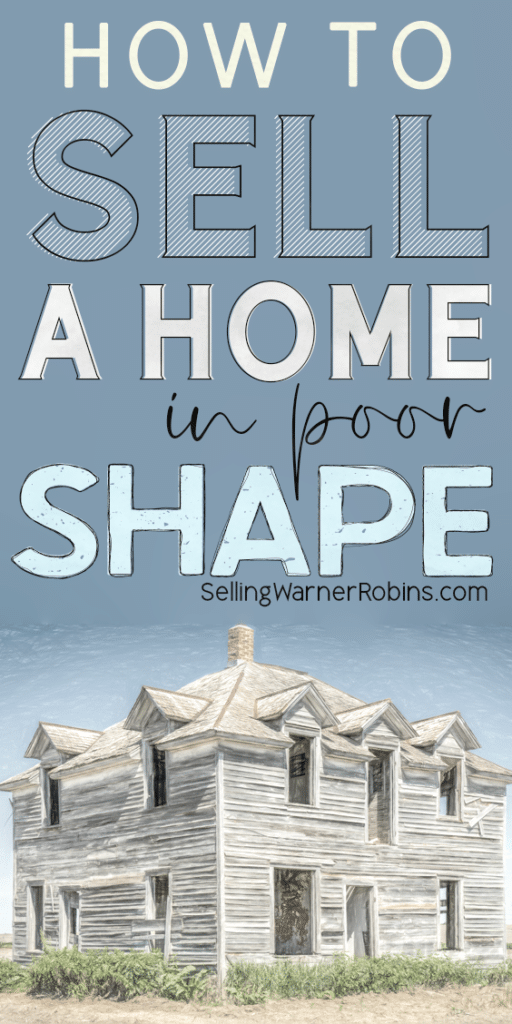 Several advantages come with selling to an investor, including cash offers and fast sales. Here are a few of the top benefits of choosing this option:
These investors will often buy a property as-is, regardless of the problems. If you accept the cash offer, you'll no longer have to carry any responsibility for the house's condition, as long as you've disclosed all known issues.

You won't have to pay any realtor commissions or additional costs. There are no hidden fees involved in this process. Investors will often pay off any other house payments, liens, or other financial obligations you might have as part of their offer.

If you need to make a fast sale, like in the case of a foreclosure, this might be your best option. Selling to investors is a speedy process, and you might even have your money within a day or two.
Disadvantages
Although the disadvantages of selling to an investor are minimal, there are a few things you'll need to keep an eye out for.
Before proposing a price, the investor will usually calculate the cost of repairs and deduct it from the final amount. They'll also factor in interest as well as other expenses. As a result, their cash offer will be significantly lower than your property's market value.

There's minimal regulation of real estate investors. You'll have to use your best judgment and try to avoid unscrupulous companies who might try to take advantage of the situation.
For example, many fraudulent investors will try to use a "bait and switch" tactic. Their initial offer might be close to market value, but they'll continuously find reasons to postpone the sale. Eventually, they'll exhaust their victims and manipulate them into reducing their asking price.
Real Estate Agents
When you hire a real estate agent, you're putting this individual in charge of the sales process. They'll find prospective buyers, do the required marketing, and handle any negotiations. Some may even offer additional services, while others will only cover a few specific tasks.
According to an article they wrote, ISoldMyHouse.com explains seven different types of real estate agents that you can choose from. It's important to know what kind of realtor or listing option would work best for you. 
Take the time to do your research and get recommendations online as well as from friends or family who've recently sold their properties. Make a couple of appointments, talk with different agents, and arrange for them to do inspections.
You should also ask any prospective agency to suggest an asking price. Realtors should have a good idea of what properties are selling for in the local area. If any of the agents recommend a price that's far higher or lower than the others, you'll know to avoid them.
If you're still struggling with the decision, choose the realtor that you believe will work the hardest to sell your house the way you want to sell it. 
Advantages
There are a few advantages that come with choosing to work with a real estate agent. Most notably:
An agent will help you set a realistic asking price without under- or overvaluing the property. They'll also advise you on the most necessary repairs and help you find reputable contractors.

Realtors can help you state your house in the best possible way, despite its poor condition.

Agents have access to the multiple listing system (MLS), which can expose your home to the largest pool of potential buyers.
Disadvantages
As with any other selling option, using a real estate agent also has its downsides:
First and foremost, understand that there'll be several people involved in the process. More people mean more expenses, and you'll have to account for the agent's commission as well.

Many realtors will refuse to market a house in poor condition. Not only is it cheaper, which means they'll earn less commission, it's also more challenging to sell. Some may insist that you make the required repairs before they represent you.

Always do your research and choose a reputable realtor. Check with people you know for recommendations, or search for client reviews online.
Professional House Flippers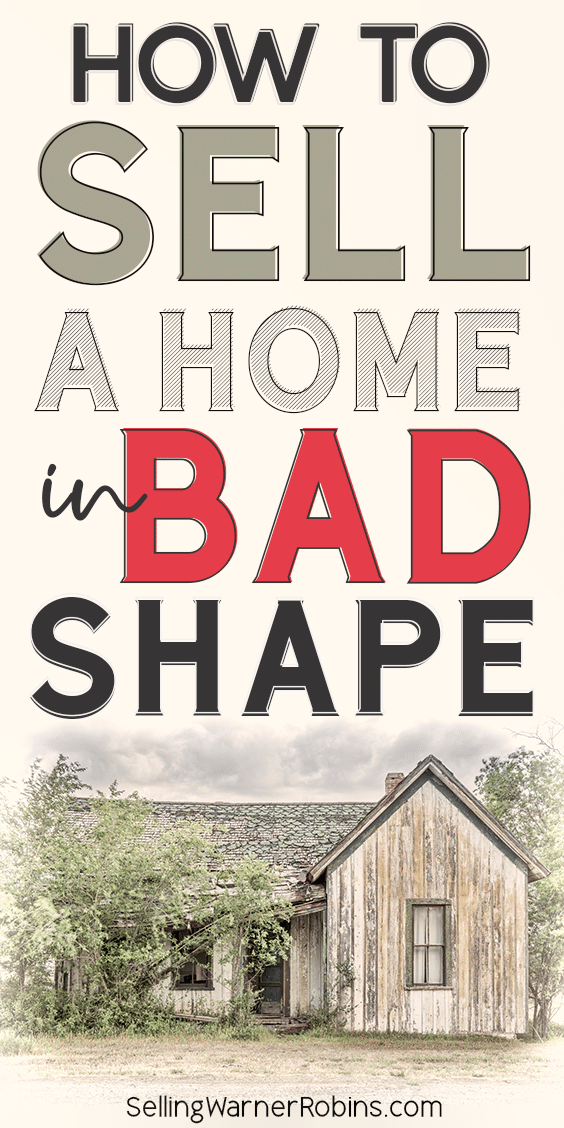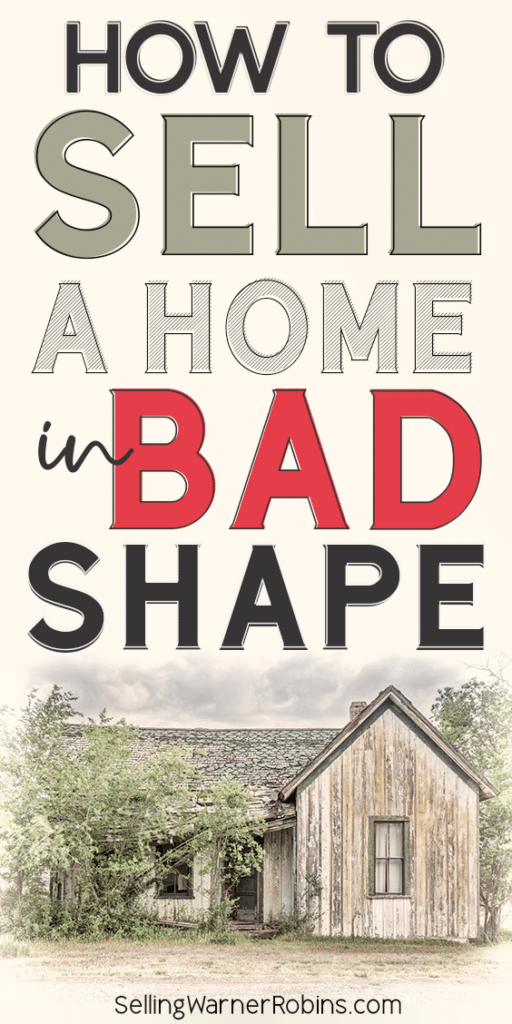 If you want to make a faster sale or if your property needs extensive repairs, you might want to consider selling to a house flipper.
There are many different types of flippers, from mom-and-pop family teams to sophisticated investment firms. However, they all have one thing in common – if you can make it worth their while, they'll take even the worst property off your hands.
Advantages
There are times where selling to a flipper is your best move. For example, if the property has an extensive fire or water damage, these buyers would be willing to take it off your hands – for the right price. 
Other situations where it could be advantageous to sell to a flipper include:
Lack of money for home repairs before selling.

Risk of foreclosure on the property.

Uncomplicated and fast sales process.
Decide carefully, however. It's always a good idea to know the best and worst prices you might get on the general market before selling your house to a flipper.
Disadvantages
There's one main disadvantage that comes with selling to a flipper, and that's money. You won't get the market value for your property and likely have to go relatively low to attract offers.
Many flippers will go further and overestimate the cost of repairs to create a safe margin for error. They'll deduct this from your asking price, and you might net even less than if you did the repairs yourself.
Always get a second (or even a third) opinion regarding the required work before closing a sale. Better yet, get quotes for repairs upfront, and use these in your negotiations so that you can get a more market-appropriate offer.
Do it Yourself
If you don't like any of your other options, you can always choose to sell the property yourself. Known as FSBO (For Sale by Owner), you'll be responsible for finding potential buyers, going through contracts, negotiating prices, closing the deal, and completing the legal paperwork.
While it can be the most financially rewarding option, it's undoubtedly the one requiring the most work.
Advantages
If you have experience with real estate sales and want to take a hands-on role, FSBO might be a good fit for you. A few of the advantages of this method include:
Controlling all aspects of the sales process.

No need to pay a realtor's commission.

Avoiding indirect payment of an investor or buyer's expenses.

If you're a skilled negotiator, you can also barter with potential buyers for a better price.
If you know what you're doing, you can make a significantly larger profit selling a property yourself. 
Disadvantages
While there are several advantages to going the FSBO route, you should also be aware of a few (significant) disadvantages.
First and foremost, understand that this isn't an easy process. If you don't have previous real estate sales experience, it might not be the best option for you. Other disadvantages include:
Estimating value and under- or overpricing the property.

Attracting buyers despite the house's poor condition.

Covering marketing expenses such as online listings, offline flyers, neighborhood signs, etc.

Staging showings yourself.

Meeting all the legal requirements, including full disclosure, and providing all the needed documents.

Even if you do everything yourself and sell the property, you might still get less than if you let an experienced professional handle the process.
Keep in mind that you'll be carrying most of the risks, legal and otherwise, yourself. Don't risk FSBO if you don't know how to sell your property in its current condition.
Sell As-Is or Fix-It-Up?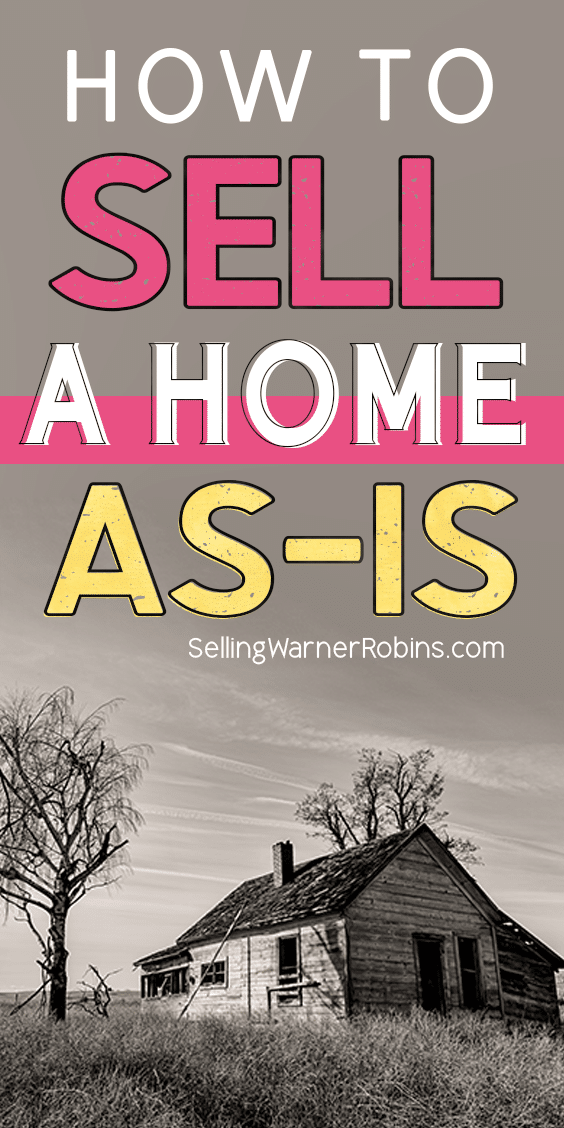 It's a common question many sellers ask themselves if they have a fixer-upper that needs to go. Depending on your situation and the state of the market, you might have a few different options to consider:
Real estate investors will often buy a property as-is, but they'll likely only offer a reduced price. However, if there aren't any issues with the title, you can close a sale in a few days.

If you only need to do a few cosmetic repairs, you can take the house to a real estate agent. If they're only willing to sell the property if it's repaired, you'll need to estimate the costs and work it into the asking price.

Buyers are willing to consider a home that needs simple repairs, like a coat of paint, new carpets, or a few light fixtures. If there aren't any severe problems with the home, you can likely still attract multiple offers at a lower price.

If there's a lot of damage (such as structural problems or roof repairs), you'll probably have to drop your price significantly. Your primary bidders will be flippers and contractors, and they'll still need to make a profit after repairing and selling the property. You'll have to come in low to attract them.
What You Need to Disclose
The stringency and requirements of laws vary from state to state. For example, Mississippi requires sellers to disclose if the property is in a flood zone or has any water or mold damage. On the other hand, Texas requires sellers to divulge the use of any hazardous materials used in the house.
While it might be tempting to skip details when telling potential buyers about problems, remember that full disclosure is always the best policy. It's better to inform interested parties about any issues upfront.
While it might knock a zero off your asking price right now, it's better than being sued for damages or repairs in the future.
A Few Tips for Selling a House in Poor Condition
There are a few things you can do to increase the chances of selling your home, regardless of its damage or run-down condition. Below, we'll list five of our top tips to get you started.
Highlight the Positives
Instead of focusing on the negatives, try to highlight any positive traits your home might have. For example, the roof needs to be replaced, but the house has a beachfront view and access to one of the district's best schools.
By focusing on the things that make the property attractive, you'll be more likely to entice interested buyers.
Be Completely Honest
Don't be tempted to downplay the negatives. Ensure that buyers know about all problems upfront and allow them to do a home inspection if you haven't had one done. If they know what renovations will be required, you're more likely to receive a viable offer.
Do Any Quick Repairs or Upgrades
There's a lot that a fresh coat of paint and a neatened garden can do. You don't have to repair any severe damage, but there are likely a few things you can touch up before you take your property to market.
Determine Concessions You're Willing to Make
As you come to the negotiations, expect to be asked for concessions. Buyers will try to negotiate for repairs, upgrades, or commissions to be included in the offer, and they're part of the process.
Before you start the sales process, determine which concessions you'd be willing to make.
Professional Inspection and Repair Quotes
Prospective buyers will try and knock a few zeroes off your asking price, no matter how good the initial number was. They'll use inflated repair costs and the "unknown factor" to try and drop their offer.
If you have a professional inspection done and get quotes from reputable contractors for repairs, you'll be in a better position to counter with a more reasonable proposal.
Final Word
If you're trying to sell your home in poor condition, understand your options before starting the process.
First, decide if you'd prefer to sell to an investor or a private buyer. Alternatively, you can try to market your property to house flippers or attempt to sell it yourself. Whichever option you choose, ensure that you understand the advantages and disadvantages of each.
Ensure that you obey the disclosure laws in your area and be honest about any problems or damage. You can even have your home inspected and get quotes for any repairs. That said, you can still try to highlight the positive traits of your property, making it appealing to specific buyers.
Finally, remember that you might need to make a few concessions. Perhaps you'll need to do a few minor repairs or drop your asking price to accommodate your buyer. However, while you should be prepared for negotiations, don't make any decisions that you'll regret.
By planning, taking a few precautions, and choosing the right selling option, you can still get a good deal on a property that's in poor condition.
If you found this article on how to sell a house that is in poor condition helpful, please share the article so other consumers can also benefit from the information provided.
Key Advice on How to Sell a House that is in Poor Condition