Secrets To Create The Perfect Backyard Oasis
Do you ever find yourself staring at your backyard and dreaming of how you can create the perfect backyard oasis? Do you desire a haven from which you can escape the pressures of modern life? Webster's defines "oasis" as a pleasant or peaceful area in the midst of a difficult or hectic place or situation.
Creating an inviting backyard sanctuary is easier than you think. Why create an oasis in the first place? The most obvious benefit to transforming your backyard is a haven in which to escape to destress, relax, and have fun. By extending the living outdoors, you create opportunities to enrich relationships and promote increased family time. When selling your home, a polished backyard also adds value and invites potential buyers to come in and sit a spell.
Regardless of the size, every backyard has the potential to be transformed into a source of refuge. Here are several key things you can do to create the perfect backyard oasis…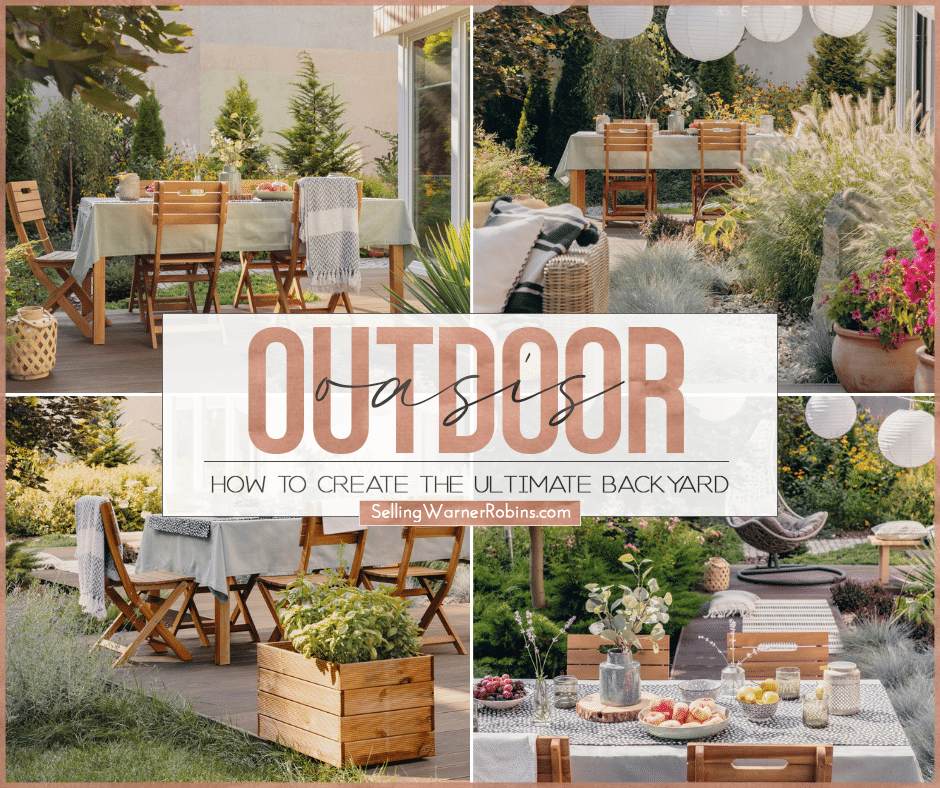 First Things First
To begin this process, take a critical look at your space as it currently exists. If it doesn't entice you to spend time there, assess the reasons behind why you'd rather escape the space than invite friends and family to hang out. Ask yourself these questions as you work towards making your yard a place you love:

Is it cluttered with too much stuff?
Is it overgrown and chaotic, in need of a serious pruning and weeding?
Does it lack defined spaces and luxurious amenities?
Are there sufficient structures, plants, or lighting, etc.?
After critically assessing the present condition, you're ready to formulate your makeover plan. A well-formulated plan is the basis for creating a truly inviting space. There are several ways to begin drafting your plan such as perusing the internet or Pinterest for ideas, walking your neighborhood and seeing what others have done, and talking with friends and family to gather ideas. A solid plan ensures that the end result is graceful and inviting rather than appearing haphazard or disjointed.
Elements of the Backyard Plan
Whether you choose to DIY your makeover or hire a pro, you need to consider which options best serve your needs. Here are some starter ideas for focal points within your master backyard plan:
Defined areas – How will you use the space?
Structures – Will you have patios, pergolas, paths, sheds, etc.?
Landscaping – What plants will work best in the space?
Shade – How will you create shaded areas for respite from the sun?
Furnishings – What options for seating best suit your needs?
Lighting – Which choices will create a magical after-hours setting?
Privacy – How will you create an intimate feeling for enjoying your backyard?
Amenities – What fun options do you choose to layer into your outdoor experience?
Fun ideas – Get creative jazzing up your backyard!
The key to a successful overhaul lies in choosing updates that make sense for your area.
Defining Backyard Activity Areas
Deciding how you will use the space is the driving force behind all your decisions. Whether you desire to establish separate zones for specific purposes or maintain one large area, here are some ideas to consider:
Relaxation room or cozy corner for meditation, yoga, journaling, or napping
Outdoor kitchen or cooking area, including an outdoor dining room
Games area for kids and the young at heart
Pet area for your four-legged friends
Outdoor life is all about the fresh air and fun, whether you prefer to entertain or simply want solitude and serenity. 
Essential Backyard Structures
When it comes to outdoor structures, there are plentiful options from which to choose for your backyard revamp. One of the easiest places to begin might be installing a deck or patio to instantly add living space and architectural appeal. Try these budget-friendly ideas for a DIY deck or concrete patio and, in no time, you will be heeding the call outdoors.
If you want to uplevel your look by adding charm and luxury, then pergolas, trellises, arbors, and gazebos are just the ticket. Each of these options can effectively define activity zones as well as create focal points and transitions throughout the yard.
Lastly, don't overlook storage needs in your new paradise. A shed tucked in an out of the way area ensures you can neatly store all the necessary equipment for maintaining your haven while keeping your space clutter-free.
Mindful Landscaping
There is nothing as enchanting as a garden in full bloom. Such an invitation is hard to resist – just ask the butterflies, bees, and birds! A garden has the magical power to transport you to faraway places, instantly filling you with a sense of peace and relief.
With the myriad of landscaping options available, it can be overwhelming deciding which plants to include in your garden. A pleasing mix of flowering plants, grasses, and shrubbery holds the promise of year-round lushness. Good design involves color, texture, and repetition. Keeping things simple allows for the landscaping to mature over time.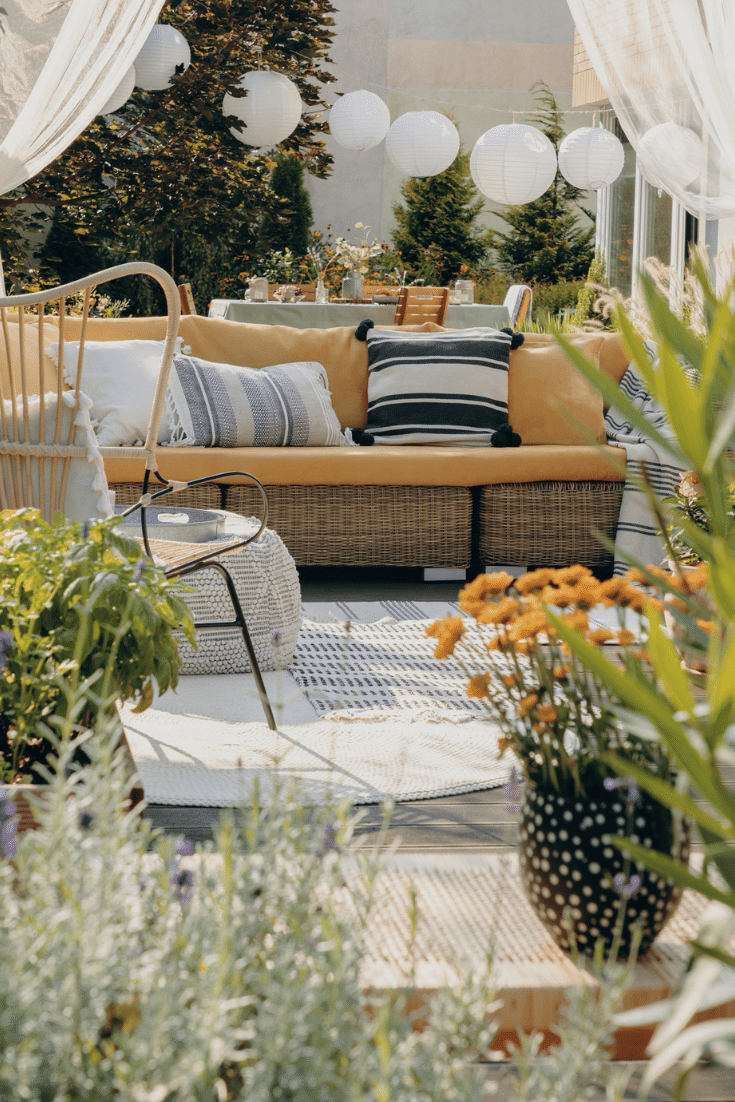 Perennials are a budget-friendly choice given that you plant them once and they return year after year. Annuals, on the other hand, add a vibrant splash of color to liven up any garden but require replacing each year. Aiming for diversity of plant life is important to your overall end result.
The mindful garden plan considers incorporating native plants as well as plants to assist pollinators. Thoughtful selection assures a more natural appearance as if the garden was always there. Additionally, well-placed hedges, shrubs, and trees offer shade and insulation for the home, on top of the beauty in the yard, thus decreasing your energy needs year-round.
Satisfying Shade
Shady areas are a quintessential element in your backyard metamorphosis. Even the diehard sun worshiper welcomes the sweet respite of a shady nook on a sunny day.
Here are a few simple ways to ensure you have much-needed shade:
Awnings and sail shades
Curtains
Umbrellas
Vertical gardens
Trees
Gazebos, arbors, pergolas
A shady haven beckons one to kick back to enjoy an icy beverage and great conversation in the ultimate outdoor living room.
Furnishings for Comfort & Beauty
If you love to entertain, then comfortable and lush seating is essential. Today's choices are more plentiful than ever when it comes to furnishing your outdoor rooms. The time-tested, classic options like wrought or cast iron, aluminum, and wood lend a traditional flair to the décor.
Today's synthetic, weatherproof furniture and fabrics offer more versatility while sacrificing nothing in terms of comfort or style. Other playful options include large outdoor pillows scattered galore, benches tucked here and there, and, of course, the enchanting hammock.
No matter the style of furnishing selected, choices range from chairs to love seats to sofas and even day beds. To top it off, a buffet of outdoor fabrics and prints are available to suit every style and budget.
The right seating choice can be the difference between spending all your free time outdoors and hiding on the couch inside watching TV. Whatever your choice, alluring seating beckons you to relax and linger awhile in nature, all in the comfort of your captivating backyard.
Dreamy Lighting Ideas
Not ready for the fun to end as daylight fades to night? Create a spellbinding outdoor evening retreat by devising a dreamy lighting plan so the fun carries on after the sun sets. Your lighting plan can be fanciful and whimsical, adding drama and interest, while also being utilitarian.
Options for lighting run the gamut from traditional wall mounted porch lights to free-standing battery or solar-powered lights. Include good task lighting for areas such as an outdoor kitchen, but for dining and conversation areas, switch to more tranquil choices such as candles or electric lamps. Want a lovely chandelier illuminating your dining table? Try this DIY option made from hula hoops, ribbon, and string lights.
Ambient lighting from thoughtfully placed string lights hung from trees brings the starry night sky magically into your outdoor space. And don't forget the trusty torches and lanterns for added flair. Of course, walkways and stairs require excellent illumination for safety.
The right illumination plan for your oasis ensures you have one of the most spellbinding backyards in the area and encourages guests to linger longer!
Backyard Privacy is Paramount

Privacy is likely one of the most integral components to creating the feeling of a true oasis and is easy to create in any space. After all, who wants the neighbors to have a view of your activities while entertaining or when you want solace and serenity? Privacy can be ensured with carefully placed fences or garden walls, as well as structures mentioned earlier such as pergolas, arbors, or trellises.
Think of the mystery and magic of a secluded cove or a cave deep within a forest and you instantly will feel the power of creating privacy in your backyard oasis.
Layering Luxurious Amenities
Once you have built your backyard oasis, it is time to layer some luxurious amenities into your space for added glam and alchemy for the soul. Here are some transformative ideas:
lay down an outdoor rug
fire feature, such as a fire bowl, fire pit, or fireplace
water feature, such as a fountain, pond, stock tank, or swimming pool
include a relaxing hot tub or spa
lights, camera, action – build an outdoor theater
Likely one of the simplest and least expensive ways to jazz up your outdoor room is with an outdoor rug layered on your patio or deck. Rugs add a splash of color and are easily changed out depending on your mood or whimsy.
The best backyard designs include both water and fire features. Let your imagination run wild as you explore the myriad of options available, whether DIY or readymade!
The sight and sound of water instantly soothe the soul and rests the mind, leaving one feeling revitalized. Depending upon your budget or space, numerous choices range from tabletop fountains, a Koi pond or garden fountain, birdbath, a stock tank, or a swimming pool. Imagine yourself lounging beside your babbling water feature as your stress magically washes away!
There is something mysterious and enchanting about staring into a fire at night! What could be more romantic or relaxing? Fire features establish natural focal points in your outdoor room. There is a fire feature for every space and budget, making it incredibly easy to relax around an open flame. Aside from the ambience of a fire at night, fire features naturally extend the outdoor living into cooler weather. An added bonus is that the smoke helps keep the bugs away.

For those days filled with extra stress, slip into your private spa or hot tub for the most sublimely relaxing experience imaginable. Nothing beats a luxurious soak for melting away the cares of your day.
Looking for another nighttime activity to do under the stars? Look no further than an outdoor movie theater to guarantee your guests will linger longer than usual. After all, who could turn down a movie beneath the stars? Check out this easy DIY option for building your own backyard movie experience that will become the envy of friends and family. Just add popcorn and s'mores for the ultimate entertainment experience!
Fun & Creative Backyard Living Ideas
Where space permits, including a games area in your backyard oasis ramps up the fun factor. Of course, there are the time-tested standbys such as croquet and badminton, but if you're ready to uplevel the fun, get creative with some amazing DIY ideas. Backyard games provide kid-friendly fun and allow adults to let their inner child loose.
If you chose to include kid-friendly space, what could be better than a jungle gym, swing set or treehouse for the little ones? Return to the good ol' days with a tire swing. After a day of active fun, your little ones will retire early, leaving you quiet time in the oasis.
Interested in some special ideas to jazz up your transformation? Get creative with a drill and marbles to update your fence or perhaps paint a fence mural. These are extremely budget-friendly ideas that add pizzazz and sparkle to any décor.
Accessorizing your oasis with garden statuary and handmade art is like wearing the right jewelry with a spectacular outfit. Think outside the box and upcycle cast-off items into fabulous garden art dirt cheap. Want some additional flair? Why not add some glow-in-the-dark rocks or garden stakes for some extra ambience.
Little touches turn the ordinary into the extraordinary making your outdoor oasis the most welcoming place on the block!
Final Backyard Oasis Thoughts
Any outdoor living space has the potential to be transformed into a magical, enchanting oasis providing a variety of experiences, both fun and relaxing, for you and your guests. Your makeover plan should strike a balance between the mundane, unimproved backyard and the over-the-top, excessive design to create a welcoming extension of your home.
Remember, your backyard metamorphosis doesn't have to be costly to provide a dreamy, luxurious space. All it takes is an eye for detail and attention to choosing the right components as detailed above. Focus on comfort and keeping it simple, whether you opt for a simple redesign or a complete overhaul. No matter your pleasure, adding personal touches sprinkled throughout the space will make your backyard oasis uniquely yours and a space you will treasure for years to come.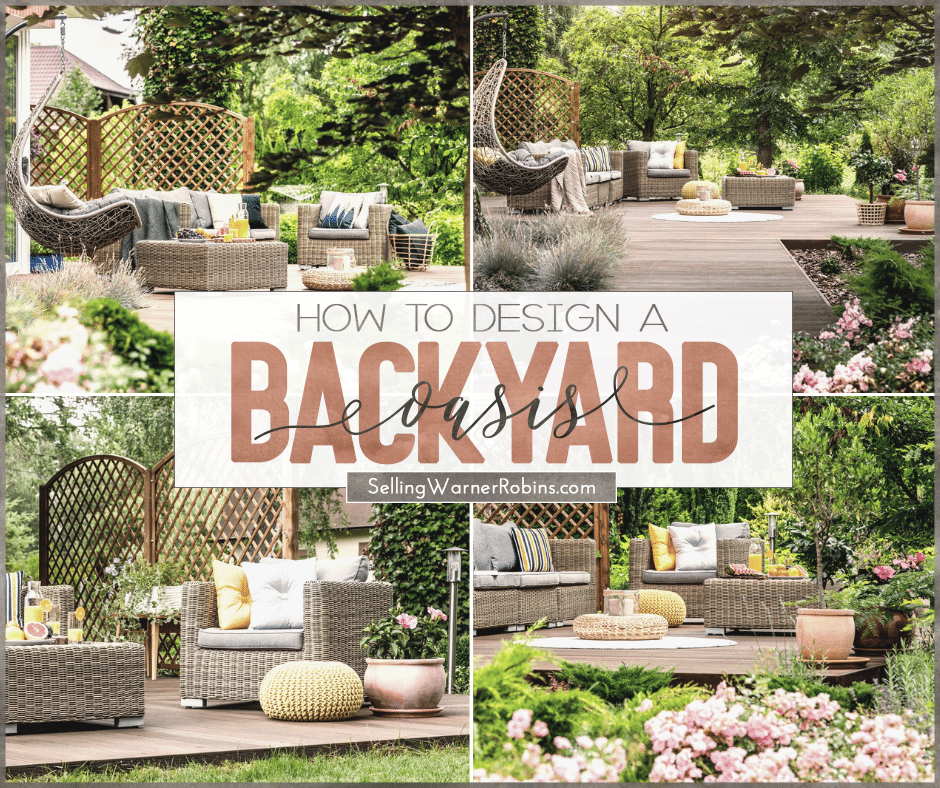 Tips To Create The Perfect Backyard Oasis