What is a Short Sale?
A short sale occurs when a homeowner wants to sell a property, but owes more on the property than it is worth, the transaction that completes the sale of the home is known as a short sale. To complete a short sale the seller must receive the approval of the lender, as they will be accepting less financially than they are owed at the completion of the sale. There are several reasons why a homeowner may choose to complete a short sale; most often it is completed to avoid foreclosure.
For potential home buyers, a short sale property can be an opportunity to purchase a home at a discount, as the seller is in an uneasy financial situation with few options and eager to complete a sale. However, buyers must be prepared for delays in completing the purchase, as short sales typically take time to conclude.
Below are several tips to help real estate buyers better understand the pre-foreclosure process and gain knowledge of how to get a mortgage after a short sale. Remember to seek out a qualified short sale real estate agent to help you through the process.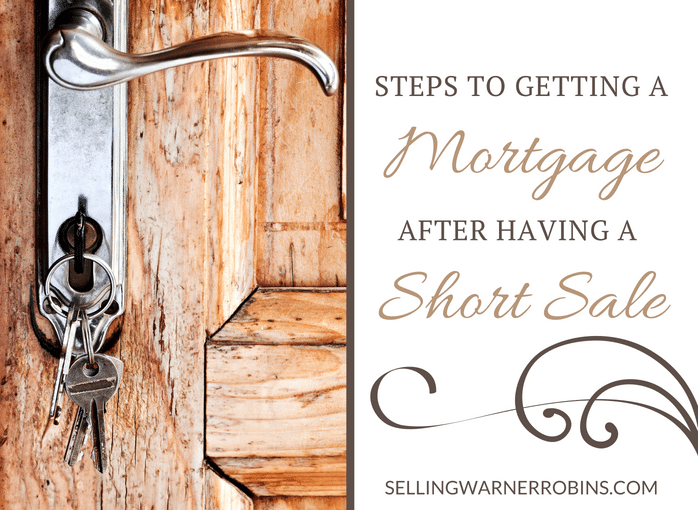 ---
Home Purchase Waiting Period After a Short Sale
Life happens! Sometimes things are within our control and other times they are not. Fortunately, the mandatory waiting period recently changed for some of the loan types below for consumers who are looking to buy a home after going through a short sale in the recent past. In most cases, you must meet the agencies "extenuating circumstances" requirements to qualify for the minimum wait period.
Federal Housing Ad

ministration

(FHA) – The FHA is the largest mortgage insurer in the world an FHA loans are lender not consumer insured. If your credit score is below 680, you can often find better interest rates using this type of loan. The waiting period for an FHA loan after a pre-foreclosure (short sale) is 1 year using their Back to Work (extenuating circumstances) program with 3.5% down-payment. The wait is 3 years if your lender does not participate in the Back to Work program (find a new lender if this is the case as many do participate).
Fannie Mae – Government sponsored conventional loan, which can help lower mortgage credit costs, via banks and lenders. This year, Fannie Mae changed their short sale waiting period from 4 years down to 2 years. You should expect a 5% down-payment although there are options for some consumers with less down.
Freddie Mac – Government sponsored, which can also help lower mortgage credit costs, via savings and loans. Buyers can use their HomeSteps program to purchase bank owned properties. The wait is 24 months if you qualify based on their extenuating circumstances guidelines.
USDA Rural Loan – Typically 3 years if your credit score is below 640 but the time can actually be as short as a few months if your credit score is above 640 if you meet all their guidelines.
Jumbo Loan – Anywhere from 4 to 7 years with differing rates, fees, and down-payment requirements. Expect to bring 20% or more of the purchase price to the closing table.
VA Loan – Up to 2 years but the time can be less (or no wait) if you can prove you were not trying to take advantage of market conditions and made no late payments.
Lenders consider short sales a significant derogatory event, and although you may meet the wait period timeline, they may still require you to wait additional time, have larger down-payments, or have higher interest rates. The best way to find out is to talk with a qualified mortgage professional about the circumstances involving your short sale and your options to purchase another house.
Short Sale from Seller's Perspective
The short sale of a property is an opportunity for homeowners that are struggling with a mortgage to complete the sale of their home, and avoid the possibility of losing their home via foreclosure. Below is the process a seller will need to go through to complete the short sale of their property.
Provide Evidence of Financial Hardship
Homeowners looking to complete a short sale must discuss the possibility with their mortgage provider and present evidence of financial hardship. The more commonly accepted cases of hardship are mandatory relocation due to employment or reduced income that has made the property not affordable.
The lender will review the case of hardship and make a decision based on the income and assets of the homeowner. If a homeowner's level of debt versus income has increased, it will enhance the chances of short sale approval. Any savings will need to be used to decrease the loan provider's repayment loss and a market analysis of any liens on the property must be completed.
Listing the Property
After lender approval of short sale has been confirmed, the owner can list their property with a real estate agent (preferably one who is well versed in dealing with short sale transactions). Any offers on the property must be approved by the mortgage provider, so the process of approval can take weeks or even months.
It is very important to stay in touch with your mortgage provider to ensure all details are being worked out in a timely manner. If information is requested, provide it as quickly as you possibly can. Any delay can exponentially increase your wait and cause unnecessary stress.
Short Sale Approval
After the mortgage provider has approved a buyer's offer, the short sale process can be completed as soon as a buyer has mortgage funding and closure. It is important during this phase to stay focused and in close contact with your agent and your mortgage provider to make sure no issue is left unresolved.
This is where your patience in the process pays off! Keep your cool and the process will end with as good a result as possible. Fortunately, if your situation improves and your credit score comes back up, you may qualify to purchase another home in a relatively short period of time.
After Short Sale
Usually a short sale seller's credit rating will fall dramatically. Lenders will often only contemplate approval of a short sale when a homeowner has failed to make mortgage payments for 3 months. Lenders will report short sales as either a settled or as a paid debt. Short sale sellers ought to bargain for a paid debt report as it is less severe on credit ratings.
Short sales are listed on credit reports for seven years. However, short sale sellers can usually get finance for a new property purchase inside one to four years, depending on the type of loan, down payment and credit score.
A foreclosure is much more severe, with the time ranging from three up to eight years. A lender can offer advice on available options to a seller. Before the housing crisis, a lender's financial loss was regarded as a taxable income for the home seller. However, sellers are now not liable for tax on lender losses as a result of a short sale.
Short Sale from Buyer's Perspective
Short sale properties offer the opportunity of purchasing a home for a discounted price. However, the drawback of purchasing a short sale property is the length of time before closing a deal is considerably longer than that of a traditional home purchase. Below is the process a buyer must take to complete the purchase of a short sale home.
Get Pre-Approved for a Mortgage
The purchasing a short sale property starts with the same process as purchasing any other home on the market. A buyer will need to receive pre-approval from a mortgage lender. A lender will inform the buyer of the amount they can afford to borrow, how much money will be needed as a down payment, and what the monthly mortgage costs will be.
Getting pre-approved gives both agents and sellers the impression you are serious and ready to purchase a home. If you are serious about purchasing a property, take the time to get pre-approved upfront so you know all your financing options.
Choosing an Agent to Represent You
You will need an experienced agent, preferably one who is well versed in short sale transactions, to assist you with your purchase. Check online reviews, take the advice of family and/or friends, and ensure you interview every agent who makes your short list. With possibly the largest purchase of your life about to transpire, you want to ensure you have the right agent by your side.
This is a critical step and cannot be emphasized enough! The right agent will make the short sale buying process nearly seamless. That is exactly what you want so do your homework and choose an agent who not only has your best interest at heart, but will intelligently work through the myriad of short sale issues that may crop up.
Search for a Property
This is the fun part for many buyers! Make sure your agent knows exactly what you are looking for so they can ensure you get an opportunity to review all the properties that meet your criteria.
After a buyer has identified a short sale home they want to purchase, they will need to discuss with their real estate agent and work out the amount the seller owes on the property, the amount of loans the seller has, and whether the seller has been approved for short sale of the property by their lender.
Make an Offer on the Property
The process of making an offer on a short sale home is the same as making an offer on any other property on the market. However, a buyer must be patient as the process of getting an offer accepted can take considerably longer.
Discuss the property with your real estate agent and make an offer that is a fair market price when compared to similar properties recently sold in the area. Making a realistic offer will give you the best opportunity to get that offer accepted and on your way towards home ownership.
Securing a Rate with Your Lender
The short sale seller's lender can often insist that a buyer make an application for a mortgage with them to ensure that they are eligible to obtain a loan. However, they cannot insist that you use them for your loan.
Securing a fixed rate can be difficult as most rate locks last up to two months, but the seller's lender can take several months to approve an offer on a short sale home. Because of this, buyers cannot lock in a rate immediately. Buyers should discuss the rate outlook with their mortgage provider and how it might affect their final terms and costs involved when the deal is completed.
Progressing the Sale
While a buyer is waiting to lock a rate with a provider, they will need to progress the mortgage process for completing the purchase of the property. Appraisal and inspection reports of the property will need to be sent to the lender at their request. By taking these steps a buyer is ready for when the seller's lender finally approves the offer and the sale of the home. At this stage the loan will be almost complete and the buyer will be able to conclude the purchase of the property quickly.
Short sales usually take more time to finalize, so it is a good idea for the buyer to have everything ready on their side of the transaction. Real estate agents and lenders are well experienced with short sales, they can offer assistance and help buyers understand the steps they need to take to purchase a short sale property.
When you have just lost your home to a short sale, the first thing on your mind is probably getting a new one, at least within the next few years. But few people are aware of the rules surrounding post-short sale mortgage and credit. Wait times, down payments, and rates of approval are all affected by your short sale, and more importantly, by your Short Sale credit score. Read on for some basic facts on getting a mortgage after a short sale.
Does a Short Sale Affect Your Credit Score?
Absolutely! You can expect a 70-200 point drop in your score which can still hinder your ability to get a mortgage even if you meet the guidelines for the loan types above. Just because you qualify does not mean you will comfortable with the loan terms or interest rate.
If your credit score is above 680, you have the best opportunity to get an optimal rate, even if your short sale is still on file. Get a current credit report to know where you stand before attempting any credit purchases.
Besides a good credit score, you also need a steady payment history and a good credit ratio to get reasonable mortgage rates. The short sale will stay on your credit report for a while, so it is important to make up for it with positive marks. Pay off any debts you still owe to lower your debt-to-income ratio. Annually, ensure you get credit reports from all three credit bureaus and fix any errors if necessary.
Short Sale Parting Tips
Everyone involved in a short sale plays a key role and can affect whether the pre-foreclosure is approved in 45 days or 6 months. Make sure you stay on top of all the details and have qualified short sale specialists involved in the process. While a short sale is a devastating event, the effects can be overcome with a little time and plenty of smart planning.
While not optimal, a short sale can be a solid alternative to having your home foreclosed because it is no longer affordable. As long as everyone remains optimistic and patient, there is every reason to believe the sale will get processed.
As always, work with a mortgage expert to find out how to get a mortgage after a short sale!
Additional Short Sale Tips and Advice
The information in this guide on how to get a mortgage after a short sale has been updated to reflect 2016 guidelines.
How To Get A Mortgage After A Short Sale Transaction