How to Make Sure You are Hiring the Right Contractors
It does not matter whether you plan on selling your property and you wish to make repairs in the hope of setting a higher price or if you just bought a property that needs some obvious work done. Unless you are adept at making professional quality repairs yourself, you will need to hire the right contractor to handle the work for you.
Just like with hiring anyone, you need to make sure you have made the right choice, and that you can count on your contractors to get the job done just the way you wanted and for the agreed-upon price.
But, how do you make sure you are hiring the right people? Where and how to find them?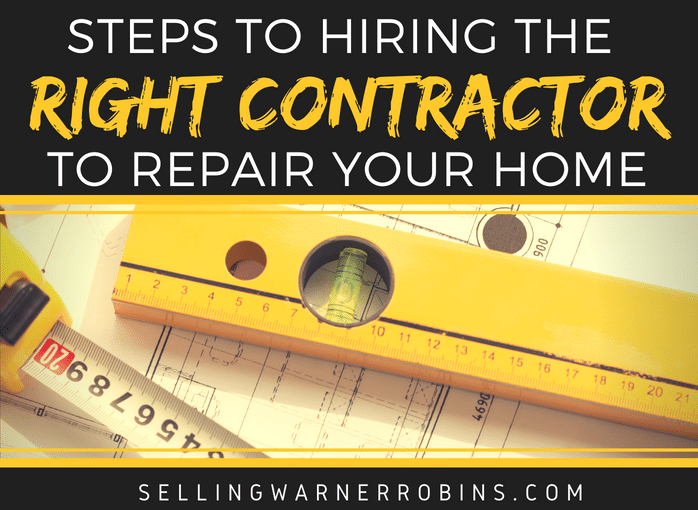 ---
Ask Your Realtor® if You are Hiring the Right Contractor
One of the simplest and most comfortable ways to find the right contractor is to ask your Realtor®, i.e. the person who helped you purchase the property or who is helping you sell it. Most agents will have a list of professionals they work with and who they can recommend to their clients.
This is a great way to find the ideal contractor for your needs because your agent should have a good idea who is reputable and who you should avoid. Because their own reputations are at stake, you can bet if your local real estate agent refers someone to you, the contractor is worth considering. As always, trust but verify the source.
Check With Your Network
Sometimes the best approach is to ask your family and friends who they would recommend. In many instances, you will find they have had work done on their own homes and are more than willing to give a nod or thumbs down depending on the service they received. Perhaps work colleagues or associates from church, community groups, or associations will be willing to share who they use. You only know if you ask.
Unless you absolute trust in those who have provided you names, it is always smart to do some fact checking to make sure the contractor can do what they say, when they say they will do it, for the price they quote. This holds true whether they are doing minor repairs, major upgrades, or even replacing your roof.
Search Online For Contractors

In this modern era, there are plenty of ways of finding contractors in your local area online. There are quite a few websites where you can find just the type of contractor you need. For instance, Angie's List, Houzz, HomeAdvisor, Thumbtack, and Yelp are definitely among the better nation-wide websites for finding contractors. Depending on the area of the country you live in, you can also easily find local directories or government community sites that sometimes have contractor lists.
In addition to this, the web allows you to check out local forums and boards where people will share their experiences with various contractors from the area. You can also check out individual contractors' websites to see if you can find out more about them there, the services they provide, and their fees.
Check the Legal Stuff
By now, you will probably have narrowed down your search to a few companies and this is when you need to get serious. The first thing to check are their licenses and bonds (if applicable). This will depend from state to state, but most of them will need to have surety bonds in order, as well as formally registering their companies with the local government.
You might also want to check their status with the Small Business Association. If you really want to be thorough, you can also check their Better Business Bureau profile and find out if someone complained about them as well as their posted rating.
The good news is that really good contractors will be more than happy to share all this legal information with you because they will have nothing to hide. If they start dodging questions it could very well be a red flag and you might want to start looking elsewhere.
Tips To Consider (and Ask About)
When considering individual contractors it is smart to find out if they have experience with projects like the one you want accomplished. If possible, you want to find out how they would approach the work at hand, how long it would take, most importantly, how much this is going to cost you. Also, if they are uneasy about putting everything down on paper, you should definitely consider moving on! Without a watertight contract in place, do nothing.
During your "interview", you will also want to determine if you believe you will get along with them. It is always possible you simply will not "click", and if this is the case, you might want to check out other contractors.
Another good idea might be to visit them at work, i.e. at another client's home. This way you can see how they treat someone else's property, what their employees are like and so on. While this may not be necessary for small jobs, if you are spending thousands of dollars for repairs or upgrades, it is well worth considering.
Of course, you will want to go through all of this with at least 3 different contractors before you seal the deal with one of them. The more prep work you do, the better chance you have of the experience being a good one. Most importantly, the better your odds are the work will be professional and on-time too.
What To Do After You Hire A Contractor
You have done your homework and have hired what you believe is the right contractor to perform the tasks you hired them to perform. The hard work is over, right? Not necessarily. There are still plenty of things you need to take into consideration such as:

Determine a payment schedule – You certainly do not want to pay for the entire job before the work has been accomplished but many contractors require a percentage of the job total before work begins. Paying 10-15% upfront with the rest of the payments scheduled throughout the process will give you some peace of mind and hopefully keep the contractor motivated to stay on-track.
Ensure everything agreed to is in writing – It sure sounds simple enough but it is surprising how many do not create a contract detailing the work activities. Without having the details in writing it is your word against theirs if things go sour and you end up in court.
Ensure permits are applied for and received – The last thing you want is for your homeowners association or local inspector to shut things down because the proper permits were not obtained before work began. Again, trust but verify.
Use a work performed checklist – This will help keep the contractor on track and allow you to verify progress through completion of the project.
Stay involved and informed – You want to give the contractor enough space to accomplish the work without feeling micro managed but it is important to know what is going on, what the upcoming steps are, and any roadblocks that will need to be addressed.
Closing Contractor Information
Only when you are 100% sure about a contractor should you hire them to do work on your property. If there are still doubts in your mind, make sure to work them out before you hire and pay someone. Even the smallest of doubts can grow into the largest of problems down the line.
The end goals should always be to stay on budget, on time, with the work performed exactly as you requested. If those 3 things are evident when the project ends, the result will be a positive experience that you can be proud of.
If the home contractor has done a great job make sure to let others know. They rely on referrals and should be rewarded for a job well done!
Additional Contractor Resources
This article on 87 things to ask a contractor should give you food for thought when looking to hire the right contractor.
If you found this article on "How To Hire The Right Contractor To Repair Your Home" helpful, please consider socially sharing it so other consumers can also benefit from the information.  😉
Tips to Ensure You Hire The Right Contractor