Key Tips to Make Your Property More Appealing

Wanting to sell your home for a good price and in a reasonable time frame are standard goals for the majority of sellers. However, when you are dealing with a tough real estate market and struggling to break even on a property, you need to do everything you can to make your home stand out. You need to woo a buyer, and to do that, you need to make your property more appealing to buyers than other homes in the market. Most real estate agents understand that a first impression can make or break getting a property sold for the most money in the least amount of time.
The appearance of your home is one of the most important aspects in home sales. The following ideas are the best ways for you to make your home attractive to as many buyers as you can. Not all may apply to you, but implement the ones that do to give yourself that extra edge in a competitive real estate market.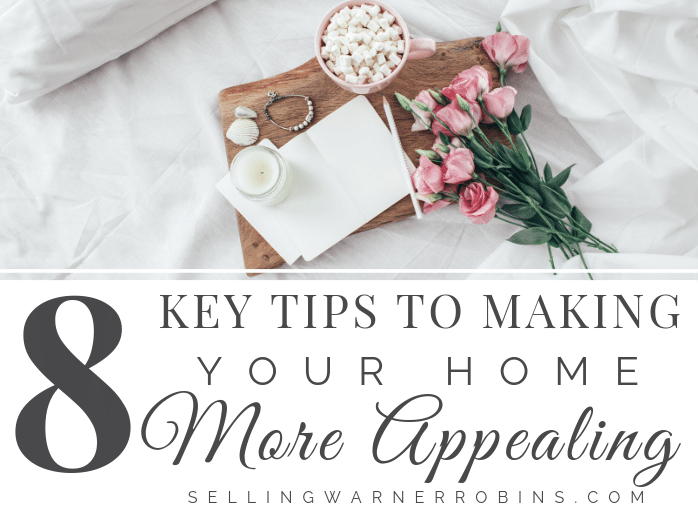 Address Home Defects
As the owner of your home and castle nobody knows the property better than you do. More than likely you have noticed some of the minor defects that your property may have accumulated over the last few years. Before your home hits the market it will be extremely important to address these things. Buyers love those who show pride of ownership. When things look great buyers do not go out of their way to look for issues. This will not be the case if your home has defects that are readily apparent. The other thing to remember is the buyer will be doing a home inspection once they have secured the property. Many sellers do not realize this will be one of the biggest hurdles to clear in the transaction. This makes it extremely important to have an understanding of how to prepare for a home inspection. The number one reason a home sale falls apart is due to things discovered at a home inspection. If you are unsure of the overall condition of your home it may not be a bad idea to get a pre-inspection done. Spending a few hundred bucks can be a great investment in keeping your sale on track.
Emphasize Storage Space
Everyone wants storage space when they buy a home. While you may have numerous closets and other storage areas, you need to make sure that buyers see how much space is available to them. This means cleaning out your closets, your storage shed and your garage. You don't have to completely empty them, but do remove at least half of what is in there and organize the rest to give an idea of the potential of each space. If your home is extremely cluttered you make want to consider either a storage POD or a temporary storage facility. A POD can be very convenient when you need immediate access to your things and don't have the time or inclination to drive elsewhere to access your things. For those that have larger items and really need more room storage facility would make more sense. You can see some excellent advice on how to pick a storage facility. Use these tips to pick the right storage environment for your needs and budget.
Hide The Pets
Pets are fantastic for companionship and enjoyment, but they do not help you sell a house. Having your golden retriever jump up on a buyer in greeting or having cat fur wafting about the house and sticking to clothing will not present an attractive image. It makes your home look dirty, and no one wants to spend good money on a dirty home. Have your house professionally cleaned, and take the pets to a friend's place when showing the home.
This is true of your backyard as well – clean up any messes and re-sod if your dog has worn a muddy path along the fence. Patch any holes in the yard your pet may have created. Understanding how to move with pets is an important consideration when you are trying to get the maximum return out of your home while also making the process as stress free as possible.
Brighten Things Up
Buyers today want a bright, well lit and cheerful home. This means you need to maximize the amount of light coming into your house, and you need to enhance that light once it enters your home. This can be done in several ways that do not have to cost a lot of money.
Make sure all of your windows are clean, and consider removing the screens to make things look clearer. Cut back any overgrown bushes in front of windows to allow the most light in, and invest in some sheer drapes or do away with the drapes altogether. If your wall colors are excessively dim, you may want to throw on a fresh coat of light colored paint.
All of these things can be done pretty easily, and will make your home look inviting instead of intimidating. In real estate light neutral colors sell well – unusual exotic colors do not!
Make It Look Less Lived In

Buyers go into a purchase wanting to start over. They have visions in their heads of a clean slate, a new life and the home of their dreams. You want your home to fit into this ideal, but to really be effective at this, you have to remove some of yourself from the property.
You may love your worn in old couch, the mural you painted on the wall when you first took up painting or the hundreds of collectibles you've accumulated on your shelves. Unfortunately, these same things that make your home very much "you" may turn off potential buyers. It may be too much to say make your home generic, but you do want to make space for the dreams of the buyer. Don't make your home look "sterile" but make sure your home has a clean enough slate that a buyer can picture their own possessions in your home. Keep in mind that a significant amount of buyers lack vision and cannot see past your decor.
A Realtor can help you determine what to keep out, and what to store before you put your house up. Some things may be generally appealing, while others won't. A savvy real estate agent will know which is which. You can also take a look at some excellent staging tips that will enhance the sale-ability of your home. Many of these tips do not cost a lot of money.
Best Foot Forward – Always
You want your house to be as immaculate as possible the entire time you are making it available for showings. If this sounds difficult, that's because it is. Living your everyday life in a house prepped to show can be tedious, which is why it pays to sell quickly. Your home needs to be clean, and ready to show on a moment's notice.
Bring in a professional house cleaner to prepare your house for showing, and consider having cleaners come in regularly to keep the look up while your home is on the market. One mess can be enough to turn off a potential buyer, and miss out on the sale you need.
Price Competitively
This is one of the most difficult concepts for many sellers to embrace, because it seems counter intuitive. Why would you want to risk selling your home for less than you need? In reality, putting your house up for a price that is lower than competitors will very often set off a bidding war, eventually resulting in a price you are happy with. If your home is priced improperly, there is nothing to spark interest. You will in fact shoot yourself in the foot and more than likely sell your home for less than you would have if priced correctly coming out of the gate.
Seek Knowledgeable Help
Find a real estate agent you trust, and apply his or her advice as well as you can. Each home is different, and your strategy must be based on the realities of your individual market. A good agent will know this, and will be able to guide you through the process with a steady hand. There is nothing better than having a top notch real estate agent in your corner. Just like any other profession there are the creme of the crop and those who are considered average. You don't want average when trying to get the most money possible for your home!
Final Real Estate Thoughts
Use all of the tips above to make your home more appealing before selling. By following smart advice you will dramatically increase not only your odds of success but the stress level of having your home on the market for an extended period of time. Best of luck with your sale!
If you found this post helpful on how to make your property more appealing, please consider sharing it via social media so others can also benefit from the information. ~ Anita ~
Property Guide for a More Appealing Home