How to Negotiate After a Home Inspection
Finding a qualified home inspector who will thoroughly examine your property prior to closing on the home is key to securing your investment. That is one of the reasons home inspections are standard procedure in real estate transactions. So what happens if an inspector finds major budget-altering defects in your future home? Do you know how to negotiate after a home inspection has been performed?
Negotiating repairs or price reductions with sellers can be tricky, especially in competitive markets where sellers may have multiple offers to work with and you are desperate to close before they have the opportunity to re-list. Even so, you should not purchase property without ensuring your home is in proper condition before move-in. If you feel you are working from a position of desperation, it may be best to step back and re-evaluate so you do not make the wrong decision about the negotiations or the home in general.
Unless the home was listed with disclosures or you were told beforehand that potential defects could be revealed post-inspection due to a prior incident, the sellers listed the home for a set price without damages considered. This means they should either take care of the damages before the property sale is finalized or deduct the estimated cost of repairs from the purchase price of the home in some form or another. Some sellers will work with you, while others will stand firm, so know exactly what you are comfortable with before you agree to anything.
Below are several tips on how to negotiate after a home inspection and put yourself in the best possible position to get a great deal.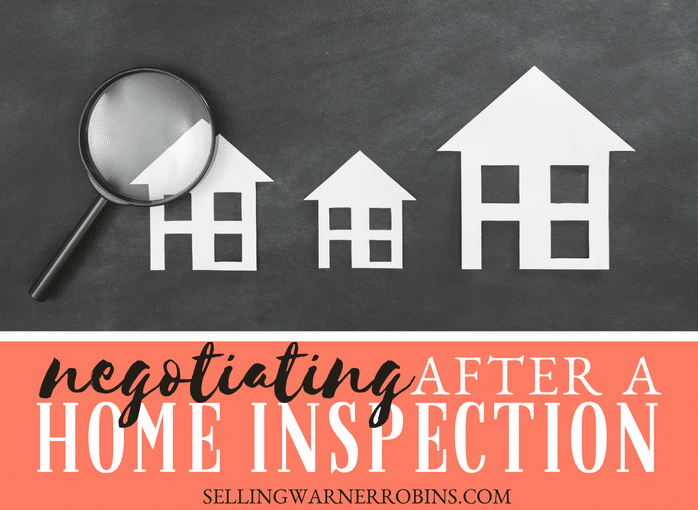 ---
Keep your Renovation Intentions Quiet
Throughout the home search process, it is an important rule of thumb to keep your upgrade intentions to yourself. If the seller catches wind of your plans to completely re-do the kitchen or basement, for example, he or she might be less likely to offer you a credit to repair the dated, scratched and squeaky kitchen cabinets.
Be sure to stay silent when speaking about your future home plans around the listing agent, especially if they accompany you on the home inspection. If they hear you talk with your agent about how you do not mind replacing certain aspects of the home, such as stained carpets from past flood damage or peeling paint, they will repeat it to their clients to better the bargaining price.
Review the Inspection with Your Agent
Not only should you ask to walk through the inspection yourself, ask to bring your agent along (it is very important for buyers to have their own representation!). Seeing an inspection first-hand allows you to get a feel for your future home and map out items like the water heater and electrical panel locations for future reference.
It also provides an opportunity to review damages personally so when it comes time to request a credit from the sellers, you will be equipped with the proper understanding and validity to do so. Bringing your agent adds another source who can attest to the inspection results.
A state-licensed inspector will take notes and provide you with a detailed report along with feedback on future maintenance for the home, but it does not hurt to jot down your own thoughts throughout the process. As long as it is safe, try to go wherever the inspector goes during the inspection. That may mean visiting the basement, the crawlspace, or even the rooftop depending on your comfort level and ability. Being side-by-side with the inspector allows him or her to point things out to you in real-time, rather than attempting to provide lengthy explanations after the fact.
Although not all-inclusive, here are some of the common things an inspector will check and may find problems with:
Foundation or structural issues
Outdated electrical systems
Plumbing concerns
Heating and/or air conditioning
Roofing problems
Insulation issues
Doors / windows
Walls
Drainage and water problems
Inspectors are not experts in these areas but they may also mention concerns relating to pest control, appliances, and landscaping or tree problems. If sellers have maintained their home in decent shape, often inspectors will only find minor or cosmetic things that may or may not require attention.
Ask for a Credit First
When sellers are at the stage of undergoing home inspections with potential buyers, they typically do not prefer to begin new home repairs. If the property is ready to close, or moving in that direction, the sellers might relocate or have an offer in on a new home. If they are moving out of state, they have some serious, stress-inducing weeks ahead of them, so issuing a repair credit is often easier than renovating the home directly.
For you as the buyer, a credit is more beneficial for a few reasons. If you can live with the issue, as long as the property is safe, you can use the credit for something else more pressing in the meantime. For example, if the pool needs to be fixed and you are due to close in the middle of January, it might be better to pay down your credit card bill instead, assuming you were supplied a check for the problem. Regardless of when/if you decide to renovate, first-hand fixes give you options to personalize your home, especially with aesthetic upgrades.
Consider Closing Costs
The sellers may also offer to cover closing costs on your behalf during the negotiations, which may be exactly what you want/need, just confirm you are not getting shortchanged. It is a good idea to make sure the closing costs are either equal to or more expensive than the estimated repairs or upgrades needed.
You may also find the seller more receptive to this option over others simply because they are dealing with their own moving stress and this can be a quick and easy way to resolve any outstanding negotiation issues. If you want closing costs paid on your behalf, by all means negotiate for this solution so all parties can move forward with the home purchase.

Pushing for Repairs
There is absolutely nothing wrong with asking for repairs, in fact this is exactly what many buyers seek. Some do not have the skills to perform the repairs themselves or have the mindset they want the home as near perfect as possible when they move in. At some point the issue will need to be resolved so asking for it before closing is a good way to ensure the issue is resolved so you can concentrate on other concerns.
If repairs have been negotiated, make sure those performing the fixes are qualified to do so, especially for any major repair efforts that need to be completed! While each situation is different, it is typically a good idea to ensure all repairs are completed to your satisfaction before closing on the home.
Negotiation Parting Tips
Keep in mind that not all homes reveal internal issues. Buyers today should not assume they can find fault in properties to get a better bargain during the house hunt. As a top Bonaire GA real estate agent, I make sure all my clients understand exactly what they are and are not getting when they put in an offer, negotiate the terms, and make it through closing. The goal is always to get a well maintained and reasonably updated home unless you are looking to rehab a property.
Today's sellers often go through lengthy processes to put their homes in good order before they even list for sale, including internal repairs like water heater leaks and roof replacements. Listing agents typically advise that sellers guarantee homes are in tip-top shape so they receive the best value at closing and aren't required to negotiate after inspections.
Buyers who go beyond their budgets, assuming inspections will reveal internal complications and lower the final sale price, do themselves a serious disservice in today's market. Unless there are obvious signs of wear and tear, buyers agents usually advise clients assume inspections come out clean, or credits, if any, will make a minimal difference on the final sale.
More Helpful Home Inspection Resources:
American Society of Home Inspectors via ASHI
As always, if you found the information in this how to negotiate after a home inspection article helpful, please consider socially sharing it so more consumers can benefit.
Real Estate Home Inspection Negotiations