Chic Living Room Decorating Tips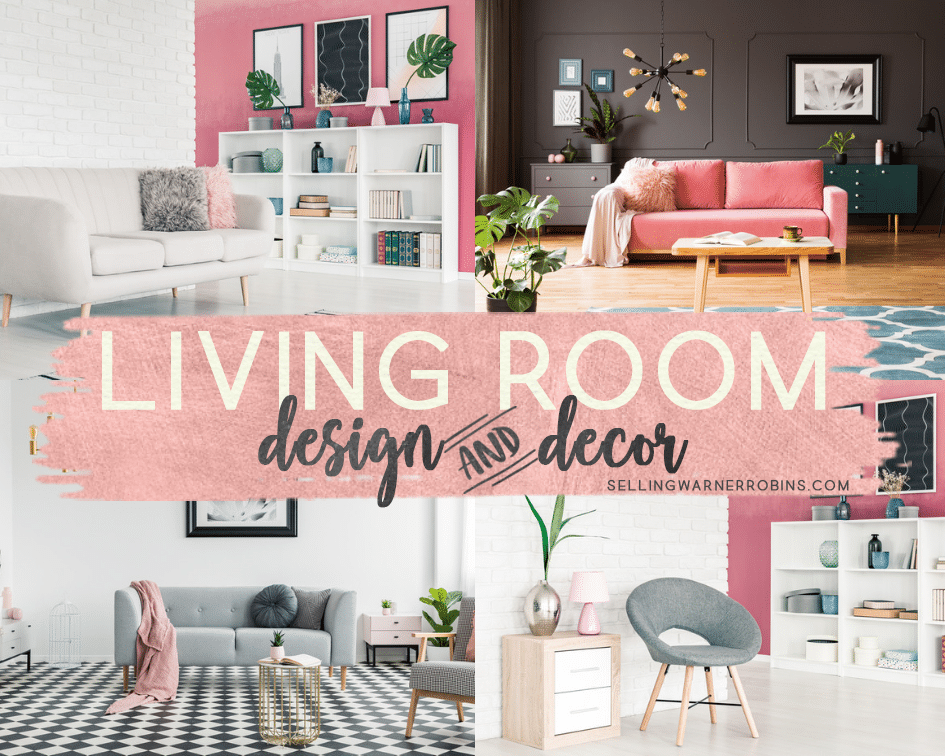 Living rooms are quite often referred to as a pivotal point of the entire house. The place where the family sits together, where we meet and greet the guests, where we simply rest and enjoy. And it is no wonder that we want to make it feel warm and inviting while doing our utmost to keep it absolutely immaculate and perfect. Some have the flair to make their space look amazing, but for the rest of us, inspiration comes via living room decorating tips we accumulate, collect, or see friends or family doing.
There are numerous ways to decorate your living room, based on your preference, available funds, etc. It is only up to you to decide what kind of style and décor suits you, and which perfectly blends with your taste and the general outlook of your house. If you have doubts, here are several fantastic living room decorating tips on how to nicely, and without too much effort, decorate your living room.
Black and White Mosaic Room
Even if there are not many people who opt for this option, usually due to maintenance, white and black décor is certainly an all-time classic. You can either place some simple but sophisticated ornaments in plain white, like marble sculptures or just add zebra patterned cushions or painting. If you like clean white walls, you can place black shelves and still get that classical effect.
A Touch of Brass
Do not think this is too old-fashioned, brass tends to be an everlasting material, perfectly suitable in any room. Why not have a chic touch of luxury in your living room by placing one or two brass ornaments. You can mount on the wall antique brass swing arm scones, or place your plants in brass plant-holders.
A couple of popular brass décor elements are having a brass owl or doe figurine. Others prefer an hourglass or something that fits their personality. These small details can utterly transform the outlook of your living room and have your guests left speechless as they take in the well blended accents that set off your theme.
Cube Up
Nowadays, you can find a range of furniture items to fit any budget or lifestyle. One of the most modern trends is to go with a minimalist trend, where you scale down to a few lux essentials in your room. If your desires fall into that category, you can order a custom gray or white cubical cocktail table. Actually, anything that is shaped in a cube will definitely do the trick.
For instance, mix comfortable furniture with a state-of-the-art wall lighting system that uses cubes to project triangular lights on the walls. Another idea is to place a cubical shelf and to insert different colored storage units. Just remember that subtle often has a more pretentious effect than over the top decorating.
The Industrial Look
There is nothing more chic then bringing back past decades into your newly designed living room. If you have plain colored walls, or blush pink or beige, or even better, if you have a traditional brick wall, then inserting industrial elements can create a magical setting.
Replace older wooden windows with metal ones, or get creative and color them in dark colors. Bring in more metal elements into your furniture, add a vintage carpet, and replace the curtains with some carbon shutters. The results can help establish an inviting space you will be proud of.

Hollywood Glam
Something that is never going to get out of fashion is the sparkle and glow of the movie world. You can easily implement that chic look into your living room by altering your furniture. It is all about the mix and match of vintage fabrics and materials with a dash of personality to show off your spunky side.
Hang posters from famous Hollywood blockbusters, add some funky floor cushions to balance the ambience and place a quality mat instead of the carpet like the ones Mat Shop has to offer in order to add some comfort for your feet. What is more, you can hang some statement art on the walls to spruce up the room. It is your space, so put on your directors hat and build something worthy of an Oscar.
Down to Basics
If you are keen on something more juicy yet traditional, you can stick with basic furniture, just upscale the quality.
Change the fabrics, replace the suede sofa with leather one, replace the cotton curtains with posh silk ones, and so on. Keep the basic style that you prefer but add chic details.
You can play with colors. If the color gray dominates in your living room, then add a multicolored rug, purple or bright yellow vase.
By placing light blue tabouret stools and covering them with luscious white faux fur, you would certainly turn the most timid of spaces into one that is alive and robust.
Pastel Paradise
It can be hard to make a right balance with warm and pastel colors. Decorating the living room with soft and cozy pastel colors opens up the room and creates that warm and welcoming feeling.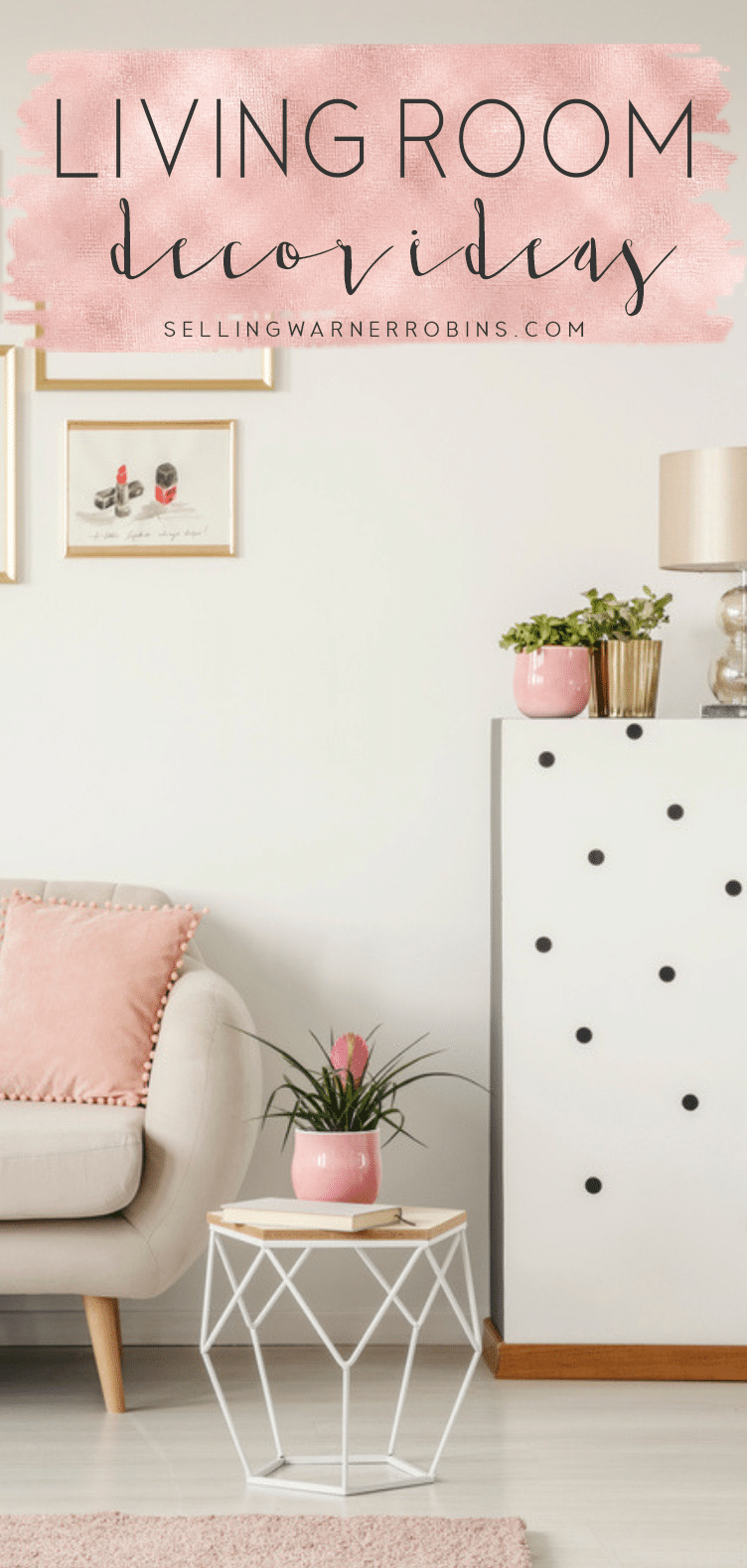 However, it can be challenging to match pastel colors with a living room space. There can be a sense of "too much" if everything around is too bright and simple.
However, you do not need to overdo things in order to get a chic living space. Get sofa covers in pinkish pastel colors to place over the furniture, and contrast that with a lighter color on your walls. If you have a white bookshelf, you can place earthy colored objects to balance off the pastel colors around the room.
Sleek Stone Wall
A new modern trend that has been booming even more over the past few years is making a one-of-a-kind stone wall. You can restore the old and vintage wall if you have a house from the previous century. However, the point lies in designing your own unique chic wall.
Whether you use recycled stone, fieldstone, natural stone, or you mix and match the pebbles and play with colors and sizes, it will look magnificent in the living room. Pick one side of the living room to make it, select rich color variations to match the décor around the room and hire professionals to finish up the job.
You can even opt for masonry accent with the classical red Chicago brick. Later just get the furniture in a similar color to enhance the general outlook.
Yellow Delights
There is nothing more glamorous and glassy than adding bright yellow elements into the dark room. Even if you have a room where dark colors dominate, or if there are a lot of pure white colored items around the room, a fantastic tip would be to add a touch of yellow around it. Place long yellowish draperies, sunny-colored circular rug, or a silky and glistering pillow.
Small, but imperative details can send a message of having a luxury and chic room, without spending thousands and thousands of dollars for creating that look. Moreover, you can place a black glossy vase, put stunning bright yellow daffodils, and you would also get a similar effect.
Startling Light Fixtures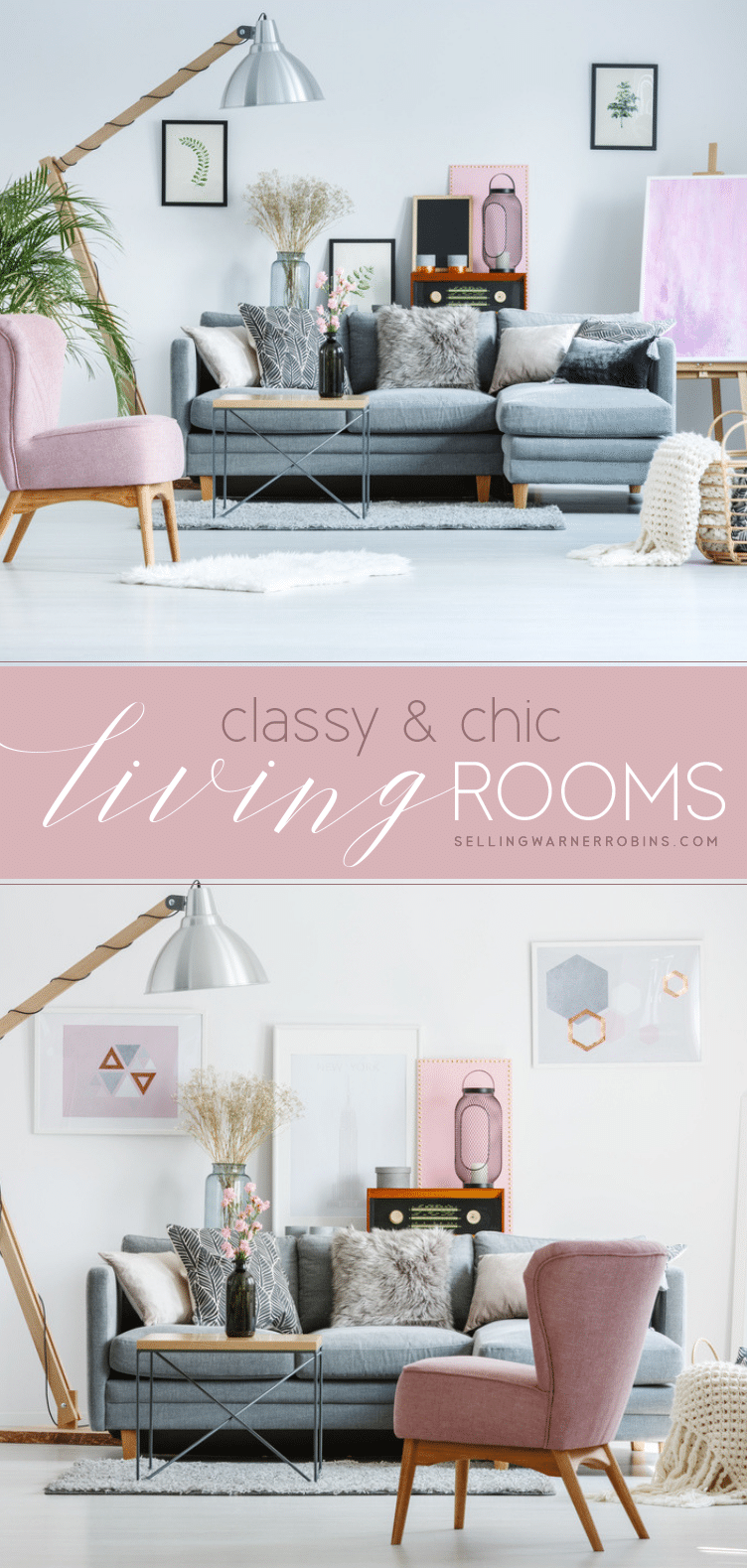 Not only the living room, but every single room needs something special and extravagant. One of the simplest ways to  easily grab everyone's attention is installing dramatic and useful light fixtures. Nowadays, many designers are breaking the laws of physics and designing fabulous and unique lamps that can even defy gravity.
Throw out the tedious old lamp, and replace it with cutting-edge designer's light fixture. You might need to spend a few extra bucks for that, but it would undoubtedly stand out from everything else in the living room. Remember, some styles look better without a shade as well so do not afraid to experiment until you find the option that works best for you.
Navy Living Room
Go rustic and keep the rough concrete walls in the living room, and then add the classy blue elements. One easy trick to master a modern and chic living room is to contrast those concrete, gray or white colored walls with majestic navy blue color. You can purchase striking blue couches, or at least one glamorous blue sofa and pair it up with a marble coffee table or with a golden vase.
Let's not forget that adding sea themed wall art can also contribute to a navy look. The royal and navy blue color screams perfection and elegance, so you can even overdo it and do the opposite. Paint the walls in navy blue, but contrast it with white couches and curtains. It is your masterpiece so you decide which rustic ideas fit best with your plans and budget.
The Formal Style
Do not be mistaken, but there will always be some untold and impressive sophistication in a formal style living room. It can bring majestic effects in many ways. Firstly, you can go all in and place large ornamental red carpet, leather cabriole or settee sofa with golden legs.
Next, if you reckon that is just too much for your taste, you can add a few formal touches. Frame the photos in a powerful vintage frame, place a theatrical chandelier, add a few statement candle holders, or simply restore the fabrics or order a custom-made bench.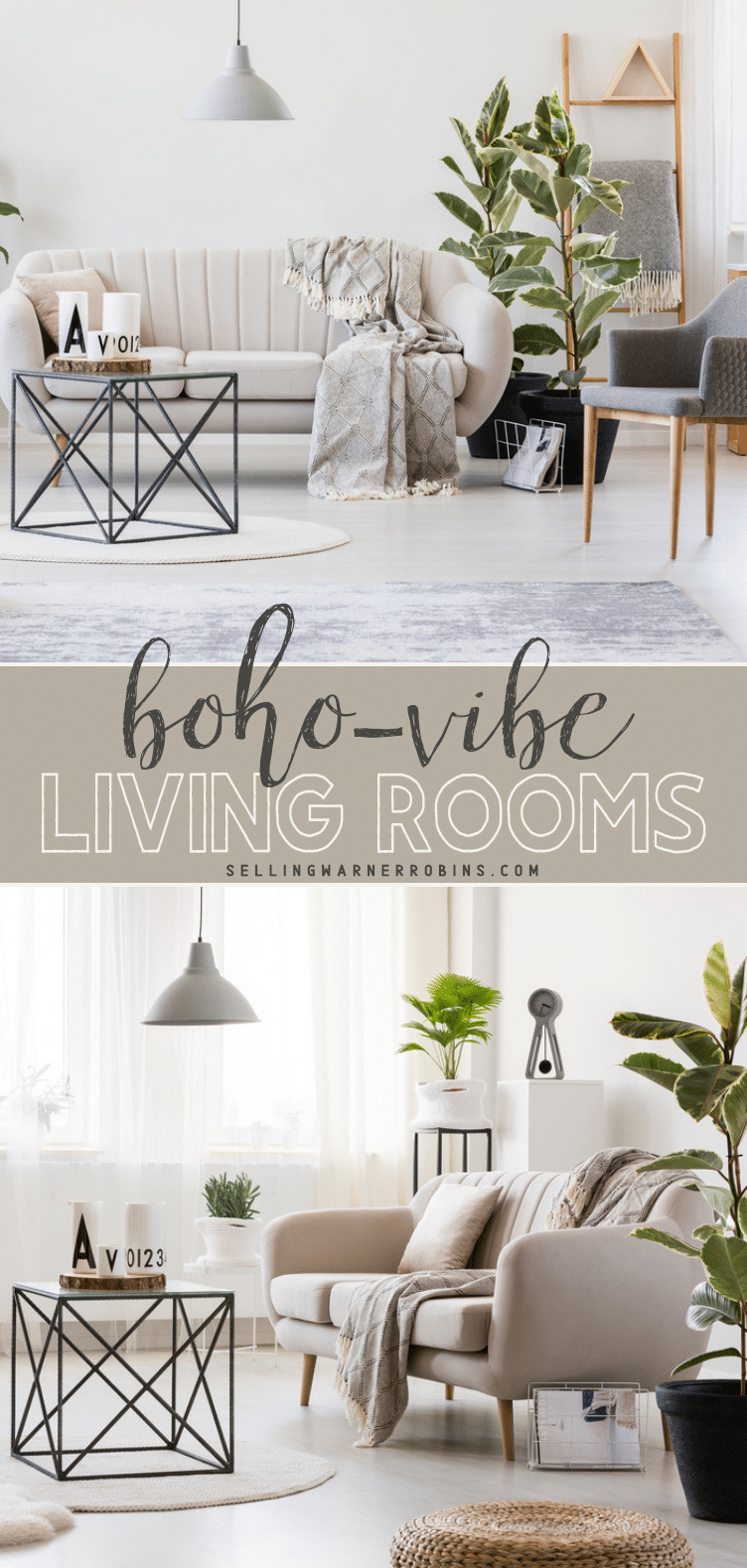 Neat and Organized
If you do not have small toddlers running around your living room, then you can scale up the chic design and get everything neat and organized. Clean and simple furnishing are actually quite fashionable and pretty. You can place a large mid-century brown modern sofa and accompany that with a unique mirror wall and sculptural floor lamp.
You can even play with shapes and coutures so as not to have a sterile feel. Place a shiny black table in the center of the room, large enough for everyone to reach a drink or a book. Furthermore, add clean-lined accessories such as a modern fireplace, chic draperies, and various-colored decorative pillows.
Boho Virtuosity
Every year, top fashion designers and creators have tried to top their own style up. However, the one-of-a-kind Boho style has remained original and untouched. Boho is all about ingenuity and originality in a free and spiritual manner. You can easily implement that marvelous look into your living area by playing with textiles.
Cover other furniture with linen textile in velvet or emerald green color. Then, hang a patterned loop carpet on the wall as a decorative ornament.
Let's not rule out the natural elements of Boho style. Add a few greeneries around the room, like a chic snake plant, Boston Fern or an orchid. And, of course, wood is a must. So, kick out the metal or iron coffee table's and replace them with wooden ones.
Strike a Pose
Another great way to spruce up your living room is to simply make it utterly genuine. To achieve that, place as many objects and details that resemble your personality as you can. Hang your own portraits or make your own artwork and make it a pivotal point in the living room. Find as many little details that define you as you can.
Strike a pose in the living area by having chic details that do not have to necessarily match the furniture. Make it fun and interesting. Fill your bookshelves with colorful books and souvenirs from your travels. Have one brown leather sofa, other bright pink, top that up with a purple rug and numerous different-sized framed pictures.
Warm Chic Flair
Invite nature in your living room. Wooden elements have never been so various. Make a modern living room with vintage chic flair by making a traditional fireplace, placing a large marble-framed mirror above it, boost that up with smooth paneled wall, glossy floors, and a large picture window.
The window will enable you to reconnect with nature even more. Adding leather sofas will complete the warm look, as well as an authentic and fabulous sunburst clock. Wooden accents can double up the look by making it totally warm and welcoming. For that reason, place a few wooden architectural elements.
Artistic Knack
It does not take much effort to utterly chic up your living room and make it extraordinary and unparalleled. Placing one or two original artistic masterpieces can significantly alter the entire ambient.
Have a chair constructed by a local carpenter, go to an interesting 1960s auction and get a vintage table, or order a rug specially designed for your from Iran. The list is endless.
You can place an eclectic purple vintage sofa, add a designer floor lamp and side tables, etc. There are endless opportunities so get crafty and let both your designer and creative juices flow.
Rustic Living Room Décor
Country-style furniture will never go out of fashion as well. Start with rustic flooring in reclaimed oak, place a long-lasting wool rug, and vintage patterned wallpaper instead of painting the walls in simple color. What is more, you can add dramatic details to spice it up.
Have a contractor make a wooden built-in modern wall unit, place various decorative elements in green or orange color on it, and add stylish light-colored cushions to add softness.
The key to a modern chic living room is comfortable seating. You can create an arrangement to match your desirable preference, provide a certain amount of intimacy, and still keep the modern flair by adding a few provocative statement details of your own unique choice.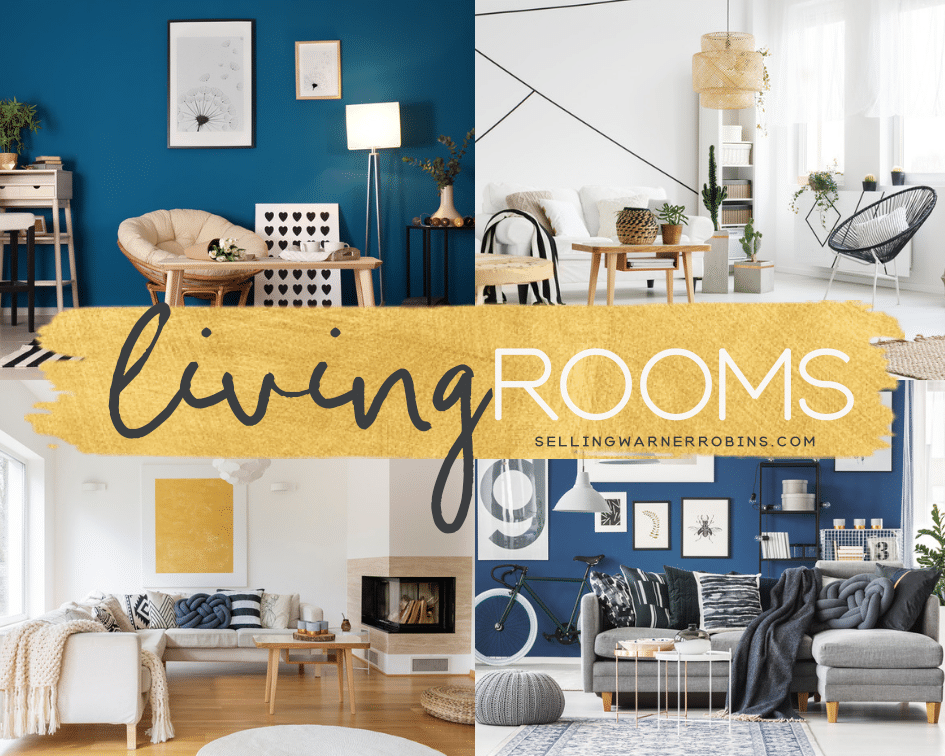 Final Thoughts
Remember, the colors, styles, accents, flair, and furniture should compliment the overall theme. How much comfort, elegance, or pizazz the space contains should reflect your favorite preferences. Most importantly, be yourself and let your natural style show through with your living room design.
Do you have a favorite living room decorating idea or style? Please share so we can all learn from your experience.
Additional Resources
50 Inspiring Living Room Ideas
108 Decorating Ideas for Your Living Room
If you found this article on living room decorating ideas helpful, please share it so other consumers can also benefit from the information provided. ~Anita~
Smart Living Room Decorating Ideas