Homeowner Staging Tips to Spruce Up the Exterior of Your Home for Resale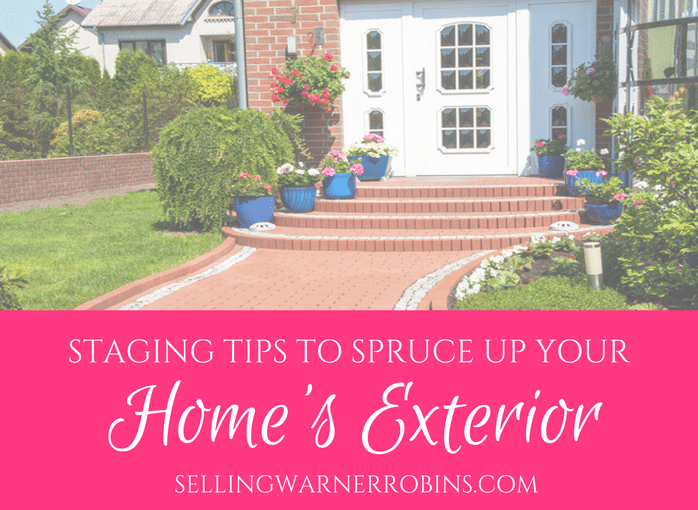 A house's exterior is like that property's home page. If potential buyers do not like what they see, there is a good chance they may just hit the gas pedal and drive on. This is why it is critically important to decorate and spruce up the outside of your home as you would do with any other room in the house. Give buyers every reason to stop and see all the home has to offer! This article on staging tips to spruce up the exterior of your home should get you going in the right direction.
Apart from keeping your front yard free of dead leaves, grass clippings, and sweeping cobwebs from the windows and walls, there are a few more things you can do to make your listed house a true eye-candy that both buyers and investors will have a hard time passing by. Here are several exterior staging tips to spruce up the exterior of your home and put it in its best light for visiting consumers.
Start With The Yard
For many homeowners this is the hardest part of preparing your house for the local real estate market, as there is often so much to do. But at the same time, cleaning up the yard can be the most rewarding phase. Everything starts from it. Only when your yard is free of clutter you can really get the image of what needs doing.
If it is not part of the yard decor, store it away. While this is not always an issue with front yards, both side and back yards can become storage grounds for gardening tools, sacks of compost, stashes of firewood, kids toys, and all sorts of containers. When in doubt, pick up everything that is movable and store it away.
Store Junk Or Give It Away
Moving stuff from one place to the next without a plan will not get you anywhere. If your garage is already full, you can build a garden shed from recycled materials that costs next to nothing, put the items in a professional storage facility, have a giant yard sale, and even donate or give away the items. The point is…less is more!
A good rule of thumb is if you have not used the item in the last year or have no desire to protect it from the elements, it may be an ideal time to make the decision on whether or not you need to retain the item(s). Making this decision not only helps your yard look its best but it ensures you do not cart the item to your next home.
Do-It-Yourself Landscaping
Inspect the bushes and trees to see if they need pruning. Trim low-hanging branches so they do not obstruct the view and overpower the ground level vegetation. If the lawn needs mowing, do it. Make sure to mark the lawn borders with strips of gravel, mulch, or decorative brick/wood if it fits with your homes style. Edge as necessary.
If it is the hot and growing season, periodically water the lawn so it looks healthy and maintained. Finish up with sweeping the walkways and pulling out any weeds that might be growing in the garden beds or along the walkway.
If you have benches, water features, or some other type of yard sculpture, ensure they are well maintained to maximize your outdoor space. If they are in disrepair, it may be time to remove them so they are not a distraction as buyers come up your walkway.
Spruce Up The Curb Appeal
Does your driveway have an edge? Installing one will prevent the lawn and dirt from invading the driveway, prevent erosion, and give your home's front view an elegant and crisp look. You can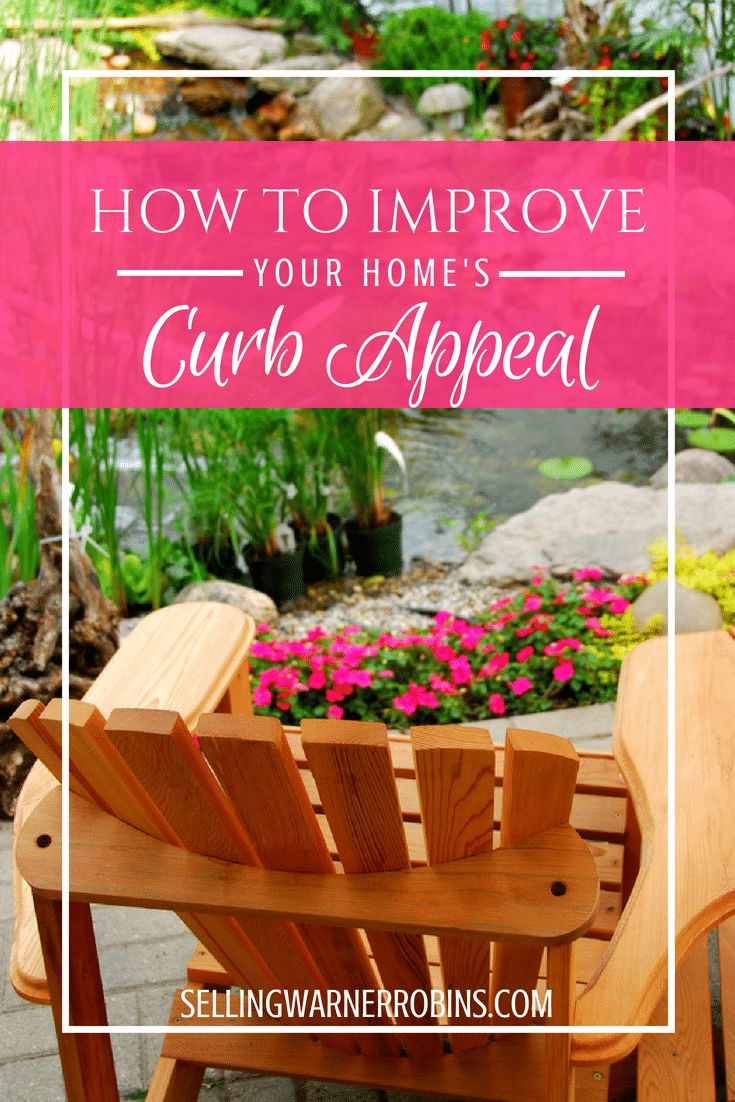 use bricks, pavers or natural stone to build a curb that can either be elevated or in-line with the asphalt. If the border is raised, a bunch of colorful flowers will help peak buyers' interest and improve your house's curb appeal.
Another detail that instantly catches the eye of anyone who drives or passes by is the mailbox. You need something solid that looks like it is sturdy as can be and not going anywhere. Online retailers offer a wide range of letterboxes, so you should find one that suits your house's style. Ensure the mailbox is clean, well maintained, and tasteful.
Paint It
In addition to improving your home's curb appeal, a fresh coat of paint protects the house from the elements and increases the likelihood that consumers will find the outside of your home appealing. It is important to plan for a new coat as soon as you notice the old paint cracking, blistering or peeling. You have two paint types at your disposal, water-based or oil-based paint. Each type has its own set of benefits and downsides.
Water-based paints (often referred to as acrylic or latex) are odorless, dry quickly, and the tools can be cleaned up with water and soap. If you are applying acrylic paint on the top of old oil-based alkyd paint, make sure you apply an adhesive primer first.
Oil-based paints (some call it enamel), on the other hand, are typically cleaned up with mineral paint thinner. They have a strong odor and dry very slowly. Still, they are preferred by professionals because they are very stain-resistant, durable, and dry with few brush marks.
Whichever paint type you decide to use, going with a neutral color is the smart approach. While you may love the color purple, prospective buyers may not be so keen on something so bold. When in doubt, appeal to the masses and let your home's curb appeal pop, to put you in position to sell your home quickly.
Upscale The Front Door
Surprisingly, the front door is one of the items that can be a deal breaker or a deal maker. It can either attract the buyer or turn them completely off. There are two primary options when it comes to front doors. You can either buy a new one or refinish or coat the existing door with a new layer of paint.
Buy a new door – What you are looking for is a timeless front door design, especially if the existing one is in bad shape and beyond repair. When choosing a new door, look for one that resonates with the house style and color scheme. Solid wood doors are emerging again as a growing trend among architects. If treated properly, solid wood is age resistant and will last for many years, increasing your home value.
Paint an existing one – Remove it from the hinges and after laying it flat scrub the old paint using fine-grit sandpaper. Foam rollers work great on wood surfaces as they minimize the brush marks. Still, you will need a smaller brush for the detailed work. Go with a color scheme or finish that makes your door stand out in a regal, not gaudy way.
Polish The Hardware
The devil is in the details, and sometimes inconspicuous and seemingly unimportant things can improve the curb appeal. Maybe your outdated front door lock and handle need to be polished to get back their old spark and charm. If that does not work, consider changing them out for something more elegant and functional. Simple changes can make a world of difference so the quicker you can get your home ready to sell, the better!
The same goes for rusty or smudged light fixtures. Clean and get them looking their best as you can bet a prospective buyer will notice them as they walk up to your property. If your home has visible house numbers, ensure the numbers sparkle as well.
Outdoor Lighting
Outdoor or landscape lighting makes your home beautiful from dusk to dawn, improving the curb appeal and giving your property an inviting look and feel. A well-lit home enshrouded in greenery is a welcoming sight to anyone visiting after dark. More importantly, outdoor lighting will make your home stand out in a row of dimly-lit and curtained neighboring houses. A side benefit is it will perform as a great deterrent for burglars.
Power Wash for Perfection
While they are not typically showstopper items for buyers, stains on the concrete, steps, decks, siding, and all outdoor accessories (umbrellas, chairs, etc.) should be power washed to eliminate grit and grime. While most consumers might be able to look past some oil stains on the driveway, a few will not, and they could be the serious buyers.
When in doubt, power wash everything that is dirty or stained, to ensure buyers are not distracted by unsightly stains. It is a simple project that can easily be accomplished in a day by a novice power washer.
The Little Things
Once the larger projects are complete it is time to touch-up wherever needed and ensure the little things are completed. Some of those tasks include ensuring all light bulbs work, a fresh welcome mat is at the door, the windows are cleaned, and dead flowers/planters are removed. You only get one opportunity to make a great first impression so make sure you do just that!
When a buyer is presented with a well-maintained and decorated home exterior, they are excited about the prospect of what the rest of the home looks like. With a little planning and a bit of work, your home will look warm and inviting for all potential buyers who stop by. Stage the exterior of your home to sell and you will be surprised with the results.
If the same care is taken on the inside of the home that is shown on the outside, you could be on your way to a great offer and quick sale…which is ultimately what every seller wants!
Additional Exterior Home Staging Tips
6 Home Improvements Worth Making via Ryan Fitzgerald
Tips to Properly Stage Your Home from Kevin Ramirez
Great Curb Appeal Takes Work by Karen Highland
If you found this article detailing staging tips to spruce up the exterior of your home helpful, please consider sharing it via social media outlets so others can benefit from the information as well.
Quality Staging Tips to Spruce Up the Exterior of Your Home