Key Virtual Staging Tips for All Real Estate Markets
When you are selling a house, your primary goal is to get it sold as quickly as you can for the maximum price. That is no surprise to you. The tricky part is creating a strategy that will make that goal a reality. With today's real estate markets shifting rapidly, a recent study showed 35% of homes get a bid before the buyer even steps foot into the property. So what can you do to get an edge over the competition? With these virtual staging tips, you have an opportunity to take advantage of technology to provide potential buyers the best possible view of your home.
Strategies that were successful a few years ago, such as weekend open houses, may not work in today's market. Instead, many homeowners are being more progressive in their home selling approach. For instance, these virtual staging tips provide yet another way for homeowners to give potential buyers a glimpse of what the property could look like.
Home staging is one of the most popular ways to show a property to its best advantage, and statistics show that staging your home can help sell a house faster and often for a higher selling price than comparable vacant properties. It was barely heard of a few years ago, and now it is becoming a "must-do" technique to sell a house.
However, physical staging is not right for every property whether it is due to cost, location, or the rapid turnaround of homes. This is where you can use technology to give your properties the boost they need through virtual staging.
Virtual staging is a fast-growing technology that selling agents and homeowners are relying on to catch the eye of prospective buyers. But what is it exactly, and is it right for you and your clients?
Read on for a full run-down on virtual staging tips for every real estate market and how it can help you reach your goal of selling your properties fast and getting the highest price possible.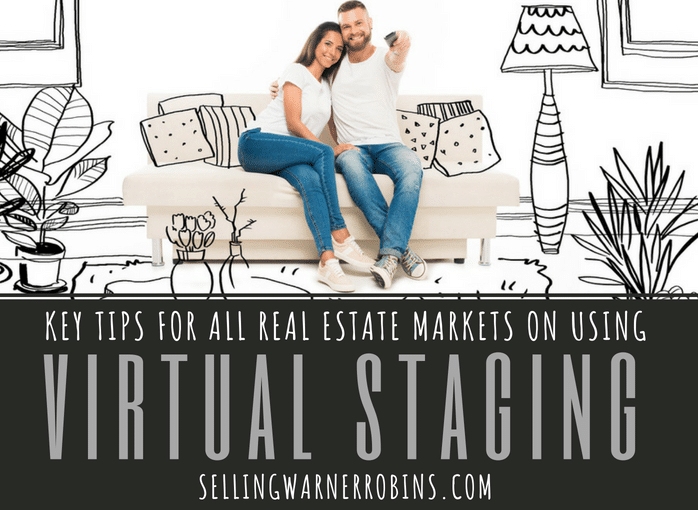 What Is Virtual Staging
When a property is vacant or filled with a current owner's family pictures, furniture, and knick-knacks, it can often be difficult for potential buyers to see beyond the stuff and get a glimpse of the true potential of a property. Staging a property simply means adding the furnishings and decor to a property to make it appeal to a broad range of buyers, usually by defining spaces clearly, masking flaws, highlighting the architectural style of the home, and allowing buyers to picture themselves living in the home.
Virtual staging allows you to use technology to show your properties to this best advantage. A designer uses photographs of a house's vacant rooms and digitally adds in stylish, attractive furniture and decorations so online photos and marketing tools are memorable, appealing, and have potential buyers reaching out.
Like physical staging, these virtual staging tips allow buyers to get a sense of scale in each space and how each room can best be used, only instead of seeing this during a tour, the potential buyers experience it through online listings and your marketing tools.
Why Are Attractive Online Listings Important?
With over 95 percent of people searching for a home visiting online listings and real estate websites, if you want your property to sell, you need a listing that entices buyers to reach out and ask about it. While the traditional open house and newspaper listings are still used, they are not nearly as useful as the online listing where buyers can browse for exactly what they want in the comfort of their own home.
Open houses are on a rapid decline with a recent study showing only 9% percent of buyers finding their home from an open house.
Buyers still want the visual experience when they are searching online, though. That definitely is not going anywhere. It is just how they get that visual experience that is changing. This leads to pictures being the most important part of any real estate listing to make that all important first impression. A well-written description and knowing the room sizes in advance are great, but pictures are the first thing the buyer looks for, and if those pictures do not grab him or her, they will click through to the next listing.
No matter how nice a home is, how good the price is, or how appealing the neighborhood is, if a buyer just sees six or seven pictures of empty rooms without getting a feel for the layout, the size of the room, or even what the room is, they may be inclined to move on to the next listing. Similarly, pictures of lived-in homes with clutter and family pictures are just as uninteresting to buyers and can even be a major cause of why buyers do not reach out to their local real estate expert for assistance.
Posting photos of furnished, yet neutral rooms and spaces allows a home to stand out from a pack of vacant or cluttered houses. They can be digitally furnished in a way to highlight the architecture of a home, from furnishing a modern loft with contemporary pieces, or using arts and crafts decor in an older craftsman.
Even more importantly, online browsers can get a better feel for what the home offers, the size of the rooms, and see the home at its best advantage. This leads to them reaching out to take a private tour, visiting the open house that weekend, or, as we are seeing more and more, make an offer on the property sight unseen.
How Can Virtual Staging Be Used
Virtual staging can go beyond placing a couch in the living room area and a bed in the bedroom. A designer with a large portfolio and a good eye can design and stage an entire home from front yard to back gate.
For example, if you are selling your property during the winter, virtual staging can add curb appeal by digitally adding flowers, a porch swing, and a wreath on the door, and it can "open" a closed pool by adding the look of water along with poolside loungers and decorations! Turn an empty deck into a bustling outdoor living space, or transform an empty flower bed to one bursting with blooms.
On the interior of the home, virtual staging can often cover up a home's flaws. While no reputable or responsible virtual staging company will change the structure of a home such as change paint colors, swap out flooring, or erase any kind of damage, virtual staging can elevate the room in such a way that a potential buyer's eyes may skip right past slightly worn carpeting or outdated cabinets. When there is nothing to see, such as in a vacant room, the buyer will pick up on every flaw while a furnished room keeps the eye "busy."
The key to virtual staging is to post pictures in your listing that drive someone seeking a home to  immediately call their agent to set up a tour of the house. This means that you want to make sure that while you are showing the home to its best advantage, you are also showing the property accurately. If a buyer walks in and sees things that were digitally altered in the pictures, that can be an immediate turnoff.
Virtual Staging is a Cost Effective Option
Physical staging is an amazing tool that has the potential for a high return on investment, but it is not an inexpensive investment. With monthly staging fees ranging from $200 per month and up, it can get expensive if the house does not find a buyer quickly. Weigh your options as it can be worth the price, as staging does help a home sell at a higher price, but spending a lot of money upfront is not always feasible for every homeowner.
A reputable virtual staging company can provide realistic, high-quality digital photographs for a fraction of that cost, and those are the homeowner's photographs to do with as they like. You can use them for the online listing, plus use them in marketing tools like brochures and fliers, or use them on your company website. While they will help the home sell faster, in the event that you do have the listing up for a longer period of time, there is no additional fees that build up.
Who Benefits the Most from Virtual Staging
Some properties really do see the benefits from physical staging, such as model homes in new developments where there will be frequent foot traffic. Luxury homes and vacation properties are also perfect for physical staging where the look is much more customized and buyers are wanting to tour furnished spaces rather than empty room after empty room.
However, home staging is not a possibility for every seller. Virtual staging allows agents from anywhere to send in photos for staging, so even in rural areas where there are simply no options for professional, physical staging, houses can be virtually staged for their listings. Lower-cost homes, homes that have been completely rehabbed, historic homes – these all can be shown to a greater advantage through virtual staging.
Is Virtual Staging Ethical?
Some of the most frequently asked questions about virtual staging are, "How does it work?", "Is it effective?", and "Is this legal?" Article 12 in the Realtor's Code of Ethics is "Be honest and truthful in real estate communications…" and this is an understandable concern. The key to virtual staging in a way that embraces your ethics is to only add what is not there through furniture and decorations – the items you would add during a physical stage.
While there are some virtual staging companies that offer to change paint colors, give a kitchen a total update, or erase ceiling stains or carpet spots, that could actually lead to a complaint under Article 12. Also, when you show a home to the buyer, they should know what to expect. Yes, an electric blue kitchen may not be the most attractive, but changing the color to a soothing gray in the picture and surprising the potential buyer will often backfire and is also unethical. You are not portraying the property accurately and are misleading consumers.
Instead, as a selling agent, recommend to your homeowners to do any needed updates or maintenance to the structure before taking pictures. You have seen the effects that fresh paint, simple repairs, and updated fixtures can have on the the showing power of a property.
Then the virtually staging company can digitally add quality furniture and decor to elevate the vacant space to the next level. Print out the photos of each room and place them in a binder or frame them and set them on a table in each room to show the prospective buyers the true possibility of the room once it is furnished and designed to keep their interest high.
What to Look For in a Virtual Staging Company
As virtual staging rapidly grows in popularity, staging companies are popping up fast. So, how do you know what company to select to offer you high-quality photos for your online listing? Here is a quick checklist of what to look for in a virtual staging company:
Reviews – Do a quick Google search and see what kind of online presence the company has. Are reviews positive or negative, and what do those reviews say?
Ethics – As listed above, there are specific guidelines to follow in order to maintain your ethics as a Realtor® or agent. If a company says they will change paint color, remove damage, add or take away structural pieces, such as doors or windows, you can be setting yourself up for legal issues. Instead, choose a company that is very transparent in their ethics and understands how to create those beautiful pictures without compromise.
Portfolio – Most companies will have pictures online of their examples. As you look at the pictures, do the same pieces keep popping up in each picture? Also, are the pictures realistic? Many inexperienced companies have photos with the "floating furniture" effect, where it is clear the pictures were digitally altered. Look for a company with realistic pictures!
Design – Just like in physical home staging, virtual staging requires a good eye for detail. Do the pictures in the portfolio show attention to detail? Do the furnishings work with the architecture or design of the home?
Lasting Virtual Staging Thoughts
Virtual staging can be an incredible resource for a selling agent. When you find a company you are comfortable working with, you will have an advantage over similar homes in your ability to schedule more tours and receive more offers for your clients. The more views the property receives, the better the chances are it will get physically seen by consumers who are ready to purchase a home.
As today's market changes rapidly, the tools we use change, and it is important to adapt to those changes to continue to succeed in real estate. Embracing technology is one of the best things you can do to ensure a growing, thriving real estate career!
Additional Home Staging Resources
Karen Highland: Virtual Remodeling
HGTV: Online Home Staging
If you found these virtual staging tips helpful, please consider sharing this article via social media so others can also benefit from the information. ~ Anita ~
Is Staging Your Home Online The Right Approach For You?