Should Sellers Get a Home Inspection Before Listing Their Property?
Savvy buyers understand the importance of getting a home inspection prior to finalizing their new home purchase. Otherwise, they risk potential costly repairs, usually related to the electrical, foundation or any structure that is not visible to the naked eye. After inspections, buyers can negotiate with sellers to come to a fair sale price that covers the cost of damages or agree to repairs prior to closing. Without an inspection, the purchase price does not reflect the potential cost of thousands of dollars needed to achieve a safe, functional dwelling. One of the reasons why fixer-uppers are often on the low end of median home prices in any given region. But, why should sellers get a home inspection before listing their house?
Sellers can hire an inspector to complete a pre-inspection to ensure their homes are in good condition prior to listing. This is a great way to determine what issues your home has and give you time to decide if you are willing to make repairs, plan for negotiations once your property is contracted, or decide not to make any repairs and sell as-is.
In some cases, once the property is under contract, buyers may waive their inspection contingencies and move toward a faster closing. Plus, sellers can sometimes benefit financially during closing if they can leverage a home in quality condition. But, if the inspection sheds light on damages in the home, the seller is required to disclose that issue to buyers.
Here are a few reasons why sellers might obtain verified inspection reports, and a few reasons when it is not worth the added cost.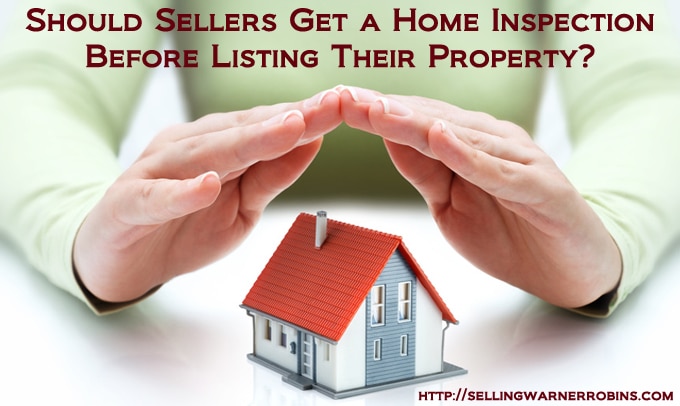 Justify The List Price
As a seller, laying the cards out on the table helps increase your bargaining power. Potential buyers struggle to lowball when proof of a perfectly safe and updated house is provided. Sellers have the ability to use their recent home inspection to show that there are definitely no "underlying issues" that warrant a price cut.
A 2013 Journal of Economic Behavior & Organization study found homes listed for 10% to 20% more than comparable houses sold at higher prices.
When your abode has a clean bill of health, buyers are less apprehensive, and often start seeing the value in your property…not ways they can get the price lowered. If the price can be justified, list it accordingly, and potentially net more profit by selling your home for top dollar!
Build Trust
By providing a home inspection ahead of listing your house, you are creating a trustworthy relationship with potential buyers. While making home improvements is appreciated, there is no easier way to build buyer trust then to show them your house is well maintained and documented to prove it.
House hunters often worry about "money pit" homes that could eat into their emergency savings and potentially lead to late mortgage payments and possibly foreclosures. Put your buyer at ease by proving your dedication to the internal and external upkeep of the property.
Building rapport with your buyer makes for a seamless transition and a stress-free closing. That is what every seller wants!
Mitigate Risk
Sometimes, failing to disclose property issues can get you, as a seller, into trouble with your buyer, even after closing. Any structural issues that could or should have been addressed prior to listing a home on the market need to be fixed. In some instances, injuries or damages caused by purposeful negligence can lead to lawsuits.
As an example, in Washington State, sellers must tell their buyers of any defects with systems and fixtures, past flooding, drainage issues, material damages from fires, earthquakes, or landslides and any other issue buyers "should know about," as outlined in the Washington Seller Disclosure Form.
In Georgia, sellers are not required to fill out a disclosure form but they must inform buyers of any known material defects in the home, especially those not visible upon inspection. And, buyers can ask the sellers questions about the history and condition of the home, which sellers are legally required to answer honestly. Failure to do so can result in lawsuits.
By getting a pre-inspection, you will have proof that home maintenance issues, to your knowledge, did not exist at the time of the sale.
Further, pre-inspections allow sellers to repair issues at their own cost rather than settle on paying buyers to hire contractors to correct problems. Making repairs prior to listing gives buyers no reason to counter-offer below listing price. If you happen to be a licensed professional or know one who can help make repairs at a discounted cost, you will save money by completing the repairs, rather than letting buyers take upgrade expenses from their final offers.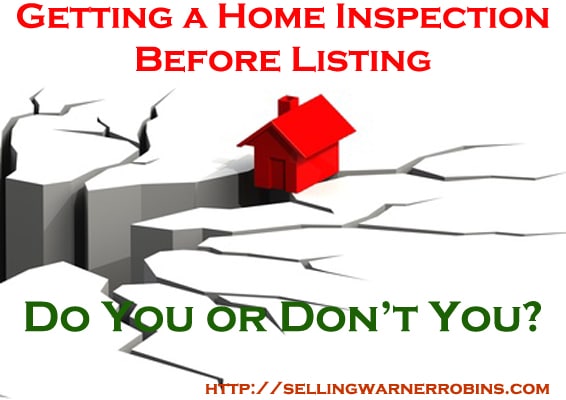 Shine Light on Internal Upgrades
Copper wiring for electrical systems, new insulation or state of the art heating systems are three potential selling points you can claim when you have proof via a pre-inspection. Internal repairs are not noticeable to the average buyer who relies on aesthetics to determine the state of a home. If you are pricing your home a bit higher because of recent structural or system improvements, a pre-inspection validates those improvement claims. Even though you state your home has a new heating, ventilation and air conditioning system in your listing description, documented evidence provides verification.
Buyers are becoming more savvy when it comes to evading structural issues during the house hunting process. During an initial home buyer inspection, potential buyers might closely examine walls for cracks as a sign of foundation issues. They may also be on the lookout for water damage (or past water damage) that leaves stains on ceilings. Experienced house hunters go as far as assessing light switches, basement conditions and potential exterior maintenance issues even before they hire a professional inspector.
When Not to Get a Pre-Inspection
Keep in mind, there are instances when a pre-inspection completed by the seller does not make sense. If you are marketing a fixer-upper, providing all of the potential warnings under an appropriate list price, a pre-inspection is not going to sway buyers one way or another.
Buyers of highly-damaged properties are often experienced flippers who understand the risk in buying low-cost properties with potential structural damages. The pre-inspection will not ease their worries, but rather prove what they already assume. However, sellers of fixer-uppers are still subject to full disclosure laws, unless the property is bank-owned and listed as a foreclosure in as-is condition.
For properties with a less than desirable pre-inspection report, a few things besides a price cut can be done on the seller's behalf. First, sellers can provide a cash-back credit when escrow closes to avoid dealing with the repairs and stress that accompany home improvements. By closing time, sellers are likely looking forward to settling into their new homes rather than fussing over fixing up their old properties.
Whether you are ready to list tomorrow or thinking about it sometime in the next year, you may want to consider hiring an inspector to leverage your sale. Positive results should increase your property value and final sale price.
As always, hiring the right Realtor® should be at the top of your list to ensure you get quality advice as you prepare to enter your local real estate market, whether it is in Kathleen GA, Albuquerque NM, or anywhere else.
When buyers are confident your home meets their needs, is in a price band they can afford, and is reasonably maintained, good things happen.
Additional Seller Tips
Tips to Become a Home Inspector
If you found this article detailing Should Sellers Get a Home Inspection Before Listing helpful, please consider sharing it via social media outlets so others can benefit from the information too.
Why Should Sellers Get a Home Inspection Before Listing Their Home?