Simple Ways to Stage Your Home to Sell
These days, staging your home to sell is almost as essential as making the beds before a viewing. A few decades ago, buyers were used to seeing empty interiors or owners' personal belongings. Now, the tides have shifted in favor of creating model-like interiors that are suitable for all tastes.
In some markets, staging is the norm, and failing to stage a home can hurt your competitive edge. Real estate agents and their sellers do not necessarily have to hire costly staging services to achieve great results. Unless you have already moved the furnishings ,and are currently working with a blank slate, you can stage your home as-is with thoughtful tactics.
Here are several simple tips for staging your home to sell and hopefully net top dollar.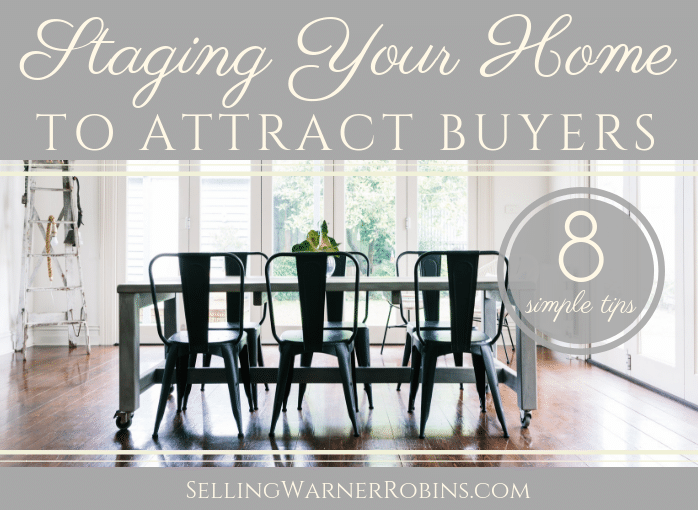 ---
First Impressions Matter
The very first thing potential buyers are going to see is the outside of your home as they pull up to the curb. That is why at the very least the exterior needs to look clean and tidy to give buyers the impression that work already done outside means the same indoors.
The lawn should be recently mowed or trimmed, dead plants should be removed, fences mended, and paint on mailboxes, doors, and shutters that is wearing thin should be given a new coat. Rest assured, the exterior of your home sends a subtle message to buyers about how well you have maintained your home. If they are impressed as they walk up the driveway, you have them started off on the right foot.
Clean Thoroughly
Sellers are wise to go beyond a quick broom sweep and counter wipe prior to listing. If you regularly clean your home thoroughly, you may not need to perform a deep cleaning, but it is definitely worth considering if you do not have the time, energy, or are physically unable to do the job yourself.
Use a microfiber mop or duster on the ceiling, trim, light bulbs, baseboards and walls. If dirt is an issue, use a mixture of water and dish soap
Vacuum sills and tracks of windows, and squeegee the inside and outside of glass for a streak-free shine
Vacuum shades and curtains
Use furniture gliders to vacuum and/or mop every square foot
Wash bedding and sprinkle baking soda on the mattress to mask old odors
Use wood cleaner on kitchen and bathroom cabinets, or warm water and dish soap on laminate and painted surfaces
Wipe down the fridge, stove-top and dishwasher
Wash the shower curtains on a cold, gentle cycle
Rid the bathroom of soap scum with heated distilled white vinegar and baking soda on a non-scratch pad
Dust frames, artwork and electronics
Wash throw pillow covers, or dry clean pillows
Spending a day or two with the broom, mop and some cleaning supplies goes a long way. Best of all, it is a cost effective way to make your home look and smell great without putting too big a dent in your wallet.
Declutter Your Home
Removing excess clutter is the best way to depersonalize and help buyers truly imagine themselves in your home. Not to mention, a lighter space feels bigger, brighter and catches the eye more than a dark, overcrowded room. Even if the home has an eclectic style, balance empty space with some decorations like softly-scented candles, books, antiques and trinkets.
Do not assume you are only responsible for decluttering visible spots. Serious buyers are likely to investigate interior cabinet spaces, refrigerators, closets, nooks, and the like. Since you are preparing for a move, organizing and cleaning behind closed doors needs to occur anyway.
If it is within your budget, one great option to clear the clutter and unnecessary furniture is to rent a storage unit. Simply moving all that clutter off-site will go a long way to ensure every corner of your home will be neat and organized.
Buy Fresh Linens
Consider how bright towels with bleach spots and frayed edges might make the home feel less like a retreat for potential buyers. On the other hand, crisp, clean towels and bed linens are reminiscent of hotels and getaways. Brand new white or neutral linens in the bathroom and bedroom help the home feel cleaner, lighter and more relaxing.
Even if you plan to toss old linens after the move, it could be a wise investment to showcase new linens now. Reserve untouched towels, sheets and bedspreads for showings and continue using the old stuff until closing. Once you move, the new linens can become your everyday use items in your new property for a renewed look and feel.
Switch Out Old Window Treatments
Cheap blinds and heavy curtains weigh down a room's focal point which is often the windows and the view or natural lighting provided. You might consider installing new shades, especially if old plastic blinds are broken, bent or tangled.
For curtains, try light and airy sheers that allow for substantial natural light. If you already have sheers underneath heavier curtains, all it takes is removal of the curtains for a new and airy look. Otherwise, sheers are relatively inexpensive at home goods outlets.
Whatever the case, consider moving (or installing) rods above the window frame to make the room appear longer and larger. New rods can give the room a sophisticated feel and many models are quite stylish, inexpensive, and easy to install.
Decorate Your Digs
Subtle decorations and accent pieces can be relatively inexpensive and add a great finishing touch to a room or space. Consider displaying attractive accents such as plants, non-personal photos and artwork, area rugs, or flowers to give buyers a view of what the space could look like. Invest in softer, lower wattage bulbs which can be more flattering in rooms compared to brighter, higher wattage bulbs.
The key whatever decorations you decide to add is to make the area look and feel warm and inviting. If potential buyers are comfortable they are apt to look around your home longer. This could help sway them to decide your property is the right home for their needs!
Simple Fixes Matter
Take care of those simple fixes around the house! Make time for a quick run to the local hardware store and get everything you need to take care of any maintenance issues you are aware of with your home. You do not need to remodel your kitchen, but things like leaky faucets and paint touch-ups need to be addressed.
If you can help it, you do not want the buyers home inspection to identify numerous fixes and jeopardize the sale of your home. Getting your own home inspection before listing your property will give you a good idea of the fixes that may need to be resolved. If nothing else, you will be aware of the issues and can decide what you will and will not resolve.
Paint For A Fresh Look
A simple way to make your rooms appear brighter and cleaner is with a fresh coat of neutral paint. It will help keep buyers from getting distracted by imperfections and aid them in imagining their own furnishings in the home.
Many consumers will see the new paint as a plus as it may mean they will not necessarily have to repaint if they buy your home. The fresher and newer your home looks, and the less things buyers will need to take on if they purchase your house, the better your chances are of a positive selling experience.

Remodel Where It Counts
If you do need some remodeling done to update your home, kitchen and bathroom remodels tend to bring more resale value. They can be expensive so ensure you are confident the upgrades will net a positive return.
A well planned bathroom remodel to update your fixtures or flooring can really make a difference. So can a new backsplash, counter-top, or resurfaced cabinetry. You can bet buyers will appreciate the fresh new modernized room(s) too.
Follow New Staging Trends
Trends exist for a reason…a large share of individuals take a liking to a certain style or flair. Trends do come and go; which is why it is good to subtly implement trends into your staging rather than make any extensive renovations based on brief popularity.
Remember chevron? Many individuals painted floors, walls and laid tile in the popular pattern for years. Over time, overuse diluted the effect and people frankly became sick of seeing zig-zags everywhere. Case in point, it is not a wise decision to make major changes based strictly on fads.
Making your home shine based on what is in style is a positive move. In the summertime, think about some exterior elements you can update and take with you after closing. For instance, Adirondack chairs evoke a beach, fire-pit-night feel, and are a positive summer trend addition. Consider adding a fresh coat of clean white paint to really make them pop.
If opting for new cushions and throws, go with weather-resistant fabrics designed to withstand sun and storms. Overall, opt for neutral, yet fashionable, home goods that will evoke positive feelings from buyers. An added benefit is they will not take up much moving truck space after your home has sold.
If you already have a squeaky clean, designer-clad home, you may only need to apply a few of these tips. Fresh interiors help the vast majority of homes and aid in drawing the eye away from dated or damaged features. Do not forget the warm touches, like fresh flowers or baked goods, to spark buyer interest.
Final Staging Home Advice
Whether you have sold many homes or this is your first experience, these simple tips for staging your home to sell can make all the difference between selling quickly or having your house sit on the market month after month. Remember to look through the eyes of potential buyers and keeping things neutral and impersonal.
Selling and preparing for the accompanying move can be a tedious process. This is especially true when you have to pay more attention to the house you are leaving than the one you are going to. All the more reasons to follow these tips for staging your home to sell and ensure the entire home selling experience is a good one!
More Tips for Staging Your Home to Sell
How Staging Helps Sell a Home from Tori Toth
Selling Your Home Empty or Staged via Kyle Hiscock
Staging Your Home to Sell in any Market