How to Protect Yourself from an Open House Robbery
Holding a faultless open house can be tricky, especially when you are handling every piece of the process. From ensuring the home is in its best light with stylish staging, down to serving the right (stain-resistant) refreshments, keeping track of open house must-dos can be challenging. While it is noted some agents hold open houses for a variety of other reasons, the goal should always be to gain more attention to your sellers property in the hope the buyer for that home comes through the open house. However, security and safety are always concerns so take these tips to avoid getting robbed at an open house seriously and the experience should be a pleasant one.
While property aesthetics and ambiance can help drive offers, some real estate agents forget to prioritize the most important approach: safety. Whether marketing your own home or representing your seller, defending personal items and attendees, yourself included, is key to having a successful event.
Agents regularly communicate with strangers through marketing tactics like cold calling and door knocking, but hosting an open house is different. Inviting unfamiliar faces into a private, secluded space could present a whole new dangerous situation you are not readily equipped to handle. Unfortunately, open house crimes are not new to the real estate industry.
In order to avoid an open house robbery or other hazardous predicament, your real estate agent should consider these six tips to avoid getting robbed at an open house.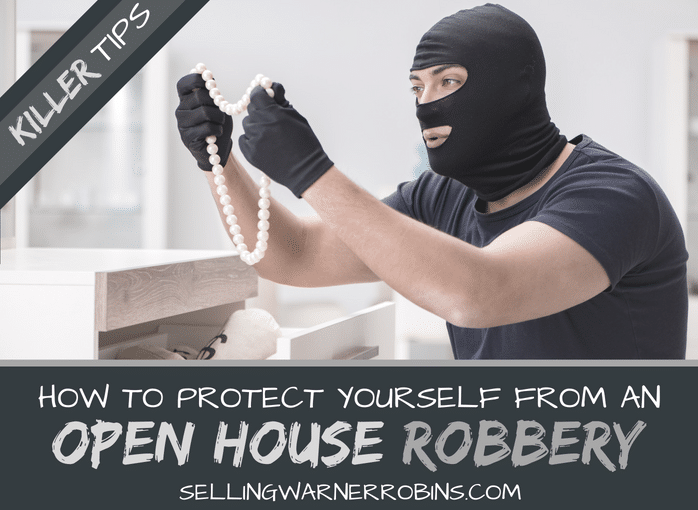 ---
Put Possessions Away When Having an Open House
Clearly the easiest way to avoid things being taken is to make sure they are not visible. Rather than do damage control or face an awkward confrontation with a suspect, remove the motivation to steal. Part of the depersonalization process should include locking away jewelry, cash, credit cards and costly antiques. Putting your valuables in a safe is recommended, even if you need to rent one for the occasion.
To be particularly safe, write an inventory list before the day of the open house that you can reference in case you or your seller finds something missing. Taking photos to supplement the list eliminates confusion or discrepancies down the road. It is a good idea to identify the date the photos were snapped (such as by putting the items on a newspaper).
Surround Yourself with Others 
Nosy neighbors are frustrating, especially when you are pretty positive they will not make an offer. In many cases, neighbors are fixated on eating your hors d'oeuvres and poking around. But, inquisitive parties could be a helpful distraction from a safety standpoint since there is often strength in numbers.
A full open house is important when you are presenting a home solo. While you cannot depend on nearby drop-ins, you can boost attendance by expanding your outreach to those in your sphere of influence. Personally invite industry friends to add peace of mind and keep robbers from visiting the property.
Welcome other sales professionals, teammates, trustworthy real estate agents and even family members. A larger turnout also helps deter violent attackers who could compromise your personal safety. Plus, your connections might have potential buyers in their personal circles who you would not have otherwise encountered. Finally, let your broker or a close acquaintance know of your open house location and schedule.
Be Present and Alert During Open Houses

Stepping out for even just a few minutes to take a call could lead to a precarious situation. As the agent, you are in charge of keeping an eye on things, even if you have a support system in place. Therefore, staying present and clear-minded confirms operations run smoothly and safely. Ask a friend or team member to run out for refills and additional flyers while you chat with buyers.
If you must, send a quick text for time-sensitive messages, or hire an assistant to screen your calls while you are unavailable. Unless there is a serious emergency, you should not leave the house during open hours. If a serious predicament arises, make sure to lock up and put a note on the door before you depart. Never leave anyone alone in the home!
Keep Luxury Listings Private
Who doesn't love walking inside a lavish and grand property? While perusing might be fun, inviting the general public to view a multi-million dollar listing in person is likely to make your client uncomfortable – and for good reason. For starters, high-profile clients do not need strangers in their living quarters critiquing their possessions. Plus, the property is probably not the only aspect of the home that holds immense value.
For luxury listings, consider appointment-only open houses. These operate similar to showings but at a faster pace. Keep in mind, buyers without representation should leave contact information. Hiring helpers is always an option if you expect a large turnout or if the homeowner is worried about who might visit.
Ask for Identification
While not a standard practice, there is no shame in requesting identification from prospective homebuyers. Refusal to disclose names might be a red flag, depending on the situation. It is certainly better to be safe than sorry so consider this option if you have a gut feeling it may help.
If you choose to implement this strategy, request information from all incoming parties instead of targeting those who give off a bad vibe. Your intuition could be wrong and viewed as offensive, or even discriminatory. Besides, people with nothing to hide may be a bit annoyed but they should not be overly upset about showing their credentials.
Be Smart but Positive
As a sales-driven agent, presenting a friendly and welcoming demeanor to each potential buyer is suggested. You cannot fully vet everyone who comes through the door, as you will want to encourage attendees to feel comfortable in the home and ultimately make an offer. While keeping safety in mind is important, do not let your nerves get the best of your professional attitude and conduct.
Robbers view an open house sign as an opportunity to take advantage of you or your seller's hospitality, putting your client relationship and marketing tactics at risk. While you cannot screen each attendee, preparing for the worst helps protect the property – and your clients.
Additional Open House Advice
Tips to Protect Your Home at an Open House and ensure the possessions that are important to you are safe and secure.
This article looks at the various Open House Pros and Cons and gives you a better understanding of what you can expect.
Remember, safety is paramount both for yourself and everyone else that visits the home but also for the homeowners belongings too. Do not put yourself at risk, instead contact law enforcement and let them deal with the problem. Knowing what to put away, how to approach and watch visitors, and when to call in others is key to avoiding getting robbed at an open house.
It is a smart idea after the open house has ended to go through each room and see if anything looks out of place. You should also check each door and window to ensure they are locked. If at all possible, it is a good idea to have someone with you if at all possible while you walk through the home. Remember…There is no substitute for vigilance so ensure you put your safety first.
If you found this article on tips to avoid getting robbed at an open house helpful, please share the article so more consumers can benefit from the information.
Key Advice and Tips to Avoid Getting Robbed at an Open House