Ten Amenities to Draw Buyers in Georgia
It would be nice if every new Georgia listing came with a guarantee of "10 amenities to attract Georgia buyers". Unfortunately, not every home has that many selling points or opportunities to entice home buyers to come preview the property.
Most home sellers understand the importance of marketing, but unfortunately, there is no one-size-fits-all solution when it comes to selling a home. In reality, buyers look for vastly different features depending on their location. Many of those amenities depend on climate, historical styles and nearby attractions.
For instance, buyers moving to Minnesota are more likely to search for updated heating systems than those in Florida. Meanwhile, Oklahoma homes are likely to describe a storm shelter far more often than listings in Seattle. Obviously, regional settings play a big part in what consumers are searching for.
Based on a recent analysis surveying for-sale listing data in 2015, homes for sale in Georgia are more likely to include the following 10 amenities to attract Georgia buyers as compared to the national average.
---
Accessible Master Bedrooms
For-sale listings with master bedroom suites are widely marketable to couples and families. But, many homes in Georgia place the master on the first floor. This architectural choice often widens the market of buyers, since a first floor location is better for seniors and empty nesters who want to cut down on unnecessary heating costs for the unused second floor. It also works well for first-time home buyers, many of which are starting families and want more privacy.
The phrase "master main" was found in 15,050 for-sale listings in Georgia. As compared to the rest of the nation, describing a master bedroom on the main floor was 19 times more popular in the Peach State.
Terraces
Personal outdoor space in a warm climate is key, but especially among Georgia homes. Incorporating a description of a terrace in your Georgia listing puts you in line with 13,475 others across the state. Terraces are so prevalent, listings in Georgia are 175 times more likely to incorporate the term than elsewhere in the country.
Much like having a terrace level, a finished terrace is 856 times more likely in Georgia homes for sale than the U.S. average. The phrase was found 5,986 times throughout listings across the state. If you have a terrace, take advantage by ensuring your home is properly marketed to showcase this feature.
Brick Siding
Residential architecture in Georgia is diverse. From classic Georgian style, or rectangular homes with bold features like columns and pediments, to Federal style featuring curved surfaces and delicate décor, Georgia homes characteristically reflect traditional styles.
To keep with the historical significance throughout Georgia, many homes for sale highlight brick siding to capitalize on the classic, popular feature. The phrase "side brick" was found 12,120 times in Georgia, making it 36 times more prevalent than the national average. In the Bonaire real estate market, brick is prevalent, and I suspect it is the same in other parts of the state as well.
Pools and Tennis Courts
Buyers in warm climates seek outdoor amenities since they function throughout the year versus just a few short summer months. Homes with swimming pools and tennis courts, specifically, are well-liked in the great state of Georgia! With several months of available use outdoor amenities get plenty of activity from spring through fall in GA.
Listings words similar to "swim-tennis" are 423 times more likely to be found in Georgia homes. The conjoined term was found 10,279 times in 2015, while the two words separated was featured 7,234 times. If your property or gated community has either of these amenities, it makes smart sense to let buyers know since many will be looking for these features as they search for homes online.
Full Daylight
Let's face it, a majority of buyers would love a home with plenty of natural light, especially in areas where there is ample sunlight. Fortunately, Georgia offers ample sunlight throughout the year and across the state to pique the interest of consumers who like the warmth and plenty of sunlight.
The term full daylight was used 28 times more often by GA consumers when they started searching for homes for sale. If your home has a lot of natural light it might be a good idea to ensure your local real estate agent outlines that feature when they begin to market your home on the Web.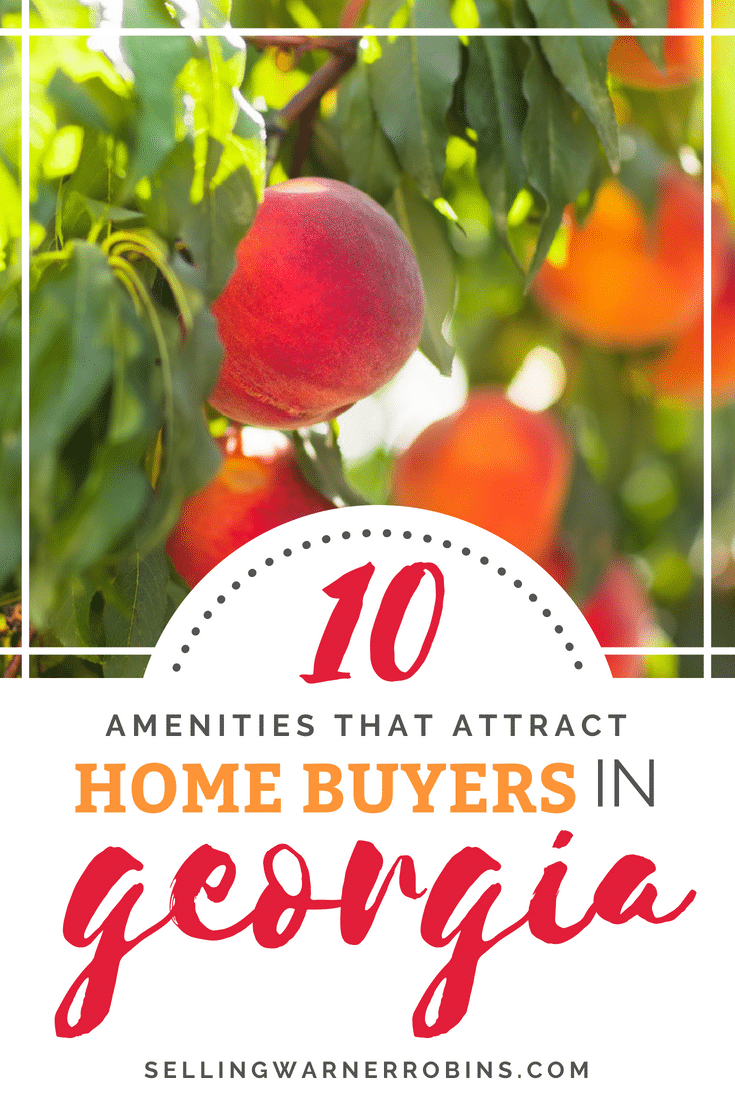 Stained Cabinetry
Many Georgia buyers are not just looking for builder-grade oak or contemporary lacquer style cabinets these days. In fact, listings in Georgia were 24 times more likely to describe stained cabinets than the rest of the nation last year. Stained cabinets were incorporated 5,534 times throughout the state.
Clearly, many Georgia home owners value classic wood stains over the painted route. Letting real estate consumers know what type of cabinetry your home for sale has could pay off by getting your home seen, liked, and sold!
Peach Trees
Moving to Georgia brings a slew of benefits, one of which is participating in the state's well established agricultural export without leaving the comfort of home. If your house currently has peach trees, it could benefit you by ensuring those looking online for a home know this detail about your property.
As you might expect because of locale, listings with "peach trees" are 190 times more likely in Georgia than any other state. Overall, peach trees popped up 5,216 times. If it is worth taking the time to look up, it is worth mentioning, especially if you are looking to sell your home quickly.
Remodel Potential or Completion
Buyers with an eye for design, or searching at a lower price point, do not always seek move-in ready listings. In fact, the shortened phrase "remodel invit" or "remodelers invited" is 19 times more likely for listings in Georgia. In total, the phrase was used 5,195 times across the state. Knowing they can often get a discount by making needed repairs themselves, many consumers will be looking for homes with some DIY required.
Not to be outdone, recently completed renovations, whether for the entire home or within one room, is a 10 times more likely phrase in Georgia. "Fresh remodels" were used on 4,282 occasions in Georgia listings. If your home has been recently upgraded or renovated, sing it loud and clear so buyers know what was done and when it was accomplished.
Family-Room Fireplaces
Getting cozy by a fire with close friends or family is a dream for many home buyers. In Georgia, listings describing family room fireplaces are 223 times more likely compared to the national average, and were found in 3,975 homes for sale.
Perhaps many areas around the country do not have fireplaces in their family rooms, or do not have a family room (or call it something different), but it is clear many Georgia buyers are seeking homes with this feature.
Spa Bath
Nothing says luxurious quite like a jetted spa tub built into the home. Georgia listings mentioned "spa bath" 3,263 times in 2015, making the descriptor eight times more likely to be used in Georgia than the national average.
Spa baths are quite common in Warner Robins homes and I would expect the same in other regions in the state as well. While many like the expediency of taking a shower, there are still plenty of consumers who prefer to soak in a hot bath, especially when they can relax with jetted water gently massaging their body.
Parting GA Home Thoughts
Keywords, whether location-specific or trend-based, play an important part in attracting the largest number of buyers. Often, these descriptors help homes sell for a premium. Listings across the U.S. that mention farmhouse sinks bring an 8 percent sales boost over those lacking the feature, while subway tiles help homes sell for 7 percent more than expected and sit on the market for 63 days less.
In the end it comes down to price, location, and condition but it is worth considering posting both the general terms buyers seek and the Georgia-specific amenities most prevalent throughout the state to receive top dollar from those looking to purchase their first, next, or last home!
More Georgia Real Estate Resources
If you found this article on "10 amenities to attract Georgia buyers" helpful, please consider sharing it via social media.
10 Amenities to Attract Georgia Buyers in Today's Market