10 Easy Tips to Organize Your Garage
It is easy to discuss topics like these 10 easy tips to organize your garage but it is always a bit more difficult to put the tips into practice. Hopefully this easy to follow advice will get you started off on the right foot and on your way to a cleaner and more organized garage space!
Although the garage is mainly used as a parking area, for many it usually becomes a central storage space for things that could not find their place in your house. Moreover, it does not take long for all those unused items to start piling up and taking over your garage. Instead, you should approach the garage in the same manner as any other room in the house. Keep it clean and tidy and do not simply put unnecessary items in there. Out of site, out of mind, should not be your thought just because the garage is less visited than many other parts of your home.
A well organized garage will be more inviting, especially if you are a DIY enthusiast or if you simply like repairing, gardening, or being able to find what you need when you need it. If you have a car that is unable to fit in the garage due to stuff being in the way, this information is definitely for you. These 10 easy tips to organize your garage should help get you started…the rest is entirely up to you! 😉
Pre-Organizing Your Garage
Since the larger part of the garage is dedicated to your car (it is, right?), you should know how to manage the free space in the most efficient way. Divide your garage in six major zones in order to expand its storage capacity.
Set a place, where you will put all the items that you use on the go like jackets, shoes, bags and so on. Store these quick access things on hanging hooks or racks, where you can easily grab them, when going in and out of the house. The perfect position is near the door, which is a natural transition zone.
Put the objects that you use on a daily basis, like dog food, close to the entrance or in an easy access position.
Choose a place where you can keep things with unusual shape and size like tall, long or thin items. This works especially well for all types of yard equipment. This is a perfect storage solution for small spaces.
Put the large objects or things that you rarely use out of the way, in the distant corners or on the higher shelves. Your main purpose is to free up space for items that you frequently use, such as sport equipment or maintenance tools like brooms, electrical chords, or garden hoses.
If you like working on your own projects, you should also think of a workplace. It does not matter if it is gardening or woodworking.
You will need additional area for your favorite hobby.
Storage is the key to keep everything organized and clear. Pick a spot where you will have plenty of space to move freely and to place enough storage options.
Garage Safety
The second thing you need to consider when organizing your garage space is safety. If you have children, you should keep the dangerous tools or chemicals and cleaners in a higher rack or in a locked cabinet, at all times. The best strategy is to simply restrict access to dangerous items to begin with which will help remove any temptation that your kids or pets may have.
Never leave hazardous items unobserved on the counter-top, stored in the open on the floor, or in another risky position. Kids are inquisitive by nature and you can bet they will get curious and want to check out what they can reach and get access to. The last thing you want is a dangerous situation or tragedy or think safe and keep your loved ones from having an accident or your pets from an unfortunate experience.
De-Clutter the Space
If you have not cleaned your garage in a while, it might have accumulated a lot of things that you do not need. According to the Department of Energy, 25% of people with two-car garages are unable to park either car in their garage because of clutter and only 32% have room for one vehicle. How can you combat or resolve this trend? Maximize the free space by getting rid of the clutter! But how?
Before organizing the space, take everything out.
Go through all the items and sort them out.
Group your possessions in four categories: keep, sell, donate, and throw away. It might take a day, a whole weekend or even two, depending on the amount of clutter.
It is always a good idea to involve the whole family in the process.
Divide the job in small tasks. In this way the process will be less overwhelming.
Be sure you have enough plastic bags or boxes where you can collect your possessions.
Do not forget to put tags, so you can easily spot and identify each item or group of items.
Smart Storage
When creating your storage design, always keep in mind the relationship between frequency of use and access. Items that you often need should be placed in a location that is easy to access. On the contrary, things that you seldom incorporate in your daily or frequent activities need to be stored in more remote areas (corners, shelves, lofts, etc).
Believe it or not, the best storage place for all your toys, tools, and possessions, are the walls. Try to use as much vertical and ceiling space as possible and you will find you have more space for storage than you thought. Of course, putting similar items together so you can quickly find them also makes good sense.
Cabinets and Shelves
These are essentials for every clean and organized garage. Build them or buy them but find a way to incorporate them into your garage space. Since the cabinets and shelves will hold heavy items, be sure that they are stable and can support these items.
Built-in cabinetry is expensive but the results often amazing. If you can afford it, this might be a great way to add some flare to the space without sacrificing functionality. Also worth considering is floor–to–ceiling furniture as it helps utilize the space in a very efficient way. Add in these items and you are well on your way to a beautiful, spacious, and tidy garage.
Consider a Loft
You will find the loft particularly useful if you need additional storage space or if you simply have small garage. This storage solution is suitable for a space with high ceilings and is often seen in garages that have limited floor space. The loft will serve as an attic, without nearly the expense. You can build your own loft or buy a loft kit from a local hardware store. Do not forget the retractable ladder or other ways of gaining access to your possessions (i.e. loft hooks or pole hooks to grab lighter items).
Organize Your Workplace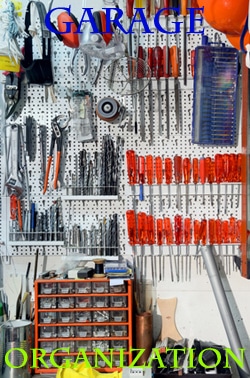 The central piece in garage spaces is often the working desk. Ideally, you have or will choose a table with adjustable height and wheels so it can be moved around (wheel locks are an important safety feature). Having a portable and easy to move workbench will give you plenty of options when you want to change things around or just get better access for bigger projects.
For those that like to do DIY, hanging your tools up that are frequently used will not only make it easier to find and access them but will keep them from getting in the way, damaging your vehicles if you roll over them, or putting someone at a safety risk. Using a pegboard and/or roll-away toolbox is a great way to help get the workspace better organized for maximum efficiency.
Labels
If you have a lot of cabinets and boxes and you find it hard to remember the content of each, just label them. Put a layer of chalkboard paint on your storage furniture. Use transparent plastic boxes or get them in various colors to distinguish them. Labeling will help you maintain a successful organizational system.
When you are aware that everything has a specific place, you will be encouraged to always put your possessions back where they belong when you are finished with them. Another good option is to hang PVC organizers on the wall for specific gardening tools like the hoe, rake, and shovel. The better your labeling system is, the easier it will be to find what you are looking for when you need it.
Don't Lose Anything
Have you every caught yourself searching the garage for an item you know you have only to give up and go purchase another one? Here are a few tips to help you never lose anything in your garage again while avoiding the annoying process of searching and searching and only finding frustration!
Organize the shelves.
Use magnetic strips to display your tools.
For the smaller pieces like bolts and nuts, get jars or canisters. Remember to label these so you can find the item you need quickly.
Get a few metal buckets where you can store random medium sized items like old toys or gardening tools.
Move seasonal items to the front of shelves/lofts, like coolers or skis, where you can get to them easily. When out of season they go to the back of shelves/lofts.
The Sports Area
If you are active or have kids who are, you know the drill is often to hurry out of the car, dumping the sports equipment in the first available spot, because you are too tired to put it away. Here are a few easy ways to end that cycle and get everyone to put things away for later use.
Buy organizing furniture specifically designed for sports equipment. If you do not want to spend money, simple create your own, customized for your personal needs.
Bike and helmet racks will save you a lot of space, without sucking up your budget.
Get a steel standing frame that can handle the heavy sports equipment.
Ball claws are the perfect storage idea for a family that loves basketball and football.
Lofts or high shelves are a great location for camping gear.
You may have the know-how and are now armed with these 10 easy tips to organize your garage, but without one vital skill your efforts may be in vain. You need to develop the habit of regularly cleaning and maintaining this often neglected area. Put everything in its right place. Most importantly, do not let the clutter take over your garage to begin with. Your garage does not need to be an eye sore, so plan some time to get it in order, and condition yourself to keep it that way! Just remember, according to the National Association of Organizing Professionals, "80% of the clutter in most homes is a result of disorganization, not lack of space". Happy organizing!
More Garage Organization Resources
Garage Tips, Ideas, and DIY Projects via diyncrafts.com.
Garage Clutter Busters from the DIYNetwork.com
Ideas for Garage Storage by BHG.com
 10 Easy Tips to Organize Your Garage