17 Ideas for a Beautiful Kitchen Remodel
With all the traffic, food, and grease your average home kitchen sees, it's important to give it a makeover every now and then. If you are looking for inspiration this list of ideas for a beautiful kitchen remodel is exactly what you need to see!
The average human will spend 37 minutes a day in the kitchen in the form of cooking, preparing and cleaning up. Those who love to entertain or cook gourmet meals will spend a more significant amount of time there.
Your kitchen is there for some of life's most important moments, not to mention all of the spills, grease, and meals that get prepared there. Why not make it fresh with a kitchen remodel?
Whether you've just earned a raise or you're starting a new chapter, a kitchen remodel is a great way to update your house without committing to redoing the entire interior.
Read on for 17 ideas for your next kitchen remodel and creating a streamlined and classy interior.
You can also take some of these ideas for small updates around your kitchen without remodeling the entire room.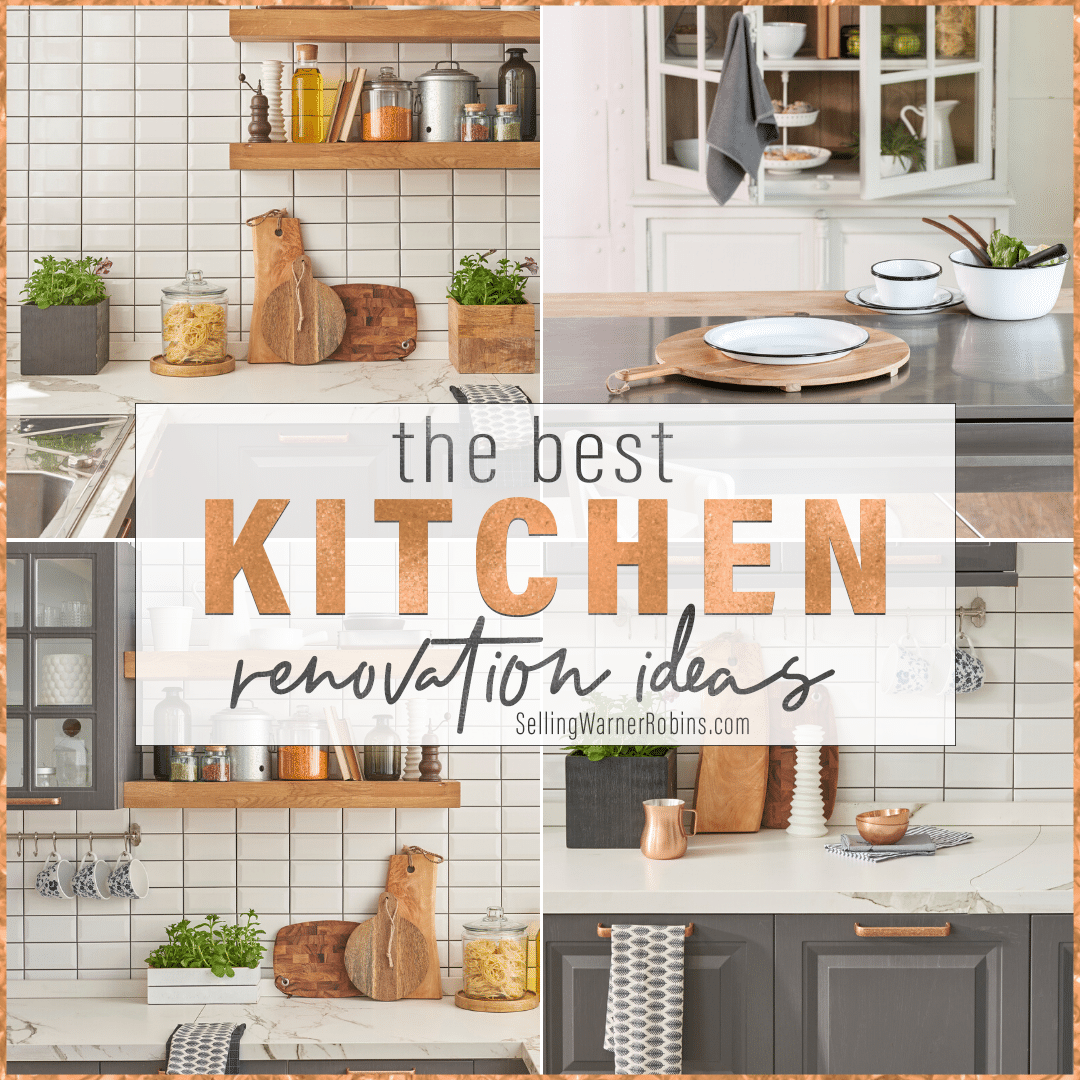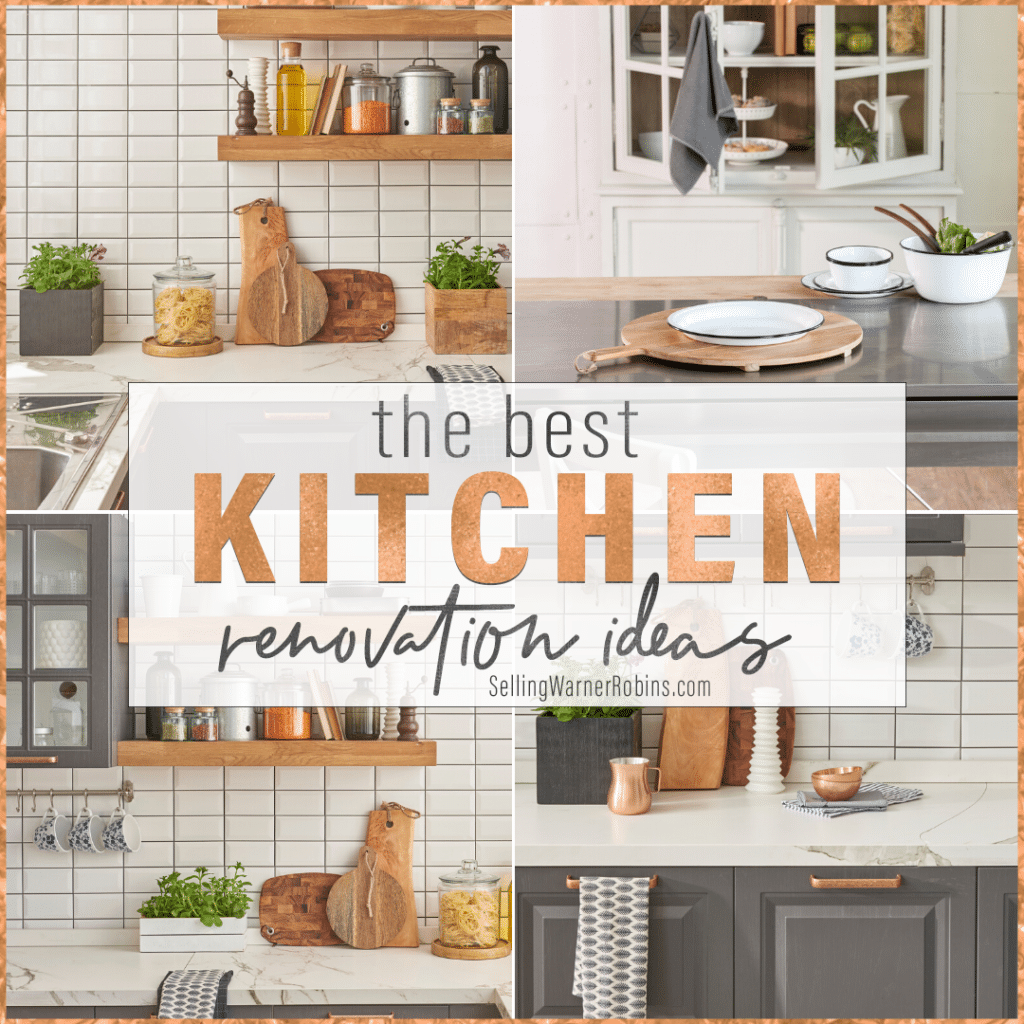 1. Remember the Hardware
If you live in an older home, you might have outdated drawer pulls and cupboard knobs. If this is the case, you'll definitely want to update them. Doing so can add an instant upgrade to your kitchen, even if you aren't remodeling the entire space.
In the instance you are remodeling the entire room, the hardware will add the finishing touch and pull everything together. Copper and marble toned finishes are especially trendy right now, but gold or brass can add a timeless touch.
2. Create a Sleek and Modern Kitchen with Black and White Interiors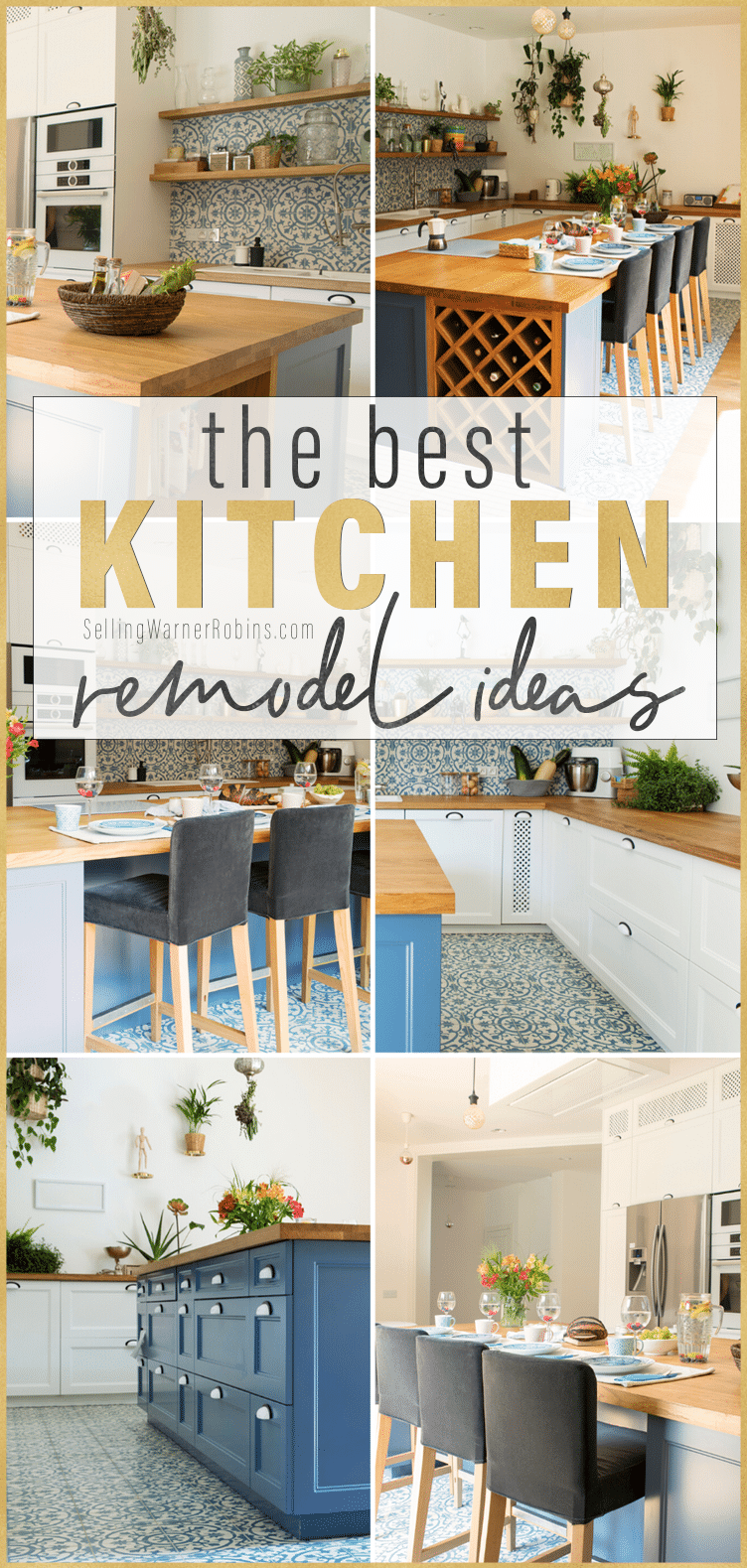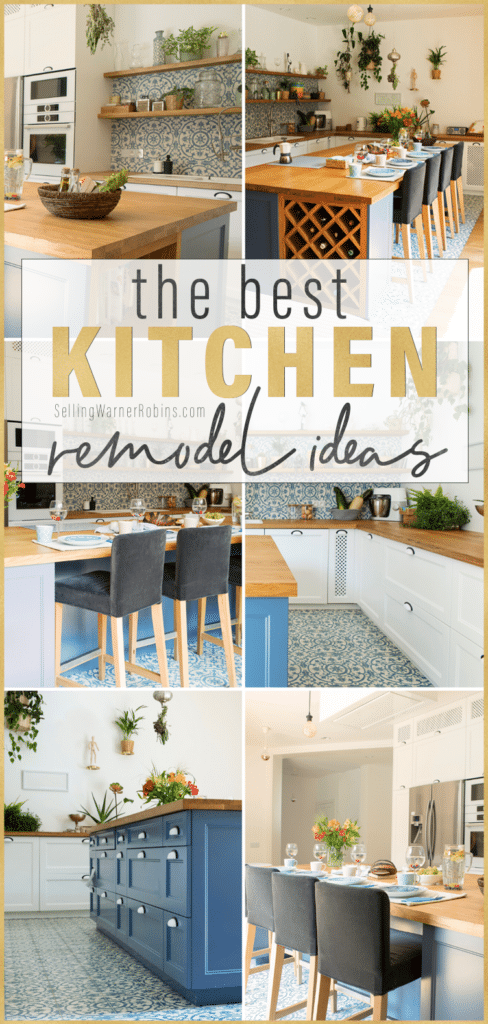 Stick to a black and white dichromatic color scheme to create a sense of timeless elegance. Utilizing a black and white backsplash and playing with the black and white color palette will give you a kitchen that will stay in style for years to come.
3. Install Quartz Countertops
Kitchen countertops trends come and go with time, but it is unlikely you'll grow tired of quartz work surfaces. Quartz, like marble and granite, has a timeless appeal. However, they are much easier to keep clean.
Granite can also be too dominant in the space, but a quartz countertop will add a pop of white color without being too overbearing in the color scheme. Is this one of the ideas for a beautiful kitchen remodel you have been considering? If so, now is time to take that next step and get this kitchen renovation completed.
4. Go for a Vintage Kitchen Remodel with Antiques
If you inherited a gorgeous kitchen table from your great-aunt that you don't quite know what to do with, make it the centerpiece of your kitchen remodel.
Decorate around the table with pieces that are either from the same period or appear to be from the same era. You can add antique looking light fixtures and a decorative antique or replica stove for ambiance.
You can also spice up the kitchen with antique photos or prints. Vintage advertisements for food or drinks, for example, are great additions and statement pieces for your old-fashioned inspired kitchen.
5. Create Open Shelving
Don't hide away all of the dishes you've collected over the years. Instead, create open shelving so that you aren't hiding your items. This is a great tip for those who have vintage sets or inherited china.
Keeping it stacked up behind the sink or where the cupboards will add an openness to the space while still keeping your precious things on display.
If you do want open shelving with the option of privacy, you can also add curtains in front of the shelves. Not only does this give a vintage feel, but allows you to draw the curtains if you have food or something not particularly aesthetically pleasing on the shelf.
6. Make an Open Kitchen
An open kitchen fosters casual dining and makes the room one of the centers of the home. With an open plan, you can have meals in the kitchen most days with your family and entertain your friends. You can save the more formal meals, such as holidays and big events, for the dining room.
While it may take some planning, this is one of the ideas for a beautiful kitchen remodel that will completely transform your space. Put your creative hat on and see what you can come up with. It could change the whole flow (for the better) of your space.
7. Add a Wooden Island
Most modern kitchens have islands, which allow you extra space to cook, or a place to sit and eat informal meals. While most islands have the same countertops as the rest of the kitchen, you can make yours stand out with one made of wood.
A wooden island gives nod to the modern design and function of your kitchen while evoking a very vintage feel. Any large table will do, and you will be sure that your kitchen doesn't look like that of any of your friends'.
If you're looking to downsize, add a trestle table with stools as an island for a rustic kitchen finish.
You can also re-purpose furniture like large wooden antique desks. They can be refinished and updated to serve as an island, or they can simply sit in your kitchen as they are.
8. Experiment with Mixed Textures
While you may be tempted to create a room with the same finish, experiment with different textures to create a truly unique environment. Think of medieval style homes and mix together items like a faux stone interior and wooden finishes.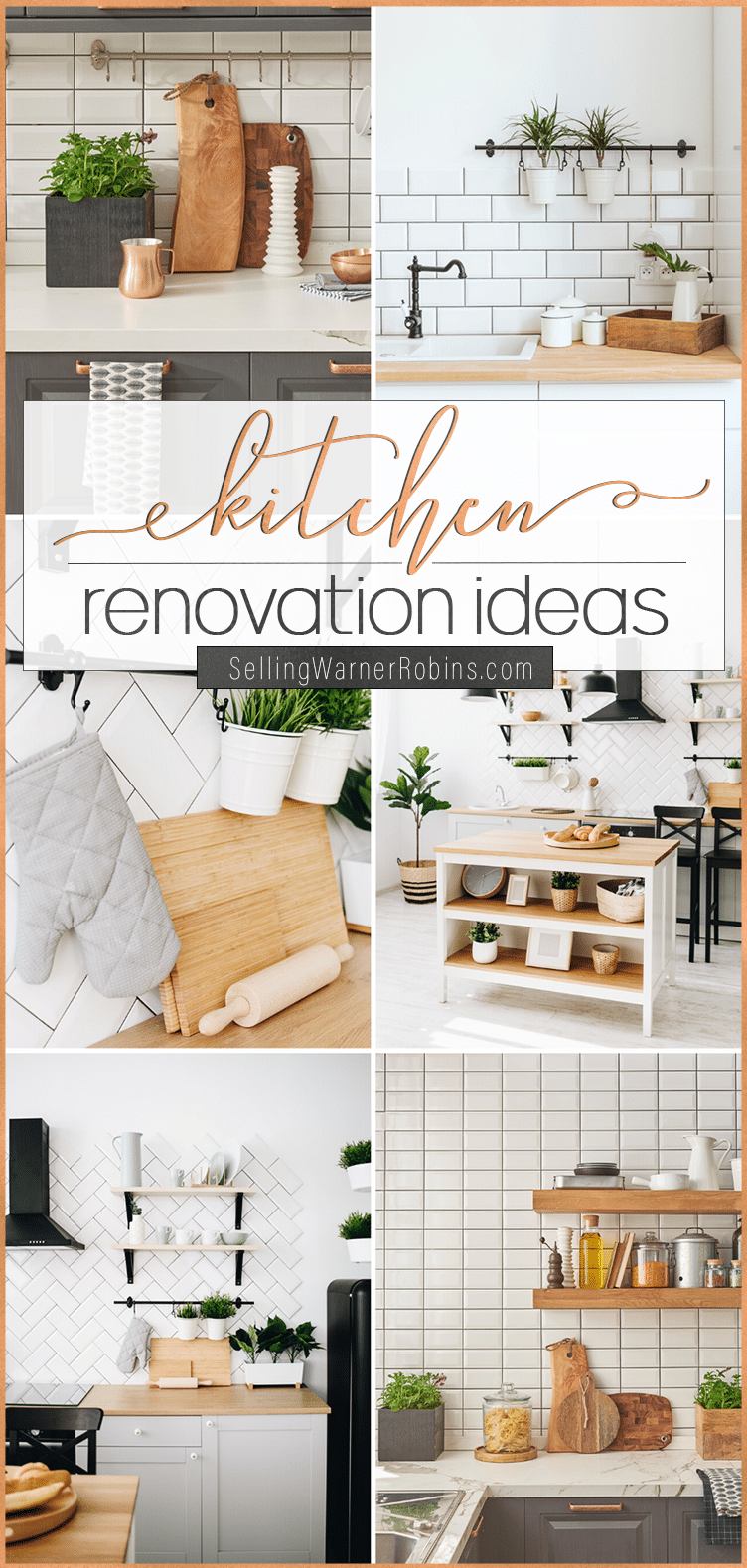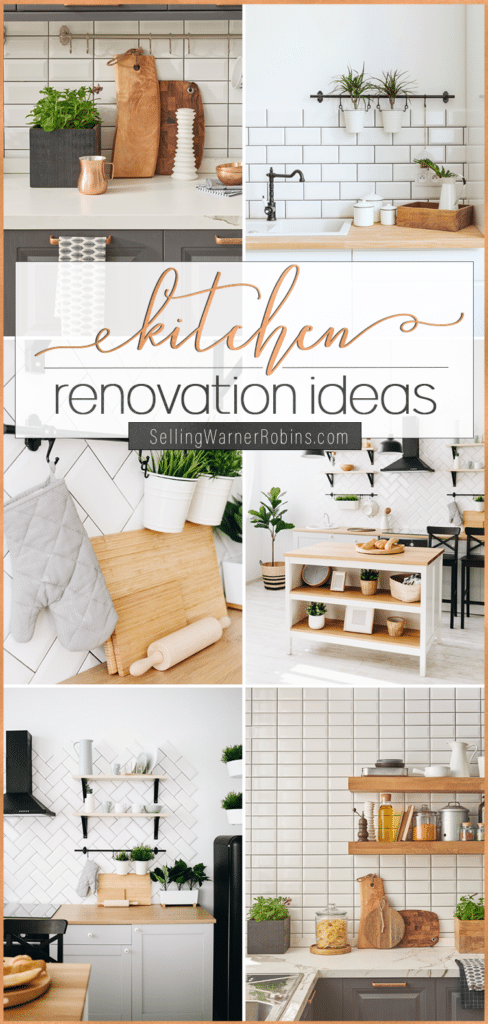 Although you'll have all of the comforts of modernity, you can still evoke a bygone era and live your dreams of cooking in a country French or Italian kitchen.
You can also experiment with other textures to find out which one works best for your home and its aesthetic. You can never have too many different textures in your kitchen, so go wild while you can.
9. Add a Nautical Theme with Portholes for Your Kitchen Remodel
If you're remodeling your beach house, or just love a beach theme, consider adding portholes in place of some of your windows. Placing three in a row will make you feel like you're on a ship, and will add a touch of uniqueness no one else in your neighborhood will have.
While the portholes may be pricey, they will add some serious character to your kitchen. You can also keep with the nautical theme by decorating in light blues and whites, colors evocative of the ocean itself. That way, when guests visit, they'll feel like they've already sailed away.
10. Hide the Garbage and Appliances with Textured Covers
Those who want their kitchen to look like it's part of a previous time period can often get hung up on what to do with modern appliances. Instead of trying to purchase appliances that blend in with the decor, hide your appliances with nooks and crannies built especially for them.
Install your dishwasher, for example, and then put a wooden door over it to conceal it. Match the wooden door with the rest of the interior of the kitchen.
You can do this with all of your appliances and the area for the garbage can. Guests will think you've eschewed modern technology until you open up your secret compartments and have everything you need for a luxury kitchen.
11. Strategically Update Your Kitchen
If you can't afford an entire remodel, strategically update parts of the kitchen while working with what you have. For example, you can rip up the floor and add new tiles as well as countertops for an instant update.
Other ideas including painting the cupboards, adding a stylish backsplash or installing a new stove or oven.
Make two or three major changes to your kitchen, and you'll find that it instantly creates your own unique style. Some of your guests might not even be aware that you haven't redone the entire thing.
12. Add Statement Lighting and Decorate Around It
A dramatic pendant lamp over your island can add some serious flair to your kitchen. You can also install faux period lighting that mimics lighting from bygone eras. For example, utilize the trendy Edison lamps dropped strategically to create a warm and vintage feel.
You can also use chandeliers or gold or copper lighting to draw all of the attention to the light source.
For an exotic feel, find a Moroccan style lamp and decorate around it. Include faded brass pulls and rich earth-toned colors to transport you across the ocean and into the desert.
Decorate around the lamps with matching or neutral tones to make sure that they stand out from their surroundings.
13. Go for a Gingham Ceiling
You might think gingham is reserved for clothing and Dorothy from The Wizard of Oz's dress. But you can use this classic pattern on your ceiling.
A gingham design can be any color mixed with white, and putting it on your ceiling adds an instant statement. If you have high ceilings, it can also bring them down a bit and make your kitchen feel a little cozier.
This is ideal for large kitchens that might feel a tad overwhelming with their space. Instead, you'll create a kitchen you'll want to spend more time in.
14. Pay Attention to Detail
While you're more than likely prepared to pay serious attention to detail during your kitchen renovation, the more you pay the better. Some homeowners believe the best bits are in the details, and you can adhere to that belief with crown molding and other trim.
Rich detail, such as molding and trim around the countertops and wire meshes add a little Edwardian touch while also creating an instant wow factor.
You can also consider adding custom carvings to your cupboards and cabinets. They can go with your look, keeping in the theme of a particular vintage piece or era. Or, you can carve them with your family's initials or something that means a lot to all of you.
15. Additional Overhead Kitchen Storage
Do you have an extra large home or are you always entertaining? If so, adding extra storage above your cabinets is a great idea. This is particularly great for those who may have high ceilings in the kitchen, but not a lot of room to store china and dishes in other areas of the house.
Overhead spaces work particularly well for condos.
Add a space above your cabinets for some of the pieces you don't use in everyday life. You can add a moveable ladder for easy access to the items. This gives you a little bit of extra space for everything you might need while adding interesting character to your kitchen's design with a ladder.
When installing the ladder, make sure it fits with the theme of the kitchen. You'll want the ladder there all of the time, so don't pick one out that doesn't go with the decor thinking you'll pack it away. Having it out perpetually allows you to access things at any moment.
A metal, gold or copper ladder adds a touch of modernity to an already sleek kitchen. A wooden ladder gives you a hint of vintage for a kitchen with a more rustic appeal to it.
16. Add a Dropped Floor
Many old homes, particularly in Europe or the Northeast, already have dropped floors. This adds a touch of Old World charm to the space. However, if you've always wanted to live an older home, a dropped floor can add a hint of character. It also gives the illusion of the kitchen being larger than it actually is.
A dropped floor works well with wooden finishes, especially if you're going for a Colonial vibe. However, you can incorporate it into a modern finish by adding a marble or colored trim that matches the overall aesthetic of the kitchen.
17. Keep It Simple with a Farmhouse Vibe
Even if you're in the middle of a busy city, you can make your kitchen your sanctuary with a simple Old World farmhouse vibe.
Clean lines, faded or aged wood, vintage pieces, and open cabinets work well to create the illusion that you've just stepped into a 19th-century European farmhouse kitchen.
For this look, you'll want to keep the decor bright. Create a simple color scheme of light blues, pinks or even whites.
Vintage inspired lighting and gingham tableware will help round out the details. Make sure you have plenty of wildflowers or faux wildflowers for decor and keep the pulls on the cabinets simple and chic.
Putting It All Together
Your kitchen remodel may seem overwhelming, but try and enjoy creating your masterpiece. After all, you're creating something that is unique to you and your family and that you'll enjoy for many years to come.
If you found this article on ideas for a beautiful kitchen remodel helpful, please share it so other consumers can also benefit from the information.
17 Killer Ideas for a Beautiful Kitchen Remodel