Creating the Perfect Patio Atmosphere
If you are looking how to create the perfect patio atmosphere, whether to enjoy yourself, or make available to potential buyers, you will find plenty of great tips in this article to help you make the most of your outdoor space.
A visually appealing and practical patio is a great investment. It is a great space that you can use for fun outdoor activities and it can help increase the value of your home in case you decide to put your property on the market. Let's face it, a nicely done patio is appealing and attractive to potential home buyers.
Real estate experts agree that patios are an attractive element of a home that can increase its value and make it more attractive to wider clientele base. According to recent research by the American Real Estate Society approximately 67 percent of the people surveyed affirmed that a nice patio and a great outdoor space are among the most attractive qualities in a home. If you want to boost an outdoor space, installing or renovating a patio is a great way to do it.
An extensive study done by National Association of Realtors established that one of the most important features that current homebuyers want in a new home is a nice patio. According to this study most of the people surveyed are more open to spending more generously when a new home has a nice patio. Here are tips on how to create the perfect patio atmosphere.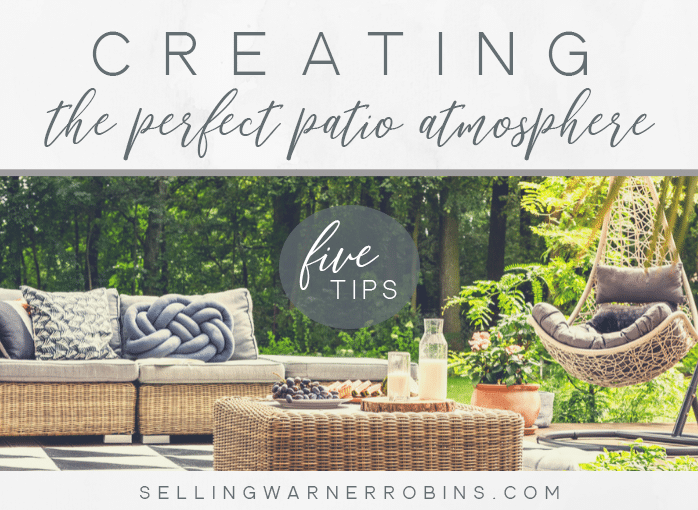 Tips to Build a Great Patio
It is advisable to build a patio that fits in with and complements the rest of your property. The design should be proportionate to the size of your yard. Avoid a huge patio in a small yard as this will leave less space for a garden making your property less valuable and less appealing to potential buyers. It is also recommended that you should not install a very small patio in an extremely large outdoor space. To get the size right, hire a professional landscaper.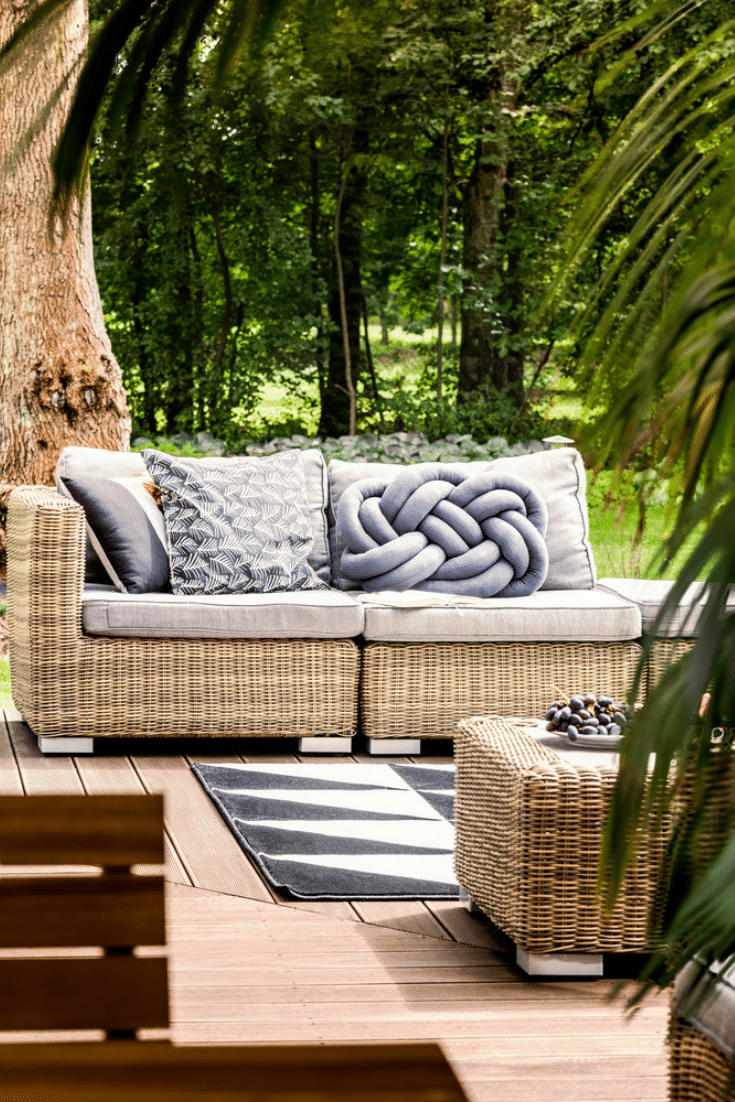 Ensure the design of the patio complements both the interior design of you home and flawlessly complements the garden space. This will make the patio more visually striking and appealing to potential home buyers.
Design your patio as a standalone structure located strategically next to the entrance of the house , connecting to the back yard. This will ensure that any remodeling done on the patio does not affect the main house or affect the yard. Essentially a patio should be close to the house but not permanently attached to it.
 A patio should be your private safe haven that is comfortable and away from prying eyes of neighbors and passers-by. A great patio that has the potential of boosting the value of a home considerably should not be in the front of your house next to the main entrance, instead choose a space that is private.
Use durable materials to construct your patio. Instead of wood consider using concrete which is long lasting and easy to maintain. Most buyers who want a patio will be looking for one they can easily maintain without too much hassle or the need to constantly remodel.
Contrary to common misconception, high-end patio upgrades such as wall to wall carpeting do not necessarily improve the value of a home. This is because, although well-maintained and regal looking, it may be expensive to maintain which leads to buyers viewing those upgrades as a burden not a bonus.
Why a Patio Adds Value to Your Home
A well designed patio enables outdoor entertaining
Outdoor living spaces have become extremely popular
Many provide protection against the weather
A patio with a well-thought out design makes a home more spacious
They are often low cost to create and maintain
Apart from providing a great entertaining spot, a patio also makes your home more spacious by extending your living room space to the outdoors. With patios, there is extra space for seating guests and an opportunity to infuse color, lighting and personality into your home.
Patios add Visual Appeal to a Home
One of the most remarkable benefits of a patio is the visual appeal they create in home. A patio is essentially a versatile space that gives a homeowner the opportunity to let their creative juices flow. Whether you just want to enjoy the scenery, entertain, or cook there are a multitude of options to fit your personality and home.
In a patio, you can make a bold and memorable statement that makes your home stand out. Great outdoor furniture and colorful stains or concrete stamping will go a long way in making your patio visually striking.
How to Make Your Patio Stand Out

Regardless of your motives, here is some advice on how to make your patio really stand out and be a feature new buyers will not only want but cherish.
Find a theme and stick with it throughout the decorating process. Good themes include a café, Hawaiian/beach, or Western style. The real trick is making sure that all your pieces match the theme.
Add a cover to the patio. It could be a simple trellis or awning. The cover should function as a provider of shade during those steamy summer months, while avoiding a complete block out of sunlight.
Add lighting to the cover, railings, or even floor of the patio. Christmas lights are an affordable and easy solution that you can quickly string to create a relaxed and cozy atmosphere in the evenings. Lanterns are also a great option, which will light up your patio in a classic sort of way.
Plants are important too. Try training a vine to climb up one side of the patio so that there is a private corner perfect for reading or putting in a hammock.
After all of your adjustments have been made, it's time to relax in your revamped patio or market it to those lucky home-shoppers.
Why You Should Consider a Patio
Whether you are planning on buying or selling a home, the patio is an area of the house that simply cannot be overlooked. You should think of it as another room of the house, the only difference being that it is outside. This means your patio deserves attention and a certain level of decorating to achieve the perfect atmosphere.
If you are looking to sell, you patio should be clean, organized, and inviting to potential buyers. If you are looking to buy, patio decoration should center around what you want to use your patio for, whether that's relaxing, grilling, having coffee/breakfast in the mornings, or something entirely different.
For additional patio design tips this article at HGTV can get you pointed in the right direction for your outdoor living space.
If you found this article on "How to Create the Perfect Patio Atmosphere" helpful, please consider sharing it via social media.
Tips on Creating the Perfect Patio Atmosphere