Why You Need To Rehab Your Home
If you are putting your house on the market soon, you may be wondering if you need to make repairs or renovations. After all, many homeowners want to sell "as is," getting a return on their house and leaving the buyers to make any needed repairs. Most often, it really a good idea to repair your home before selling. Remember, homes need to pass inspection to be sold. The National Association of Realtors (NAR) reports that 23 percent of home sales fall through due to inspection issues or environmental issues.
Buyers can also make their purchases contingent upon certain repairs. Nine percent of home sales fall through because of issues with contingencies in the contract.
In other words, more than one-third of total home sales initially fail because of potential issues with the condition of the home, or differences between seller and buyer perspectives on the condition. That is a key reason why you should repair your home before attempting to sell. This ensures it is up-to-date and known issues have been resolved.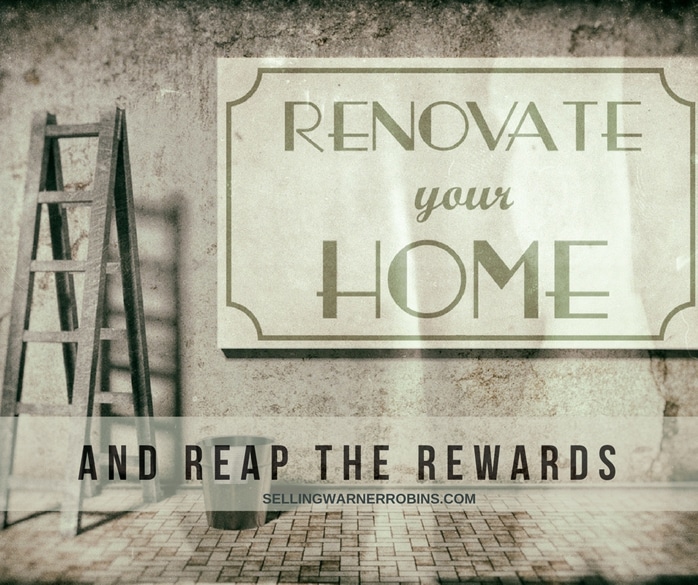 Considerations When Deciding Whether to Repair
But there is more. Added to that mix are other home sale factors. Buyers, after all, choose to buy when conditions meet their needs and demands. They might not choose to buy a home if obvious repairs or rehab are needed.
Market conditions will matter in your decision. If you are in a hot real estate market, the condition of your home might not matter. Buyers in red-hot markets will snag a home with obvious defects knowing there are other buyers ready to grab the home if they do not. But if you are in an average or lackluster market, your home may take a very long time to sell if it needs repairs. You may have to take an offer for less than an amount you were hoping for.
Red-hot markets are typically sellers' markets. But average or slack ones are buyers' markets. Less inventory often drives up competition and prices. Think accordingly.
According to the NAR, home purchases are expected to rise 2.8% this year. Is your area experiencing an increase in sales?
The competing housing inventory also matters. If homes in your neighborhood are all in excellent to very good condition, noticeable needed repairs may keep your house from selling, or cause you to come down on the price. But if other homes are in average to poor condition, repairs may not matter as much.
Finally, you need to factor in your return on investment (ROI) when considering home repairs. Some repairs and rehabs are expensive and add very little to the sale price of the home. Springing for a brand-new kitchen in an older home, for example, can be pricey but do little to augment what a buyer or investor will pay for the property.
But other repairs such as faulty wiring will likely need to be done before selling the home. It may be expensive, but a home that will not sell means no sales proceeds for the existing homeowner so keep that in mind if you are holding out on particular rehab efforts.
How do you make sure that your home will sell given the real estate market, the inventory it competes with and the ROI? Fortunately, real estate agents tell you categories of things that need to be fixed before you place your home on the market. Below is a look at those necessary fixes and reasons you should repair your home before trying to sell it.
If it is Broken…
We have all heard the adage "if it ain't broke, don't fix it." Well, in real estate sales, the opposite is true. If it is broken, it needs to be fixed. If you decide to not fix it, you should at least have a plan for when buyers or inspectors request issue resolution.
Review your home carefully to see what items or systems might be broken. A dishwasher that does not run, for example, is definitely broken. You need to purchase a new one or have the existing model repaired. Buyers will expect basic appliances to work.
For items that you may live with every day, look with a buyer's perspective. After all, jiggling a toilet handle after every flush may not bother you or your family. You do not consider the toilet broken. But a buyer very likely will. It does not work as it should.
Do the curtain pulls all work? Does your air conditioning keep rooms comfortably cool, or only really work with a fan? All the things that are not fully functional need to be repaired.
Condition of the Offer
Buyers typically request home repairs or rehabs for two reasons.
The first is their own decision about the condition of the house and their desire for it. Many buyers want only to purchase a house if the seller fixes something or makes something better. These decisions can stem from their desire to have the home in live-in condition when they move in or economic calculations. Some buyers do not want to live in the home during a major renovation.
Others who want a home that needs major repairs may feel that it is not economically feasible to purchase the home and sink cash into repairing it. Home repairs are notorious for often costing more than initially estimated. Some prospective buyers may feel it is too economically risky to take on the repair process themselves given the possibility of cost overruns, and want to leave repairs to the seller.
The second reason is that the inspection reveals something not visible that needs to be fixed. This could be the roof, foundation, plumbing, wiring or the heating, ventilation and air-conditioning system.
Negotiating purchases contingent on repairs can be a major piece of the selling process. If the inspection reveals that the house needs a new water heater, for example, you will likely either need to purchase a new one or come down on the selling price.
If you want to sell your home quickly and for an optimal price, it is often advisable to make the repairs a buyer asks for as a condition of the offer.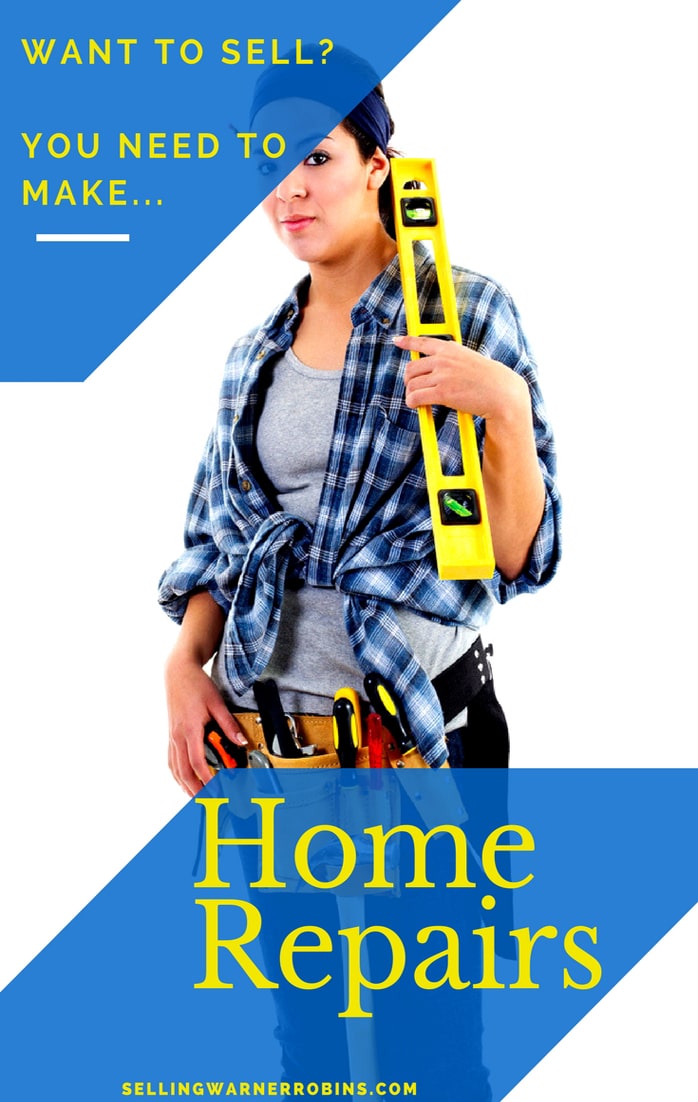 Can it Cause Damage or is it Dangerous
Repairs to areas that can cause damage to other parts of the home or are dangerous need to be fixed as quickly as you discover them. Failing to make repairs in this category can put your entire home and the people in it at risk. Here are some common repairs in this category.
The Roof
Damage to the roof can occur due to animals, hard winters, age, or lack of regular maintenance, among other causes. A damaged roof is dangerous and should be looked at by a professional as quickly as possible. If buyers can see roof issues or the results of a non-repaired roof, your chances of selling them the property are often diminished.
If the roof is leaking, for example, it can cause water damage to the rest of the home. Water damage can impair the structural integrity of the floor and walls. It can also cause long-term damage, such as rot or mold. Rot and mold can structurally damage your home as well. It is expensive and time-consuming to repair. Water damage can also ruin furnishings, floors and walls.
Your roof lasts about 30 years. After that, it needs to be replaced. Informed prospective buyers may inquire about the condition of the roof, or inspection may reveal signs of age damage, even if it is not leaking. If this occurs, buyers may require replacement as a condition of the sale.
Garage Doors
Garage doors may stop functioning properly if they have been damaged, used improperly or are old. They can begin going up and down unpredictably. This can hurt people, especially small children and older people who may not be aware of the danger or able to move out of the way quickly. It can also damage cars, bicycles or other possessions caught in the door.
Did you know…in the recent past 13,325 people suffered injuries caused by garage doors.
Other concerns include worn or broken springs, ill-fitting or loose tracks, or warped or misaligned sections. Also, if there are leaks or air gaps from holes or worn-out weather-stripping, it makes good sense to resolve each of these issues before listing your home.
If you garage door is displaying problems mentioned previously, you should start the process of getting it repaired as soon as possible. A garage door typically lasts for 15 to 30 years, but after that, they likely need to be replaced.
Water Hook-Ups
Water hook-ups connected to appliances may be sites of water damage or leakage. Be especially sure to check around appliances such as the washer and dryer, kitchen sink, bathroom appliances, and any other facilities using water in your home for signs of leaks or damage.
If there are leaks, they need to be fixed promptly. While a slow leak may seem like a minor issue, they can and often do cause further damage and can affect structural integrity. If old and worn-out appliances are the cause of the damage, these will likely need replacement as well.
Electrical Elements
Any damage or danger to your home's electrical systems needs to be fixed right away. The danger to you, your family and your home can be extreme. Failing electrical systems can cause electrocution and shock. They can cause electrical fires, which are fast-moving and difficult to put out. Do not run the risk of losing your family and your home to a fire.
Do not think your circuit breakers will automatically turn off and protect your family and home from all potential damage. That will happen if the circuits are overloaded. But there can be problems with electrical wiring that do not manifest this way.
If appliances buzz, even slightly, when turned on, it could be a sign of faulty wiring or insufficient electricity to power all the appliances in your home. If outlets are warm or hot to the touch, it can be a danger signal. If heaters, air conditioners or lamps do not always turn on or shut off abruptly, it could be another danger signal.
If your home is from the 1960s or 70s, it may have outdated wiring. If you see any danger signals in the electrical system, it is in your best interest to call an electrician for an inspection.
While many do-it-yourself homeowners believe they can do many repairs themselves, it is advisable to never try to make electrical repairs yourself. Many of them are complicated. Hiring a professional ensures they are done correctly. When in doubt, err on the side of caution, so you never short circuit your families safety.
Basements and Foundations
Carefully inspect your home for any signs of damage to the foundation. Cold weather or inadequate maintenance often cause cracks in the foundation. If cracks develop, water leakage or pest colonies can occur in the basement or ground floor of the home if there is not a basement.
Water leakage can damage the structural integrity of the home. So can pests such as termites or rodents, because both can chew wooden structures.
Water can also cause mildew, mold and rot. Not only are these a hazard, they can make you sick too. It is smart to call in a professional if you believe any of these conditions exist.
If you find damage like this in the basement or foundation, it will need to be fixed before you consider selling your home.
Miscellaneous Home Repairs
Some items may not cause damage or be a physical concern, but they nonetheless should be something you consider resolving when you are getting your home ready to sell. These home renovation improvements include:
Flooring
No part of the home literally gets more traffic than the flooring. Yet it is often one of the first things that is overlooked when homeowners are considering rehabbing their property to make it more presentable to potential buyers.
Regardless if you have hardwood, tile, laminate, carpet, or something entirely different. Rehabbing your flooring will typically bring a solid ROI when you sell your home.
Painting
One of the easiest and cheapest way to make a splash and give your home an updated, clean, and tidy appearance is to paint the property. If time permits, this is definitely one of the rehab projects that you should consider tackling yourself. All it takes is a little time and patience to give your property a facelift that consumers will appreciate.
A good rule of thumb is to use neutral colors in each room you decide to refresh. While you may prefer bolder options, many buyers actually like softer hues as they are less offensive and typically fit with common décor easier. You only get one opportunity to make a good first impression so give well worn rooms a paint renovation and reap the rewards.
Exterior/Interior Clean-up
The outside tasks are often those you may have put off in the past. Items like mailbox replacement, fixing a downspout, pruning untamed bushes, and replacing old house numbers or floor mats are simple changes that can give off a positive vibe to prospective buyers.
Other outdoor tasks like mending fence slats, painting shutters, replacing door handles, mowing/edging, picking up toys or animal waste, and pressure washing concrete or vinyl siding can also resolve potential home sale issues before they become a consumer concern.
Indoors it makes sense to declutter your house, remove offensive or inappropriate art or décor, patch any known holes, replace burned out bulbs, eliminate odors, and resolve any minor defects (i.e. cracked fixtures, dripping faucets, loose handrails, or missing hardware). More items include caulking, replacing grout, resolving poor fitting doors or cabinets, and finishing any projects that have been started but not completed.
Of course, the above lists can be added to or replaced with specific items that are known issues or concerns in your own home. Doing a few of these things each week in the lead-up to putting your home on the local market will make the tasks less daunting and ensure you see them through to completion.
Know When to Make a Fix
Deciding to renovate or repair before selling a home is a significant decision. Be sure to factor in the condition of the real estate market, competing inventory and your ROI. You can bet buyers will hire a home inspector to find and report issues so be prepared. While some wear and tear is acceptable, just make sure you understand and are prepared to renovate your house if anything is broken.
There is a good likelihood the buyer will make the sale contingent upon repairs being completed. Knowing what needs to be fixed, what should be considered, and the rehabs that you can easily negotiate away can go a long way to making an offer stick. In the end, selling your home for an amount you are comfortable with, in conditions you are in agreement to is the ultimate goal.
Additional Home Repair Tips
Joy Bender: Remodeling to List and Sell
Todd Blair: Choosing a Remodel Contractor
Kevin Vitali: Max Value Renovations
How Stuff Works: DIY Home Rehabs
If you found this article with tips on why you should repair your home before putting it up for sale helpful, please share it so other consumers can benefit from the information. ~ Anita ~
Reasons You Should Repair Your Home Before Listing It