Your Property Presentation Checklist
A good property presentation should be carried out if you intend to sell your property. The appearance of your home is the first thing that prospective buyers will notice; make sure you make a fantastic first impression by following these simple tips. Here is your property presentation checklist to ensure your home looks its best and generates interest from prospective buyers in your market.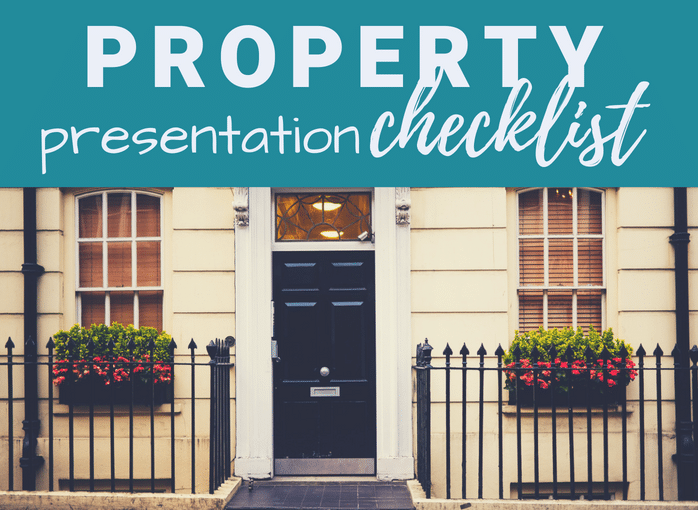 ---
Repairs
The stove has stopped working, there is a leak coming from the bathroom, your extractor fan is broken – how long are you going to wait to have items fixed? Even small issues such as a broken bulb can make prospective buyers turn away and find another home. Attention to detail is very important and any home repairs should be as seamless as possible!
Take your time to inspect your home and if necessary, call in specialists to have a better look at the premises in order to find out potential issues and deal with them in a professional way. Repairs should be the first thing you do before you let the world know you are selling your home.
Things to inspect:
Plumbing – An easy way to check whether there are hidden leaks in your home is to shut off all your taps, irrigation systems, washing machine, dishwasher and other water-using appliances. Go to your water meter and write down the number you see. This is the amount of water per gallons you have already used. Either take a photo of the numbers with your smartphone or write them down on a piece of paper. Then go for several hours without running your water-using appliances and make sure no one else does. Then go back to your water meter and check the number again. If it has increased, unfortunately there is a hidden leak. Take all necessary measures to fix the problem. For obvious leaks and any faults in your plumbing system, make sure to contact a plumber.
Electricity – Call in a qualified electrician to diagnose your electrical system. Have them check your cables and wiring, sockets, light fittings, electrical appliances in use, earth connection, etc. Make sure your electrical system runs smoothly before you show your property to prospective buyers.
Roof – Do not overlook your roof either. If there is some damage to the roof structure, it can lead to serious leakage and other problems. If you don't feel qualified to handle roofing issues, you had better leave them to an expert to decide whether you roof is in good condition or not. Prospective buyers will want to know the property is safe to use. Here are a few roofing things to watch out for:

Broken shingles
Damaged flashing (rust spots or cracked caulk)
Worn or cracked rubber boots
Lichen or moss present
Missing shingles
Freshen Up the Interior
This is a good time to consider an indoor property redo. Apart from your home being in perfect working order, prospective buyers will also be attracted to a cozy interior. The possible decor changes may range from replacing small items to repainting the whole place. It largely depends on the budget you want to "sacrifice". No matter what you choose to do, ensure it improves on what was there before or you may turn buyers off.
You think your old sofa does not look presentable? Don't let it put off your prospective buyers. Create that appeal you desire by replacing your old furnishings. You know what they say: give and it shall be given to you. By investing in your property you will be able to attract more buyers and sell it at a higher price.
Things you can do to freshen up the interior include:
Replace the furniture
Install new floors
Insulate your home
Repaint the walls
Add decorative accent pieces
Fit a new bathroom
Convert your attic (if your budget allows)

Clean Up
Needless to say, your home should be sparkling before you show prospective buyers around. Consumers will not be able to visualize living in the house if it is covered with dirt. Put yourself in buyers' shoes for a second and take a walk-through your home. Would you want to buy a property if the kitchen appliances were greasy and dusty, the bathroom tiles were moldy, and the floors were totally messy?
Assuming the answer is no…you need to roll up your sleeves and get everything spic-and-span before prospective buyers turn up at your door (or before putting the house for sale for that matter). Buyers will pickup on blemishes as they search online and view your property on their real estate agents website.
It is a good idea to start with a deep clean of the premises. This means more than a quick sweep around the property. You need to do a thorough cleaning such as:
Wash the windows
Clean the carpets
Remove dirt stuck behind your appliances and in between furnishings
Clean appliances thoroughly inside and out
Dust all knick-knacks and every available surface
Clean walls and counter-tops
Don't forget to remove cobwebs as they are typically associated with negligence. Even though your home may be totally immaculate, a single cobweb may make it look unkept. The more you do to give your home the spic-and-span treatment the more likely it is buyers and investors will like what they see.
Declutter
It is always a good idea to streamline your possessions when getting your home ready to put on the market. Without a doubt, some prospective buyers will not be thrilled to see your stuff there and others will not be able to look past your stuff to see the potential your home has. The fact that you have not moved out will make it difficult for them to imagine their life in this home!
You need to provide an atmosphere of less is more. If that means moving some of your belongs to a storage facility, then by all means do that. The less stuff you have in the home the larger it looks to buyers and the more likely they will want to take a longer look.
Focus on the Details
Finally, lighten up the place by adding appropriate decorative lighting, large mirrors, cheerful photos, scented candles and other neutral setting items. Open up the curtains to let sunlight in. It will also make your home appear warm, brighter and larger. The more you can do to make your home stand out from the competition (in a good way) the better opportunity you have that buyers will begin to visualize themselves living in the home.
Are you ready to show consumers what your home has to offer? Then ensure you hire an agent who knows how to market your home both online and offline. If you take these tips to heart and follow through with your plan, it will give your home every opportunity to get seen and sold in any real estate market.
Additional Seller Resources
Steps to Prepare Your Home to Sell
10 Things to Do Before Listing Your Home
If you found this information on Your Property Presentation Checklist helpful, please consider sharing it via social media outlets so others can benefit from the information too. 😉
Your Property Presentation Checklist