Buying A Luxury Home In Any Market!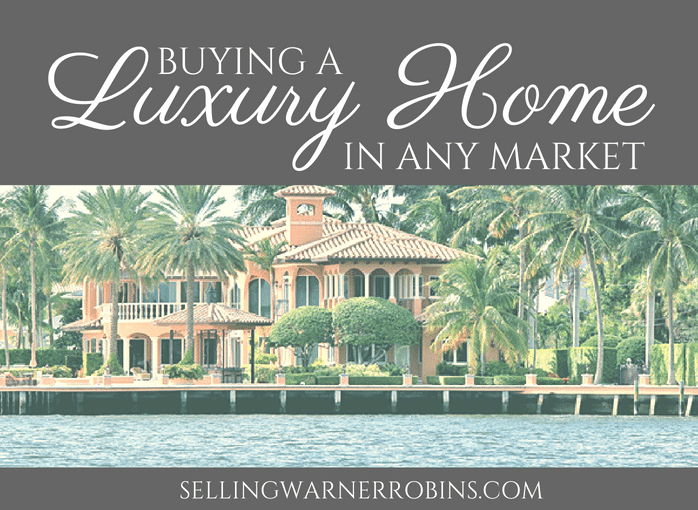 The old adage that money cannot buy happiness is true but in real estate it can definitely assist those looking at buying a luxury home such as a villa, penthouse, or even a mansion if you have enough funds. The concept of luxury housing has been trending recently and those that can afford to live life king sized are in position to satisfy their cravings and enjoy their opulence.
For many consumers, luxury housing is their primary residence but for some it also represents their second or vacation home. Luxury properties clearly stand-out in every market and large markets like London, Dubai, Toronto, Sydney, New York, and even Atlanta are reporting increased sales in their luxury housing markets.
According to spectrem.com there are currently 142,000 family units with aggregate resources over $25 million in the United States right now with over 8% of the population worth more than $1 million. That is a considerable amount of spending power for those looking at buying a luxury home!
As you would expect, luxury property buyers are fickle, with specific tastes and the means to ensure they get exactly what they want. Here are several things those with the money to afford this type of living are looking for when buying a luxury home.
6 Things Luxury Buyers Want
Location is Key
A favorable location is a champion amongst the ultra rich and who can blame them for wanting the ideal spot for their future house. It is what we all want, they just have the monetary influence to ensure that dream becomes a reality. Whether it is a property overlooking the ocean, a mountain-top hideaway, or a penthouse with fabulous views or ultra privacy, choosing the right location is paramount to those with money to spend.
Another location consideration is the ability to quickly and conveniently have access to air terminals/runways, specific business regions, and other means of travel. In some cases, having an on-site helicopter pad is extremely useful. Having the option of coming and going without much fanfare is certainly advantageous, especially when the paparazzi are hanging out for that elusive money shot.
You cannot change the location of your home but you can make every effort to accentuate the positive features those in the upper price points will appreciate.
Amenities You Wish You Had

Luxury homes are expected to offer the most amazing comfort, with charming inner workings and both aesthetically pleasing and functional outside spaces. Premium items include top of the line electronic gadgetry, "smart" kitchen appliances, private sports playgrounds, elevators, recreation centers, incredibly large rooms, unique and intricate architectural designs, and whatever else the mind can dream up.
For those with the funds to indulge, working hard gives way to playing hard once they get home to their oasis. It is not uncommon to see lavish clubhouses, wine cellars, fully functional outdoor spaces as well as areas where they can indulge in their favorite indoor or outdoor activities. A quick look in magazines, television, or online shows you just how big the elite dreams are!
Breathtaking Views
Let's face it, a gorgeous view of whatever strikes your fancy is very appealing. Overlooking a mountain range, perched on the edge of a body of water, or having a fabulous skyline are all available for the right price! If your imagination can think it up, and your wallet can afford it, breathtaking views await.
Having the ability to paint your own landscape canvas is not only the perfect setting but also is key to ensuring resale value stays high if/when you decide to put the property back on the local real estate market. Besides, what is not to like about relaxing while enjoying a perfect view!
Quality Everywhere You Look
Exactly as you would expect, the rich want quality in their home. If you want your existing luxury home to sell it better be decked out with  top-of-the-line smart-home technologies, appliances, flooring, windows, lighting, storage, and all the other indoor/outdoor bells and whistles you would expect in this price tier.
If any part of the property does not measure up, you can bet buyers will consider moving on. While that happens in every price point, those at the top of the funds chain have more flexibility as they already have the money to resolve the issue if they are convinced the property is ideal for their needs.
Nary A Neighbor in Sight
Even in the city there is the desire and ability to hide in plain site. Whether the home is a penthouse suite, a loft, or an out-of-the way hide-away, the last thing many consumers who are buying a luxury home in the city want is nosy neighbors. Some have even taken to purchasing warehouse or other commercial spaces to ensure their abode is in a tranquil setting.
The same is true for those who are not fond of city living and is a major contributor why many of these homeowners prefer to have a countryside home with a decent amount of land. The easiest way to ensure you have peace, quiet, and some isolation is to put plenty of acreage between you and the next property owner.
Top-of-the-Market Safety and Security
We have all seen the movies where the luxury home is gated with a large and daunting wall to keep looky-loos and undesirables out. That is not all that far fetched as many luxury homes have this security feature. Many also employ incredibly elaborate security systems, guards, and both safe rooms and escape routes in-case of a breach. Purchasing a secure home is always the best approach and most prudent home buying option.
Satisfying your safety and security needs are basic to existence, and are paramount attributes for the majority of consumers who are buying a luxury home. For the high-profile, ultra rich, and celebrity buyers, protecting their privacy is always a premium. It is safe to say, you cannot put a price tag on protecting your loved ones, keeping them out of harms way, and shielding them from those who want to exploit them.
---
3 Things Luxury Sellers Must Do
Have Patience in the Selling Process
We want what we want when we want it! That is true regardless of our status in life, but the fact is, most luxury homes take longer to sell. Perhaps buyers are pickier or can afford to hold out until they get exactly what they want, but whatever the reason it is important for sellers to understand the sale of their home is most likely going to be a marathon, not a sprint.
Sellers who have kept their luxury home in great shape and have made periodic home improvements are not only smart but also understand that competition (as limited as it may be) can be fierce in the upper price points. It is also wise to professionally stage the property to show buyers how tasteful the home looks when lavishly decorated. If your agent is worth their salt they will hire a professional photographer/videographer to ensure your property looks its absolute best for the buying public.
Hire an Experienced Luxury Home Agent
There is way too much at risk to leave a sale like this to a novice or part-timer. Luxury home sellers need to take their time and choose a luxury home real estate agent that has experience selling these types of homes. Image is everything at this level. Your agent needs to be confident in their abilities and poised when power buyers want to play hardball.
How they market your home, both online and via print/video media can make all the difference. Will they do extensive online marketing to include blogging, social media, and video production (to include drone usage where appropriate)? Is television and/or radio advertising a consideration? What type of print media will they employ?
Checking out their property portfolio of recent successful transactions in your price point will tell you volumes about how they operate and whether you want to utilize their services to get your property seen and sold.
Choosing the right listing agent will make all the difference!
Price Your Property to Sell
It sounds simple right…price your home to sell! It is that easy but even those with good business sense can get carried away by emotion when putting their home up for sale. If you took my advice above and hired an experienced agent, they should be doing their homework to make sure they completely understand the current market to provide a realistic comparative market analysis.
Getting the price right the first time will save a lot of headaches, frustration, and give your luxury home every opportunity to win over a rich buyer. Homes sell in every market, at all times of the year, so if your property is not getting showings, you need to discuss the pricing with your agent to determine if an adjustment is necessary.
Parting Luxury Home Advice
If you are shopping for a luxury home or looking to sell your existing lavish property, never assume that others will want or need the same things you desire. Hire a savvy agent and let them do the work of finding, marketing, and assisting with both the purchase of a new and/or sale of your existing luxury home.
With a little preparation, buying a luxury home can fulfill a life-long dream or allow you to continue living in the lifestyle you are accustomed to. Whatever your rationale, enjoy the home search…your beautiful home awaits!
More Luxury Home Resources
How to Market Your Luxury Home via Karen Highland
10 Things To Consider When Selling Your Home by Bill Gassett
If you found this article on Buying a Luxury Home useful, please share it so others can also benefit from the information.