The Best Storage Ideas To Organize Your Home
Having adequate space is important for both living, safeguarding, and storing the things that are important to you. This article identifies several outstanding storage ideas to organize your home and get your house looking its best at the same time.
Ever year, living spaces are getting smaller. According to the New Privately Owned Housing Units Started in the United States by Purpose and Design census report, new homes were averaging at 2,498 square feet of living space in 2019— down from 2,599 in 2017. With the impacts of the pandemic on the housing market are still to be determined, it's expected that this trend will continue. With that in mind, it is important to find have solutions to small space storage without sacrificing functionality.
Keeping a tidy home is a combination of managing belongings and optimizing the available space. Here are some of the best storage ideas to organize your home, regardless of the size.
Kitchen Storage Ideas
The kitchen is the soul of every home and one of the most influential spaces when purchasing a house. It's also a high traffic area that can fall into disarray without proper systems put in place. Fortunately, by using creative kitchen storage options, you can keep this area well-organized.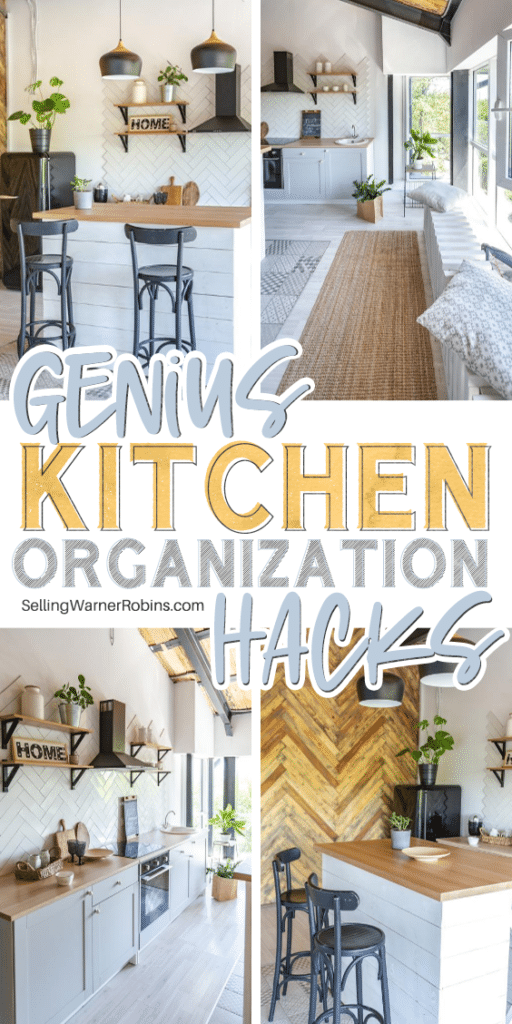 Trundle Shelving
The greatest opportunity for improved storage in the kitchen is the cabinets. When planning your kitchen, the best RTA kitchen cabinets will offer space for customization and add-ons. Regardless of your style, available space, or budget, there are a host of cabinet options to fit whatever your need or desire is. If not sure what is trending, go visit several local open houses to get an idea what builders are currently putting in new homes.
Trundle shelving can revolutionize your kitchen storage. This feature effectively turns your shelves into drawers for easier access and storage. By installing trundle shelves in your cabinets, you reduce the risk of being limited by wasted space or finding expired pantry items pushed to the back.
Optimized Backsplash
The backsplash is often treated as an open area that's meant to be a design feature. However, the backsplash is prime real estate for small-item storage and with a little ingenuity, can provide ample storage space.
For instance, add a few adhesive hooks or mounted shelves to the backsplash to store utensils, spices, and items that get used frequently. A few small racks or rods can keep your kitchen tidy without sacrificing storage space and provide decorating balance to the area.
Window Rods and Shelves
Kitchen windows tend to be inset and kept clear. This feature presents an opportunity for creative storage solutions. Add rods and hooks to your kitchen windows for some simple storage.
You can also hang rope shelves or clear acrylic shelving insets to create the perfect place for plants and decor. Use your imagination to identify and implement storage ideas for your home that are both practical and cost effective.
Optimizing the Fridge Top
The top of the fridge tends to fall victim to junk and dust. Rather than letting this space go to waste, invest in a few trays or baskets to make the most of this flat surface. This worked wonders for me…a little cleanup and more room for storage at the same time!
When organized, the top of the fridge is perfect for medicine that needs to be kept out of reach, cleaning supplies, and rarely-used dishes. You can even add a small drawer-storage bin to replace the junk drawer and open up some more accessible cupboard space.
Magnets and S-Hooks
Magnetic strips and S-hooks are both affordable, versatile kitchen storage tools. Hang a small rod and S hooks on the side of a cabinet for utensils. Alternatively, you can add them to the back of a cupboard door to store pots and pans. An added benefit is you can easily remove them or mo them around as your style or preferences change.
Vertical Space
Unused vertical space is a common theme in modern housing. However, in the kitchen, this issue is exacerbated by the presence of cupboards. This is a prime opportunity to secure storage without breaking your budget.
If you aren't already using the top of your cabinets for storage, now is the time. You can artfully arrange spare dishes and appliances so that they stay neat and organized while out of the way. Install stacked shelving up the wall for other goods that take up cupboard space, such as baking supplies and pantry items.
Organizing Your Bedroom for More Storage
One of the challenges homeowners face when organizing the bedroom is a lack of closet space. While using clothing racks is a standard solution, it doesn't work for everyone. Having their belongings visible at all times can create a sense of anxiety. When it comes to bedroom storage ideas, the motto "out of sight, out of mind." is the approach most often used.
Crown Molding Wall Storage
One of the most creative ways to improve your bedroom storage space is to install strips of crown molding. As a design feature, the crown molding adds a sense of elegance and opulence. However, it also creates a simple storage unit that doesn't detract from the room.
Use crown molding as an alternative to shelving to store shoes and hang jewelry. You can also use this surface for displaying photos and books, or as a space-friendly alternative to a nightstand.
Installing crown molding shelves above doors and windows also capitalizes on vertical space while adding an artistic flair.
Storage Headboard and Bed Frame
A bed takes up a lot of floor space. However, there are numerous ways to optimize this area and create lots of hidden storage. Invest in a bed frame with drawers underneath or use risers and wheeled tote-bins for extra storage. These storage solutions are great for seasonal wear, footwear, and linens.
There are also a variety of ways to capitalize on your headboard. Invest in a solid headboard with trundle sides that reveal hidden shelving for small items. Alternatively, re-purpose a bookshelf or wood slats to create a multipurpose storage piece.
Optimize the Door
Don't forget to use the back of your bedroom door for additional storage. This space is an excellent place for hooks for jewelry or a shoe caddy for footwear. You can also get a hanging laundry bag to keep your space clutter-free.
The back of your bedroom door is also a great place to store extra handbags or beauty products. Level up your productivity by storing everything you need to walk out the door in the morning.
Drawer Dividers
There's only so much clothing you can donate and declutter. Drawer organizers (and some savvy folding techniques) can help you get the most out of your space and stay organized. These apparatuses give you better storage while helping prevent clothing tornadoes as you look for your favorite shirt.
Use simple dividers or drawer caddies to keep your delicate items separate and well organized. For a do-it-yourself approach, you can use cut PVC pipes for socks, underwear, and ties.
Divide your t-shirt drawer into three separate spaces and try Marie Kondo's filing technique to store your shirts upright. This approach creates more space and makes it easier to find what you're looking for without tearing the drawer apart.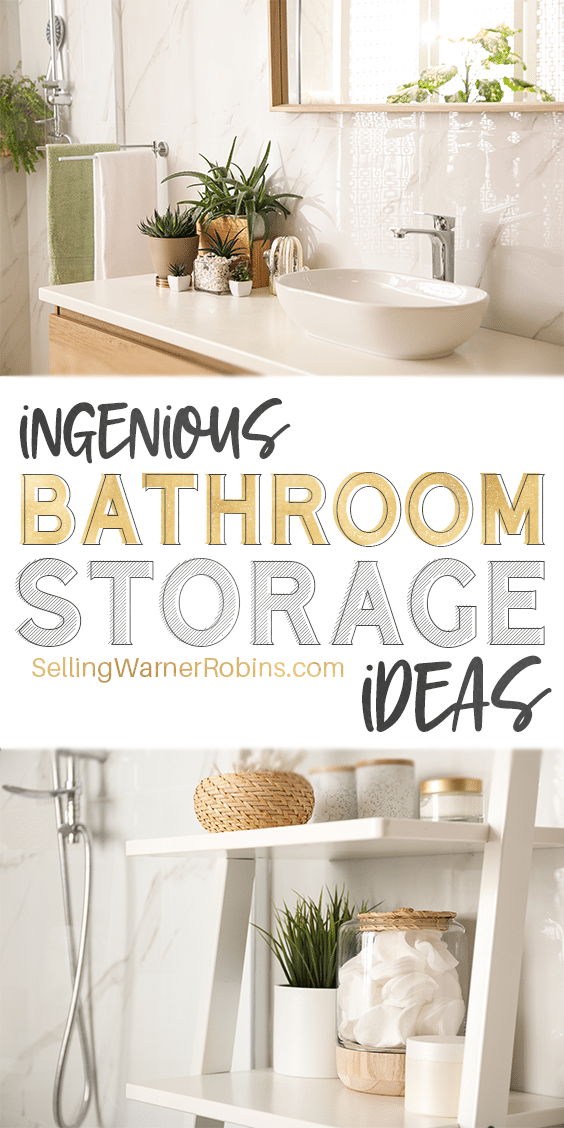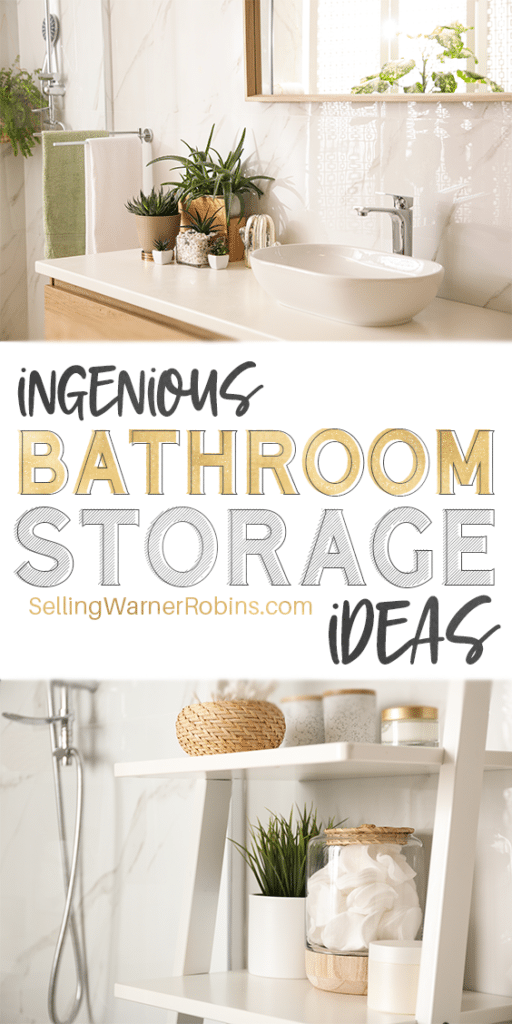 Bathroom Storage Tips
Bathrooms tended to be a small space even when houses were significantly larger. Creative storage solutions are a must for keeping your bathroom tidy. Follow these bathroom storage ideas and you will find you have infinitely more space.
Hanging Baskets
While floating shelves are a common storage solution for bathrooms, they aren't the most efficient. The limited space makes it too easy to knock things off the shelves and into the toilet or drain.
Instead, opt for hanging baskets to store your toiletries and hand towels. You can mount these to the wall with rails or in a stacked formation. Alternatively, re-purpose hanging basket planters for a unique twist on this storage solution.
Built-in Shelves and Cabinets
One of the best ways to implement storage in the bathroom is to add built-in shelves on an interior wall. Add some small shelves between the wall studs, similar to a traditional medicine cabinet. You can either leave these as open shelving units or add cabinet doors to keep things enclosed. For a creative approach, cover your hidden cabinets with wall art.
Optimized Drawers and Shelves
The sink often creates barriers to proper storage in the bathroom. However, you can get custom cabinet solutions to circumvent the inconvenient sink structure and pipes.
Add a U-shaped drawer that leaves space to go around the plumbing while offering ample storage. If you have a floating sink, add a raised shelving unit underneath. Keep the shelf tidy with trays and baskets.
Adhesive Hooks and Magnets
Bathroom cupboards often become a jumbled storage space for beauty supplies and cleaning supplies. Keep the cupboards tidy with adhesive hooks and magnets. By using those that come with an adhesive backing, you can easily remove, replace, or change their location without putting holes into the cupboards.
Hooks on the back of the door or inside of the cabinet are perfect for hot tools, like hairdryers and flat irons. Alternatively, they can be used to hang spray bottles and cleaning rags.
Magnets are perfect for keeping bobby pins, tweezers, and nail clippers secure and accessible. By installing these simple tools, you can keep the cupboard under the sink neat and organized.
Install a Lazy Susan
Lazy susans have long been a staple for kitchens. However, portable lazy susans are perfect for bathroom storage as well. Keep your bottles of hair products or cleaning supplies on one of these rotating tables to make the most of the space and improve accessibility.
Mason Jar Organizers
Mason jars are a decor trend that people either love or hate. However, no one can deny their versatility and functionality. If you have a theme these would compliment, by all means consider adding them
Mount a few mason jars to the wall using hose clamps around the top. Use these to store cotton swabs, toothpaste, glasses, make-up brushes, and more. You can go rustic or even more modern, depending on your style and functionality needed.
Living Room Storage Options
The living room is one of the easiest places to hide storage in plain sight. With the right furniture, you can make functional storage look like an interior design element. Utilize these storage ideas to organize your home and you will be pleasantly surprised how much available living room storage space you actually have.
Multipurpose Furniture
One of the best ways to optimize space in the living room is through multi-purpose furniture. Look for a sectional with interior storage for blankets or toys. Nesting coffee tables with extra seating or side tables are perfect for keeping things tidy.
Remember, functionality is the key so keep that in mind when shopping for multi-purpose furniture or re purposing existing items.
Shelves and Baskets
The living room is often the best place for shelving units. Consider adding coordinating baskets to the shelves to keep things organized and artful. A basket can hide anything from remotes to toys to spare blankets.
These are 2 of my favorite ways to create more storage space and they are both affordable and effective at the same time. Try both options and you will be amazed how much more storage space you have!
Repurposed Ladder
Re-purpose an old wooden ladder for some innovative, movable storage. This is a great place to hang blankets or planters. With a few additions, you can even mount a ladder to the wall for extra shelving.
I have repurposed ladders in several homes and it always provides more storage options while presenting the space used in a fashionable way. If this makes sense for your space, you can easily buy a new or rehabbed rustic ladder or can build one that fits your specific needs.
Storage Tips for Your Home Office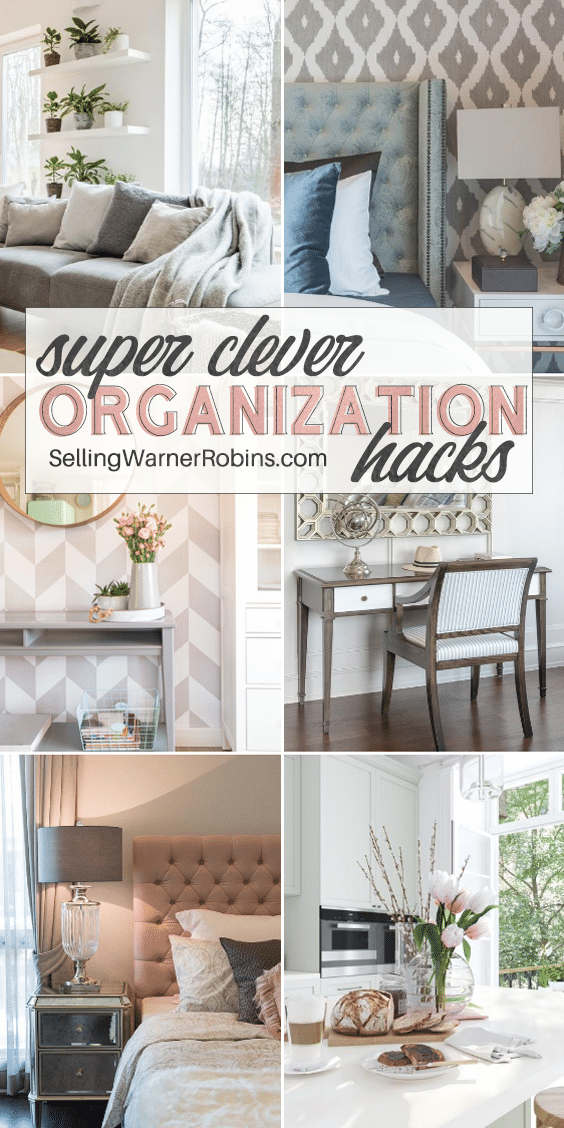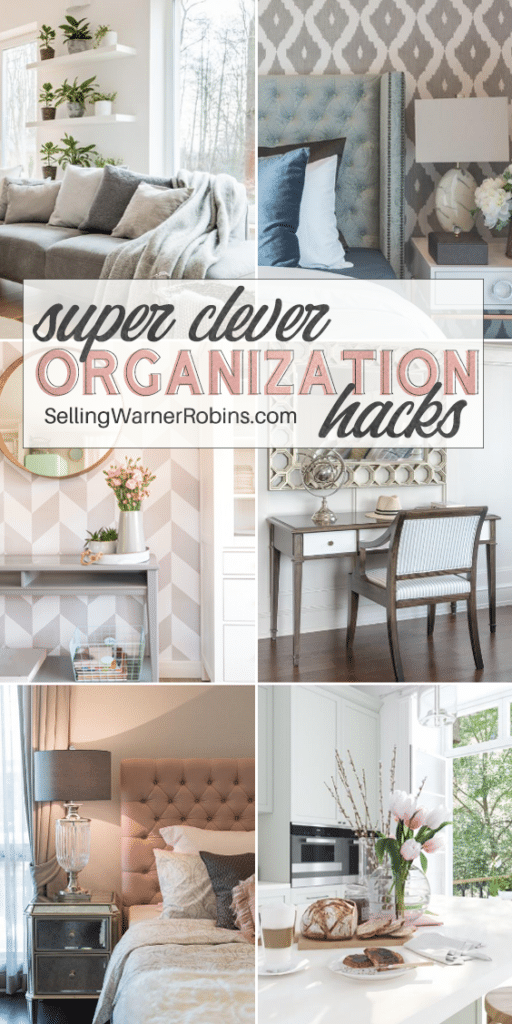 Keeping an organized home office is more important now than ever before. Try these simple home office storage solutions to keep your documents and electronics organized.
Fold-Up Desk
A fold-up desk is a fantastic storage solution for small spaces. If your home office doubles as a guest room, use hinges and hooks to mount your desk to the wall and fold it up at the end of the day.
Not only are they incredibly practical, they provide maximum efficient use of your square footage in a compact form. They are also reasonably priced or can be DIY'ed over a weekend.
Organized Cork Boards
Create an amazing command center with a giant corkboard. Add labeled file holders to keep bills and important documents sorted. Add a few tacks with bull clips to keep papers off your desk and well-organized.
Use it as a weekly organizer or as a way to ensure important pieces of information are easily found or remembered. With a little preparation, they can be both aesthetically pleasing and a smart storage option at the same time.
Boxes and Binders
Invest in some artistic storage boxes and binders to keep important documents stored away without looking too clinical. These affordable storage tools also keep shelves from falling into disarray.
They are dual purposeful as they can also provide a splash of color into an otherwise dull setting. Go as bold as you dare or blend them in with the overall room tone to help create the atmosphere you desire.
Cord Dividers
Pick up a simple cord divider to keep your wires untangled, in order, and out of sight. This is not only a wise choice, it also ensures no one will trip over or fall as a result of cords being strewn around the space.
They come in a variety of shapes and sizes and are very inexpensive. Even a novice can put one of these to good use and have their cords cleaned up and organized in a short amount of time. They are a smart choice for every room where cord clutter is present.
Garage Storage
If you have a garage, it may have become a catch-all for everything that doesn't fit in the house. Keeping your garage tidy is an art form, but it's not impossible.
If you are fortunate to have one of the homes with a 3-car garage in your community, you should have plenty of storage options to choose from. If you have less garage space, all the more reason to put these garage storage tips into practice.
Family Lockers
If you have a sports family, investing in a few lockers is well worth the money. You can use these to keep sports equipment organized and smelly gear out of the house. Consider adding cubbies to your locker unit to store balls, helmets, skates, etc.
You can also use them to store seasonal items or specialized items you do not want to be visible. Literally, you are only limited by the amount of space you want to use or have available.
Multi-purpose Pegboard
Pegboards are a fantastic way to keep both large and small tools organized and maintained. Furthermore, they allow for alterations as your collection grows. Use pegboards to hang hooks, mason jar storage, wire racks and baskets, and anything else you might need.
Ceiling Mounts and Storage Towers
Tote bins are meant to keep things organized and out of the way. However, they can also turn your garage into a leaning tower of inconvenience. Fortunately, there are a few solutions to keep bins organized and free of damage.
Storage towers are shelving units that are specifically built for bins. These are ideal for people with low ceilings and garage doors. The bin tower allows you to stack the bins on a reinforced surface to prevent cracking and the need to unstack everything for access.
Ceiling mounts come in two forms: sliding mounts or hanging shelves. The sliding mounts often consist of rails on which you slide the top of your tote bin, letting the rest hang below. Alternatively, ceiling-mounted racks allow you to slide the entire bin onto a shelving unit.
Final Storage Tips to Organize Your Home
Homes may be getting smaller, but with these amazing storage solutions, you can keep your entire house organized and functional. Whether you are looking to live in the house for the next several decades or are preparing to put the property up for sale, these storage ideas to organize your home provide attainable solutions at a reasonable cost, to help you alleviate your storage concerns.
If you found these tips on storage ideas to organize your home helpful, please share this article so other consumers can also benefit from the information provided.
Smart and Practical Storage Ideas to Organize Your Home